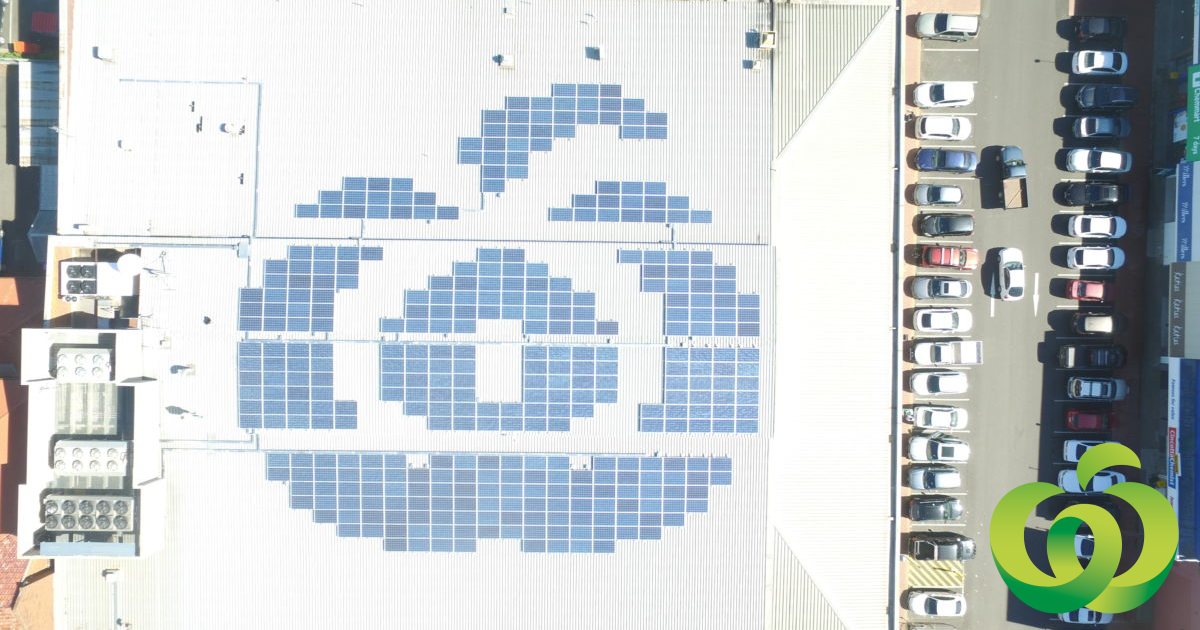 Woolworths Group reports in the last financial year it slashed an additional 97,000 tonnes of carbon dioxide equivalent emissions from its operations – helped along by solar power.
The company released its annual Sustainability Report yesterday, which indicates its Scope 1 and 2 emissions1 are down 27 per cent since 2015.
Solar Energy Rollout Accelerates
Woolworths Group has committed to 100% renewable electricity by 2025. This is a very big deal when you consider the Group accounts for around one per cent of electricity consumption in Australia.
One of the ways it is working towards reaching this goal is through a solar rollout on the rooftops of supermarkets and other facilities.
Woolworths says it now has solar panels installed on rooftops at 197 locations. These 100,000+ solar panels are generating 44 GWh of clean energy annually. During the financial year, it looks like more than 11MW of  PV capacity was installed – the most for any FY – bringing total solar power capacity to 31MW+.
Back in June last year, Woolworths unveiled its 100th solar supermarket (pictured above) – the company notes in the Sustainability Report there are now 132 supermarkets with rooftop panels. Added to this are 38 Dan Murphy's stores, various distribution centres and other assets.
In June this year, the Group also inked its first renewables-based power purchase agreement (PPA) relating to offtake from CWP Renewables' Bango Wind Farm in New South Wales, which is currently under construction. That deal will cover equivalent to around 30% of Woolworths Group's NSW electricity needs.
Ongoing Energy Efficiency Efforts
Woolworths Group is continuing to focus on reducing electricity usage across its stores, particularly in terms of refrigeration and lighting. The report states:
"With LED lighting contributing a saving of 11% of total store energy consumption, we've prioritised the multi‑year rollout of our LED installation program across Australia, completing over 1,000 supermarkets in F21".
Other Sustainability Stuff
During the last financial year, Woolworths Group diverted 360,000 tonnes of waste from landfill, which represented 80 per cent of its waste.
But there's still a lot of room for improvement. In terms of food waste specifically, an audit conducted within supermarkets this year found around 45% of bin content was organic waste – so the company is working on rescuing more food that can be distributed to those in need or diverting it for other purposes such as organic waste composting.
There have already been significant and ongoing efforts on the food rescue side of things, with the company donating the equivalent of over 24 million meals per year to food relief organisations such as OzHarvest, FoodBank and FareShare.
In addition to Woolworths Group's renewable energy goal, it has a long-term commitment to take more carbon out of the atmosphere than the company produces by 2050. Group Chief Executive Officer Brad Banducci said there was much more work to do and the company was gearing up for an era of accelerated sustainability.
"The steps we take to become a more sustainable business today will create a better tomorrow for generations to come."
Footnotes
Scope 1 – direct emissions from sources a company owns/controls. Scope 2 – indirect emissions associated with generation of energy purchased. ↩