The company commercially producing a solar powered device that extracts drinking water from air will be showcasing the new Source Rexi hydropanel at CES in Las Vegas this week.
We first mentioned Zero Mass Water's Source hydropanel back in 2017 – the original model looked like this: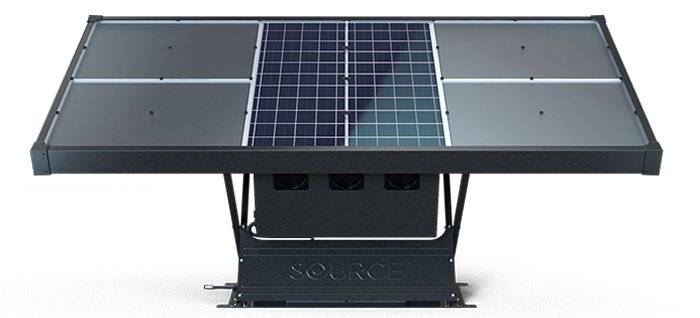 Recent versions are more streamlined: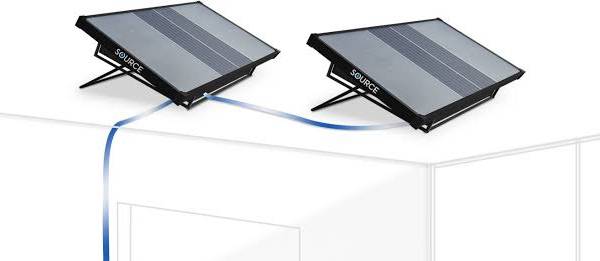 How The Source Hydropanel Works
The Source hydropanel first absorbs water vapor from the air with a hygroscopic material. Using energy generated by the solar panels that is stored in a small battery, the water vapor respires from the materials inside, raising the relative humidity to a passively condensing vapor that is collected. The collected water passes through a mineralising cartridge in the reservoir, then passes through an activated carbon polishing cartridge before being dispensed at the tap. The system is mesh networked and monitored by Zero Mass Water for the purposes of monitoring and troubleshooting.
A standard array consisting of two Source hydropanels can produce between 4 – 10 litres of clean water a day depending on humidity levels and other conditions.
Zero Mass Water says since 2017, Source hydropanels have been installed in more than 35 countries on 6 continents. Among the countries is Australia, where Zero Mass scored $420,000 in funding from the Australian Renewable Energy Agency in 2018 to support the deployment 150 systems across multiple locations.
New Model – Source Rexi Hydropanel
VentureBeat reports Zero Mass Water will be showing off a new model (picture at the beginning of this article), the Source Rexi Hydropanel, at CES in Las Vegas this week.
According to the VentureBeat article, the Source Rexi Hydropanel is half the size of the previous model, easier to install and is able to extract more water on a daily basis – how much more isn't mentioned.
But where have the solar panels gone – are they now separate? Perhaps it doesn't include them at all, working instead with an existing solar installation and/or mains supply.
Apparently, the new model will be suitable for the rooftops of homes.
We'll update this post as further details on the Source Rexi hydropanel become available.
Cost And Water-As-A-Service Model
Source hydropanels are still very expensive – a standard array consists of 2 hydropanels at a total cost of between USD $5,500 and $6,500 including shipping, installation and tax in the USA for the current model – so around AUD $7,900 – $9,400 at current exchange rates. It looks like pricing of the Source Rexi Hydropanel will be around the same as the current model assuming two are used.
In addition to the initial outlay are costs associated with replacing the mineralising cartridge every 5 years, the polishing cartridge annually and the battery at some point/s. The system has an expected service life of 15 years before requiring a major service that will likely involve the replacement of some components.
The cost of the Source Rexi Hydropanel solution and output needs to be weighed up against the cost of bottled or otherwise packaged/transported water – so whether financially it makes sense depends on the location and situation where it will be used. From an environmental viewpoint, the system can avoid waste from bottled/packaged water. However, water bottles can generally be recycled and the "recyclability" of the Source system isn't clear.
Zero Mass is also offering a water-as-a-service model under a Water Purchase Agreement (WPA) arrangement; but this appears to only be available for larger installations. An example of this model in Australia is in Queensland, where water created by a Source hydropanel array extracting up to 1 million litres annually is being sold under contract to Waddi Springs.