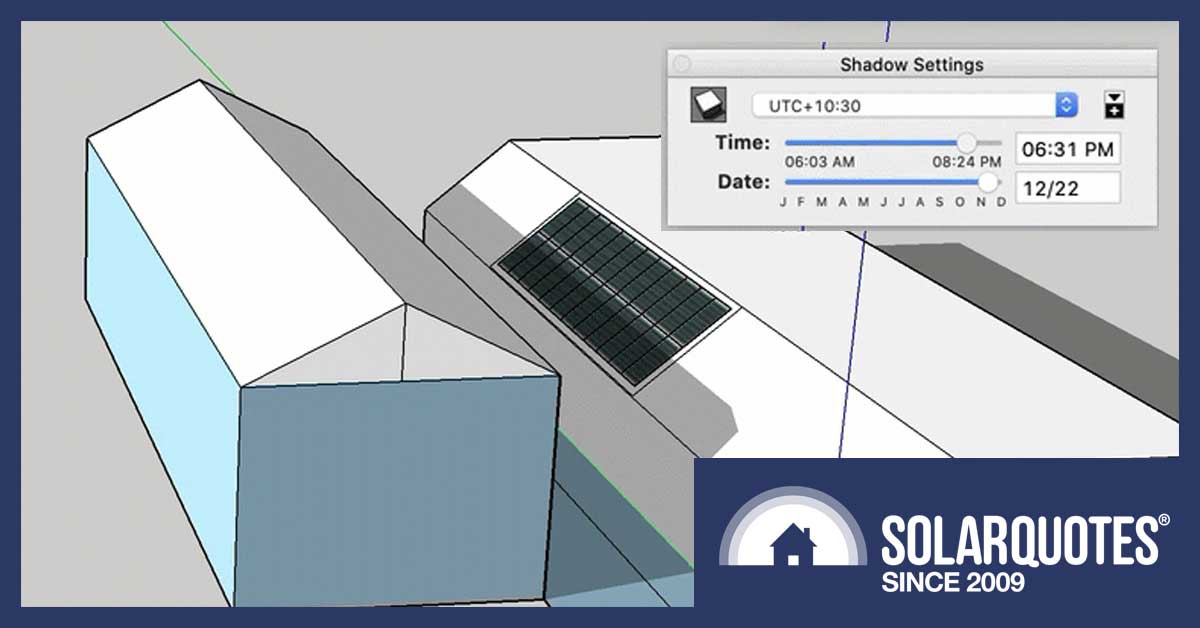 When I came to Australia from the UK in 2002, I was struck by how rare double storey houses were over here. Fast forward 18 years and, as medium density living becomes the new norm in the suburbs, double storey houses are popping up everywhere.
This can cause problems for existing solar owners. Imagine you have a nice east/west facing solar power system on your single storey roof. One day you discover dastardly property developers want to build a pair of double storey townhouses next door (as close to the boundary as possible of course). Will the new McMansions cast a permanent shadow on your panels?  Will you have to go back to actually paying electricity bills? Here at SolarQuotes we get thousands of cries for help every year, and we try to answer every single one1. My team does a great job. But when they get a question they can't answer it finds its way to my inbox, where this email from Chris in Adelaide ended up last week:
Hi, Last Friday, 20 Dec 2019, I received a letter from my Council (Burnside Council) re a Development Application for a rather large two storey home on the block next door to me. I have the opportunity to object to the development but it must be before 8 January 2020. I'm quite concerned the proposed house will shade my 24 western facing LG solar panels (installed in Jan 2019 by DQ Electrical). (I used SolarQuotes at the time to choose DQ Electrical). I recall DQ Electrical were closed in the first week of Jan 2019, so wondered if I could pay SolarQuotes for one of your team to assess if there are any shading issue. I have accurate 1:100 scale drawings to assist.
So we agreed on a fee of $7,000 + GST and expenses and got to work.
Just kidding! I couldn't bear the thought of an expertly-installed LG solar system being compromised – so I promised to whack together a rudimentary analysis over the weekend. Chris would have some hard numbers before the council's deadline. And don't worry, we don't charge for solar advice at SQ as that would be like getting paid to eat ice-cream. It would take all the fun out of it. People would expect me to deliver the results as serious reports, inches thick, instead of as a blog post filled with bad jokes. And that would feel like working for CSIRO again. But I'm getting distracted… What Chris needed was a 'shade analysis' or 'shadow study'.  I needed to:
3D model Chris's existing house and solar panels.
3D model the proposed house
Place the two houses in the correct position, relative to each other.
Place the two houses at the correct lat/long in a modelling package that understands geographic location and sun position.
Run the shadow analysis to work out where the sun will be every hour for one whole year, so it can see where shadows are cast, and determine the effect of those shadows on the solar panels' energy output over 12 months.
Present the results to Chris.
The good news is all this can be done on a computer with free tools and almost no technical knowledge. Here's how:
DIY Shade Analysis Step #1 – Installing The Free SketchUp Make
Go here. Download and install SketchUp Make2 on your PC or Mac.
Step #2 – Modelling Chris's Existing House.
Chris still had the A3 drawings from his house build. After a couple of false starts trying to scan them into an email, he dropped them in the office on Friday morning.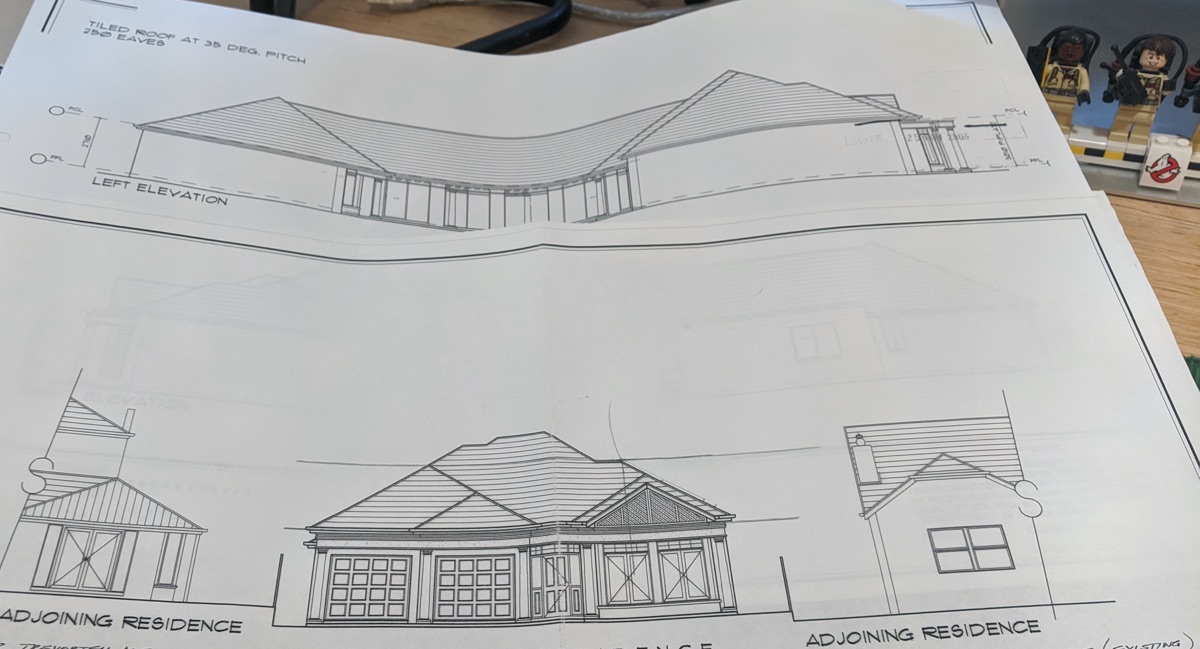 As for solar panel placement – I simply looked at his roof with Eagle View3 to see the 13.32 kW system in all its glory: (north is up)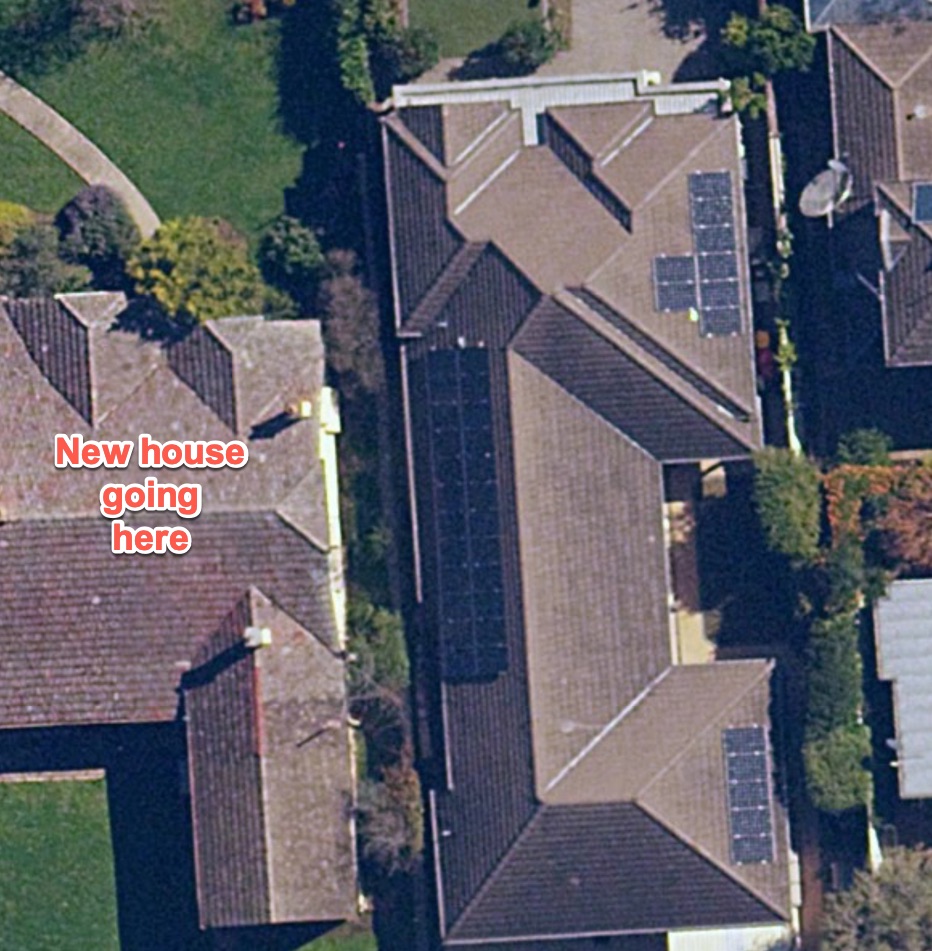 The new, 2 storey house will obviously not affect the 13 east-facing solar panels – so there's no need to model those. It's the 24 west facing panels we are worried about, so I only need to model the roof area that those solar panels are on. There is no need to model any other roof surface on Chris's house – saving heaps of time. I'll model the house in Sketchup Make because:
it's free
it is a piece of cake to use
it can run 'extensions' that perform the shade analysis for me
Here's my super-simple model of Chris's west-facing roof and solar panels. The dimensions of the roof face and its position relative to the property boundary are accurate. I haven't worried about any other detail.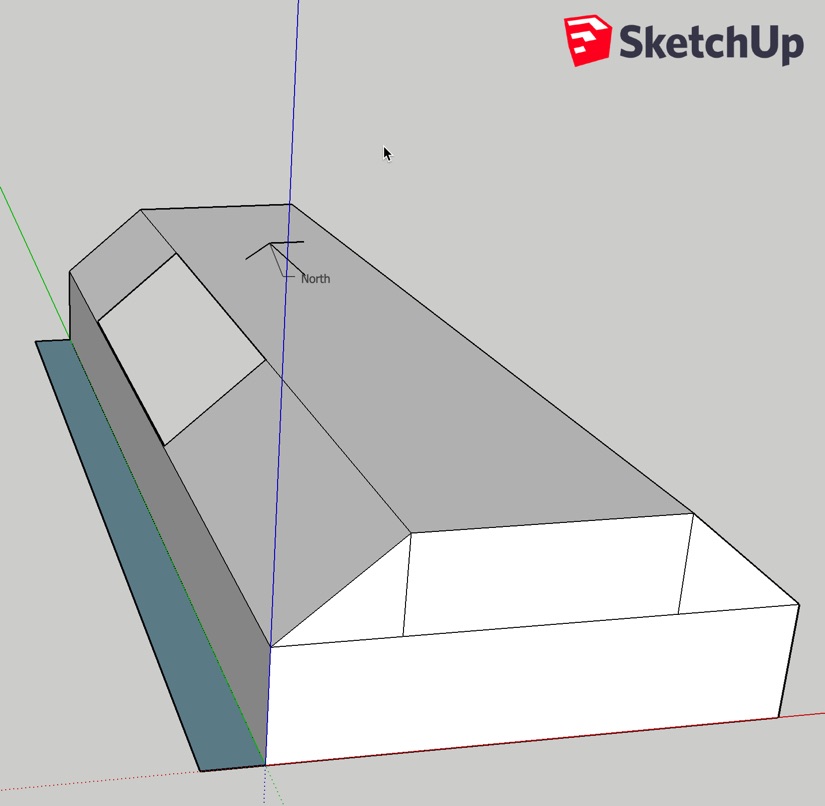 Step #3 – Modelling The New House
Chris has plans for the new house too, so I can model it: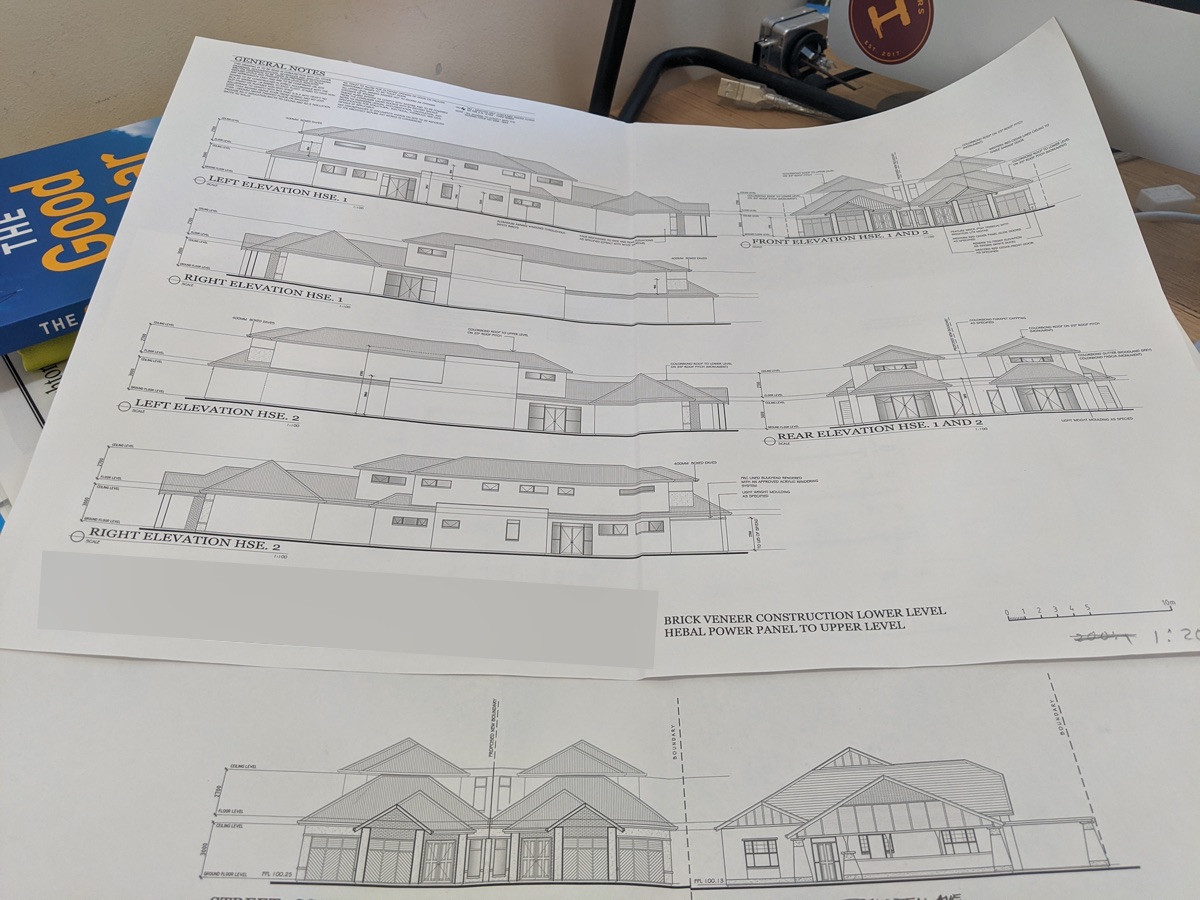 The only part of the 2-storey house that will cast a shadow on Chris's solar panels is the highest roofline – so that's all I have to model, being careful to position the model the correct distance away from Chris's house: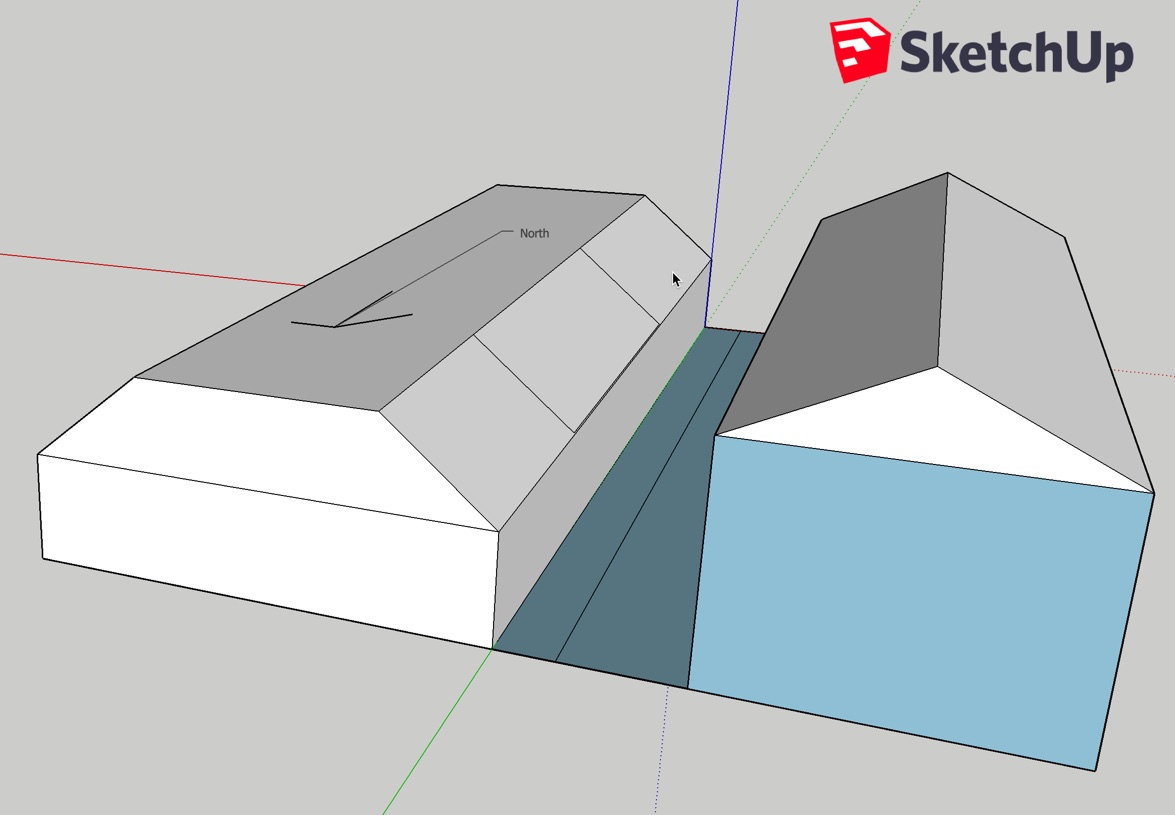 Step #4 – Tell SketchUp Where In The World Your Houses Are
This easy. Go to File -> Geo-location -> Add Location… Type in your address.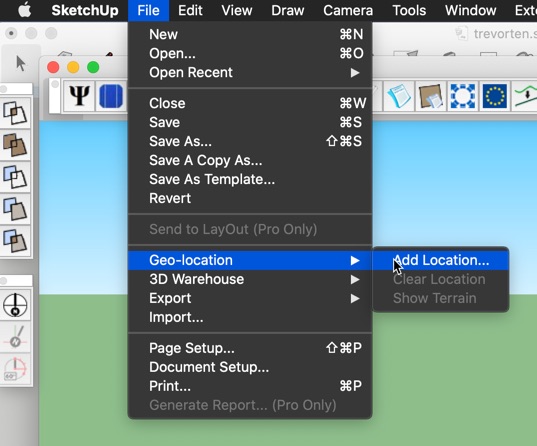 Now SketchUp can position the sun in the sky accurately.
Step #5 – Install The Free Skelion SketchUp Extension.
Go here and download the Skelion extension for solar shadow analysis. Install it.
Step #6 – Use The Skelion Extension To Add Solar Panel Model
Click the database button on the Skelion toolbar. Fill-in your panel details (see your solar panel data sheet).

Step #7 – Use Skelion To Place Your Solar Panels
Click on the surface on your model where you want the panels to go. Click the solar cell on the Skelion toolbar to add panels. Don't freak out with all the options.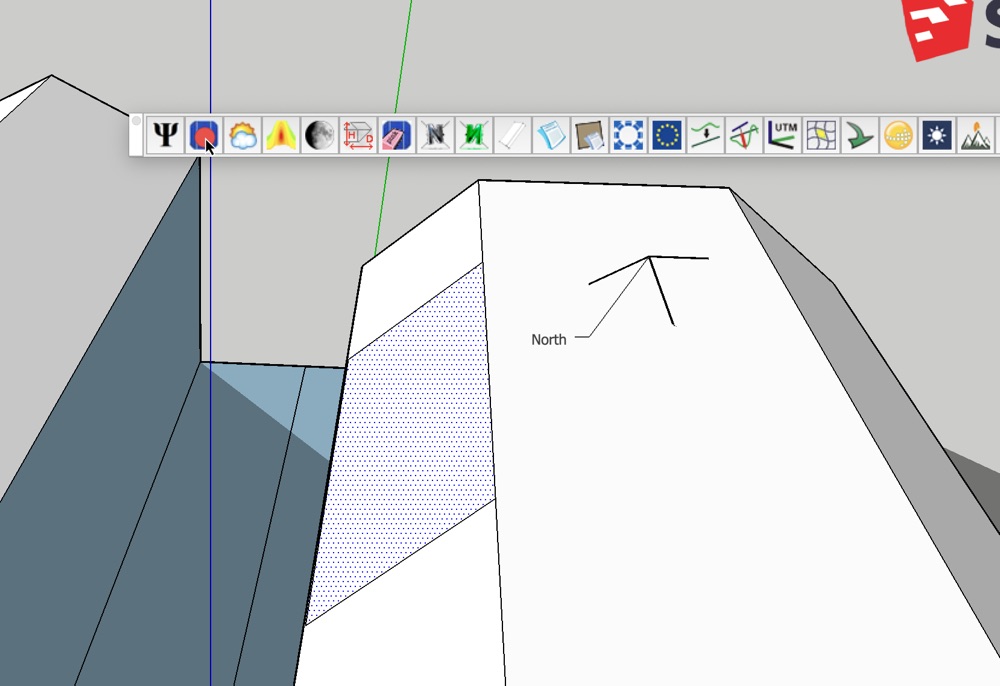 Click the blue 'change database' button.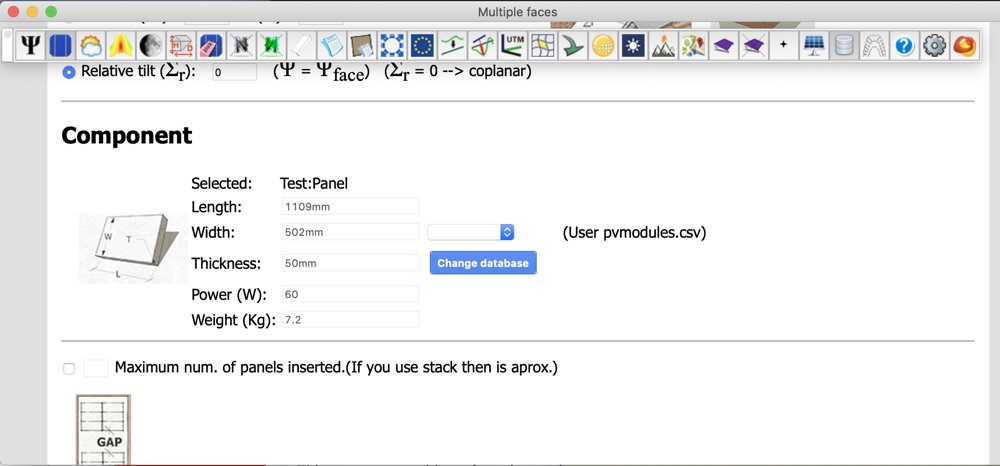 On the window that appears click 'user PV database'. Close that window.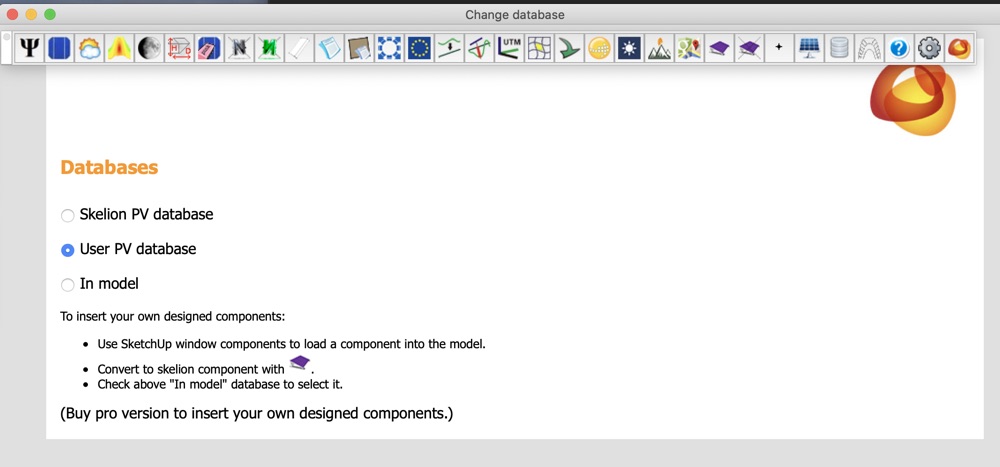 Select your solar panel. Then scroll down to the 'continue' button. (leave everything else as default values)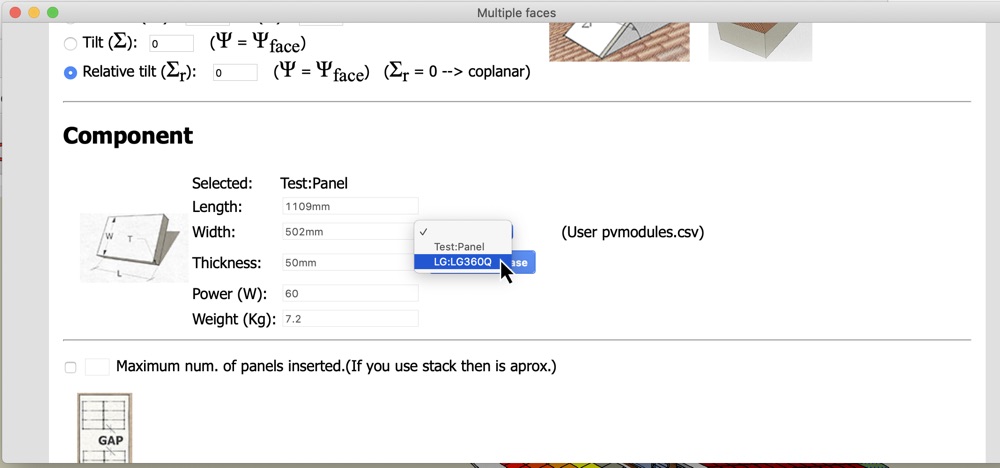 Voila – you should see solar panels filling the surface you selected.: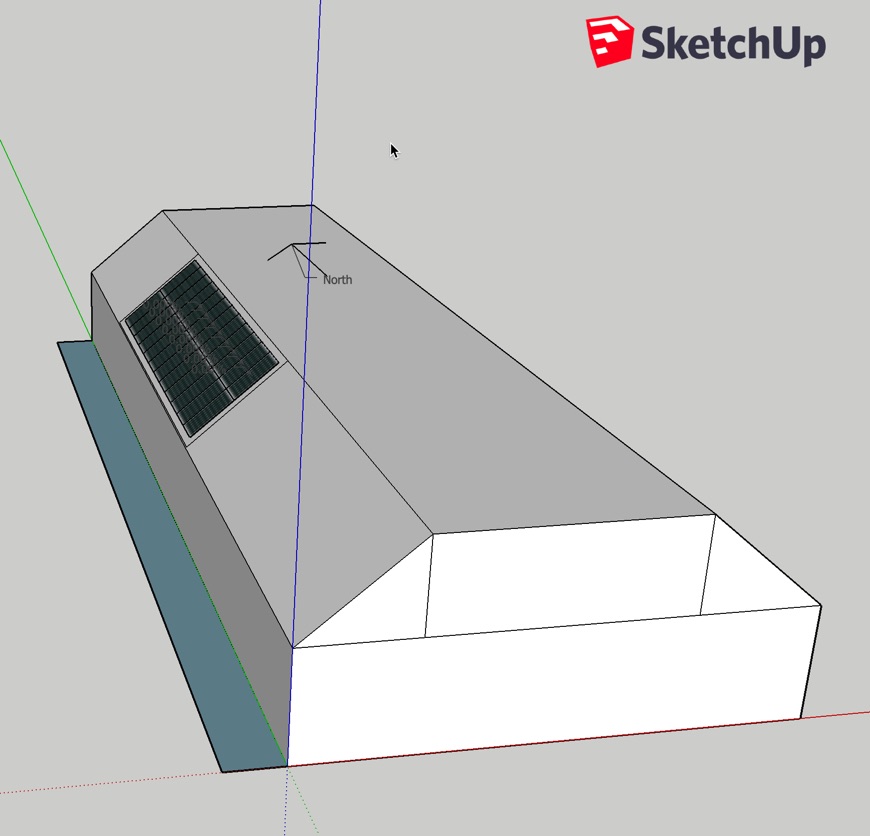 Step #8 – Use Skelion To Run Shade Analysis Engine
(Note: these functions are only visible if you are on the free trial. If your trial has expired you will have to pay for a subscription. I have a subscription –  if you send me your finished models – I can run a  report for you.)
Go to Extensions -> Skelion -> Meteorological Data
Select the 'International' dataset, then click 'Load'. Close the window.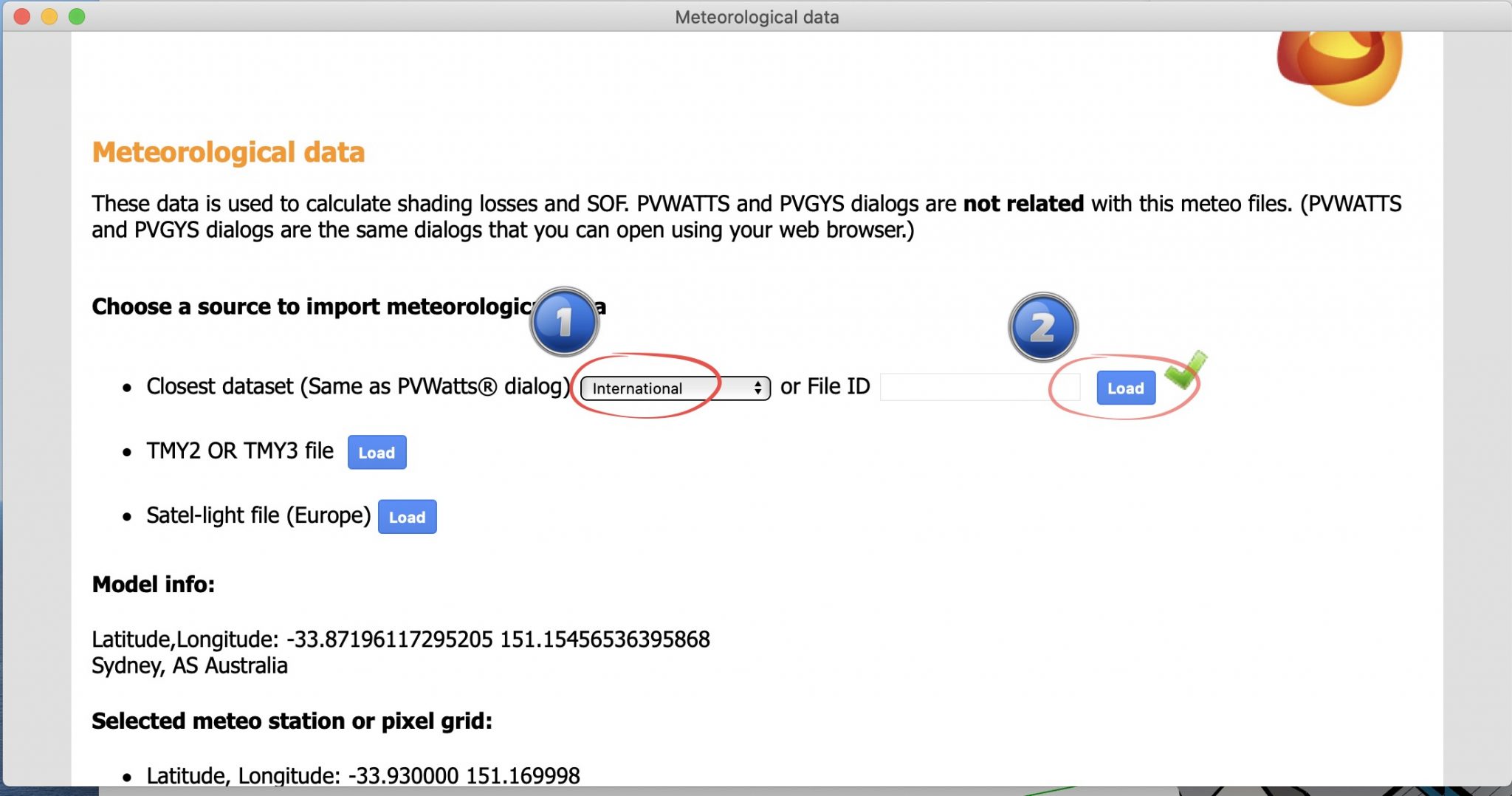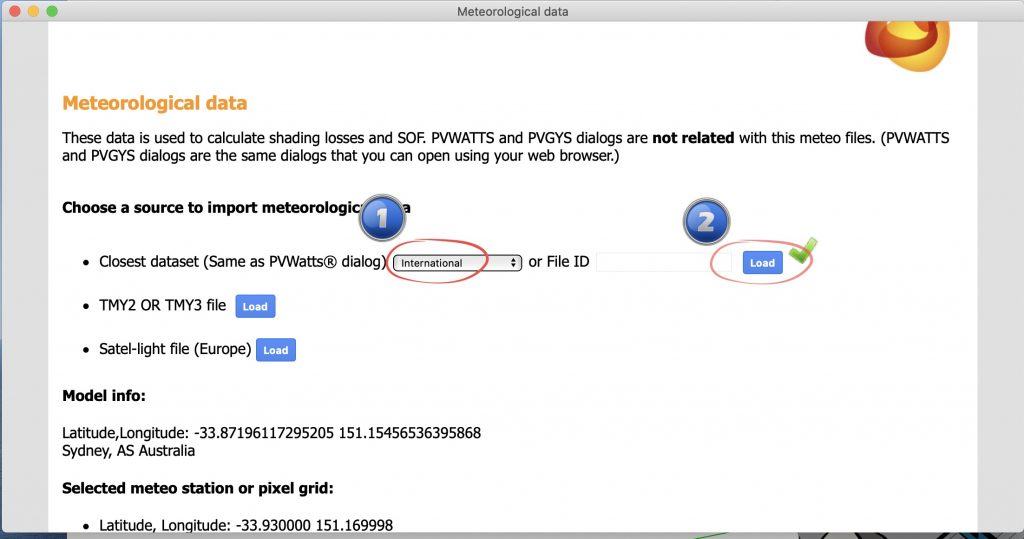 Go to Extensions -> Skelion -> Report. Wait for the number crunching to finish – it should take less than 30 seconds.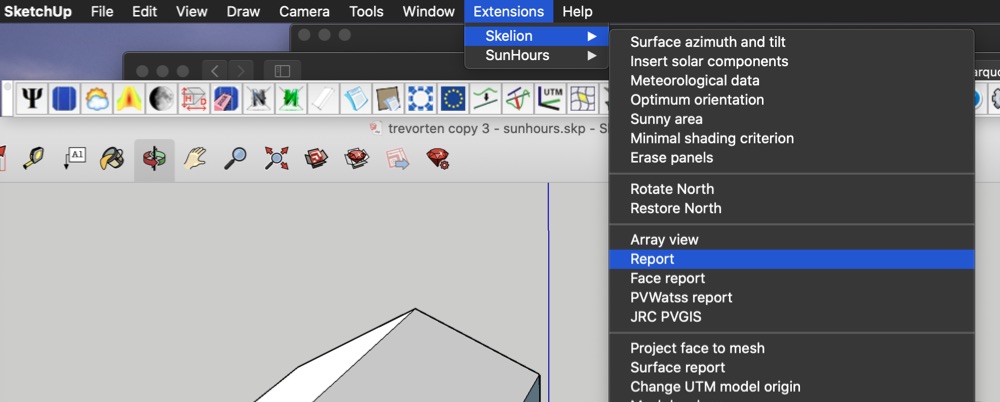 You'll see arrows added to your model showing the shade effect on each panel as shown below. You can see that the lower solar panels will lose 6.87% of their annual energy output due to shading. The top ones lose less: 1.71%.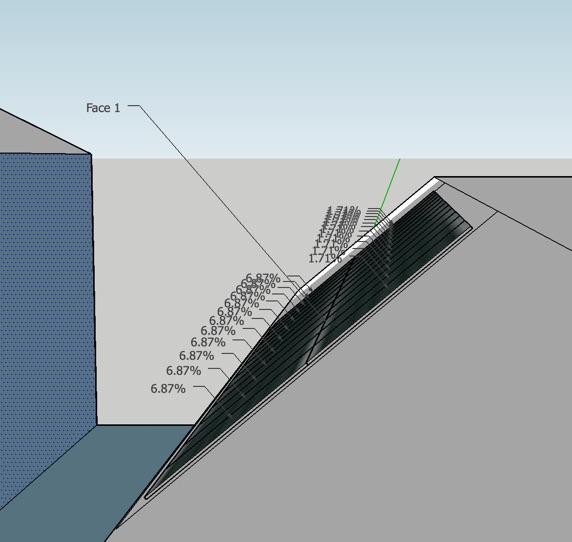 You'll also get a report in a pop-up window showing the losses for every month and the annual loss. Chris's west facing solar panel array will lose about 4.29% of its annual energy yield due to the new house.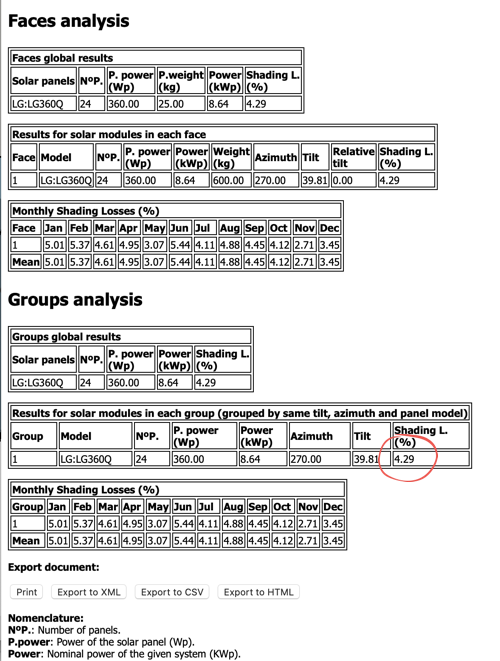 But remember there are another 13 unshaded panels on the east of the house. So the total shading loss to the whole solar power system will be closer to 3% of annual energy yield. I think Chris will be relieved to hear that it is so low.
Understanding Why The Energy Loss Is Small
When we first spoke, Chris seemed pretty worried about the new house's effect on his solar energy production. He may be sceptical of my calculations. I'm cool with that! Let's use Sketchup and the SolarQuotes solar calculator to sanity check the results and get an understanding of why he'll only lose a few percent of his production despite a big, tall house going up next door. SketchUp lets you model shadows for any time of the year. Here's an animation of the shadows from sunrise to sunset on Chris's solar panels during the summer solstice.
You can see that the shadow cast by the new house starts to hit the panels at 6pm. If we now head over to the SolarQuotes Solar Calculator and input the power, angle and orientation of the bottom row of Chris's panels…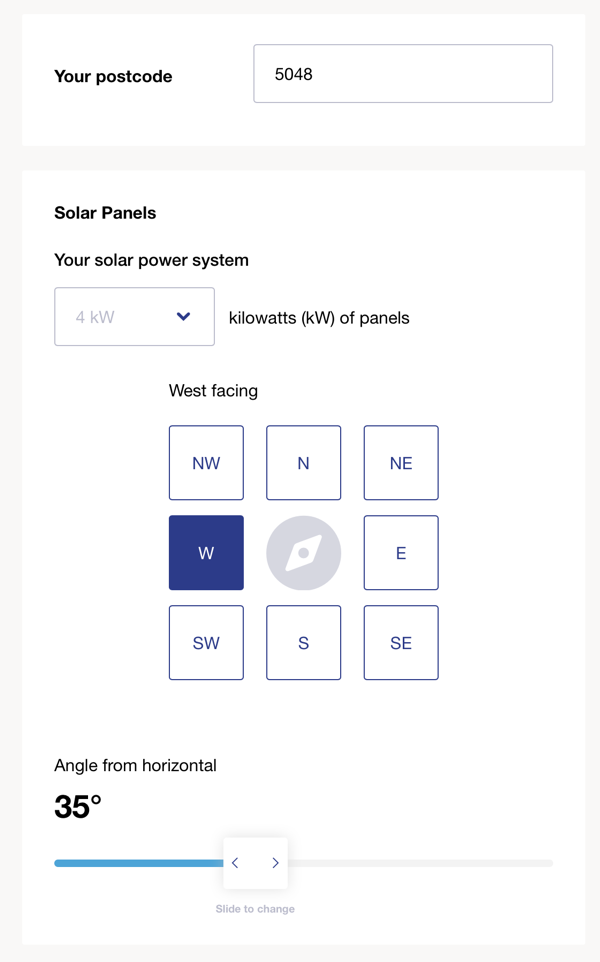 When we look at the results – amongst lots of other useful information – we can see the typical daily generation profile for every month of the year. Here's December's. I've coloured the solar energy generated after 6pm in red: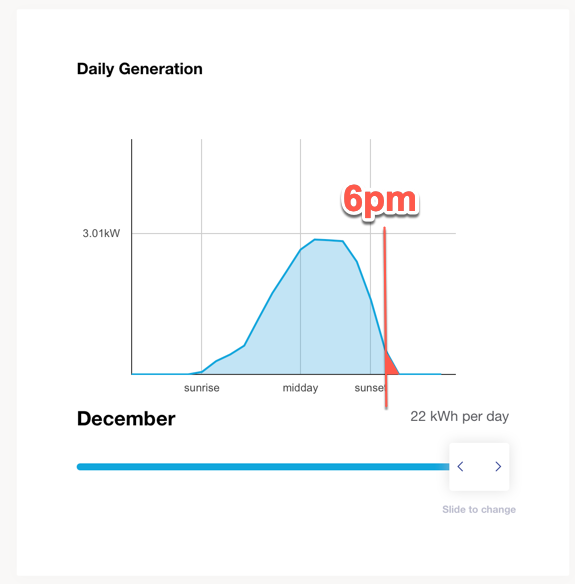 You can see very little energy is lost due to the shading. If we do the same exercise for winter, we see the shadows in SketchUp hit the bottom row earlier: at 4pm. That's because the sun is lower in the sky in winter. But the despite the earlier shading, the total amount of daily generation is much less. So the relative amount of lost energy generation is similar to summer: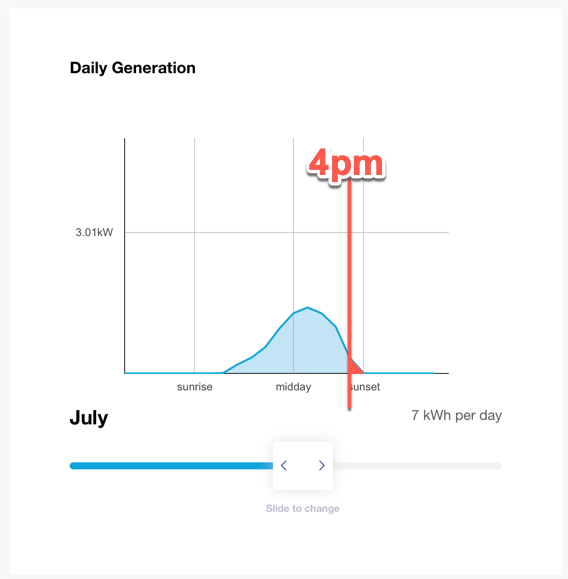 And that's how to do a quick and dirty shade analysis, using tools which anyone can download for free. Hopefully it helps Chris out.
Next time: While working out how to do this shade analysis I came across another SketchUp extension that looks to be really useful for deciding where to place panels for maximum solar exposure on complicated roofs. In my next blog post I'll show you how to: a) get complicated houses with complicated roofs 3D modelled by an expert for $20 (even if you don't have the plans), b) how to use SketchUp to show where the most sun will fall on those roofs, so you can place solar panels with certainty. To whet your appetite – here's the analysis on my house. Pretty cool eh? And only takes 5 minutes once you've got a good model.
Footnotes
No, you don't need to ask for quotes to qualify for free solar advice, you just need to be Australian, have a pulse and not be a nut job ↩
This is no longer developed, but still available and working well. The pro version is still being developed but has to be paid for ↩
$220 per month for unlimited imagery – the only paid tool used in this analysis – but if you are doing your own house you should know where your solar panels are approximately without needing to pay for high resolution imagery! ↩