There are many people in this world who enjoy monitoring the output of their rooftop solar systems.
But other people – not so much.  For example, I don't think my parents have checked the output of their system since they got it.  My father just looks at the electricity bill every three months and grunts, "Power bill low.  Is good." And then goes back to making stone tools.
But for those who enjoy the heady pleasures of solar system monitoring, modern technology can provide the fix you're looking for.
It is becoming more common for solar inverters to offer monitoring via the internet, but conventional string inverters can only monitor the entire system's output1.  If you want to see the output of each panel you will need either microinverters or DC optimisers.
Enphase's Enlighten Monitoring System
In this article I am going to tell you about monitoring panels equipped with Enphase microinverters.   Enphase's monitoring software is called Enlighten and the monitoring hardware is known as an Envoy box.
Actually, I'm not going to be the one who tells you about it, but I'll get to that in a bit.
Enphase is the world's biggest producer of microinverters and their products have a reputation for reliability.  In Australia they have a 10 year warranty2 and in the United States they have a 25 year warranty.  This doesn't necessarily mean they will last 25 or more years under Australian conditions, but it is a good sign.
I mentioned the Enphase monitoring system 10 months ago when I wrote about the Enphase AC battery.  But there is not a lot of information about it there, apart from the fact that the warranty on the Envoy monitoring hardware is only 5 years.
I could do some more research into the Enphase monitoring system, but that would take time and effort and I'm a busy person.  I've got places to go, people to avoid, and shoes to nail to my horse.  So thank goodness my good friend Ian has provided me with detailed information on his experiences with getting and using the Enphase monitoring system3
Here is Ian's experience, in Ian's words (Subheadings added):
---
Ian Wrote:
We began our solar journey looking at lots of things.  As we have moving shade issues due to trees on a neighbouring property we ended up selecting the Enphase microinverter based system. I always planned to use panel monitoring to decide their ideal placement over the course of a year.
So how did we go?
After two false starts we found what we thought was a good company to install the panels and microinverters as we wanted. We discussed the fact that we wanted to monitor at an individual panel level they told me this was possible with extra software which would be installed later.
The installation went well and, after a couple of calls to sort out the internet side of things, the system worked beautifully. We were happy and saving money.
Frustration #1: Original Installer & Enphase Australia Refuse Panel Level Monitoring
But after a month I still had not heard from the installers about the software upgrade to monitor individual panels. They tried to put me off  by offering to generate reports when I wanted them.  They then told me Enphase preferred not to sell the additional software for fear of silly warranty claims such as bird poop on a panel etc.
I persisted for about 6 months and with no result was quite annoyed. I then took the matter up with Enphase in Australia and their technical people were sympathetic but not much help, suggesting I go back to the installer or try another installer. Arrrgh!
I then managed to find a contact at Enphase in the US and asked a lot of questions and got mostly useful technical responses but no software. I then embarked on a campaign to call Enphase agents in WA starting with those closest to me.
Surfside Electrical to the Rescue
Eventually I found Surfside Electrical and they were very helpful. They did also warn me about the issues with things such as bird poop and the fact that false alarm call-outs would be charged.
I told them I am an engineer and that bird poop would not be an issue. They came and inspected the system as installed and provided a quote to install the extra metering equipment.
Frustration #2:  Monitoring hardware needed to be upgraded for consumption monitoring
It transpired that I would need to replace the 'Envoy' management box (hardware).  This annoyed me a lot as I had made it clear to the original installer that I wanted panel level monitoring.  Either the original company were incompetent, deceptive or wanted to sell something they had in stock.
[Note from Finn: All Envoys can monitor at the panel level if the installer enables it in the software. It looks like the new installer had to upgrade the Envoy hardware to accomodate Ian's request for consumption monitoring]
So we paid to replace the Envoy box and add the wiring and additional metering hardware and fired up the system.
No go. Bugger.
Frustration #3: Wi-Fi Woes
It seems that the Enphase systems are very sensitive to the signal quality of the Wi-Fi connection particularly when using the Enlighten management software. An investigation followed and the company that fitted the stuff recommended we:
have a new Wi-Fi base station installed
move the new Enphase Envoy device to a better location
and install various line filters.
As we have a business we got our normal IT contractor to undertake this work as we find a single supplier works best in these situations. We were also advised that it was possible that Wi-Fi may not work at all and that we may have to install comms cable in the house. In the end relocating the Wi-Fi, replacing the Wi-Fi base station and adding line filters worked.
I should add that the normal Enphase system operates by communicating using the 240 volt wiring in the house. This is ok if you do not have a UPS and line filter in front of the power supply to your computer/Wi-Fi system. If you do then the system may not work well or will work slowly forcing you to use either Wi-Fi or cables. Just something to keep in mind..
Finally! Panel Level Monitoring
The changes worked and now I can look at data to my heart's content. Here's what the software looks like.
First is the standard Enphase overview without consumption or panel level-monitoring.
Now to the same view with the full Enlighten software and metering in place.
You can clearly see the production, grid consumption, and exports in the left hand column and of course you see the total usage. God bless air-conditioning on hot nights!
Now we come to the individual panel performance. Enphase has the data side well sorted. I can move the cursor to see all the panels on the system  you can also see that there are many different reports and some excellent analysis tools.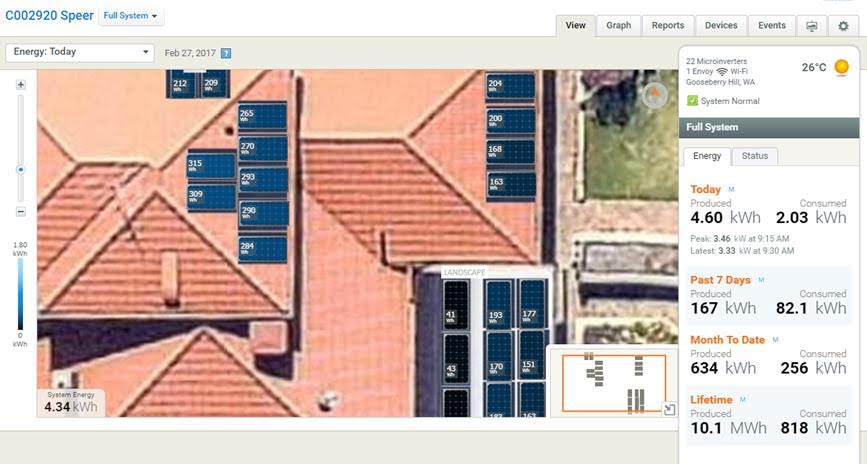 Please note our system was operating for sometime before the metering software and hardware being added hence the total usage figures are quite low compared to total production.
Frustration #4: Enphase batteries can't do backup
My next issue is storage and I'm a bit obsessed with it. The first option I looked at was the Enphase AC batteries but Enphase seems non-competitive particularly against Tesla's pricing.
The Enphase batteries also have no backup function which is a significant disincentive for me as we live in an area where power outages do occur.
My guess is that it will take Enphase 12 months or more to drop their battery pricing and I also suspect that consumer demand for backup will drive them into some sort of upgrade or option to accommodate this. Otherwise they risk another smart operator coming up with a simple AC coupled system that will work with Enphase micro inverters4.
Would I buy microinverters again?
So would I do it again? The quality of the Enphase data management and products to date has been excellent. They manage shading issues well and enable (after some aggravation) individual panel level monitoring as well as detailed system analysis. I also like the modular nature of the entire Enphase systems, as one defective microinverter or battery does not knock the system over.
The difficulty with not having backup with the grid down is a major issue for me and I'm not sure whether I would go with microinverters again. I see their advantages as well as the safety advantages with no high voltage DC on the roof.
[Note from Finn: It is possible to go off grid with Microinverters but it is not straightforward]
End of Ian's words.
---
It Can Be Hard To Get Enphase Enlighten Fully Installed
As Ian's detailed review makes clear, Enphase Enlighten is an extremely effective monitoring system.  However, the difficulty he had in getting it installed makes me want to grunt and go join my father in making stone tools.  What Ian had to go through is flat-out ridiculous and he is not the only person who has had problems.
I can understand installers not wanting to enable the panel-level monitoring system because of false alarms resulting from bird poop, or leaves on panels, or from the homeowner simply not understanding how the system works.  While the business won't be out-of-pocket if they charge a call-out fee for false alarms, the installer can still feel bad about having to charge people for doing nothing and the customer can definitely feel bad about having to pay for nothing, so I can understand wanting to avoid all that.
But if a customer wants panel level monitoring for their system and the installer doesn't want to provide it, they should make that crystal clear from the beginning.  It is not acceptable to convince people to buy Enphase, by promoting panel-level monitoring as a future upgrade, and then refuse to actually add it.
As panel level monitoring is one of the advertised benefits of Enphase microinverter systems, I think people are entitled to it if they ask for it. Enphase should take steps to make it available to everyone who wants it.
[Note from Finn: Robin from Enphase explains how existing Enphase owners can pay to upgrade to panel level monitoring in this comment]
In the meantime, anyone buying Enphase who wants panel level monitoring should make that clear to the installer at the quote stage, and ensure it is a line item on any quote. Some installers have a policy of not enabling it for customers, others are happy to, and it is best to learn of this before the quote.
But, if you are happy to pay the price, once Enphase monitoring is up and working and any connectivity problems fixed, then it is an effective panel monitoring system that can complement Enphase's very reliable and effective microinverters.
If anyone has questions for Ian about his system you can leave them in the comments.  He says he's happy to answer any questions he can, but he's no solar power expert.