When it comes to choosing solar panels and inverters, we recommend sticking to well known brands.
Over the years we've seen lots of obscure panel brands hit Australian shores, often with slick websites, and almost always with dubious claims of being 'engineered' in anywhere-but-China.
Our experience is that the quality of these mysterious brands is often poor, and if they fail a few years down the line it can be very hard to find the company that originally imported or manufactured them.
An example of a panel and inverter brand we would not recommend is OneSolar 1.  We've seen reports that these panels are currently being offered for sale by various solar marketing companies.
OneSolar's Australian headquarters are a serviced office in Sydney.  The website says it is "Copyright © 2017 OneSolar Pty Ltd.". Unfortunately, according to ASIC there is no such company registered in Australia at the time of writing.
I rang the number on the website and the lady that answered had no idea which legal entity she was working for, except that it was called "OneSolar". My guess is that she worked for an 'answering service'.
The fact that OneSolar's Australian website copyright claims to be owned by a non-existent company should be all the reason you need to not buy these panels when there are heaps of well known, low risk brands for you to choose from.
But if you need more reasons, OneSolar's Australian site has no problem misleading customers.
The OneSolar Homepage
You can check out the Australian OneSolar website at onesolar.com.au , or if that's not quite exotic enough, you can take a gander at their international page at one-solar.com .
(note: the URLs above give security warnings on some browsers – so we have not linked to them – visit them at your own risk)
Their Australian homepage doesn't have a lot of text, but at the time of writing, two sentences in large blue type do stand out:
That is BS.
There are two ways the first part of that statement could be taken.  Either:
OneSolar panels are more efficient than others, or…
There are more OneSolar panels in existence than any other panel.
Neither is correct.  In fact, they are both pretty astoundingly wrong.
OneSolar's Efficiency Is Not Good
OneSolar panels range from 14.8% to 16.0% efficient according to their specs.  That is fairly low by today's standards, so they definitely do not produce more energy per panel.
The most efficient panel currently on the market is SunPower's X22 which is 22.2% efficient.  Those of you who have taken the effort to better yourselves by watching Sesame Street have probably already deduced that 22.2% is larger than 16.0%.
Remember the name of the company that makes the most efficient panels – SunPower.  They'll come up again in this article soon enough.
OneSolar Panels Hardly Exist
As for OneSolar panels being so popular there are more of them in existence than any other, well, according to the internet they hardly exist.  There is very little information about them at all.  As far as I can tell, OneSolar is a German installer that rebrands panels made in China as their own and has decided to come to Australia to grace us with their presence and certainly not at all to obtain revenge for Tobruk.
OneSolar Panels Are Apparently Pretty
OneSolar includes information on their homepage about how pretty their panels are:
As you can see in the screen capture above, they say how pretty they are right next to a picture of perfectly ordinary looking solar panels with 3 busbar wires across each cell and which look exactly like the very large majority of solar panels that have been produced in the world ever since round solar cells went out of fashion.
Now you might say beauty is in the retina of the beholder and perhaps they honestly think their panels are really good looking.  But if you check the panels OneSolar actually offers you'll see they don't have any panels with 3 busbar wires, so they don't even sell the panels they claim will make your roof the most beautiful on the street.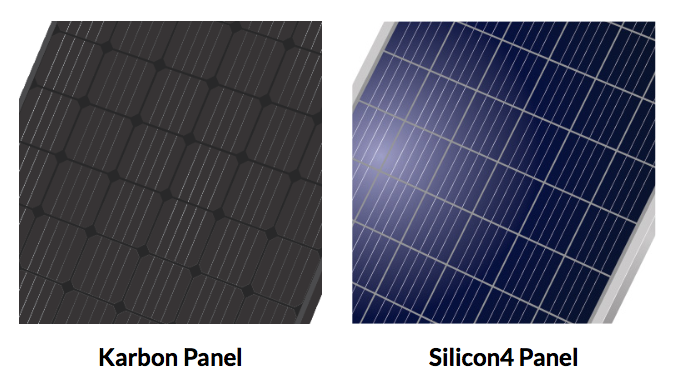 OneSolar Uses SunPower's Image
There are two types of panels on OneSolar's Australian site.  A black series they call the Karbon panel and a blue series they call the Silicon42.
On the page devoted to their Karbon panel there is a large picture of it and I have taken this closeup showing the solar cells they use:
Notice the 4 busbars?
The next thing OneSolar does is show a close up of an individual cell and here it is: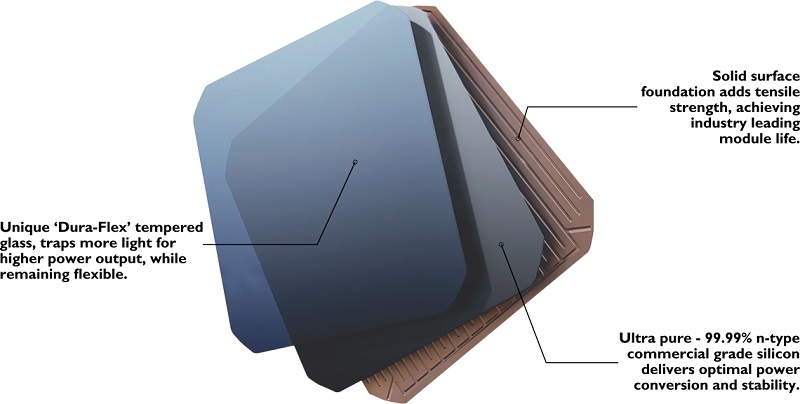 You may have noticed the 4 busbars have disappeared from the cell.  Where did they go?  Did they walk out on strike?  Did someone scratch them off?  Did the busbar burglar stop by and steal them?
Actually, none of those things happened.  The reason why the illustration of their solar cell has no busbars is because it isn't their cell.  It's actually a picture of a SunPower Maxeon solar cell and they just took the image and changed the text.  Here's the SunPower page it originally came from.
That's pretty bloody cheeky of them, taking the image of what is possibly the best cell available and passing it off as their own.  I have to give OneSolar 10 out of 10 for balls, but since they're not actually in the business of selling testicles, I have to give them 0 out of 10 for being a business you can trust.
Actually, with the track record they've established, I wouldn't be surprised if they mine this article for quotes and use the following as a testimonial:
SolarQuotes®  : "I have to give OneSolar 10 out of 10"
Panels, Inverters, And Storage, Oh My!
On their Australian site they have one inverter they call the Power Qube.  I don't know what it was originally called when it was made in an unknown factory, but Power Qube is what they have rebranded it as.
If you are interested in it, I can recommend a good manufacturer of 12 foot poles on account of how I wouldn't touch it with a 10 foot one.
While I strongly suspect their inverter was made in China, they completely fail to mention where it is made.  Their Power Qube page has the following phrase frequencies:
"German quality standards" – 4 uses
"German and US engineering" – 1 use
"Made in Germany" – 3 uses
"Made in USA" – 3 uses
"Made in Japan" – 2 uses
"Made in Netherlands " – 1 use
"Made in Austria" – 1 use
"Made in China" – 0 uses
If you are wondering how it could manage to be made in so many different countries that aren't China, OneSolar has an image of the internals of their inverter that displays how 10 of its components are definitely not made in China.
But this doesn't mean anything, as I could open up the cheapest inverter I could buy and find components in it from around the world.  That's how modern supply chains work.  They allow factories to use the cheapest components no matter where they're made.
China Don't Get No Respect
Personally, I find it pretty tacky how a German based company can mention 6 different countries on its inverter page, but not the actual country it was made in.
I am not saying the German based OneSolar company is as prejudiced as my Grandfather on ANZAC day after he's polished off a bottle and a half of whiskey.  I'm just saying they don't seem to want to give China any credit.
The OneBattery System
The Australian OneSolar site has a page about their OneBattery energy storage system and I have to say I was was very impressed by its almost complete lack of information.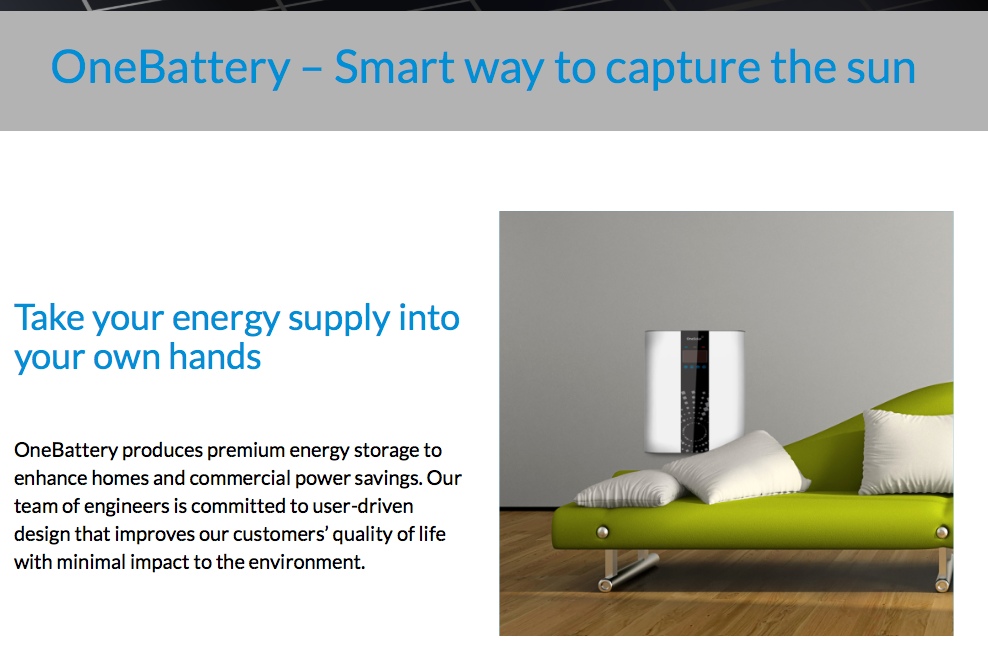 I think I have met disorientated green ants that have imparted more information to me than their battery page3.  If you want to know its storage capacity, power output, warranty, size, star sign, or anything like that you are out of luck.  But they do say:
"OneBattery has been the market leader and pioneer in fully integrated lithium-ion energy storage systems."
Now that is pretty bloody amazing.  I've been writing about battery systems for years now and I never would have expected the market leader to turn out to be a system I have never heard of before.  That's totes amazeballs.  I can state quite confidently, without any fear of contradiction, that my amazeballs have never been more toted.
All I can say is, they must be using some bloody good stealth technology.  No doubt one day soon they will flick a switch and all these OneSolar battery systems we didn't know were installed will uncloak and everyone will be able to clearly see they are the market leader.  This will be quite unlike the situation we have today where they just appear to be making stuff up.
But I do have to give credit where credit is due.  OneSolar has solved a major problem of wall mounted battery systems, which is the best way to attach a system to a wall.  Normally there is a lot of mucking around with drills and bolts and frames and screws and things, but OneSolar has done away with all that.  Their solution is so simple it's brilliant.  They just photoshop it to the wall.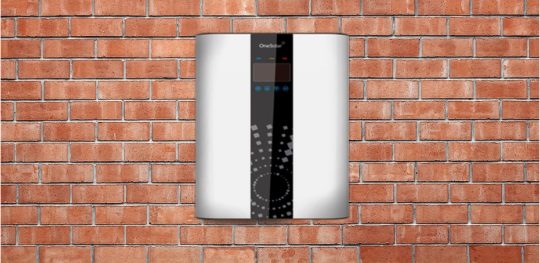 The OneSolar Warranty
On their Australian site OneSolar doesn't give any warranty information for their solar panels.  But they do state they have a 12 year warranty for their Power Qube inverter.  This is the longest warranty I know of for a string inverter.  Even Fronius, which makes some of the best inverters available, currently only offers a 10 year warranty.  [Update 17th March:  I overlooked SolarEdge which has a 12 year warranty on their inverters.]
But if you think 12 years sounds impressive, just wait until I tell you that in Europe OneSolar offers a 20 year warranty.  That is astounding.  Those Chinese factory workers must be doing a hell of a job to make such a reliable inverter.  Such a good job that you'd think they'd deserve some credit for it, wouldn't you?
I have no information on how reliable OneSolar's inverter's are.  For all I know they could be better than those of all the leading manufacturers and will last for decades without problems.  But it would be remiss of me if I did not state that I strongly doubt this is the case.  My spider senses are definitely tingling on this one.4
We have seen OneSolar has no problem exaggerating how much energy their panels produce or saying ones they don't even sell will make your home the most beautiful on the street.  They took an image of SunPower's solar cell and claimed it was their own.  They bent over backwards to not give the impression their made in China inverter is made in China.  Also, they claim their battery system has been a market leader when I've never even heard of it and their best illustration is a photoshop.
The Moral Of This Story
Unfortunately the Australian solar industry suffers from a constant stream of new panel and inverter brands5 who turn up with flashy websites, glossy brochures with lashings of photoshopped images, and claims that their rebranded cheap Chinese panels or inverters are somehow equal to or better than the very best on the market.
There are a few common warning signs to look out for if you want to avoid these brands:
They give the impression their panels are made in Australia but they are not Tindo panels, which are the only ones made in this country.
They talk a lot about 'German Engineering'.
They claim their panels or inverters are as good as or better than the best currently on the market.
The only information about their panels and inverters you can find online comes from their own website.
The companies selling them use door to door salespeople.
To get a reliable system that will deliver low bills for decades we strongly suggest the following:
Use only Tier 1 solar panels or Tier 2 ones that are known to be reliable such as Tindo Solar or Opal solar panels.
Use a well known brand of inverter.
Use a reputable installer who has proven themselves to be trustworthy.
You can find out which panels are reputable and which inverters are reliable by checking out SolarQuotes' Solar 101: A Beginner's Guide.  And if you go here SolarQuotes will be more than happy to put you in touch with reputable installers.
But for those who feel like taking a punt on a brand like OneSolar, I would just like to say that the first Sydney Harbour Bridge I am selling today is solid gold on the inside, all its components were made in Germany, and it comes with a 20 year warranty.  Bidding starts at $100,000.