Who saw the 7:30 report last night? Its lead story was questioning the safety and quality of the Australian solar power industry. Leigh Sales promised to reveal "the dark side of Australia's solar obsession".
Bloody hell, that sounds bad. It certainly left the viewer wondering if buying solar was such a good idea. Especially if there's a chance it will burn their house down! But we all know journalists like to sensationalise. So what's the truth?
The bad news: Yes – there is a problem with low quality installations. Too many substandard and unsafe solar systems are being installed on roofs around Australia.
The good news: If you refuse to buy the cheapest system on the market, do your research into panel brands, inverter brands and solar installation companies you are highly unlikely to get a low quality install.
So let's take  a deep dive into the ABC's story to determine what was fair and what was not:
The report into inspections and dodgy installations
The Clean Energy Regulator (CER) is responsible for administrating the Renewable Energy Target and performs a "statistically significant" number of solar power system inspections each year.
The CER's language is revealing. "Statistically significant" means they audit just enough installations get statistically valid numbers for their reports. But they don't do anywhere near enough inspections to weed out the shonks who are installing shit every day. I'm guessing the project was designed by a bureaucrat who cares about pretty reports – not an engineer who cares about safety.
The Australian National Audit Office audits the inspection program and published a report way back in December 2018. Ronald wrote an excellent piece dissecting the CER inspection results here.
The CER handballs enforcement action on failed systems to the Clean Energy Council (CEC). The CEC boots a handful of installers out of the industry every year.
1-in-30 systems 'unsafe'
The ABC was horrified that 1-in-30 (2.7%) solar power systems were found to be 'unsafe'. The language used in the official report classes them as a 'severe risk'. The ABC was right to be horrified. Conventional residential solar systems can have up to 600V DC running through the roof, which is more dangerous than plain vanilla 230V AC. Almost 3% of systems being a severe risk to safety is unacceptable.
The Clean Energy Council's line that:
'the number is going down'
is not good enough. After 10 years the CEC should have helped enforce an inspection regime that makes it  almost impossible for an unsafe system to be switched on.
In my humble opinion the 2.7%  figure alone justifies moving to 100% inspections by state and territory regulators.
1-in-6 systems 'sub-standard'
How many solar power systems are on your street? I count 8 on mine. One of those is most likely sub-standard: officially at a 'high risk' of failing. That's awful. Australia has been installing at volume for 10 years now. If we still have one 'high-risk' substandard system per street, the inspection system has failed us.
The ABC have a point. Too many solar systems are not up to scratch. The CEC claim things are improving. You judge for yourself: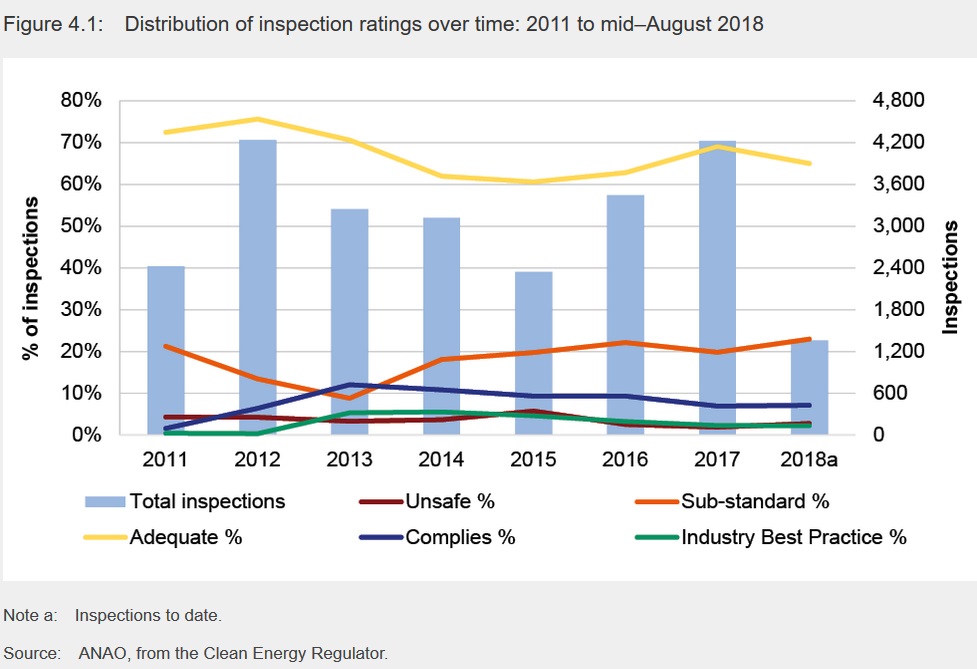 We need a step change in system safety. The simple solution is up to 100% inspections by state and territory electrical regulators.
Rex's failed solar panels
The ABC used the case of a gentleman called Rex as an example of someone whose solar panels failed early. Rex was getting his panels replaced after just 4.5 years.
Although the brand was not named on TV, I know Rex had Trina panels. Trina Solar panels have had a huge problem with water ingress over the last few years. That's not good. But Trina have a brand to maintain and as far as I know they are honouring all warranties (as they have to under the law).
I have been told that Rex paid nothing to get a full fleet of brand new panels from Trina Solar. So he bought a well known brand and discovered, happily,  that the warranties were worth more than the paper they were written on. Well done Trina and well done Rex.
I think the ABC should have mentioned that – the implication was that Rex was out-of-pocket1.
Rex bought a reputable brand
If you read my Solar 101 guide, you'll see my solar panel brand chart. You'll notice that Trina are on the far left2. That means I consider them a reputable budget brand. Budget brands are more likely to have issues – but should be easy to claim the warranty on.
Top tip: If you want to minimise the chance of having any issues with your panels for the next 2-3 decades, then buy to the right of the red line I scrawled on the chart: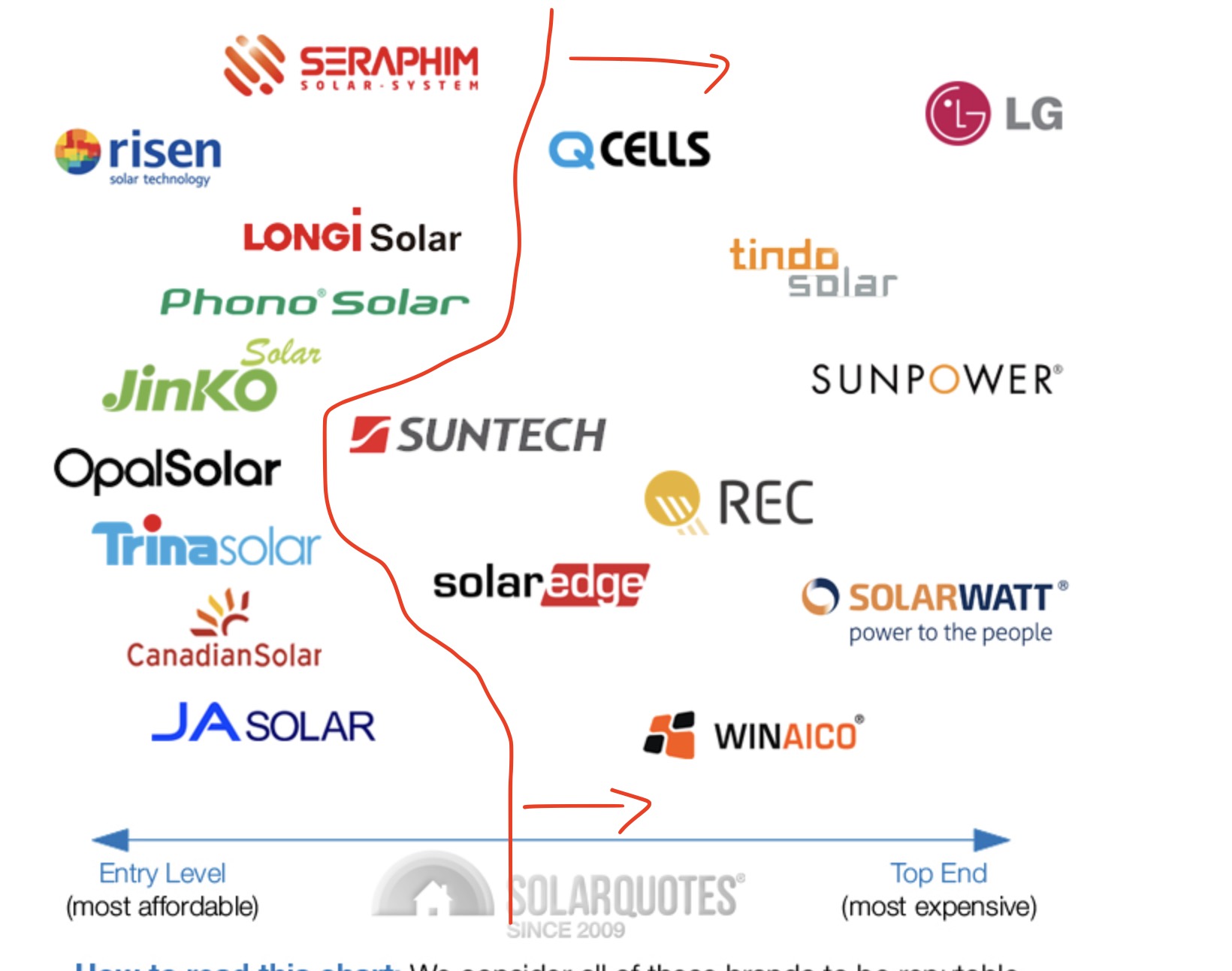 What about the environmental issue?
No one wants to see solar panels that should last 25-35 years going on the scrapheap. And if you buy an ultra cheap, no-name brand it is very common, in my experience, for them to start degrading within 3 years.
Happily – if you buy a well known brand (see above) they are likely to last much longer than the 1-2 years it takes to pay their embodied 'energy debt' back.
But what about the STCs? The STCs environmental benefit assume 12 years of generation3. Most panels should last more than double that – so a small number of systems going to the scrap heap will not drag the average lifespan under 12 years. Arguing that the STC scheme is not saving CO2 is disingenuous.
Recycling solar panels
Johann Fleury, an excellent solar installer, who was replacing Rex's panels under warranty says it is likely the old, defective Trina Solar panels will end up in landfill. I hope that at the very least someone pulls the aluminium frames off them!
If Trina wanted to do the right thing environmentally, for $30 each they could be almost 100% recycled through a company called Reclaim-PV. Because I can't see Trina forking out $600, I think any solar panel manufacturer that replaces a panel under warranty should be forced to cover the $30 cost of proper recycling of each panel. Serves them right for cocking up their quality control.
Solar panel fires & DC isolators
The report rightly pointed out that the weakest link in many solar systems is the rooftop DC isolator. The rule that insists on rooftop isolators is a stupid one that should be repealed. But who knows if it ever will be.
In the meantime what is the humble solar power system buyer to do if they don't want a DC isolator on their roof?
Simple – you can buy a micro inverter system. They don't use high voltage DC, so they don't require a rooftop DC isolator. That's what I've got on my roof. But then I am particularly paranoid – my house is literally made of straw.
If you already have a rooftop DC isolator then, if it was installed by a quality installer, you should get the isolator (and whole system) inspected every 5 years.
If you got a bargain basement system and are not confident in the install – get that sucker inspected ASAP.
Clean Energy Council says it's all under control
Without a doubt the Australian solar power industry would be in a worse state without the CEC. They have recently lifted their game on panel and inverter quality4.
They are also taking action against some installers. But not enough. They only kicked out 12 last year (that's 0.2% of 6000 installers).
They've had 10 years to get this right. And the solution is breathtakingly simple: up to 100% inspections by state and territory electrical regulators.
On Facebook – responding to the ABC 730 report – the CEC CEO said:
"As noted, state electrical safety bodies are reviewing their inspection programs. CEC supports this, including higher levels of inspections where appropriate."
So perhaps we'll get there and the CEC will come along for the ride. Perhaps they will actually start to vigorously advocate for many more inspections and stronger enforcement. We can but hope.
In the meantime – if you are a consumer who is buying solar power, here's how to take matters into your own hands instead of waiting for the bureaucrats to do the right thing.
How to buy solar safely
Ensure the panel brand is on this chart and the inverter brand is on this chart. Go as far to the right hand side as you can afford.
Research your solar installation company thoroughly. Don't just look at at their overall reviews score. Look at the worst reviews and see how they got those reviews. If a restaurant gets a 1-star review it might be because the meal took too long.  Or it might be because there was poo in the chocolate gelato. There's a big difference between the offences! See what the solar company did to get their worst reviews. Did they earn a 1-star review by being late for their install, or using rude words on the roof, or did they do something really bad, like refusing to fix a system that does not work, doing a dangerous installation, or just being complete arseholes?  If you want to be really safe, use SolarQuotes' new 'AusRanking' feature and go for a company with a score of over 80%. That means they are in the top 20% of all installers reviewed – the cream of the crop.
Call the solar panel manufacturer's Australian office and check that their panels – as used by your chosen installation company – will be warranted by them in the instance that the solar company is not around for the next 25 years. Ditto with the inverter.
Get Solar Analytics installed. Uniquely, this monitoring system will email you if a problem emerges with your solar power system. This makes it much more likely that any problems that emerge over the decades can be fixed before they cause a safety issue. A friend of mine got a Solar Analytics alert that her energy yield had dropped to 78%. The installer came round and found a melted DC connector. Left undetected that could have started a fire.
Get a solar power system safety inspection done every 5 years.
Done right, solar's risks are tiny.
If the ABC 7.30 report scares you off solar energy, then it's condemning you to many more years of high bills. That would be a shame. It is not fun paying exorbitant electricity bills when you don't have to.
But if the ABC report nudges you towards doing your research and paying a bit more for better solar power from a well regarded installer, then that's a good thing for everyone. Except the companies selling crap systems that are badly installed. They'll be really pissed off.