We're very pleased to publish the first in what will be a monthly report on the current state of solar power interest in Australia – the SolarQuotes auSSII report.
The SolarQuotes web site welcomes hundreds of thousands of visitors a month, which results in thousands of solar quotes being issued by pre-vetted installers who are part of the SQ installer network.
This level of activity provides us with interesting insights into what Australians are wanting from solar power and battery storage systems.
So, without further ado, here's some highlights from activity in Australia during the month of July 2017.
Where Was The Interest?
We saw the most activity in New South Wales in July, which accounted for 34.19% of quote submissions; followed by Victoria (20.86%) and Queensland (17.83%).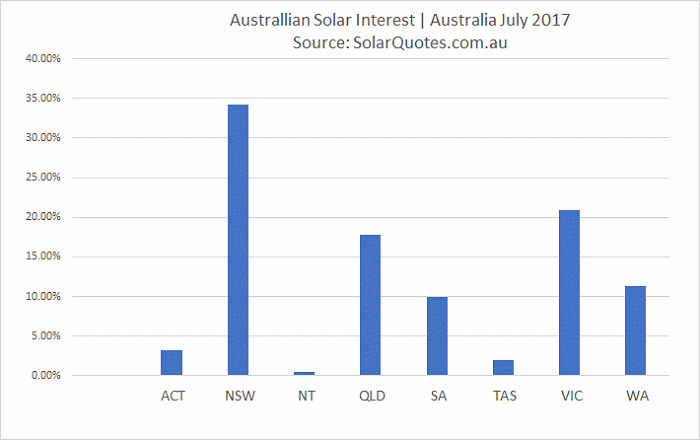 System Size Preference
Nationally, 5kW solar systems were the most sought-after during July, comprising more than half of requests where a capacity was specified.
The glory days of the trusty 1.5kW PV system are well and truly over, making up just 2% of specific system size requests.
In 40% of quote requests, Australians indicated they were unsure on system size and requested advice.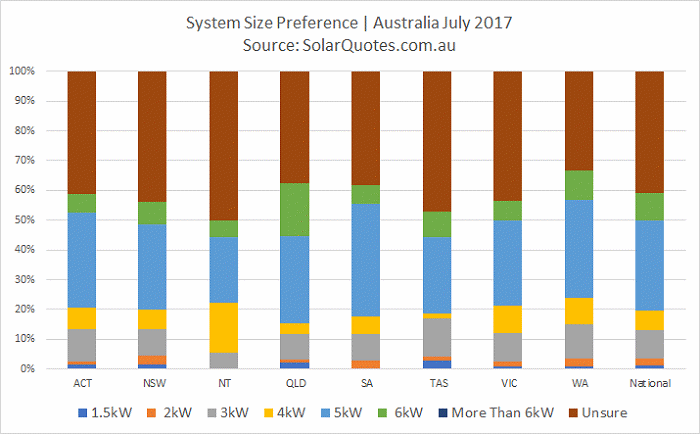 Purchase Intent
Three-quarters of visitors requesting quotes were looking to buy solar power within the next three months, indicating a high degree of motivation.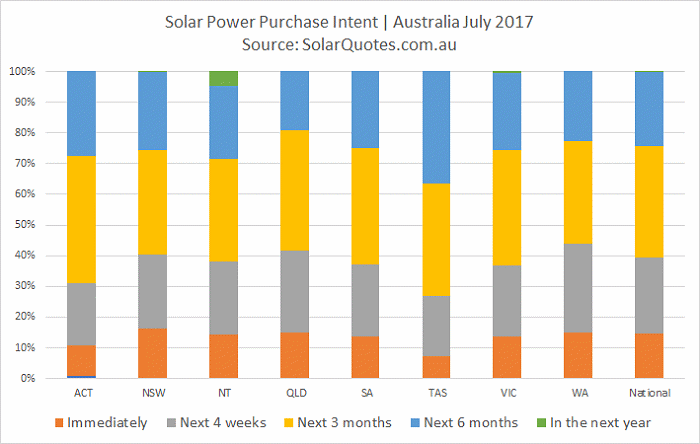 Battery-Ready System Requests
Interest in home battery storage is more geared towards it being a future addition rather than immediate purchase. 10 percent of requests indicated interest in a battery ready solar power system. There was no interest registered in battery-ready systems in the NT.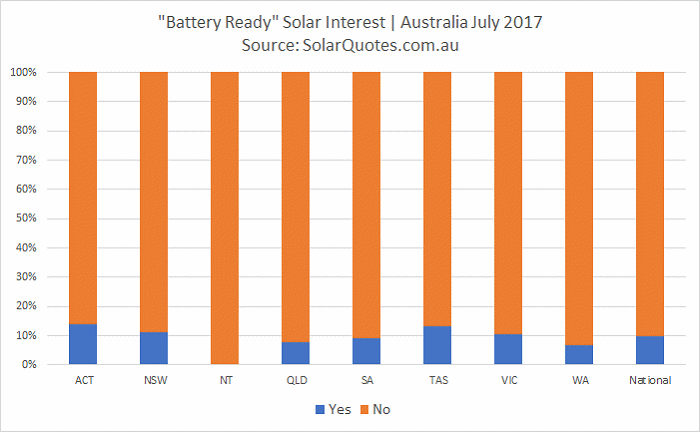 Solar + Battery Storage Interest
July's figures reinforce that the battery revolution is yet to really get under way in Australia, with just 6% expressing a serious intent* of installing PV + battery storage from the outset. There was no interest in solar + storage package purchases in the NT.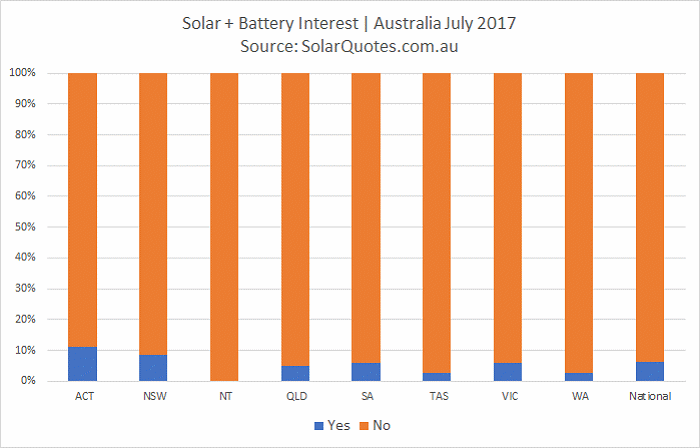 Battery Size Requirements
For those wanting to install a solar + storage system simultaneously, large battery systems (10 kWh+) were most popular, making up nearly half of all requests where capacity was specified. As with PV system size selection, a large percentage (~47%) requested guidance in this regard.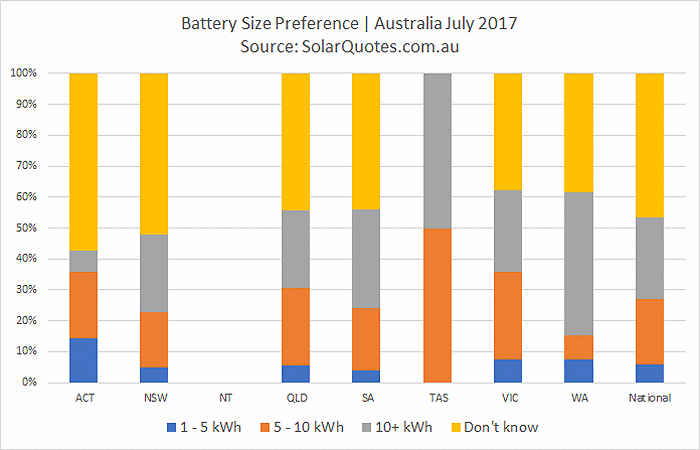 Energy Storage Application
Half of those requesting solar + battery system quotes expressed an intention of using home energy storage to both minimize grid consumption and as a backup power solution.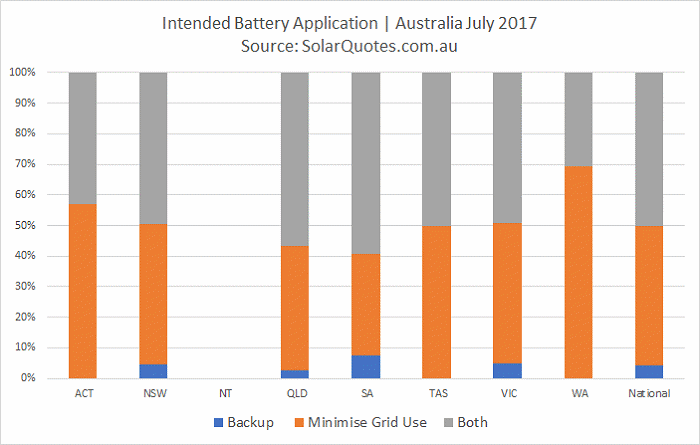 Current Power Bills
46% of Australians who submitted for system quotes during July stated their average electricity bills were between $500 and $1,000 a quarter. Approximately 6% were unsure of how much they spend on electricity.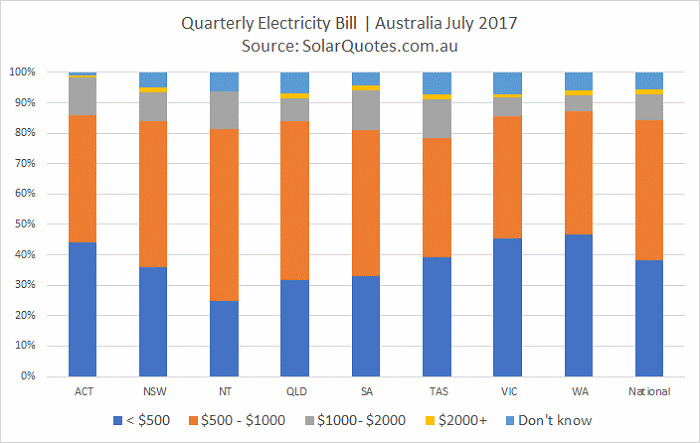 That's it for the first auSSII report – in the months ahead we'll be incorporating more data and insights into each publication. The next report will be published in early-mid September. To be notified when new reports are released, subscribe to our weekly newsletter .
If you're interested in getting 3 quotes from our pre-vetted installers, click here; or browse through some of thousands of solar installer reviews .
Installers – if you have a passion for delivering quality and would like to learn more about the benefits of joining the SolarQuotes installer network, further information on our solar sales lead generation services is available here .
Report Reproduction Guidelines
You are welcome to reproduce graphs and other detail from this report if this page is acknowledged as the source.
* During our solar quoting process, a flag is displayed when PV + batteries are selected; providing details of approximate costs before the submitter can proceed. This helps to ensure the submitter is seriously interested in solar + storage. An alternative option of a "battery-ready" system is also offered at this point.