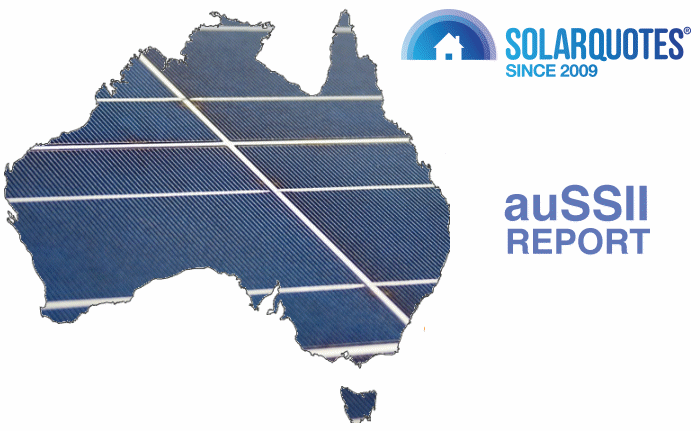 Interest in solar power in Australia usually sees a significant decrease in December, but last month saw plenty of Australians with tiny electricity bills on their minds. Australia's solar installers won't be getting much of a break in the foreseeable future.
Solar Power System Sizes
Interest in 6kW solar systems and bigger capacities again climbed in December to just over 58% of interest (57% in November) where a preferred system capacity was selected. Overall, 31% of submitters wanted advice on solar power system sizing.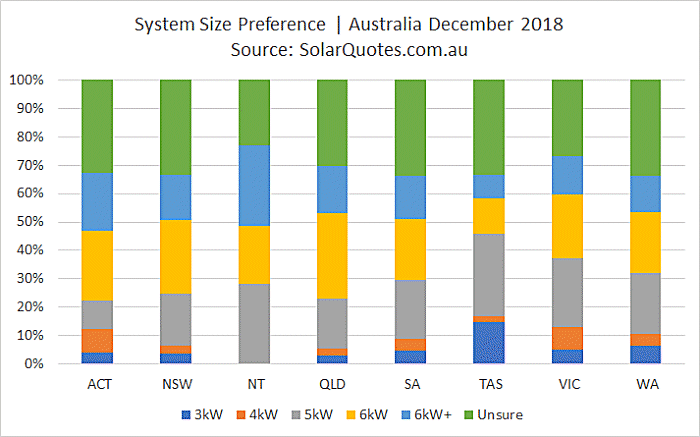 Solar Power Purchase Timeframe
There was still a strong appetite for the immediate installation of a solar power system in December. In fact, the hunger was even greater in December at 26% (November 24%). As mentioned last month, this may have had to do with the start of the New Year seeing a scheduled drop in solar subsidy. The good news is the decrease wasn't a huge amount and is being offset by the ongoing reduction in the cost of solar panels and other components.
Around 86% were keen on installing a system anywhere from immediately to three months – the same as in November.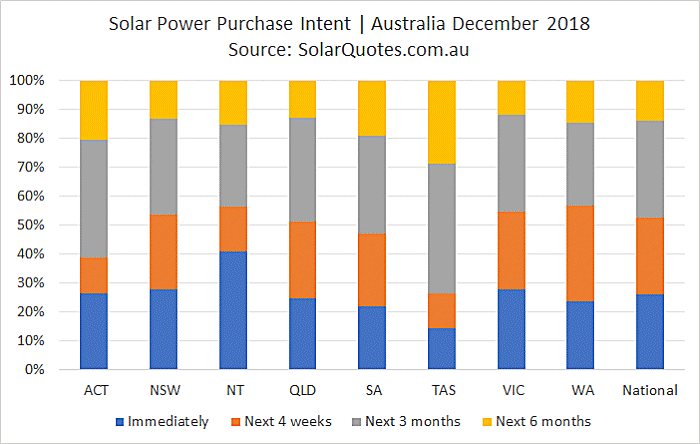 Price And Quality Issues
79% of submitters were interested in a system that was "a good mix of quality and price" (80% in November). A slightly higher proportion indicated a preference for a "top quality (most expensive)" system (13% vs 12% in November, October and September).  Around 8% were after a "good budget system".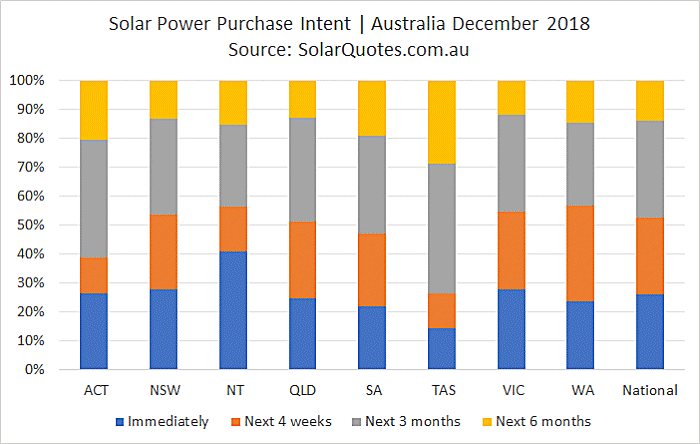 Battery Ready?
No surprises here – once again 30% were wanting a battery-ready system in December, a figure that has hardly budged over 7 months. While most solar power systems  are "battery-ready" to some degree, we ask this question in our quotes request process to help inform  system design.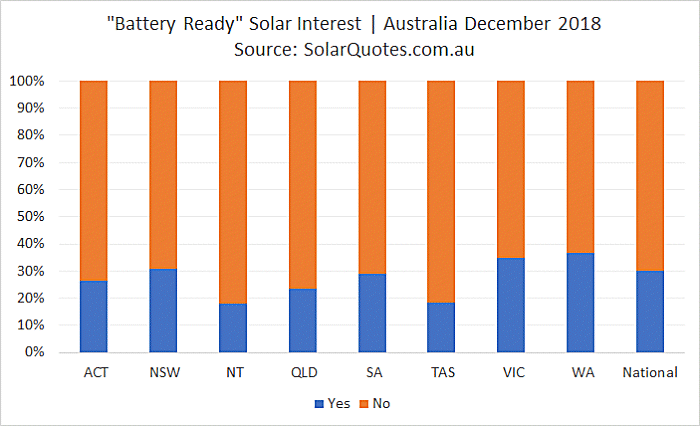 Concurrent Solar + Storage Installation
Again, not much has changed – in December approximately 9% of submitters expressed a desire to have battery storage installed along with their solar panel system. However, interest is up around 22% on August when the proportion was 7%.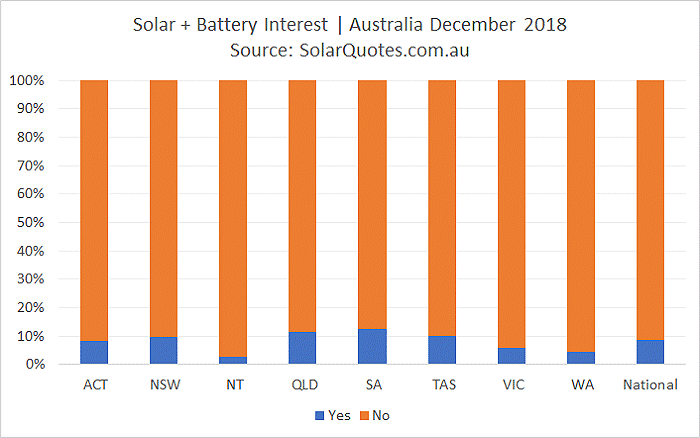 On a related note, South Australia's Home Battery Scheme, which also offers low interest loans to assist with a new solar + storage installation, is offering a wider range of battery system choices from this month. Tesla Powerwall, LG Chem and Enphase have been added as an eligible systems.
Battery Size Choice
Big capacity battery systems (10kWh+) again gained popularity among those who had a size in mind, to reach just over 37% (35% in November and 30% in October).  53% wanted advice on solar battery storage sizing, down on November/October's 55%.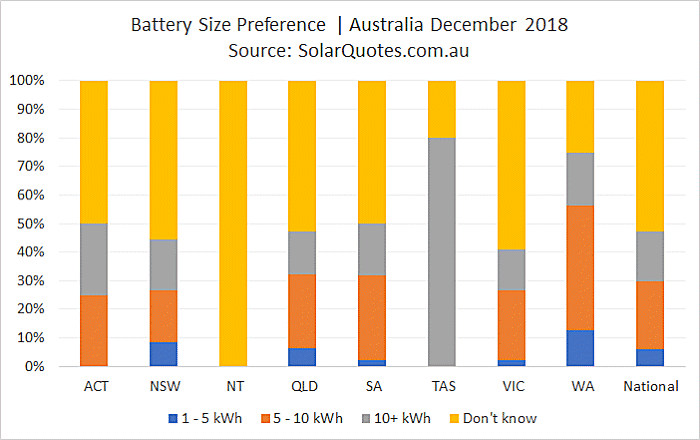 Intended Battery Use
Well, this aspect is getting a little boring. A bit over 4% were wanting a home battery primarily for backup applications; a figure that hasn't either side of the 2 – 4% range since first starting the auSSII. A little under 50% wanted storage for minimising grid electricity consumption and approximately 46% for both applications.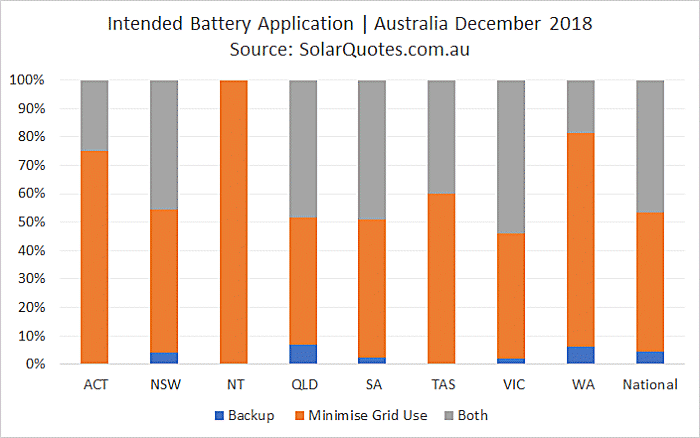 Electricity Bills Before Solar
Where amounts were known, 45% reported quarterly electricity bills averaging $500 – $1,000,  the first time this figure has dropped in 4 months and the lowest in quite a while (November 49%, October 47% and September 46%. But there's still plenty of hip-pocket pain – close to 11% reported bills of $1,000 or more (same as October/September)..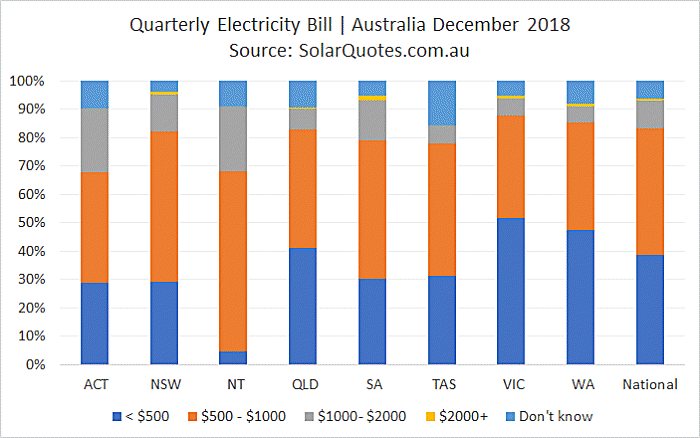 About The auSSII Report
We base the auSSII on the information provided by thousands of Australians who use our obligation-free solar quoting service each month. Users of our service receiving pricing and details from carefully pre-vetted installers participating in the SolarQuotes network.
Solar Sales Leads – Motivated Buyers
As you can see from some of the figures mentioned above, many Australians using our service are ready to go solar very soon. SolarQuotes is always eager to partner with installers who offer quality solar at reasonable prices. Learn more about our solar sales lead services.
auSSII Content Reproduction
If you wish to re-use any content from any auSSII report we only require that the page you have reproduced content from is acknowledged in your reproduction.