The Lithium Ion Battery Test Centre in Canberra has released a new report.  They released it 5 months ago but I'll make apologies for tardy reporting later. 
Last year I wrote a long article on the Battery Test Centre.  It was titled, "Worrisome Results From Canberra's Battery Test Centre" because only 10 out of the 18 battery systems tested operated without problems. 
At the time I didn't count battery deterioration as a problem, but this new report goes into detail on the topic. One-third of the batteries in the report clearly show unacceptable reductions in capacity.  The worst was the German GMB LFP battery that lost more than 1% of capacity per month of simulated testing.  Taking this new information into account means less than half the batteries purchased for testing stored and supplied electrical energy as they were designed to. 
Goddammit batteries!  You had one job!
The good news is you can greatly increase your chances of getting a battery system that works by buying one made by a manufacturer with a good reputation.  According to the results of the latest report there are a few brands that have done well when in the area of capacity deterioration or "fade" as it's sometimes called.  Of the systems accessed, those that suffered the least deterioration were:
The BYD B-Box.
The Samsung Energy Storage System — now replaced by the Hansol AIO. 
The Sony Fortelion, which no longer appears to be sold in Australia.
While it didn't perform nearly as well as these three, I will mention the LG RESU10H is on track to be safely above the minimum 60% of original capacity its warranty allows after approximately 9.3 years of daily cycling. 
I Am Totally Tardy
The Lithium Ion Battery Test Centre produces 6 monthly reports every 6-8 months.  They're a bit rando when it comes to the exact number of months in 6 months.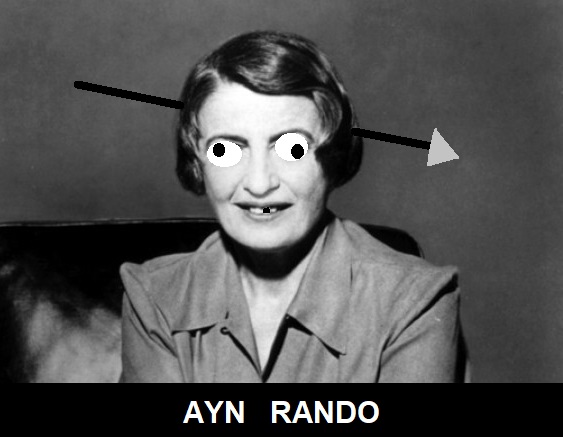 But just because they're a little flexible on how many months are contained within 6 months doesn't mean I don't seem slack for only writing about it now.  After all, the report came out back in the dark days when Dean Lewis's "Be Alright" was still considered music rather than the dying whines of a wounded autotune machine.  But trust me, being this late in writing about the report is all part of my master plan — which I will explain to you as soon as I come up with something I think will sound convincing to my boss.
On the bright side, you'll only have to wait 1-3 months for me to write about their next report.  Of course that assumes I'll actually be alacritous and not my usual recalcitrant self.
Funded By ARENA
The Lithium Ion Battery Test Centre is funded by ARENA, which is a government organisation dedicated to accelerating "Australia's shift to an affordable and reliable renewable energy future" and blowing money on lousy consultant reports.  This frees the Battery Test Centre from the need to make money, which is constantly getting in the way of all my best business ideas. 
Phase #1 Batteries : Capacity Deterioration 
The first phase of testing began around June 2016 when 8 battery systems were purchased, placed in a climate controlled room to mimic real life temperatures and then had their usable storage capacity cycled three times a day to simulate the effects of once a day cycling in one-third the time. 
Or at least that was the plan.  Because of various problems with battery systems the graph below only shows capacity test results for 4 of the 8 systems.  Additionally, the results for the Tesla Powerwall 1 cannot be directly compared with the others because under test conditions its discharges were uncontrollable and it discharged harder and faster than any other system.  While its results look bad it's not possible to be absolutely certain other batteries wouldn't have performed as poorly if their discharges were just as wild and reckless.  In practice it's unlikely to be discharged that rapidly, so its deterioration in actual use should be less.   
The dots on the graph represent capacity tests.  Their locations indicate they were clearly flexible with exactly when the tests were done.  I also noticed this…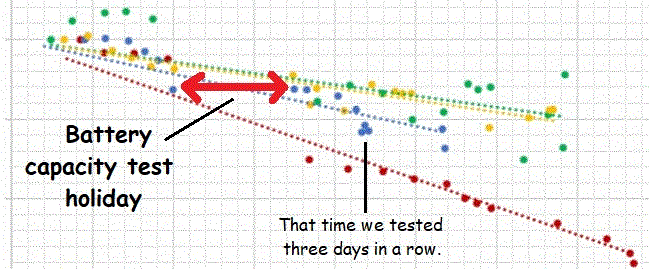 There's a gap where no tests were performed for about 80 days.  I don't know why.  Maybe the team felt the need to go around the world or maybe they simply ran out of dots and had to wait 80 days to be resupplied. 
But despite the gap and despite the considerable variation in test results for the Samsung system, the testers were still able to draw straight lines that best fit the data points.  If I assume battery capacity will continue to deteriorate in a linear way and extend those lines for the three systems that had controlled discharges I get this: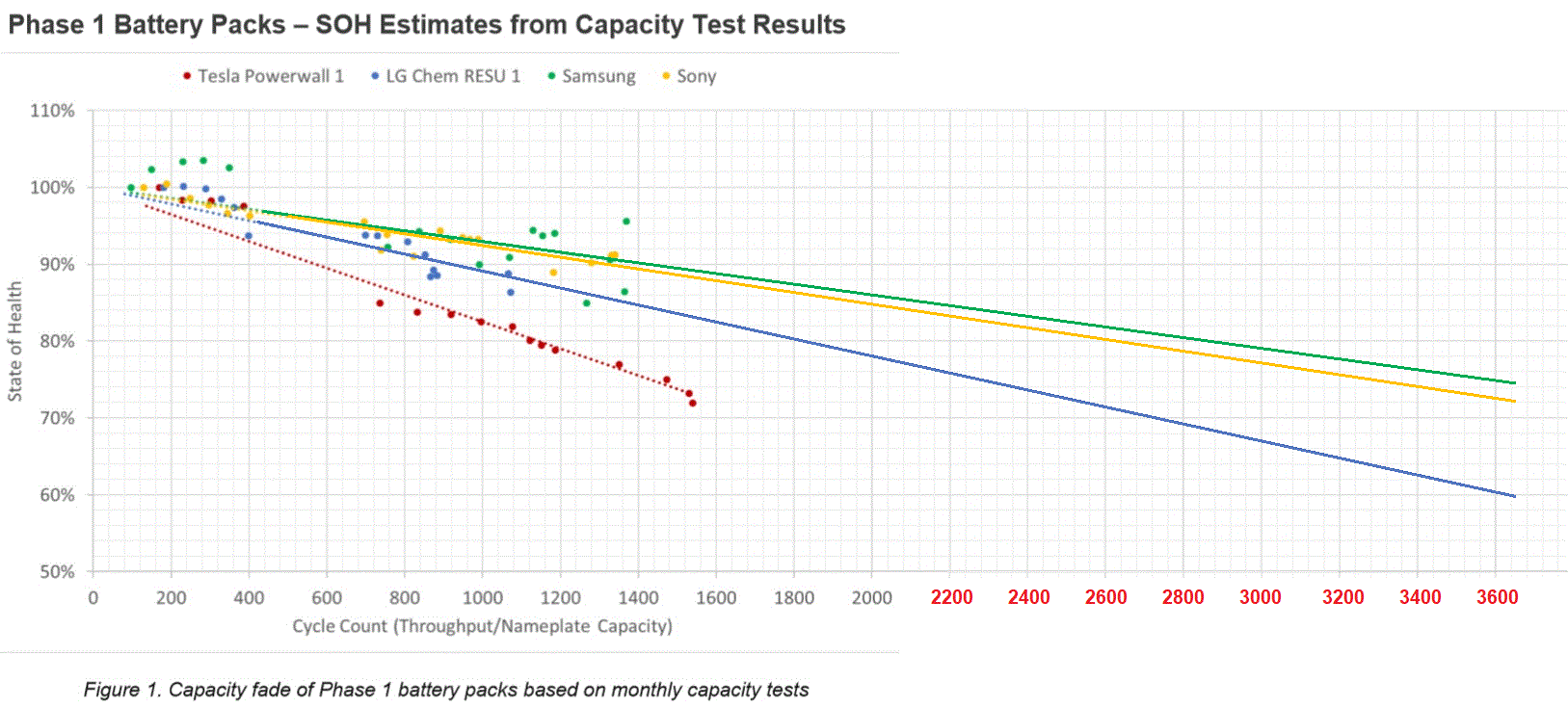 This suggests if the battery systems were cycled an average of once per day then after 10 years (3,650 cycles) the percentage of remaining original capacity would be:
Samsung:  74%
Sony:  72%
Original LG Chem RESU:  60%
As households typically only cycle batteries an average of 0.8 times a day, these results should give owners of these systems confidence they are unlikely to fall below the capacity minimums stated in their written warranties.
Original LG Chem RESU Overheating
The original LG Chem RESU being tested has suffered from overheating problems.  This is despite the highest temperature is it exposed to is only 36 degrees, which isn't unusual during Australian summers.  The system derates when hot, which means it charges and discharges at a reduced rate.  At one point heat forced it to shut down entirely.  While this shouldn't have a major effect in actual use it is still a concern.  This model of LG Chem RESU has been superseded and the LG Chem RESU10H used in the second phase of testing has not had this problem.
Phase #2 Batteries: Capacity Deterioration
Phase 2 involved buying 10 battery systems in early 2017.  Unfortunately only 5 of them could be tested for capacity fade. 
The graph below shows the results: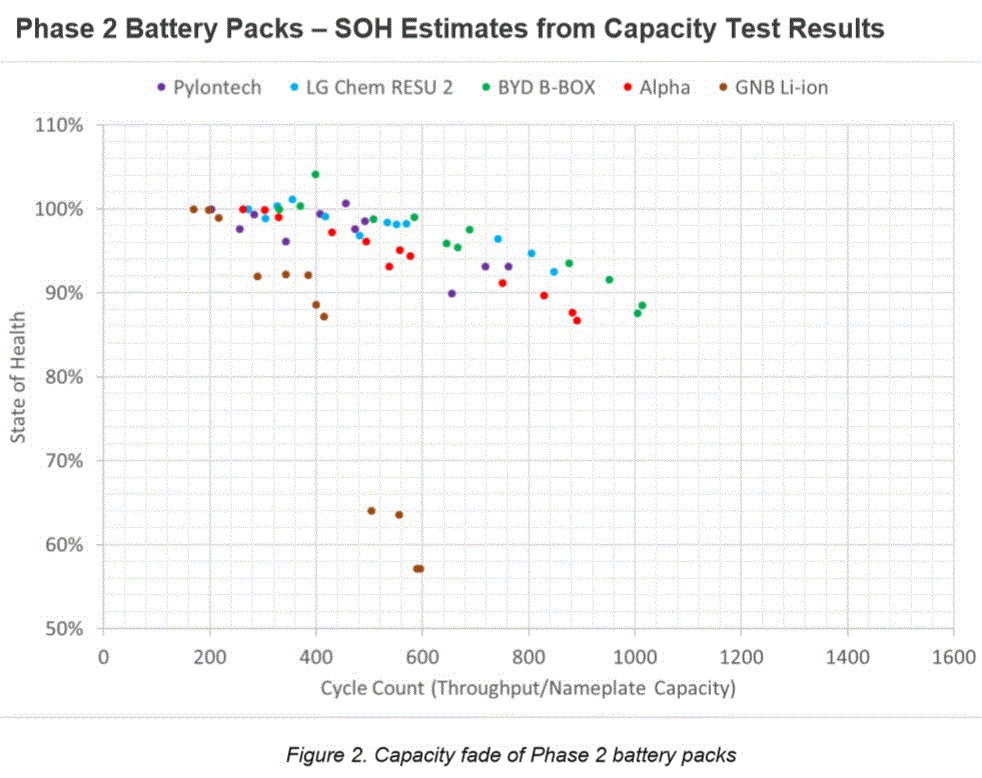 The graph shows the results of capacity tests, but doesn't have any lines through the data points for me to extend.  Luckily, in addition to the regular tests of capacity, they also estimated battery deterioration from the average capacity discharged and the graph below using this information does have lines through the data points: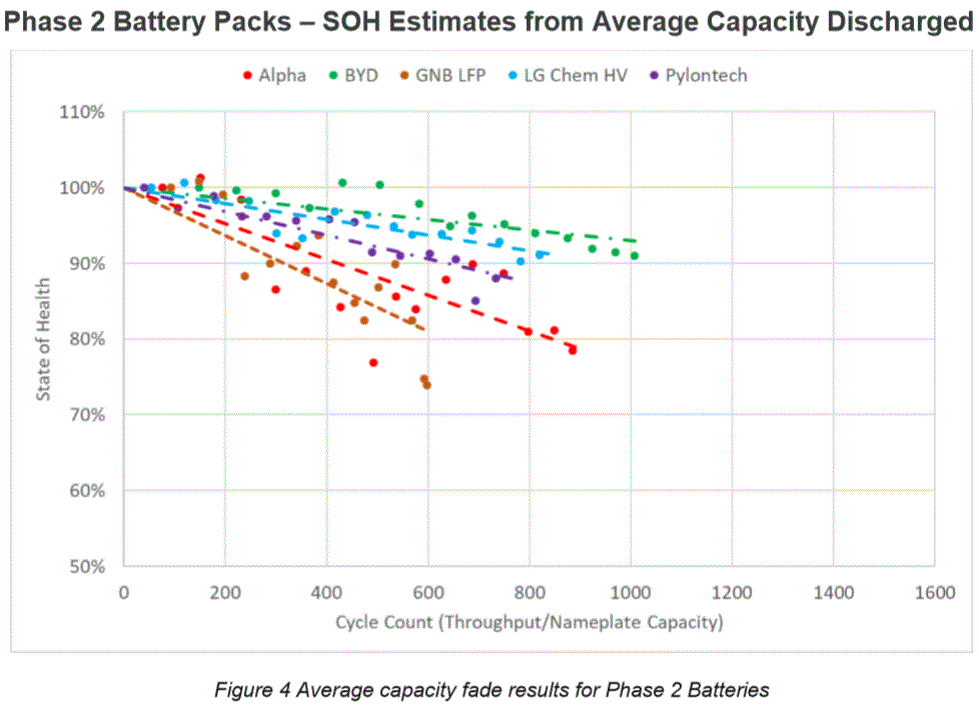 If I assume battery capacities will decline in a linear fashion and extend those lines I get this: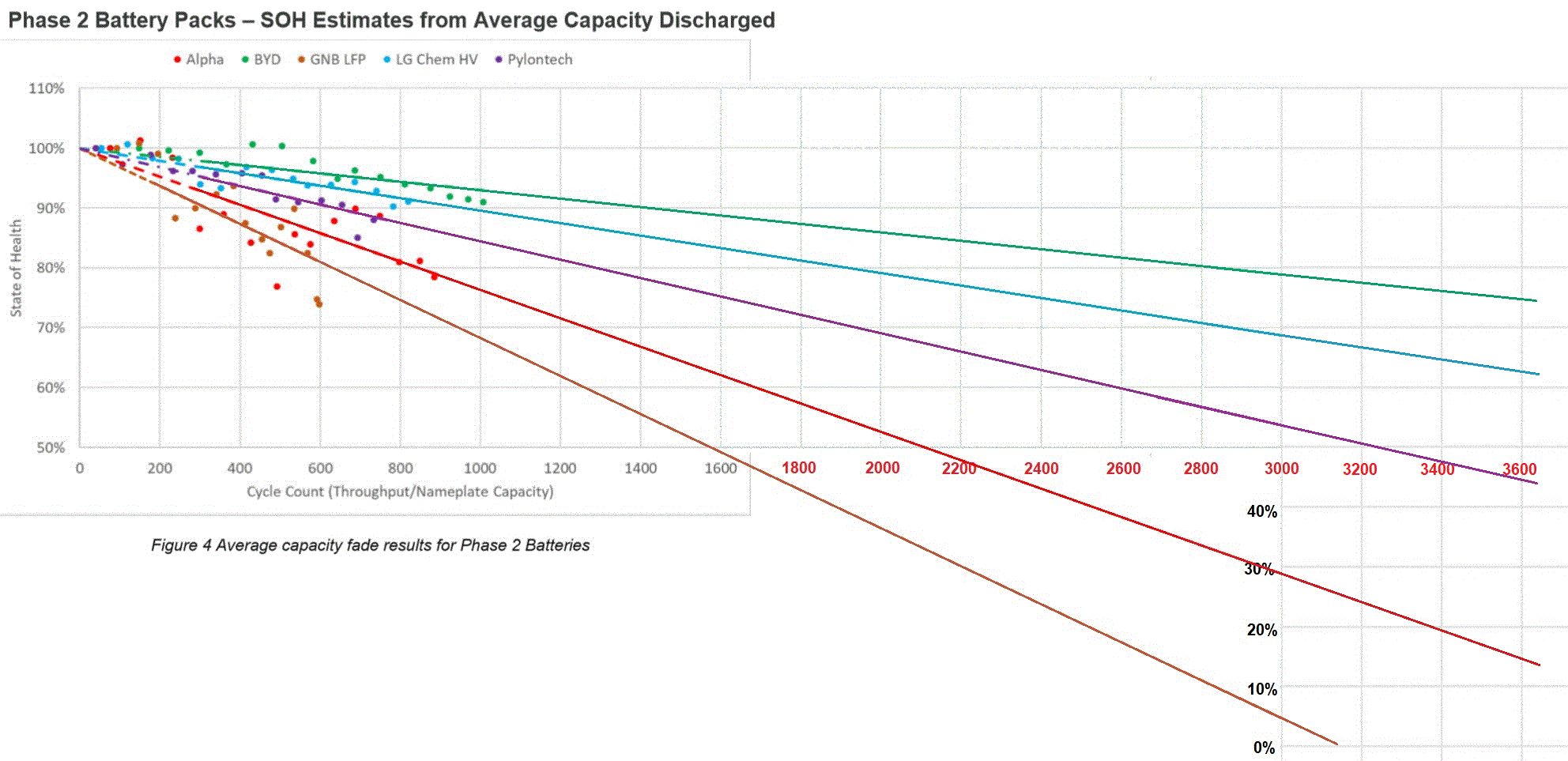 Assuming this graph isn't simply a fantasy based on my need to extrapolate lines beyond what some consider decent and it accurately predicts future battery capacity, then after 10 years of being cycled an average of once per day the percentage of original capacity remaining would be:
BYD B-Box:  75%
LG Chem RESU10H:  62%
Pylontech:  44%
Alpha ESS:  13%
GNB LFP:  0%
This is clearly a good result for the BYD battery and suggests there is a large margin of safety built into its written warranty.  It only promises to retain a minimum of 60% of its original capacity at the end of approximately 7.8 years if cycled an average of once per day.  As it seems set to only degrade by half this much by that point it looks as though one of the world's largest battery manufacturers knows how to make a durable battery.
The LG Chem RESU10H doesn't perform nearly as well as the BYD B-Box, but it looks as though it will have a margin of safety when it reaches the end of its warranty.  When cycled once per day its warranty will end at around 3,400 cycles, which is 9.3 years.  At this point, according to my extrapolation, it will have around 65% of its original capacity left while its warranty promises a minimum of 60%. 
The other 3 battery systems did not perform well.  The ones that are available now may be significantly better as they've had nearly two years to improve, but their poor performance in testing is obviously not a good sign.  Alpha ESS have a new line of battery systems that have been approved for South Australia's battery subsidy, so hopefully they will perform far better than the older model currently being tested. 
While it's possible lithium battery systems will continue to operate until they only have a tiny portion of their original capacity, as the straight lines I drew on the graph above suggest, it's possible at some point their capacity will fall off a cliff and rapidly deteriorate or the system will spit the dummy, throw up an error message, and refuse to work at all. 
Round Trip Efficiency
The estimated DC to DC efficiency of 10 battery systems is shown in the graph below: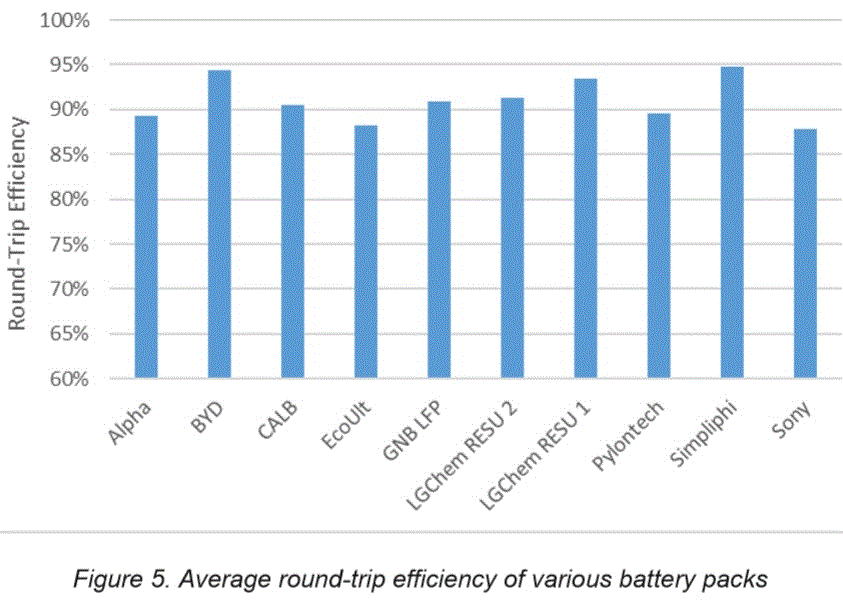 This is the round trip efficiency of DC power into the battery to DC power out of the battery.  It does not include losses from inverting AC power to DC power or vice versa.  If a battery has a DC to DC round trip efficiency of 90% and uses an inverter that is 97% efficient either way then its total round trip efficiency will be under 85%.
Tesla Powerwall 2 Information Coming Soon
Tesla doesn't allow owners of their battery storage systems to control the product they've bought and so the Battery Test Centre has had difficulty accessing their Powerwall 1 and 2.  But with Tesla's assistance they have been able to begin testing the Powerwall 2 and will provide information on it in their next report. 
Be Cautious When It Comes To Batteries
I think the lesson to be taken from the Battery Test Centre's reports is to be careful when choosing batteries.  When experts are only able to provide data on half the battery systems they purchase it's not a good sign.  You can greatly increase your chances of getting a functional system by picking one whose manufacturer does good work. But because batteries won't save most Australians money there is a lot of downside for little benefit.