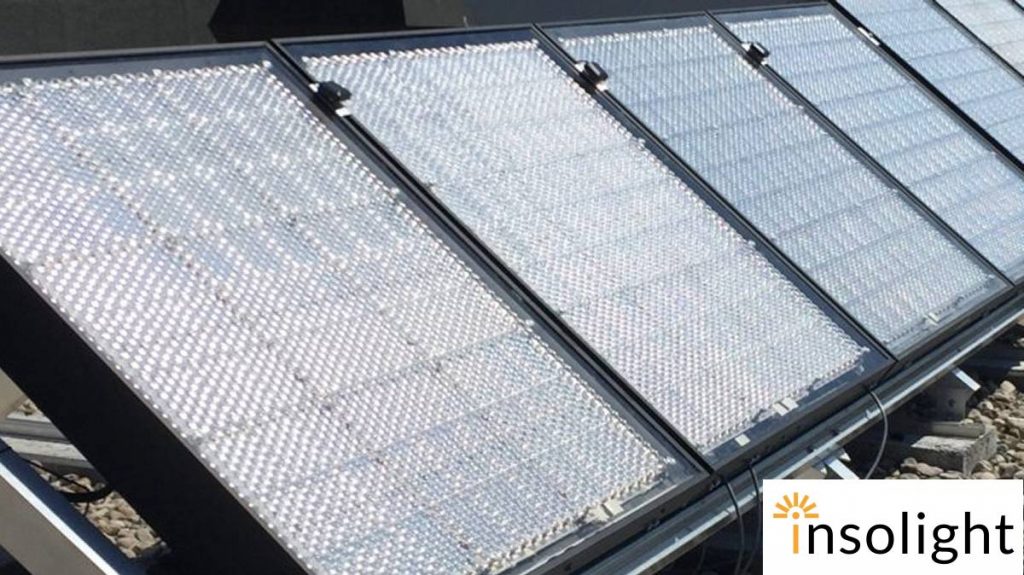 The use of tiny "space-grade" solar cells and lenses have enabled Insolight to achieve a claimed 29% efficiency for its high-tech solar panels, which are currently at the commercial pre-production stage.
Panel efficiency1 is continually improving, but improvements tend to be incremental. Solar panels installed on rooftops in Australia these days have a conversion efficiency of anywhere between 15% and a little over 22%, with modules towards the upper end of the range associated with top-shelf brands such as SunPower and LG.
Insolight's module has a face covered by small lenses, concentrating sunlight 200x. The light is focused on an array of high-performance 1mm2 multi-junction solar cells on a layer that shifts horizontally a few millimeters each day to help keep the cells aligned with the beams of light. It's only stated this movement is achieved by "mechanical means" – so perhaps it involves thermal expansion.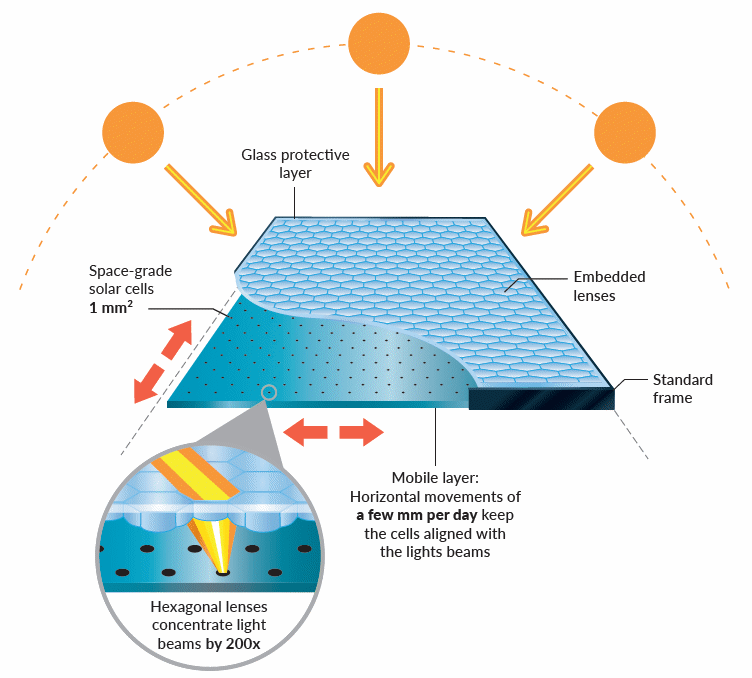 The company says the Insolight system can be easily incorporated as an overlay on top of conventional solar panels using standard manufacturing technology, by adding a few stages at the end of an assembly line. It says this hybrid approach is especially beneficial in maintaining energy harvesting under cloudy conditions.
As for the estimated price – that hasn't been bandied about as yet, but the company states the panels will be cost effective thanks in part to only 0.5% of the total surface area occupied by the high-tech cells.
"Our technology can reduce solar electricity costs by up to 30% on rooftops in sunny countries," said Laurent Coulot, CEO of Insolight.
According to Insolight, the 29% efficiency result was validated by the Solar Energy Institute of the Universidad Politécnica de Madrid (IES-UPM).
This is where I get a little confused – was the 29% *module* efficiency achieved with a panel using conventional cells + multi-junction cells, or just the latter? Or has something been lost in translation? Regardless of how efficient the cells are, 0.5% of the total surface area seems to be a tiny amount, even with the use of concentrator lenses. The video above also makes reference to 3,000 of the cells on a panel and the modules used in the pilot plant are quite small compared to conventional solar panels.
Anyhow, it's an interesting concept and like other novel concepts, it remains to be seen if it actually goes to market. Even if that does occur, it won't be for some time as Insolight says it has its sights set on 2022 for market launch. Putting off going solar for any length of time while waiting/hoping for The Next Big Thing to materialise just locks you into higher electricity bills for longer.
If solar panel efficiency is something you fret about, check out Solar Panel Specifications – What You Need To Know; part of The Good Solar Guide, which is free to read online in its entirety.
Footnotes
Solar panel conversion efficiency is the measure of how much of the sunlight that hits a panel is converted into electricity. ↩