The Bolivar Waste Water Treatment Plant will become the new permanent home for South Australia's so far barely used turbine generators.
Currently located at Lonsdale and Elizabeth, the generators have been in place since November last year, ready to provide emergency back-up power if needed over the summer months.
Currently they are configured to use diesel, but once moved to Bolivar in the northern suburbs, the generators will operate on gas. The new site is adjacent the Moomba to Adelaide gas transmission pipeline, the SEA Gas transmission pipeline and ElectraNet's 275kV electricity transmission network.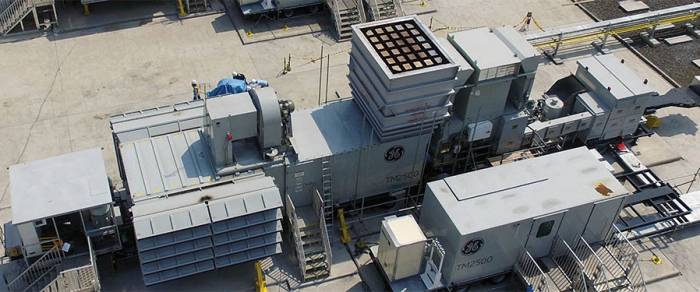 "This is the first power plant South Australians have owned since Rob Lucas1 and the Liberals privatised ETSA," said Energy Minister Tom Koutsantonis. "We exercised our option to purchase this power plant to protect it from any future Liberal Government making that same mistake twice and privatising this essential piece of public infrastructure.
A community consultation process will start soon and the plant will need to meet all relevant environmental and noise level requirements. The power plant is expected to be operational next summer and will "protect households and businesses from unnecessary supply shortfalls".
Learn everything you need to know about the mobile General Electric TM2500 turbine generators (and then some).
It's been a big couple of weeks for energy related announcements in South Australia.
Virtual Power Plant
50,000 SA homes are to get solar panels and a Tesla Powerwall 2, which will make up a 250MW/650MWh virtual power plant. SQ's Ronald says the concept is virtually brilliant, but asks if it's a good idea.
South Australian Produce Market Microgrid
The South Australian Produce Market in Adelaide's northern suburbs will soon host a 2.5MW solar power system, 4.2MWh lithium-ion battery and 2.5MW onsite generator, which will form the basis of a microgrid.
Highbury Pumped Hydro Energy Storage/Snowtown North Solar
Also last week, Tilt Renewables unveiled plans for a 300MW/1350MWh pumped hydro energy storage project at a disused quarry at Highbury, just 14km north of Adelaide's CBD. Tilt also said it had been provided $7.125 million from the SA Renewable Technology Fund to support development of  a 44MW solar + 21 MW/26 MWh battery storage facility near Snowtown in the state's mid-north.
Spencer Gulf Pumped Hydro Energy Storage Projects
On Thursday, the State Government announced it was backing four new pumped hydro energy storage projects in the Upper Spencer Gulf.  Altura Group, Rise Renewables, EnergyAustralia and GFG Alliance will receive grants ranging from $500,000 to $4.7 million for their projects, all of which are located at reservoirs and disused mine sites near Whyalla. More on this here.
Other Renewables Related Announcements
When it comes to renewables, South Australia is continually proving the state is anything but boring. As we reported last week, a recent poll indicates the majority of South Australians are proud of the state's renewables and energy storage achievements – and that was before most of the above projects were announced.
South Australian voters go to the polls next month in an election that Premier Jay Weatherill believes will be a referendum on renewable energy.
Footnotes
Rob Lucas served as Treasurer of South Australia from the 1997 election until the Liberals' defeat at the 2002 election ↩