Hi everyone.  Happy New Year!  This is a short article about a new hot water diverter developed by Australia's Catch Power.  I'm just letting you know it's available and because I don't really have anything bad to say about it this may seem like an advertisement. 
Regrettably, I have little choice other than to write articles that read like ad copy now that Finn has fired me for writing the word "megawatt-hour" when I should have written "megawatt".1  Little choice, that is, if I want to score a new job in advertising!  Specifically, on Madison Avenue in New York.  I saw a TV show and there's an agency there where everyone is totally retro and they all dress like it's the 1950s.  I could totally see myself working there.
Advertising companies need people who enjoy pointing out flaws in products, right?
What's A Hot Water Diverter?
A hot water diverter is a device that sends surplus electricity from your solar power system to your hot water system.  This saves you having to use expensive grid electricity to heat water, although it will cost you the feed-in tariff you would have received if the solar energy had instead been sent into the grid.  This means they are no good to you if you are still receiving an old high feed-in tariff.  This article goes into more detail on diverters, this article compares different types, and here is our Diverter Comparison Table.
If a home has a solar power system of 5 kilowatts or more it is possible for a diverter to allow over 90% of the electrical energy the hot water system uses to come from rooftop solar, although the exact percentage will depend on location and hot water consumption habits.
If
your solar feed-in tariff is considerably lower than what you pay for the grid electricity your hot water system uses (which could be a controlled load or off-peak rate) and
your hot water consumption is high enough,
then a diverter can be an effective investment.
The New Green Catch Diverter
Catch Power produces a Blue Catch diverter, but their new product is a more compact and lower cost version of their Green Catch diverter that used to look like this:
But now it looks like this:
However, the above picture doesn't give a good impression of the true size of the device:
Tech Specs
Below are some technical specifications taken from a brochure you can see in full here: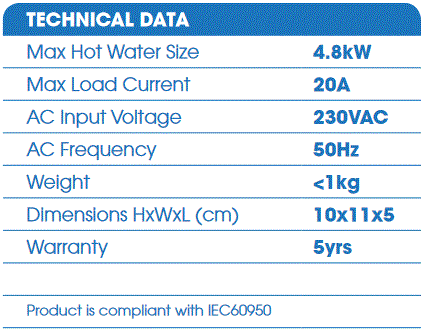 The maximum hot water system heating element you can use the Green Catch diverter with is 4.8 kilowatts.  Most hot water systems have elements that size or smaller, although there are exceptions.
The warranty is 5 years, which is a lot better than the 2 years some diverters have.
Price
The new Green Catch diverter has a Recommended Retail Price of $680.  This is a considerable improvement as Catch Power previously told us the installed cost of the ugly old Green Catch was $1,000.  Getting a qualified electrician to install a cute little new one is likely to cost over $200 and Catch Power has told me the typical installed price is $850 to $900.  Hopefully, as this diverter becomes more popular, the installation price will come down or at least be at the lower end of that range, as practice make perfect.  Or at least faster.
Western Australia Is The Best Location
The best place to install a hot water diverter is Western Australia because:
there are no longer controlled loads available to reduce the cost of operating electric hot water systems and
WA's solar feed-in tariff is only 7.1 cents.2
But the following conditions are important:
An electric hot water system is required instead of the gas hot water most WA homes have.
A home or business should be on a standard tariff that charges a fixed amount for every kilowatt-hour of grid electricity used rather than a time-of-use tariff that lets hot water systems use lower cost off-peak electricity late at night.  A standard tariff is usually better for solar homes.
Somewhat offsetting the value of a hot water diverter is the simple fact Western Australia doesn't get that cold, limiting the amount of hot water people use.  But even a household with modest hot water use can benefit from a diverter.  If a two person household has the following characteristics:
They use an average of 4 kilowatt-hours a day for heating water.
They have the Synergy standard tariff that charges 28.3 cents per kilowatt-hour.
Their solar feed-in tariff is 7.1 cents.
They have a solar power system of 5 kilowatts capacity or more.
A diverter will allow them to get 90% of the electricity their hot water system uses from their solar system.
In this scenario the household would save:
76 cents a day.
$279 a year.
$1,393 over the 5 year warranty period of the Catch Power Green .
So even if the Green Catch diverter died the day after the end of its warranty — which it hopefully won't do — they would still be almost $500 ahead even if the installed cost was $900.  If it keeps working just a couple of years past the end of its warranty the household will be over $1,000 ahead.
It seems like a no-brainer.  Especially for larger households with higher hot water consumption, which can have far higher savings.  However, having a diverter installed needs to be compared to the cheaper alternative of putting the hot water system on a timer that switches it on during the day.  The effectiveness of this approach varies with the size of the heating element.  Smaller elements are able to use a higher portion of solar energy as they are less likely to draw more than the available amount of surplus solar power.
If we assume the following:
Having an electrician install a hot water system timer costs $200.
The timer enables the hot water system to get 50% of its electricity consumption from rooftop solar.
Everything else is the same as in the example above.
Then the household will save:
42 cents a day.
$155 a year
$774 after 5 years.
In this example, thanks to its low cost, the household can be better off with a timer after 5 years.  But a diverter doesn't need to operate much longer for it to clearly pull ahead.  While it will depend on the individual circumstances, a Green Catch diverter will often be the best choice by a wide margin.
A Queensland Example
Hot water diverters can pay for themselves outside of Western Australia, but a household may need to be a large user of hot water for it to be worthwhile.  I'll give an example of what kind of savings can be expected for a two-person household in rural Queensland since I happen to have the electricity bills for this kind of home in front of me.  This household has the following characteristics:
It uses only 3 kilowatt-hours a day for hot water because the climate is even warmer than Perth's.
The hot water system is on a controlled load called Tariff 31 that is 19.2 cents per kilowatt-hour.
Grid electricity is 27.8 cents per kilowatt-hour.
The solar feed-in tariff is 9.4 cents.
It is assumed 90% of the hot water system's electricity consumption will be solar after the diverter is installed.
Under these circumstances a hot water diverter will save the household:
18 cents a day.
$66 a year.
$331 over the 5 year warranty of the Green Catch diverter.
If the Green Catch diverter lasted for 10 years — twice as long as its warranty —  it still wouldn't save this household money.  If the household was larger and used twice as much hot water while keeping everything else somehow stayed the same, the diverter's simple payback period would be 6 to 7 years.
Because the cheaper tariff 31 is available for hot water systems, using a timer often won't be a better option than using a diverter.
The Future Of Diverters Looks Brighter
While the advantages of PV diverters aren't nearly as clear outside Western Australia, under the right circumstances they can still save money.  The decrease in the price of the Green Catch is likely to improve its popularity and Catch Power should be able to make plenty of sales in WA.  So I'm thinking the future of hot water diverters is brighter than it was.
Unfortunately, now that I'm unemployed, my own future is looking pretty bleak.  With no way to pay rent to my ex-wife, my children will be soon be thrown out into the snow.  (Finn is having some snow specially imported for them to be thrown into.)  My only hope is for some kind of New Year miracle — such as my being sacked turning out to be just a low grade running joke I'm refusing to let go of.  I sure hope this turns out to be the case because I don't actually want to work in advertising.  Who would want to go to a drab, soul destroying, advertising office like this everyday?