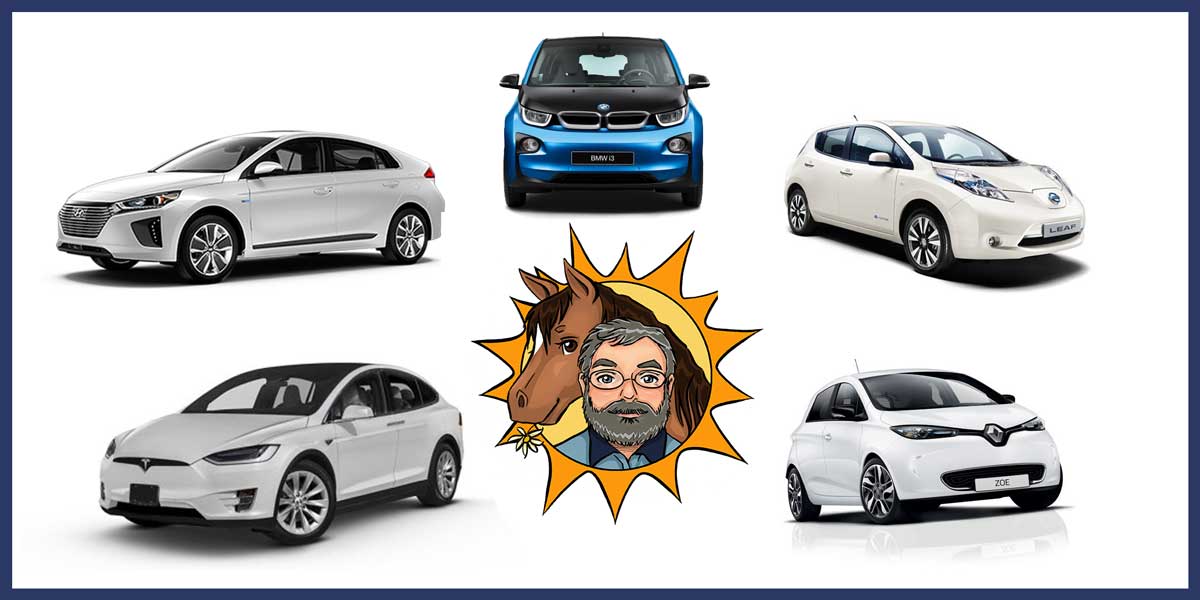 Ronald attended the Charge Together electric vehicle event In Adelaide. Here's what happened…
I attended an electric car event here in Adelaide on Sunday.  I thought it was a reasonable thing to do as I'd recently written about how electric cars don't result in more CO2 emissions than the typical petrol car. Because some people have made apples to oranges comparisons between the greenhouse gas emissions produced by, lower performance petrol cars and larger, higher performance electric cars when charged from the grid, it seemed like a good idea to see with my own eyes that these people aren't being fair dinkum.
I also wanted to get a hands on feel for the size and performance of the electric cars that were on display because it doesn't matter how much you study performance statistics or videos on the internet, nothing is quite like watching an electric car take off in real life and seeing it through your very own smartphone screen.
Charge Together
The event was organized by Charge Together, which is an organization of electric car enthusiasts promoting electric transport and not, as you would expect from the name, a group of kilted Scottish men in a Mel Gibson film.  Everyone I met there was very friendly, including electric car owners and the people who were there to check out their vehicles.  I don't want to go pigeonholing people, but I find those with an interest in helping humanity through adopting environmentally benign technology tend to be friendly in a way that people at white power rallies simply aren't.
Charge Together With Solar
Charge Together promotes the use of solar electricity so electric powered kilometers can be driven emission free.  I asked every electric car owner I met if they had rooftop solar panels and every single one did.  But not one of them had a solar power system large enough to offset the electricity consumption of a typical household plus an electric car.
No Test Drives For Ronald
I wanted to test drive at least one electric car, but they had to be booked ahead and I left it too late.  But this didn't stop me from volunteering to be a passenger whenever there was a free seat in a vehicle I hadn't tried.  I dived in at every opportunity.  I was unstoppable.  I passengered like an extinct pigeon.  After the first couple of test rides I realized it was actually better than driving. I was able to concentrate on the experience and take notes, not put all my attention into avoiding a smash (or revealing that I can't actually tell the difference between left and right).
All Electric Cars Have Excellent Performance
Because of the way their motors work, every electric car that can do highway speeds has excellent acceleration.  And every electric car in Australia will be able to do highways speeds.  There is no need for gears so the acceleration is uninterrupted.  This means every electric car in Australia will have better performance in town than all but the most expensive conventional cars.
While the official 0 to 100 time for the current Nissan Leaf of 8 seconds may not seem that great compared to petrol cars with plenty of grunt, it's the initial rapid acceleration from 1 to 40 that really matters in town and which most petrol cars cannot beat.  This is the case even though the Nissan Leaf is designed for middle aged Japanese people, not boy racers.
High Performance Is Not Needed But Is Definitely Wanted
Back in 1980 the average performance of cars was far worse than it is now but I don't think people were any less happy with them.  In fact, I'd even say they enjoyed them more, even though they broke down more.  But for better or worse — probably worse — people have shown they are willing to pay for performance and electric cars can give them bucket loads of it.  This is one of the reasons why I think, in a few years, electric cars will roll over the competition.
Five Electric Cars
I rode in four electric vehicles and got plenty of good information on another.  As expected, they were all very nippy and I think it's quite possible one of them broke the nip barrier.  Despite being different from a conventional car, none of the new drivers appeared to have trouble behind the wheel and all seemed happy with the experience.
The cars were the:
Tesla Model X
Renault Zoe
BMW i3
Hyundai IONIQ
Nissan Leaf
Tesla Model X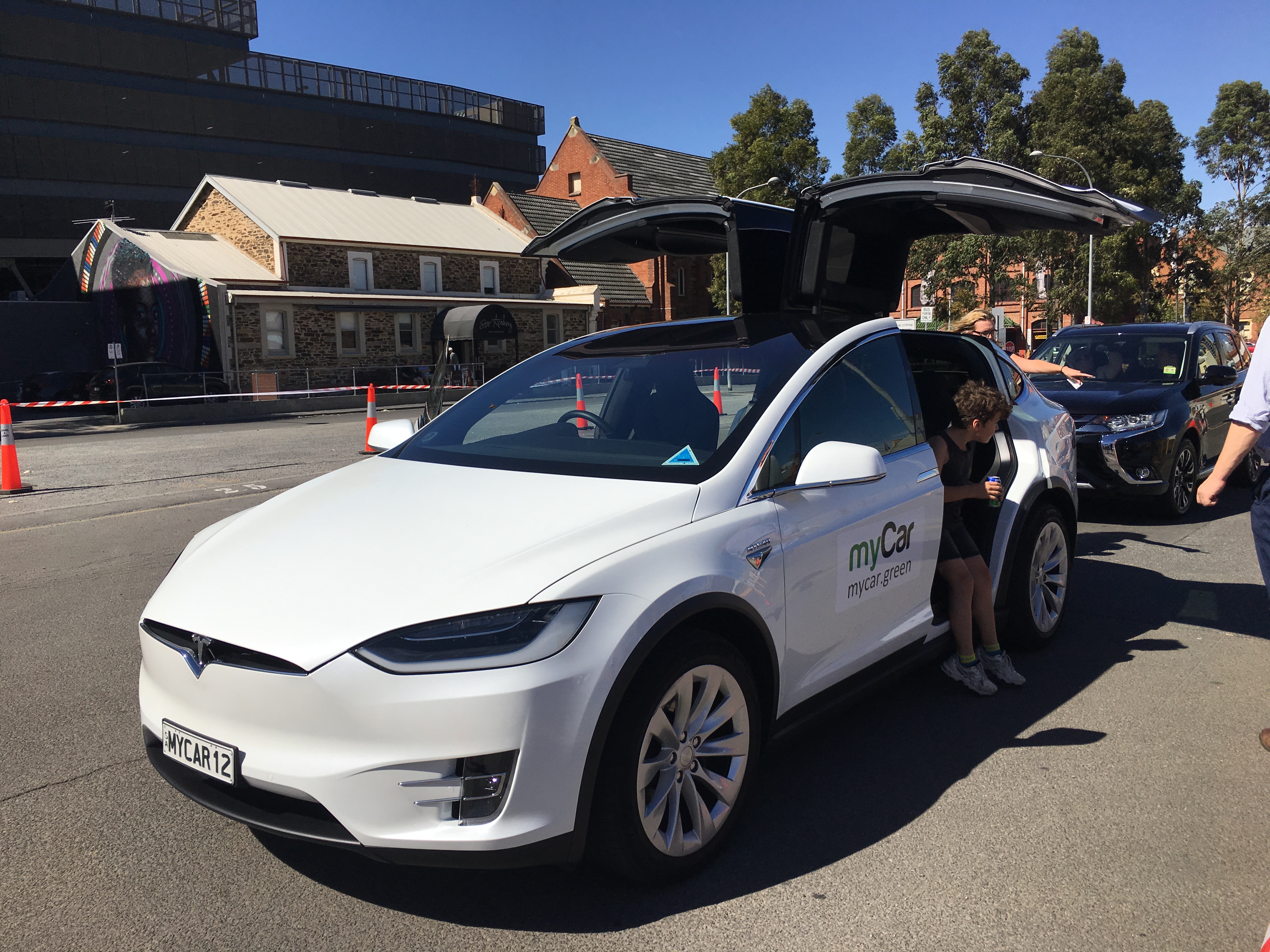 The Tesla X is a crossover SUV.  It just looked like a big car to me, but this was the 5 seat version and there is another with 7 seats that is more SUV-ish.  It goes back to the future with DeLorean style gull-wing doors.  A feature so cool even the 80s weren't strong enough stop them escaping into the 21st century.
When my Model X ride started it wasn't as smooth as I expected for a car that costs over  $140,000 dollars.  Though I must admit I don't have much experience sitting in expensive luxury cars.  People usually ask me to leave when I do that.  But without the distraction from a continuous series of fuel-air explosions under the bonnet, it's easier to pay attention to small bumps in the road.  Also, the high efficiency tires weren't under inflated like when you take a test drive at a car yard.
But then we got onto a straight and the driver decided to floor it. I was able to notice little else except the non-blinding acceleration that pushed me back in the seat like I was riding the Gravitron at the Toowoomba Royal Show.  I say non-blinding as it caused blood to pool in the vision centers of my brain.  If I had been sitting the other way around it may well have been blinding acceleration.  (Although with blood pooling in my frontal lobes and increasing my ability to engage in abstract thought I may have been able to deduce what was going on around me.)
If you value being pushed into upholstery by Newton's invisible, giant foot1 at $101,000 dollars, then spending $100,000 dollars more to get an electric car with the Model X's acceleration will be a great deal for you.  You could gain enough pleasure to pay it off with one stomp on the accelerator.  But it might be cheaper to buy your own Gravitron.  (Me and my horse can knock one together for you in your backyard for only $99,000.)
Renault Zoe
The Renault Zoe is a supermini.  While it is tempting to think this means it's a super-small mini only suitable for use by jockeys, it actually means it's larger than a mini car.  This is what gets called a subcompact in North America or a B-segment in Europe.  While most people only need a small car, if you look around at what's on the roads you'll see most people prefer something a little larger, with men generally wanting something bigger than what most women consider adequate.
So while there wasn't a lot of room in the back, there was enough for me and my exactly average height.  But it's not a good car for transporting professional basketball players around in.
The small car performed well, despite my above average weight acting as an anchor in the back seat.  This version had a 41 kilowatt-hour battery pack that according to European economy tests gives 400 km range, but to their credit Renault acknowledges this figure is bullshit and says it has around 300 km range in real life.
The Renault Zoe can be bought now in Australia for $51,000 which is $13,000 more than you'd pay in France or about $17,000 more once their 20% Value Added Tax is accounted for.  But at least that includes the battery.  In France you have to lease the battery for over $2,000 a year.  (Less if you drive under 7,400 km a year, but that's not likely.)
BMW i3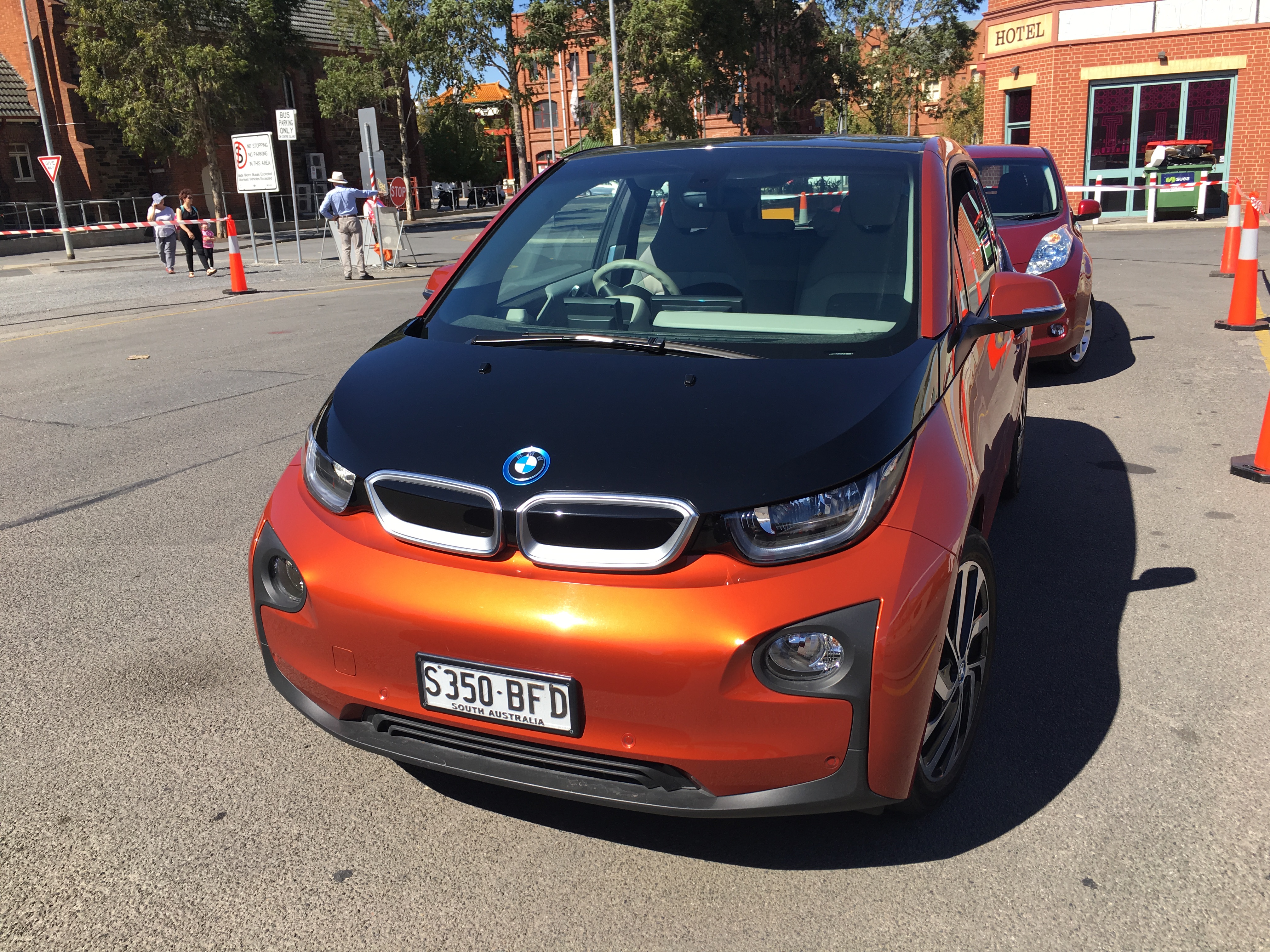 The BMW i3 is another supermini/B-class/subcompact/not very large car.  There wasn't a lot of room, but there was, in my opinion, enough.  I think with the seats down I could probably fit a couple of small dolphins inside, so it has enough room for my porpoises.
The version I rode in was all-electric without the petrol powered range extender some models have2.  The driver didn't hoon around like maniac, but looking online I see it can provide 135 kilowatts of power to the wheels, which is almost twice what my similar sized Hyundai Getz can do, is capable of accelerating from 0 to 100 in 7.3 seconds, and has a top speed that is a very illegal 150 km/h.  If you are thinking the top speed is a little low for a small car that can provide that much power to the wheels, it's because it's limited to that speed.  This is presumably for safety or battery protection reasons but maybe just to stop people who bought conventional BMWs from feeling bad.
BMW says the 2018 model has a real world range of about 200 km with its 33 kilowatt-hour battery.  That's 6 kilometers per kilowatt-hour which is believable.  BMW also makes a big deal about how its manufacture is sustainable, so hopefully emissions from making them aren't too high.
You can buy a BMW i3 now, but unfortunately it will cost you about $70,000.  In Germany it's only about $54,000 or $49,000 after adjusting for different tax rates.  That's  over a 40% mark up.  As far as I am concerned, as long as they are charging us such a high premium, BMW can go stick their head in a pig.
Hyundai IONIQ Electric

The Hyundai IONIQ is a small family car in the UK, a C-segment in the parts of Europe that don't eat spotted dick, and a compact car in North America.  It's what I'd call medium-sized.  There's plenty of interior space, but not as much as in a Commodore, which is what I would call a large car, or a Hummer, which I believe is officially classed as a continental siege machine.
I might have a soft spot for the IONIQ as the car I usually drive around town is a 2004 Hyundai Getz and I'm very fond of it because it has never had a mechanical problem and it fits neatly in the back of my Hummer with room left over for normal travel stuff, such as a cow.
I'm referring to it as the IONIQ electric because it comes in hybrid, plug-in hybrid3, and all electric versions.  I rode in the all-electric version and it was very pleasant.
An information sheet from Hyundai that was in the back seat that tells me it has a 28 kilowatt-hour battery pack and a 280 km range.  Unfortunately, Hyundai is lying to us and that range figure is bullshit.  While it did get that result on the European economy test, at least Renault and BMW have the decency to admit its results are ridiculously inflated and their real ranges much lower. Australia doesn't use that test, and even if we did, Hyundai would still be lying if they said its range was 280 km.  The US EPA test, which is far more realistic, gives it a range of 200 kilometers.  If they hadn't lied about its range I would have only had good things to say about it, so from now on I am going to refer to it as the IRONIQ.
The IRONIQ electric will hopefully be available soon — potentially in July — and its price is estimated at $45,000.  I don't know how that compares to its price in South Korea, but at least it's better than what Renault and BMW charge for their smaller cars — but note the Renault Zoe has considerably better range.
Nissan Leaf
I didn't actually ride in a Nissan Leaf but I did have a long talk with an owner and had a good look at one.  It's a small family car/C-segment/compact/medium sized car.  The latest model has a 40 kilowatt-hour battery and a range of about 240 kilometers.  It starts at about $43,000 Australian in the US after adjusting for GST, but in Australia it costs DIVIDE BY ZERO ERROR because you probably won't be able to get your hands on one.  It may be available in a year for $50,000 or it may not.
Nissan Doesn't Want To Sell Electric Cars In Australia
Talking to people at the Charge Together event, I definitely got the impression that Nissan doesn't want to sell the Leaf in this country.  Not now at least.  One person said he couldn't get a test drive while another said he was quoted $35,000 as the cost of a replacement battery pack.  After adding on our GST a replacement battery pack in the US is $7,860 ($5,500 US plus 10%).  In other words, Nissan effectively won't sell you a replacement battery pack — but they have no problem replacing those that fail while under warranty.
I can understand if Nissan wants to see how their latest model Leaf performs in the US before selling it in Australia's hotter climate, but I don't understand why they would want to piss off older Leaf owners by refusing to replace old battery packs.  They are the best salespeople the company could have as they all seem to love their Leafs.
Tune In For The Exciting Sequel
Those are the five cars I checked out at the event.  Before long I'll write an exciting sequel where I'll describe what I learned about range anxiety or "range excitement" as it was optimistically described by one person, the various methods of charging your electric car including how to find someone in the middle of nowhere with a socket you might be able to get a charge from, and some interesting electric car trivia.
I'll also explain why electric car owners have such tiny rooftop solar systems.
Footnotes
Isaac Newton said that if he had seen a little further it was only because he had stood on the shoulders of giants.  It felt like he was using his position upon the shoulder of a giant to command it to step on me. ↩
The range extender is designed to allow Europeans to drive what they think is a long way and so is far from ideal for Australians heading beyond the black stump, but will make long distance driving much easier. ↩
A typical hybrid charges its small battery using its petrol engine and also by braking.  A plug in hybrid does the same but also lets you plug it into a socket and charge the battery.  Some plug in hybrids have a large enough battery and enough electric motor power to allow you to do almost all your around town driving with electricity only.  With an 8.9 kilowatt-hour battery the plug-in IONIQ should be able to travel around 60 kilometers just on battery power, although the petrol engine will probably kick in when you go up hill. ↩