If you have a very old electricity meter, a new rooftop solar installation can make that meter run backwards. But only if the solar power system is switched on before a new compatible meter is installed.
In Queensland, New South Wales, Victoria, and South Australia your installer is meant to switch off your solar power system after it has been commissioned. This means you get no solar benefits while you wait for the new meter to be installed. If your installer happens to leave the solar power system running and your electricity retailer discovers that your meter is running backwards, they may get upset1.
If your solar installation is left running, then the longer the delay between getting the panels installed and getting a new meter the more likely your retailer will get upset. There have been a lot of delays in getting electricity meters installed this year, and from the emails we are getting at SolarQuotes, there are plenty of installers leaving systems running.
In this article I'll explain how problems arise with backwards-running meters, what you can do to prevent them, and why (in my opinion at least) you are not committing any sort of crime if, as the result of a solar installation, your electricity meter runs backwards.
The Two Requirements For Electricity Meters To Run Backwards
For your electricity meter to run backwards, two requirements have to be met:
 You need the right kind of old fashioned "spinning disk" electricity meter.
 Your solar power system needs to be turned on.
Spinning Disk Electricity Meters
Only old analog electricity meters are capable of running backwards.  These are often called "spinning disk" meters because they have a metal disk that rotates as power is used.  Here's a dramatic close up of what one type looks like: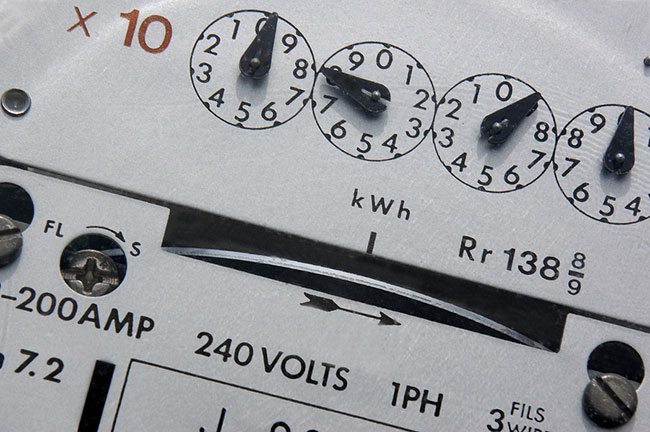 If your electricity meter has any kind of digital readout, then it is too advanced to run backwards.  Also, it's not enough for just the disk to spin backwards.  The meter readout dials have to turn backwards as well.  That's these dials here:

With some spinning disk meters the disk will go backwards but the readout dials will stubbornly stay where they are.  If this is the case, while the disk may be going backwards, the meter isn't.
Your Solar Installation Must Be Turned On
An old electricity meter will only run backwards if the rooftop solar system is switched on before it is replaced with a new meter. In Queensland, NSW, Victoria, and South Australia, installers are now only supposed to test a newly installed system and they are to be left switched off until the new meter is installed.  In Queensland it used to be common to leave solar systems turned on after installation so they'd start providing clean electricity and reducing household electricity bills from day one, but this is no longer the case.  Due to their past practice, backwards running meters are probably most likely to occur in Queensland due to an installer not updating their procedures.
You Can Turn Your Solar Power System Off
If you've just had a solar panel system installed and you find your old electricity meter is running backwards, you can stop this by turning your system off.  It's a very easy solution.
Some people, quite understandably, may not want to turn their solar system off.  If an electricity meter is running backwards it reduces electricity bills by a lot more than receiving a solar feed-in tariff.  It's like having a feed-in tariff equal to the cost of grid electricity.
More importantly, turning off the system will result in greater coal and natural gas use which will increase increase pollution and contribute to climate change.
But there are advantages to turning your solar system off to prevent your electricity meter going backwards and an important one is to prevent being charged a lot of money by your electricity retailer.
Extra Charges From Electricity Retailers
If your electricity retailer sees your latest electricity meter reading is lower than the previous reading they can ignore it and send you an estimated bill based on your previous consumption.  A household in NSW received a bill for $1070 when they should have received one for around $400.  They were able to get this reduced to the correct amount, but it wasn't a pleasant experience.
Civil Penalties
In a document from 2013, SA Power Networks gives this dire warning about solar systems or SEGs (Small Embedded Generators):

But before anyone panics and rushes out to check that their meter is not running backwards, I will point out that civil penalties are not criminal penalties. Civil penalties normally apply to businesses and company officials.  I'm confident that no home owner is going to be sent up for a couple of years or hit with a $10,000 fine because their electricity meter ran backwards while they were waiting for it to be replaced with a solar-compatible one.
You Are Not A Criminal If Your Meter Runs Backwards
I am not a lawyer, but with the in-depth knowledge that comes from reading a few paragraphs on a website, I can confidently state, with no expertise to back it up at all, that a homeowner whose meter runs backwards while they are waiting for it to be replaced is not committing a criminal offence.  This is because they did not tamper with the electricity meter, they had no intent to steal electricity, and no electricity was actually stolen.  For every kilowatt-hour their meter spun backwards, one kilowatt-hour was supplied to the grid.
If it takes a few weeks to get their meter changed then a homeowner with a 5-kilowatt solar system might end up paying $60 less on their next electricity bill2 thanks to their meter running backwards.  Our legal system probably has better things to do than punish these horrible monsters.
But if your electricity meter has been running backwards for years and you've been fully aware of this fact and have been bragging about it on the internet, then your position may be more legally precarious.  I'd recommend getting your meter replaced as soon as possible.
Connection Agreements
If you read your connection agreement with your Distributed Network Service Provider, then you are a better man than I am.  You may also be a better woman than I am, but that wouldn't be difficult.
You may have seen some scary looking wording in there about the importance of not turning on solar systems before the old meter has been replaced.  But don't be too concerned.  They have zero interest in kicking people off the grid because an installer left a solar power system turned on when they shouldn't have.  That's not how they make money.  They make money from having people connected to the grid and using grid electricity.  Disconnecting them doesn't make them money and disconnection is generally all they can do.  Of course, if you do something that actually damages the network or puts people's safety at risk you can expect them to come down on you like a tonne of electric bricks.
Digital Meter Penalties
Even if your old meter is digital and can't run backwards it can still be a good idea to leave your PV system switched off until your new meter is installed.  This is because every kilowatt-hour of electricity your solar power system exports to the grid can be counted as a kilowatt-hour consumed by your home, and that could increase your bills rapidly.  As this section from an SA Power Networks document explains:

To Cover Yourself, Switch Your Solar Off
If you have solar panels installed and you find the system has been switched on before your old electricity meter has been replaced, then the safest course of action to take is to turn it off.  This is the case whether you have an old spinning disk meter or a digital one.
Unfortunately, there may be a long delay in getting a new solar-compatible meter installed.  I just hope electricity retailers can get their acts together and start getting meters installed on time.
Footnotes
On the 1st of December last year in Queensland, NSW, Victoria, and South Australia the responsibility for electricity meters shifted from Distributed Network Service Providers to Electricity Retailers.  Here's a media release that says consumers will benefit without explaining why.  While this may reduce confusion by allowing retailers to know exactly who has had a solar power system installed and needs a meter replaced, I'm not sure they are this organized.  I keep receiving reports of long delays for people getting meters installed as a result of the change, so I suspect problems resulting from meters running backwards may increase. ↩
And if the harm caused by CO2 emissions is $100 per tonne, they have saved us about $40 worth of damage. ↩