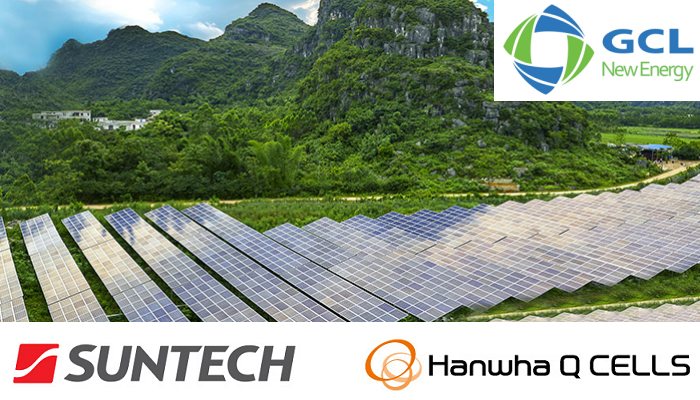 China's GCL New Energy has announced solar panel purchase agreements with Wuxi Suntech and Hanwha Q Cells for a collective capacity of 200MW.
The company has entered into an agreement with Wuxi Suntech for the supply and purchase of 100MW of Suntech solar panels at unit price of not higher than RMB2.0 per watt, which works out to around AUD 40c a watt at current exchange rates.
Previous deals with Wuxi Suntech over the past twelve months were an agreement in April for the supply of 40MW of modules at RMB2.43 per watt (~AUD 49c – current rates) and in August 2017 for 50MW of solar panels at RMB2.75 per watt (~ AUD 54c).
Also announced was an agreement with Hanwha Q Cells for the purchase of 100MW of that company's modules at a unit price not higher than RMB2.03 per watt (again, around AUD 40c). Other purchase agreements over the last year with Hanwha Q Cells were a deal in April for supply of 80MW of panels at RMB2.48 per watt (~ AUD 49c) and 30MW in August last year at RMB2.75 per watt (~ AUD 54c).
The announcement notes the pricing arrangement with Hanwha Q Cells  is subject to downward adjustments upon the fulfillment of certain conditions.
GCL New Energy operates across China and has three regional subsidiaries in North America, Japan and Africa. At the end of last year, GCL New Energy had a total installed capacity of approximately 6GW spread across 162 solar power plants, which the company says ranked it second in the world.
The company has set its sights expanding into markets including Australia and plans to set up a branch office here.
GCL New Energy is part of the GCL Group, which also includes solar panel manufacturer GCL-Poly Suzhou Energy.
Panel Glut Good News For Solar Buyers
While the cost of solar has been continually reducing over the years, a decision by the Chinese Government in June to dramatically slash support for large-scale solar power is creating a solar panel glut globally and accelerating the downwards trend. That's good news for buyers for now, not so great for manufacturers.
Forbes noted in June:
" Expect consolidation and asset sales over the next few years, as well as some bankruptcies, as the supply-demand imbalance corrects."
According to Forbes, China accounted for around half of global solar demand last year and the Chinese Government's move will likely slash demand in the country by about 40%.