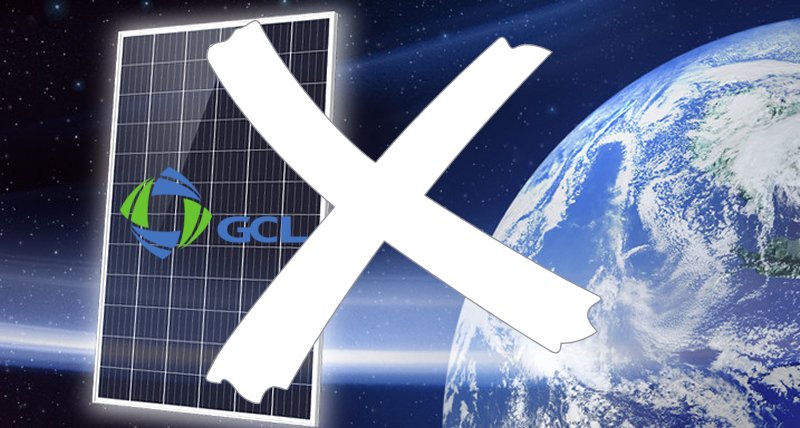 Australia's Clean Energy Council has announced all GCL System Integration solar panel models will be removed from its Approved Products List today.
In order for a solar power system to be eligible for Australia's major solar subsidy, modules and inverters that are part of the system must be present on the respective Approved Products List at the time of installation.
—-
UPDATE: January 3, 2019. We received an email today stating GCL panels were back on the CEC Approved Products List. As mentioned below, I noted 50 panel models on the CEC's list on the day prior to delisting and 20 on the day of delisting, which appeared to be non-current models. On checking the list again today, 34 models are listed.
——-
The CEC said all GCL modules (50 listed yesterday) were to be delisted "due to use of components which were outside the scope of the certificate."
"The non-conformances were identified in the latest round of CEC testing," it states. "Assessment and certification of these components, and a special factory inspection and report by the certifier, are required before the modules can be re-listed by the CEC."
On checking the list early this morning, 20 models were still present, but these didn't appear to be current models from GCL's range.
Australians with systems due to be installed soon or who have received a quote should check the components list on their quotes/contracts to see if GCL panels are noted, and if so, communicate with their solar installer.
For those with GCL panels installed, it's important to note that delisting does not mean the panels will suddenly stop working, and in its brief announcement the CEC didn't mention any potential safety issues.
As a result of the delisting, SolarQuotes has removed GCL from its solar panel comparison table and trusted brands charts. It was originally on the extreme left of the charts (the "more affordable" end).
Founded in 1990, GCL System Integration Technology Co. Ltd is a subsidiary of Golden Concord Group. It has five module production facilities in China and one in Vietnam, with a collective production capacity of 6GW. GCL manufactures poly, mono, half-cell (aka half-cut) and bifacial panels.
Less Choice, But Better Quality
Panels delistings have been quite common in 2018. Yesterday we reported 246 solar panel models and 72 inverters were struck from the CEC's lists this year as a consequence of results from its testing program. Thousands more modules were dropped when new standards, terms and conditions kicked in on December 1.
Sometimes too much choice isn't such a great thing. With fewer solar panels on the list (~1,800 models) as a result of an ongoing focus on quality by the CEC, that should be good news for Australian solar power system purchasers.