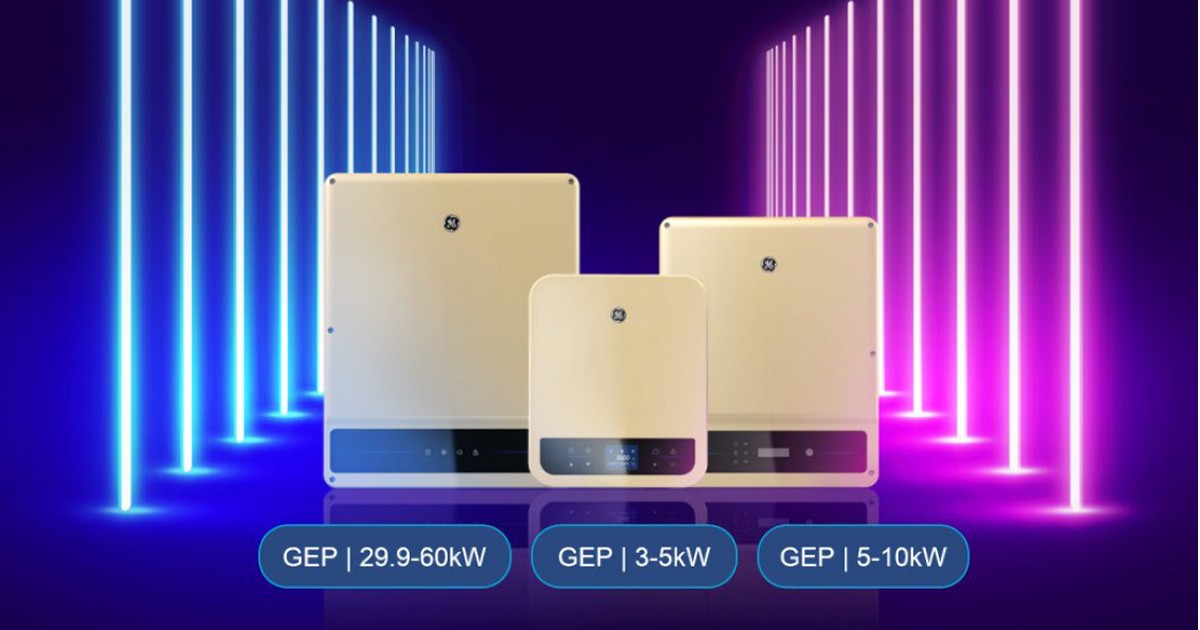 Australia is the first country where GE solar inverters are available, which are being manufactured by another inverter company.
Last year GE chose Chinese inverter company GoodWe from a field of more than 300 manufacturers to produce a range of GE-branded devices.
"Our analysts knew we needed world-class products, as we will be targeting the high end of the market where end-user loyalty to the brand also comes with high expectations," said Thomas Buccellato, Senior Managing Director of GE Licensing. "GoodWe is the right choice."
The following GE Solar Inverter models are now available in Australia through wholesalers and distributors One Stop Warehouse and MMEM GreenTech.
GEP 3 to 5kW, 2 MPPT, single-phase – capable of 50% DC oversizing, 10% AC overloading and up to 98.3% maximum efficiency.
GEP 5 to 10kW, 3 MPPT, single-phase – capable of 100% DC oversizing, 10% AC overloading and up to 97.8% maximum efficiency.
GEP 29.9 to 60kW, up to 6 MPPT, three-phase – for commercial and industrial applications.
A note on the oversizing – GE is referring to how much solar panel capacity can be added over and above the inverter's rated capacity. So, in the case of the 5kW inverter model with 3 MPPT, you can have 10kW of solar panels connected to it. *But*, in Australia you can only add 33% above the inverter's rated capacity and still be eligible for STCs (the "solar rebate"). Learn why oversizing is a smart move.
Just on MPPT – it stands for Maximum Power Point Tracking. Multiple MPPT is particularly important when you have solar panels mounted across different roof orientations in order to squeeze the best performance out of a system. Most solar inverters these days have at least two MPPTs. You can learn more about MPPT here.
The GE Solar Inverter models above come with a 10 year manufacturer warranty in Australia – quite a few inverter manufacturers still only offer 5 years. GE notes a "coming soon" feature for the single-phase inverters is consumption monitoring.
As for pricing, that isn't clear at this point, but as GE mentions it will be "targeting the high end of the market" perhaps they'll be pricier than GoodWe's own range that tends to be towards the budget end of the spectrum.
Further detail on the GE Solar Inverter range can be found here.
GoodWe + GE = A Good Match?
GE is an American multinational conglomerate that has been around for a very long time – its history goes back to 1892 – and has been active in many sectors other than renewable energy. While it remains to be seen how these inverters will perform under Australian conditions, GoodWe has a pretty good track record here. Australia customer GoodWe inverter reviews here on SolarQuotes have generally been positive and the company is currently listed on SQ's trusted solar inverter brands chart.
GoodWe was founded in 2010 in Suzhou, China and established a presence in Australia in 2012. The company says it has delivered more than two million of its inverters to date to more than 80 countries.
An inverter is the real workhorse of a PV system and the component most likely to fail first given the harsh condition under which it operates, so it's important to choose a good solar inverter backed by a solid company.