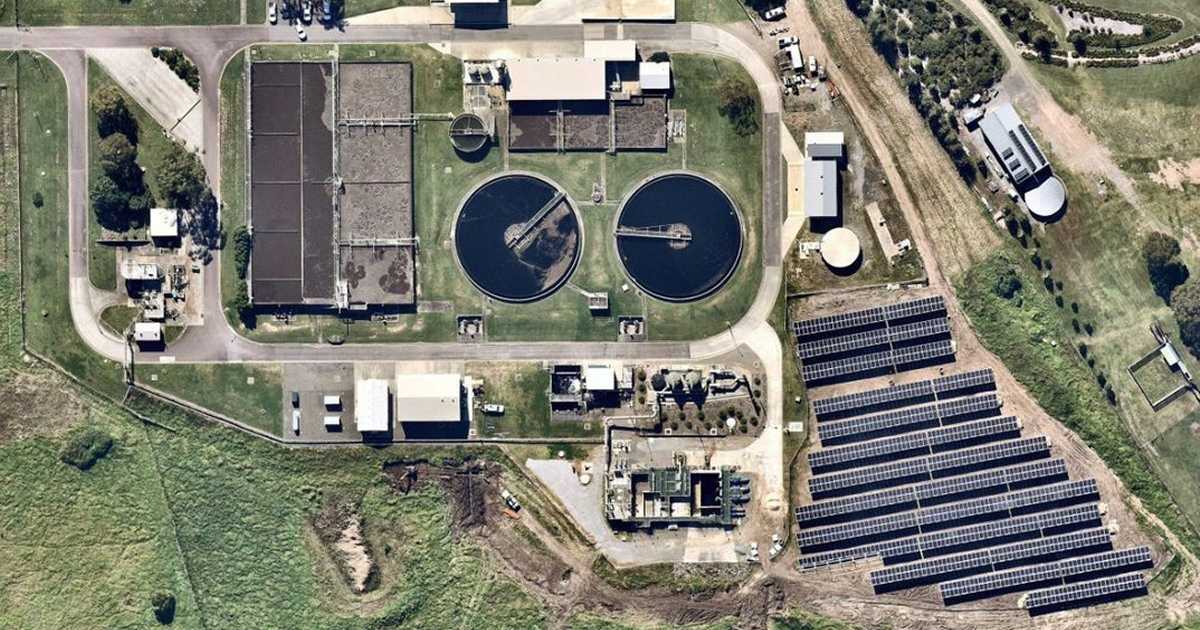 Another installation has recently been completed in NSW's Hunter Water's shift to harnessing solar energy to help power its operations.
As with all water utilities, electricity is a major cost for Hunter Water – around 10 per cent of operating expenses – and a major contributor to its carbon footprint. Over the three year baseline period from 2014/15 – 2016/17, electricity accounted for 70% of its overall emissions.
In July last year, New South Wales' Berejiklian government announced an investment of more than $15 million for the installation of solar power and other renewable energy systems at Hunter Water facilities,  which is a state-owned corporation providing drinking, wastewater, recycled and some stormwater services to around 600,000 people across Newcastle and the Lower Hunter region.
Since that announcement, a 99.7kW system has been fully commissioned at Branxton Wastewater Treatment Works, consisting of 252 solar panels. The lessons from that project have paved the way for another – the installation of 1,200 solar panels at Morpeth Wastewater Treatment Works. At 600kW, it's a big jump up from the Branxton installation.
There's much more solar (and battery storage) to come in the years ahead. The next sites in line during the first stage of the rollout are wastewater treatment plants at Kurri Kurri, Raymond Terrace and Boulder Bay. Stage two of the project will see the Branxton plant's installation expanded and systems installed at Cessnock and Shortland's wastewater treatment facilities. Floating solar farms are on the cards for Grahamstown Dam and Edgeworth Wastewater Treatment Works.
"Once completed, we estimate the renewable energy project will deliver a 12 per cent reduction in consumption per year and provide an annual saving of $1.15 million on our electricity costs," said Mr. Cleary.
Hunter Water is also exploring opportunities for self-generation through wind, pumped hydro and biogas, and renewable energy power purchase agreements.
Australia's Water Sector Going Big On Solar
Among other water utilities across Australia embracing PV in a big way is South Australia's SA Water. As at the end of last month, the utility had installed more than 360,000 panels on various assets throughout the state as part of its Zero Cost Energy Future initiative. SA Water was also looking at a floating installation – but while logistically feasible, further assessment indicated it was not cost-effective and it did not proceed with further investigation.
Across the border in Victoria, work was to have started earlier this year on what will be one of the largest behind-the-meter solar power systems in Australia – Melbourne Water's whopping 17MW installation at its Eastern Treatment Plant. Another plant is in the pipeline (so to speak) for panels – Winneke treatment plant.
Melbourne Water has pledged to halve its emissions by 2025 and says it is on a path to reduce them to net zero by 2030. Other projects to help towards these goals include building three more mini-hydro power stations and constructing additional biogas generating capacity at its Western Treatment Plant.
These three utilities aren't the only ones to have turned or are turning to the power of PV and other renewables. Back in 2018, a University of Queensland study estimated the Australian water industry generated around 18% of it its electricity from on-site renewables. At that point there was little solar involved, but that has changed greatly since.