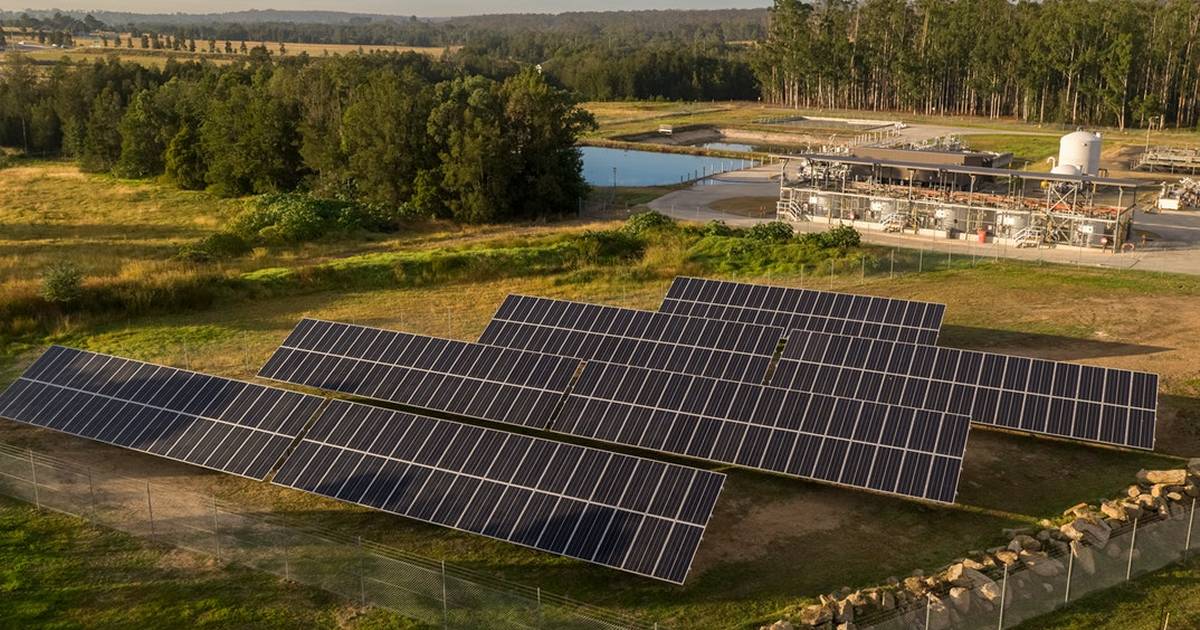 New South Wales' Berejiklian government is investing more than $15 million for the installation of solar power and other renewable energy systems at Hunter Water facilities.
Hunter Water is a state-owned corporation providing drinking water and wastewater, recycled water and some stormwater services to around 600,000 people across the Lower Hunter region, including Newcastle. As is the case with other water utilities across Australia, electricity is a major expense – accounting for about 10 per cent of Hunter Water's operating costs.
The $15 million will be invested over the next four years as part of  Hunter Water's efforts to not only reduce energy costs, but also its aspirational goal of becoming carbon neutral by 2030.
The first installation of a solar power system under the initiative has been completed at the Branxton Wastewater Treatment Works, which serves the communities of Branxton, East Branxton and Greta. The 99.7kW system (pictured above1), currently being commissioned, is comprised of 252 roof and ground mounted solar panels.
"Once the program has been rolled out, we estimate an annual saving of $1.15 million on our electricity costs, which equates to a 7.37% reduction," said Darren Cleary, Hunter Water Managing Director. "We are working with a shortlist of more than 20 priority sites as the initial focus of our solar rollout, including at Morpeth, Kurri Kurri, Raymond Terrace, and Boulder Bay Wastewater Treatment Works."
At that level of savings, simple payback will be achieved in 13 years – which seems very long. Payback on commercial solar can often be achieved in 4-5 years these days, but conventional commercial PV isn't the only player in this project and the nature of other elements aren't clear; although there was a mention of battery storage and floating solar.
Water corporations across Australia are switching on to solar savings – among them is SA Water, which is in the midst of an ambitious program that will see 35 facilities collectively host approximately 500,000 solar panels under the utility's  Zero Cost Energy Future initiative.
NSW Government Getting Its Solar Game On
The Hunter Water project is part a push by the NSW Government to significantly boost total solar capacity on government facilities. Another recently announced project is a 600kW solar system for Armidale Hospital that is expected to slash the healthcare facility's mains grid electricity usage by 40% and save $150,000 on energy costs each year.
The updated NSW Government Resource Efficiency Policy (GREP) released earlier this year commits to a target of more than doubling NSW Government solar energy generation by 2024.
Footnotes
It has always puzzled me why photos showcasing new solar power systems are often taken when the panels are heavily shaded in the early morning or evening ↩