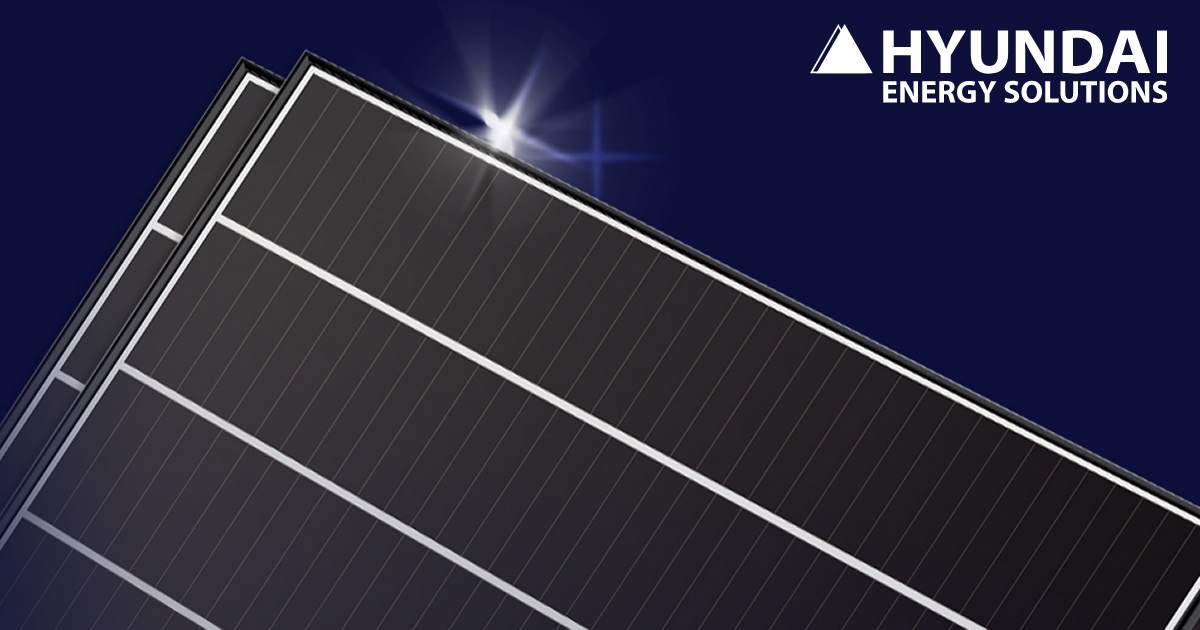 Another interesting new solar panel to watch for in Australia in the months ahead is Hyundai's HiE-S350SG – a 350 watt shingle cell module designed for the home and commercial market.
After being missing in action in Australia for 7 years, Hyundai solar panels once again became available locally in 2018. SQ's Ronald wrote up an initial general review of Hyundai solar panels last year, with a follow-up in August after the company boosted its product warranty from 12 to 25 years.
As the panels have been around for a while again, we've been collecting some Hyundai solar panel reviews and ratings from Australian customers who have the newer modules installed – and they've been pretty positive.
The range in Australia hasn't been huge – we only have two models listed on the SQ solar panel comparison table, but they will soon be joined by the HiE-S350SG.
Hyundai's HiE-S350SG is a 350-watt PERC shingled panel. Shingle solar cells slightly overlap each other, and with the connection between the cells in the overlap, this provides more cell area on the module. Other major manufacturers that have been using shingle solar cell technology include SunPower, Canadian Solar and Longi.
On Tuesday, national wholesale distributor of PV components Supply Partners announced the first stock of the new Hyundai 350W shingled panels is arriving at its Brisbane, Sydney and Melbourne warehouses in late August.
HiE-S350SG Specifications
There's been little written about the HiE-S350SG. The Australian Hyundai Solar web site doesn't offer any real detail as yet and the download from parent company Hyundai Energy Solutions chucked a hissy fit when I tried to open it. But here's some basic HiE-S350SG specs gleaned from elsewhere1.
Cells – 340
Module efficiency – 20.2%
Temperature coefficient of Pmax2 – -0.34% /°C
Dimension – 1,622× 1,068 ×35mm
Weight – 19.8kg
Ammonia and salt-mist corrosion resistant
So, that's all pretty impressive. Comparing these specs to a SunPower Maxeon 2 350W solar panel and the Hyundai's indicate it has slightly better efficiency (SunPower – 19.8%) and temperature coefficient (SunPower – −0.35%/°C). As for dimensions, the 350 watt Maxeon 2 is 1690 x 1046 x 40mm – so the Hyundai HiE-S350SG is a fair bit shorter, a little wider and thinner, and overall occupies less area. The Hyundai 350 watt panel is heftier compared to SunPower's 19.2kg.
Both the HiE-S350SG and Maxeon 2 have 25 year product and performance warranties, but SunPower's is stronger on the latter in terms of annual degradation after the second year – 0.25% vs. Hyundai's 0.55%.
As for approximate pricing on the Hyundai shingle cell solar panel, we don't have those details as yet.
While on the topic of new solar panel products heading for Australia, yesterday we mentioned the Maxeon AC Module boasting a factory integrated Enphase microinverter could be available Australia before the end of this year.
Footnotes
It turns out Supply Partners also had a HiE-S350SG data sheet on their shared Google Drive ↩
Temperature coefficient indicates the amount of power lost for each degree Celsius above 25°C (panel temperature, not ambient) ↩