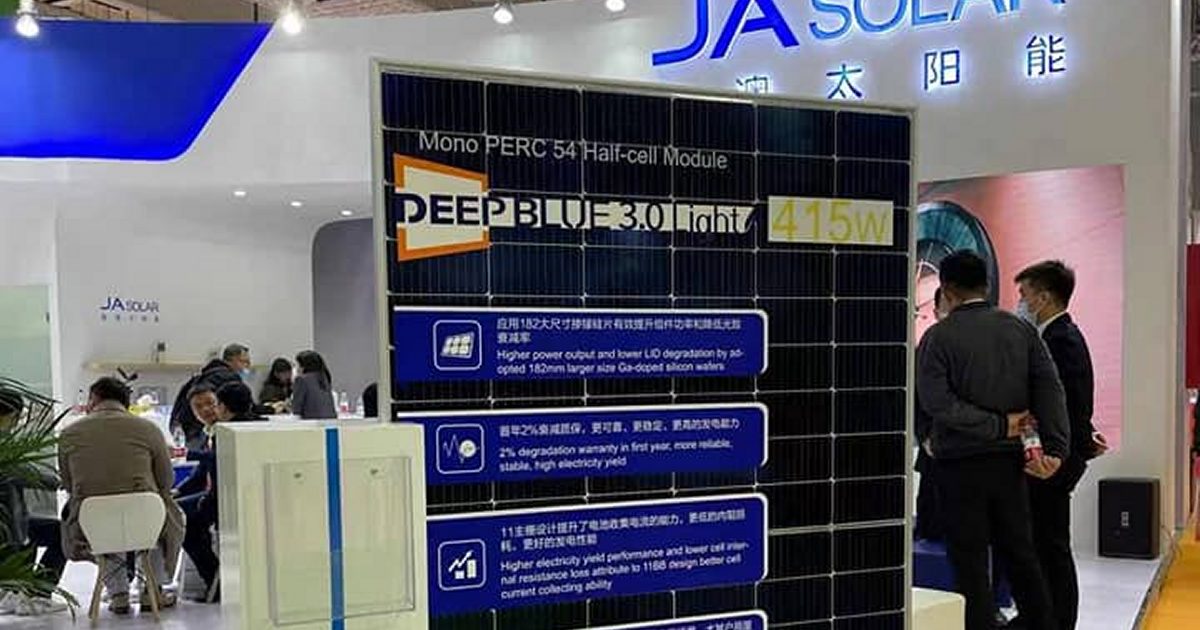 Another high-power solar panel will be hitting the residential PV market – JA Solar's 415-watt DeepBlue 3.0 Light.
The company launched the new line, designed for commercial and residential rooftops, at the 16th China Solar Utilization Convention and Exhibition ("SUCE") in Jinan last week.
The DeepBlue 3.0 series was originally launched by JA Solar back in May last year and mass production started in August 2020. Developed for non-rooftop applications, the original series are pretty hefty panels. The 550W module is 2279mm x 1124mm and tips the scales at 28.6 kilograms.
JA Solar says the new Light series has all the benefits of DeepBlue 3.0 technology, such as PERC-based PERCIUM+ cell technology and Ga-doped silicon wafers. The new panels are a 54 cell (half-cell – so 108 cells) module, reportedly 1722mm x 1134mm, weighing 21.5kg and with a conversion efficiency of 21.3% for the 415W module.
JA Solar commented DeepBlue Light has successfully passed testing conducted by TÜV SÜD to the standards for IEC 61215 and IEC 61730 certification. A data sheet for the DeepBlue 3.0 Light wasn't available from the company's web site at the time of publishing (unless I missed it).
It's not clear when  DeepBlue 3.0 Light will be available to purchase, but when they are the panels will be shipped to customers globally – so it looks like Australian solar buyers should (hopefully) soon have more choice of high-power modules.
On a related note, competing panel manufacturing goliath JinkoSolar recently announced it was launching a new line of high-power Tiger Pro solar panels it says are suitable for use on residential, commercial and industrial rooftops.
The Tiger Pro 415-watt is around the same dimensions as the JA Solar DeepBlue 3.0 Light 415W, but is 1.5kg heavier. Efficiencies of the two are around the same. It's assumed the JA Solar panel will have a 12 year product warranty, whereas Jinko's will be 15 years.
If you're considering buying a PV system and need some help with module selection, pick up some tips on choosing solar panels.
A Bit About JA Solar
Founded in 2005, Beijing-headquartered JA Solar has 12 manufacturing locations, most of which are in China. The company's 2019 shipments saw it ranked second among manufacturers for that year (Jinko was no.1). JA Solar has reported PV module shipments of 15.88GW for last year, up 54.8% on 2019. As some of the other major players are yet to provide figures for 2020, it's not clear yet where the company ranked for shipments last year.
The firm established a presence in the Australian market in 2013. JA Solar panel reviews here on SolarQuotes are generally positive and the company is currently listed by SQ as a trusted brand; towards the budget end of the chart.
Where Is Jin Baofang?
The company's Chairman and CEO is Jin Baofang – a very wealthy fellow. In November last year it was reported he had been detained by the supervisory commission of Pingdu city, which is in China's north-eastern province of Shandong. There have been no further updates on his status I'm aware of, and there haven't been any releases from the company quoting Mr. Baofang since November that I've seen. Mr. Baofang is still noted on the JA Solar website as being in the roles mentioned.