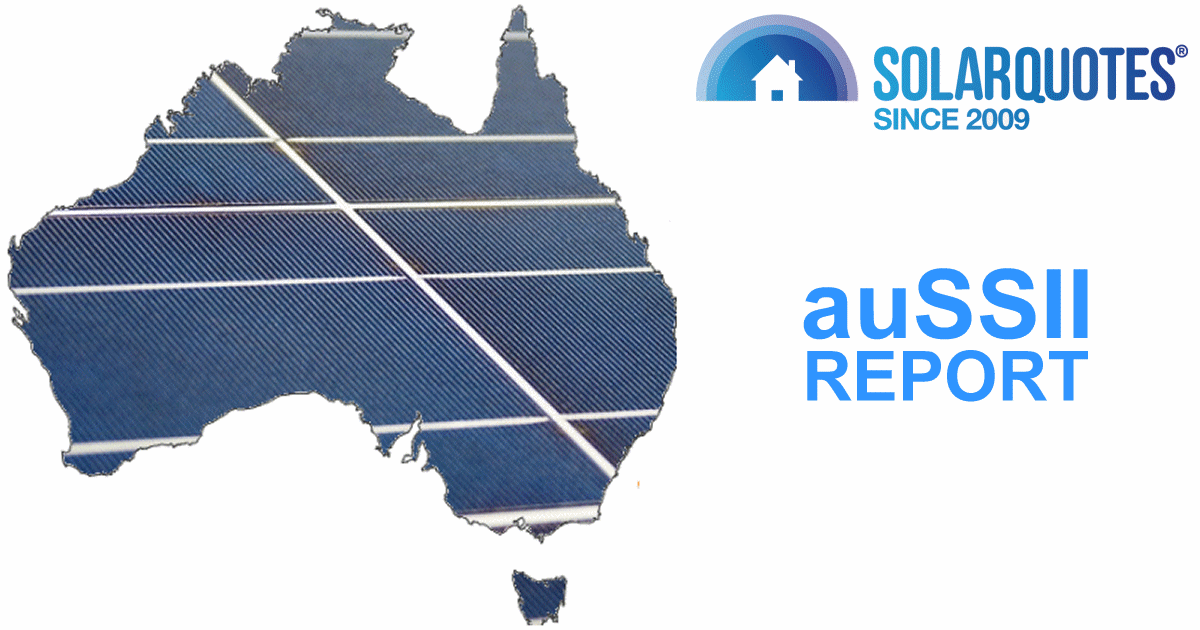 Our latest auSSII report provides an insight into what Australia solar buyers were wanting in March 2021 when requesting quotes via SQ.
Solar System Sizing
Where a system size was selected, 85% of Australians using SQ's service requested solar quotes for systems 6kW or greater, the same as in February. Overall, a bit over a third weren't sure and wanted advice on system installation sizing.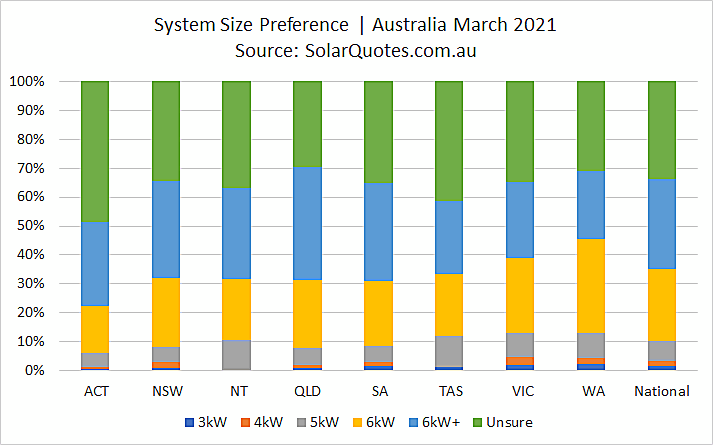 PV Purchasing Timeframe
Close to 20% were ready to purchase a PV system immediately, down on February's 21% and January's 23%. But there is still plenty of enthusiasm for having a system installed quite soon, if not straight away. In March, 97% were considering signing on the dotted line anytime from now to within 3 months.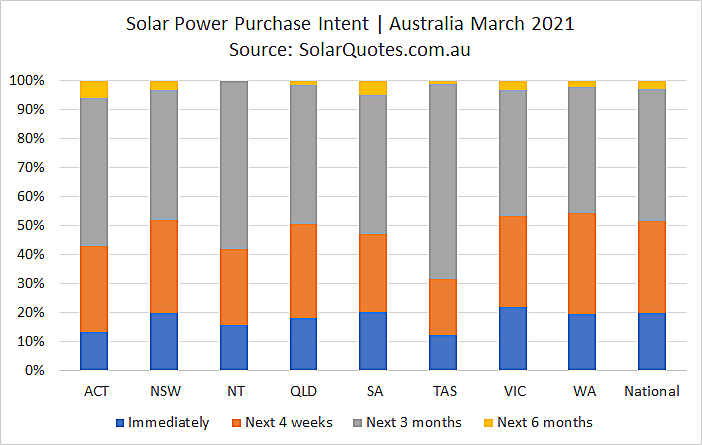 Cost Vs. System Quality
12% of Australians using the SQ service in March were wanting pricing on "top quality" (most expensive) solar power systems, back to the level of January after dipping to 11% for February. 79% were after a system offering a good mix of quality and cost, and around 9% a good quality budget system.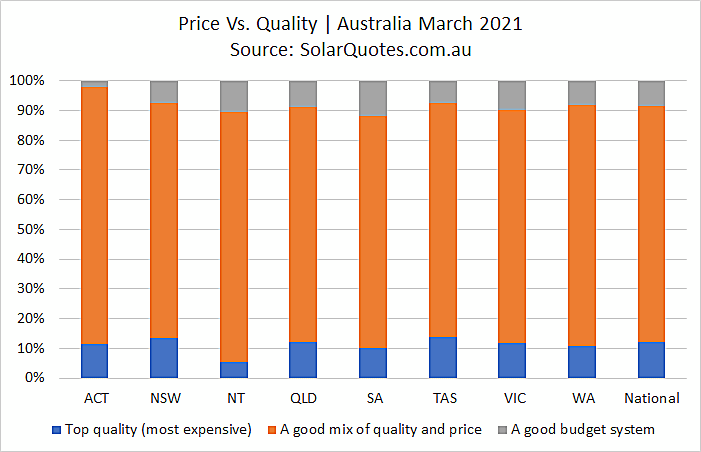 Microinverters/Power Optimiser Option
A whisker over 13% were interested in learning more about optimisers and microinverters in March – these devices are types of Panel Level Optimisation (PLO) that can be beneficial in some installation scenarios such as partial shading.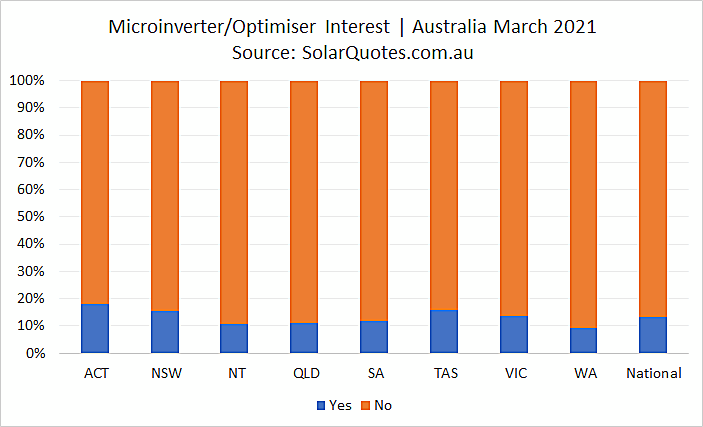 Solar Energy Consumption Monitoring
A very useful optional extra for a PV system is advanced solar monitoring. This enables a system owner to not only monitor how much solar energy is being generated but also how it is being consumed in the home. In March, approximately 42% were interested in consumption monitoring.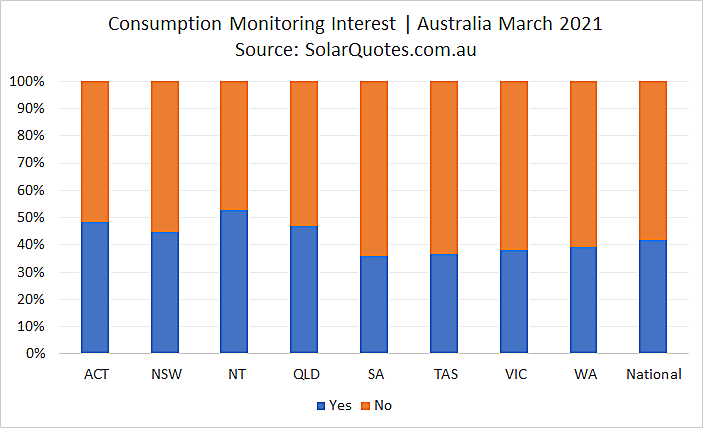 Battery Ready Systems
While  installing a battery may not be on the cards immediately, it can be handy to let a prospective installer know you're considering storage down the track so this can be factored into system design. But really, all systems are "battery ready". Interest in battery-ready systems crept up to 6% in March, from 5% in February.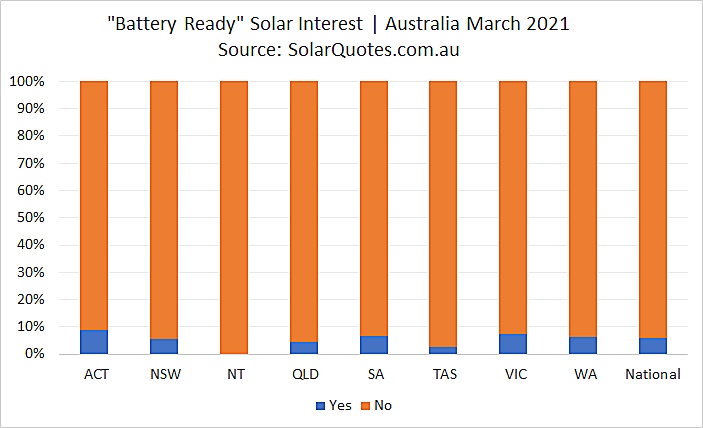 Solar + Battery Installation
While on the topic of batteries, interest in having energy storage installed concurrently with solar panels dropped back again in March to a little under 12% (February ~14% and 15% in January). Before plonking down a great wad of cash on a battery, try out SQ's solar and battery calculator – that will show the financial returns on solar and storage separately.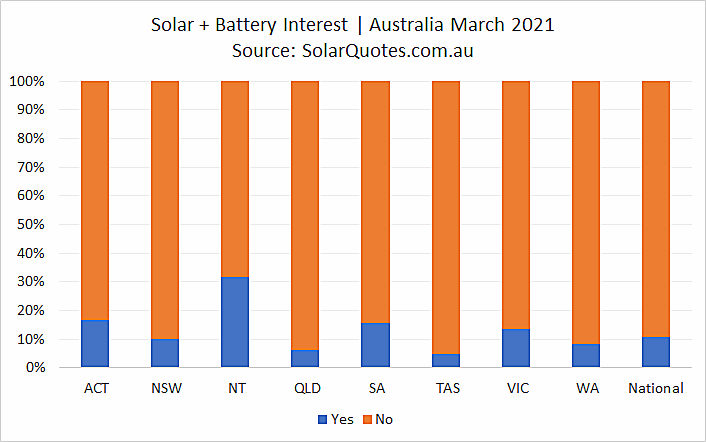 Battery Capacity Preference
For those who wanted quotes on a solar and battery system and had a battery capacity in mind:
1 – 5 kWh: ~11% (February ~13.5%, January ~16%)
5 – 10 kWh: ~43% (February~51%, January ~51%)
10 kWh +: ~46% (February ~35%, January ~33%)
A significant shift again from small to large batteries. Another big change last month was the proportion of enquirers wanting advice on battery system sizing; down from 58% in February to 47% in March.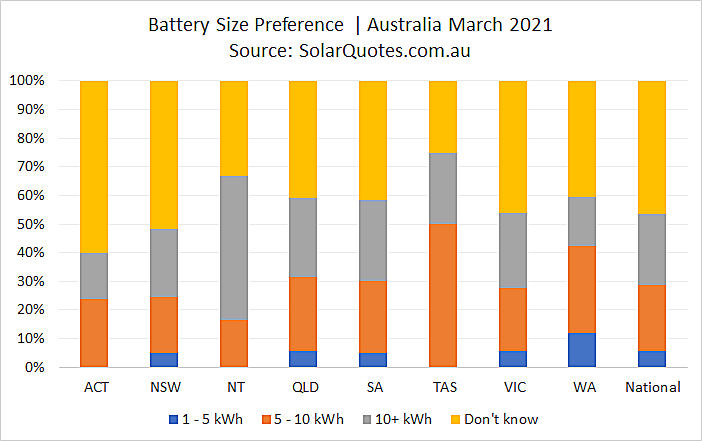 Primary Battery System Application
Just over 7%  indicated backup would be the primary use of their battery (6% in February and January). A little more than 38% were interested primarily in minimising electricity consumption from the grid (39% in February and 42% in January), and again, 54% for both backup and minimising grid electricity.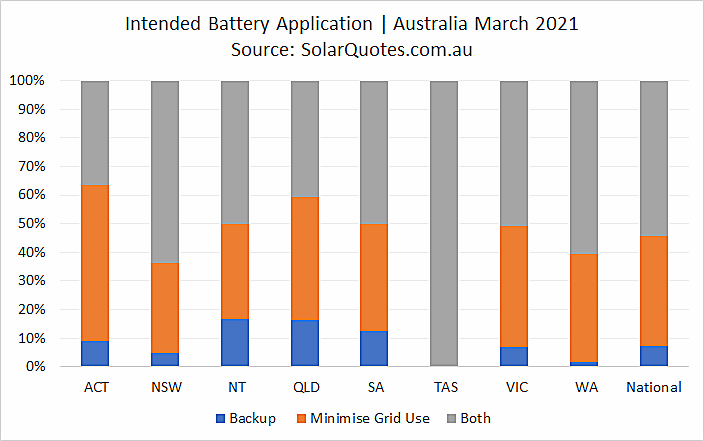 Electricity Bill Costs
Prior to installing solar panels and where electricity costs were known, 45% were paying between $500 and $1,000 per quarter on average (49% in February and 48% in January). As in February and January, approximately 11% were seeing electricity bills of more than $1,000 a quarter.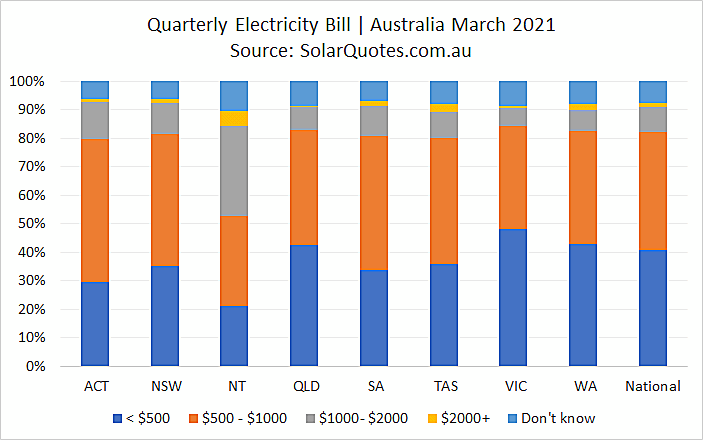 About The auSSII
Thousands of Australians utilise the SolarQuotes service each month to request pricing and system details supplied by carefully pre-vetted solar installers part of the SQ network. The information provided is used to compile the auSSII report.
Solid Solar Sales Leads Since 2009
Over the past 12 years, SolarQuotes has excelled in providing quality sales leads to companies that care about their customers – it's a win-win-win arrangement. And as you can see from the figures above, Australians who use our service are eager to get panels installed soon. Discover how your solar business can benefit from SQ's sale leads.
Reproducing auSSII Content
If you wish to use any auSSII report content on your website, you'll need to attribute it to SolarQuotes and the page it was sourced from.