Chinese solar panel manufacturing goliath JinkoSolar is doing its bit to help in the coronavirus battle outside its home country's borders.
The company announced yesterday it is donating one million face masks and other personal protective equipment (PPE) items to a number of countries severely impacted by COVID-19. The beneficiary countries include Italy, Spain, Germany, France, Britain, Switzerland, South Korea, the Netherlands, Austria, Belgium, Turkey, Portugal and Norway.
An initial shipment of 50,000 was sent out on March 29 with the assistance of various local governments and organisations such as Red Cross. It's understood the remaining 950,000 are already on hand, ready to go. The company also noted it would not decline direct requests for aid from hospitals.
JinkoSolar doesn't mention the best way for hospitals to lodge requests, so the company's contact page might be the best starting point, or perhaps contacting the local distributor of JinkoSolar panels who may be able to provide details of the appropriate contact at Jinko's headquarters.
This donation program follows on from the company's 12 million RMB (~ AUD $2.74 million) donations to China Red Cross in various cities that is being used to financially support medical and health care workers working on the front line of China's battle with the coronavirus.
"Win Virus" Initiative
On a related note; the company is also launching an initiative with the very curious name of "Win Virus" – I think something was lost in translation there. There are also some social-distancing issues in the promo pic.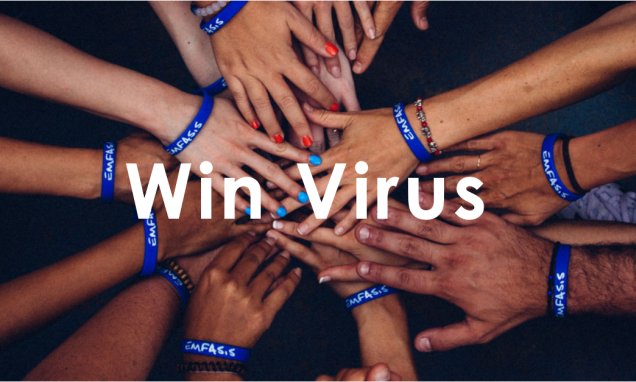 It's not totally clear at this point what the initiative involves, but it appears to be some sort of assistance for its partners around the world via an online platform. The page states:
"This platform is hoping to further boost your business even after the pandemic will be over. Our role as your partner is more than ever put to work to fight with you. The key Covid-19 related services that we offer include:"
… and then it says nothing further, keeping us in suspense. The platform will be live on April 5.
In other recent news from JinkoSolar, we mentioned earlier this month the company reported a stellar 2019, with a record 14.3 GW of module shipments. For this year, JinkoSolar estimates total solar panel shipments will still be in the range of 18 GW to 20 GW.
The company's performance last year on shipments of JinkoSolar panels put it at the top of GlobalData's top 10 manufacturer rankings for global shipments in 2019.