The coronavirus has killed more than 340,000 people worldwide and taken a big bite out of economic activity.  Fortunately, Australia's death toll has been low thanks to the effective response from medical professionals.
While we've gotten off lightly with regard to lives lost, there has been a sizable economic downturn.  This has caused wholesale electricity prices to drop, which you should see reflected your bills from July.  Unless you're in Western Australia. Nothing good ever happens to electricity bills there, and the savings will simply disappear into an electricity budget hole. But maybe it means Western Australians will be less ripped off over electricity in the future.
In the National Electricity Market or NEM, which is the ACT plus all the states except WA (and NT), wholesale electricity spot prices so far this financial year have averaged 2.2 cents lower per kilowatt-hour compared to last financial year.  While things in Australia are improving, the world economy remains depressed, so we're not likely to see much change in the remaining five weeks of the financial year.  This means in July1, we are likely to see decreases in both electricity prices and solar feed-in tariffs.
Australia and the parts of the world that understand how colds spread should start to recover economically over the next six to twelve months. So electricity prices and feed-in tariffs may rise in July 2021.  But even assuming a higher economic recovery — which is far from guaranteed — they won't return to their former level.  This is because electricity prices would have fallen without COVID-19, mostly thanks to increased renewable capacity pushing down wholesale electricity prices.
In this article, I will blather on about the economic effects of the pandemic for a few hundred words, and then I'll work out how much NEM wholesale electricity prices have fallen this financial year.  Next, I'll throw in a graph that will estimate how much of the change is due to the pandemic.  Finally, I'll show that, even with lower electricity prices and feed-in tariffs, rooftop solar power is still a good deal for most households.
Economics In The Time Of Coronavirus
While Australia is doing remarkably well, the coronavirus has hit the world a lot harder than I expected. Clearly, I am far too optimistic about contagious diseases and need to read at least an entire pamphlet on epidemiology before making predictions.
I suppose I shouldn't be too shocked by the current tragedy in the US — after all, if you lie down with idiots you wake up with stupid.  But I don't understand the disaster in the UK where the virus has killed more British than the Blitz.  It's as if after Brexit they wanted to rub in how much they don't need Germany any more.  When did Britain go from being the Motherland to being an alien land where they can't even mother themselves enough to stop a bad cold?2
Because large parts of the world are not doing well, there may be a prolonged global recession that will keep electricity prices down for years to come, as demand remains low for Australian exports that are electricity intensive, such as aluminium and natural gas.  (It takes a lot of electrical energy to turn natural gas into liquid natural gas for export.)

Australia's Economic Position Is — Relatively — Amazing
Optimism is something I've suffered from ever since my mother didn't drop me on my head. But I don't think it's the optimism talking when I say that economically we're in an excellent position compared to most countries.  Pretty much everything we import has fallen in price, while a lot of what we export has either held steady or increased.  For example, iron ore has stayed relatively constant, while the prices are up for grain and the flesh of animal slaves.  Out of our ten major trading partners, 7 have the virus well under control, and Australia's economic stimulus, while not perfect, has been the best in the developed world.  We've been fortunate.  This pandemic feels as if someone was granted one wish from an evil leprechaun and asked for Australia to have the world's best-performing economy.
So while the Treasurer may moan and groan about having a hole in the budget so big the Hindenburg could fly through it sideways, we're got it good compared to the rest of the world.  Things can only get better, just so long as we don't do anything idiotic like start a trade war with China.  But who would be stupid enough to do that?
Wholesale Electricity Prices Down
Earlier I mentioned the wholesale price of electricity was down 2.2 cents in the National Electricity Market.  This is the population-weighted average, but there is considerable variation between the five NEM states.  The graph below shows the average wholesale electricity spot price3 for the 2018/19 financial year and compared to the current 2019/20 financial year.  While this financial year isn't over yet, I've assumed there will be no significant change in its final five weeks: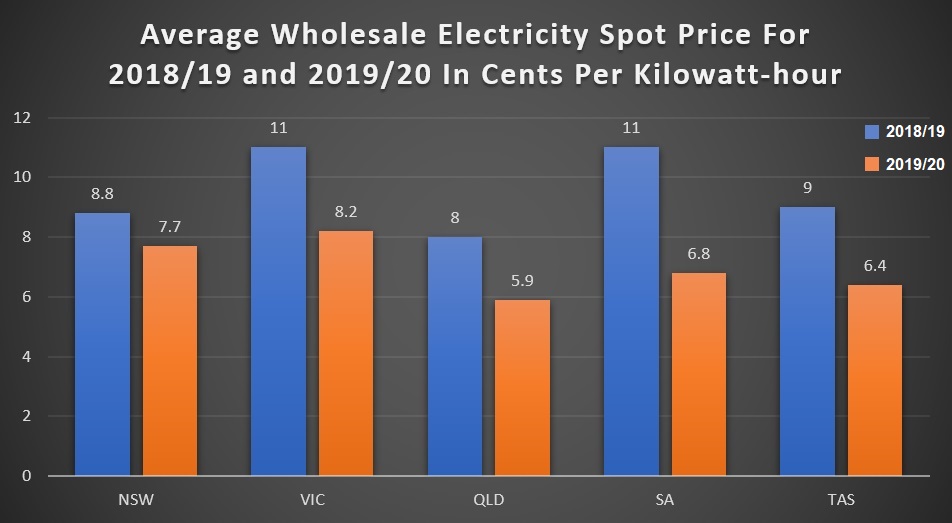 The most populous state, New South Wales, has the smallest decline, but falls in the other four states are two to three times larger.  If I give the drops as a percentage they are:
NSW: 13% decrease
VIC:  25% decrease
QLD:  26% decrease
SA:  38% decrease
TAS:  28% decrease
But it's probably easier for everyone if I make a graph showing the fall in cents per kilowatt-hour for each NEM state: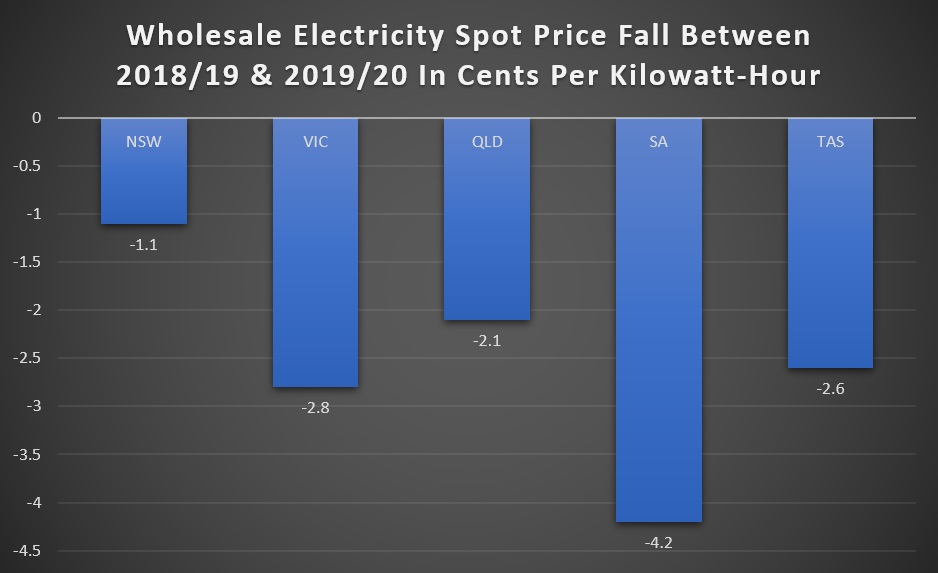 Solar Feed-In Tariffs Will See A Similar Slide
Solar feed-in tariffs will fall by an amount similar to the fall in wholesale electricity prices.  But their fall may be greater because solar power is pushing down electricity prices during the daytime.  So the per kilowatt-hour declines in the graph above may be the minimum fall in feed-in tariffs we can expect.
Extra Electricity Price Decreases For QLD & SA
According to this report by the AEMC, there will be changes to other components of electricity bills besides the fall in wholesale electricity prices.  They aren't significant for NSW, VIC, and TAS, so I haven't attempted to account for them, but they are considerable for QLD and SA.  If they are passed on, then the approximate total electricity price decrease per kilowatt-hour we can expect in July will be:
NSW: 1.1 cents
VIC: 2.8 cents
QLD: 4.4 cents
SA: 5.8 cents
TAS: 2.6 cents
A Large Portion Of The Price Fall Is Probably Temporary
It's not possible to work out how much of the fall in wholesale spot prices has been due to increased renewable capacity and how much is from the pandemic.  Weather and other factors affect it, and it's hard to pin down when the slowdown started. Australian was already suffering a knock-on effect from China's coronavirus trouble late last year.
But what I can do is make a graph that shows the fall in wholesale spot prices between the last six months of FY 2018 and 2019 and compares them with the fall between the first five months of FY 2019 and 2020:
While we can't be sure of how much of a drop would have happened anyway, the comparison certainly makes it look like the pandemic has had a significant effect.  So if we have a rapid economic recovery, we may lose a large portion of the July electricity price decreases.  This will also raise solar feed-in tariffs.  But if the world has a slow economic recovery, then we can expect electricity prices and solar feed-in tariffs to remain low until Australia's next large coal power station closure,  planned for April 2023.
The closure of the 1,680 megawatt4 Liddell Power Station in NSW will, for a while, increase electricity prices and solar feed-in tariffs.  But it is possible low electricity demand will result in an earlier coal power station closure.  While these are normally planned years in advance, worsening economics of coal power may bring closures forward.
Solar Power Still Makes Sense
If you don't have solar panels yet, it still makes sense to install them.  Lower electricity prices and feed-in tariffs will reduce solar's return, but it goes from being a fabulous investment to still being a fabulous investment.  It just won't be quite as fabulous as it was before.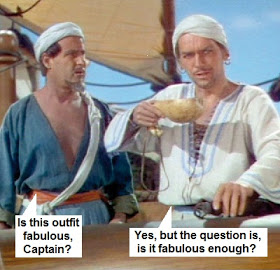 To demonstrate this, I've used our solar & battery calculator to make a graph showing the simple payback time for solar power systems with current electricity prices and feed-in tariffs versus what I expect them to be after July.  I've assumed the following:
A 6.6 kilowatt north-facing solar power system is installed.
The cost is $6,000.
Electricity prices are reduced by the fall in average wholesale spot prices this financial year compared to last financial year, as well as by the additional reductions I've estimated for QLD and SA.
Solar feed-in tariffs are reduced by the fall in average wholesale spot prices.
The calculator's electricity price inflation slider is set to zero.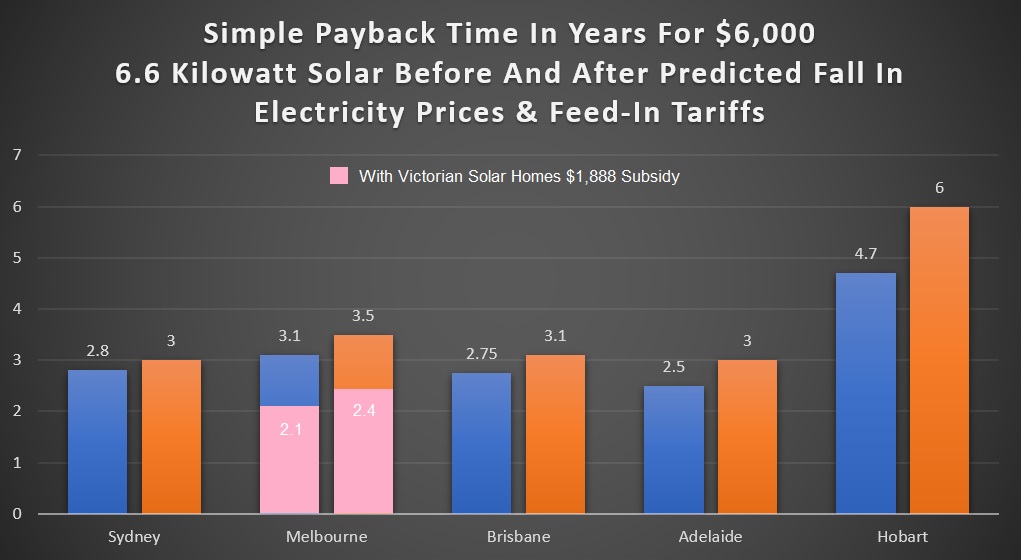 As the graph shows, solar power is still able to provide savings equal to its cost in 3.5 years or less in every NEM state capital except Hobart.  While the simple payback time is considerably longer in Tasmania, many households will still find it a worthwhile investment.
Look For Better Electricity Plans In July
When July comes, make sure you don't get stuck with a retail electricity plan that doesn't pass on the fall in wholesale electricity prices.  Also, make sure you get a plan with a good solar feed-in tariff.  They may fall, but they're not about to disappear.  Our electricity plan comparison tool can help you get a good deal.  But don't be surprised if improved plans aren't available on the first of July.  It can take a couple of weeks for electricity retailers to sort themselves out and decide what they're going to offer.
Footnotes
Update 25 May 2020: Unless you are in Victoria, in which case you'll have to wait until January, as that's when electricity price changes normally occur there. ↩
One thing is clear, the English speaking nations most obsessed with terrorism have turned out to be the worst at dealing with a biological attack — which is the most deadly weapon the mass-murder minded are likely to use. ↩
The wholesale electricity spot price is not the same as the actual average wholesale price, but it should be close to it.  The real wholesale price will, on average, be slightly less than the spot price.  Since I am looking at how much wholesale prices have fallen, the change in spot prices should be a good indicator. ↩
Technically, it was a 2,000 megawatt power station, but it hasn't been feeling well lately and 1,680 megawatts is all it's expected to manage at the moment.  This will drop to under 1,500 megawatts at the end of 2022 as one of its four units is even more buggered than the others and will be put out of its misery earlier than the others. ↩