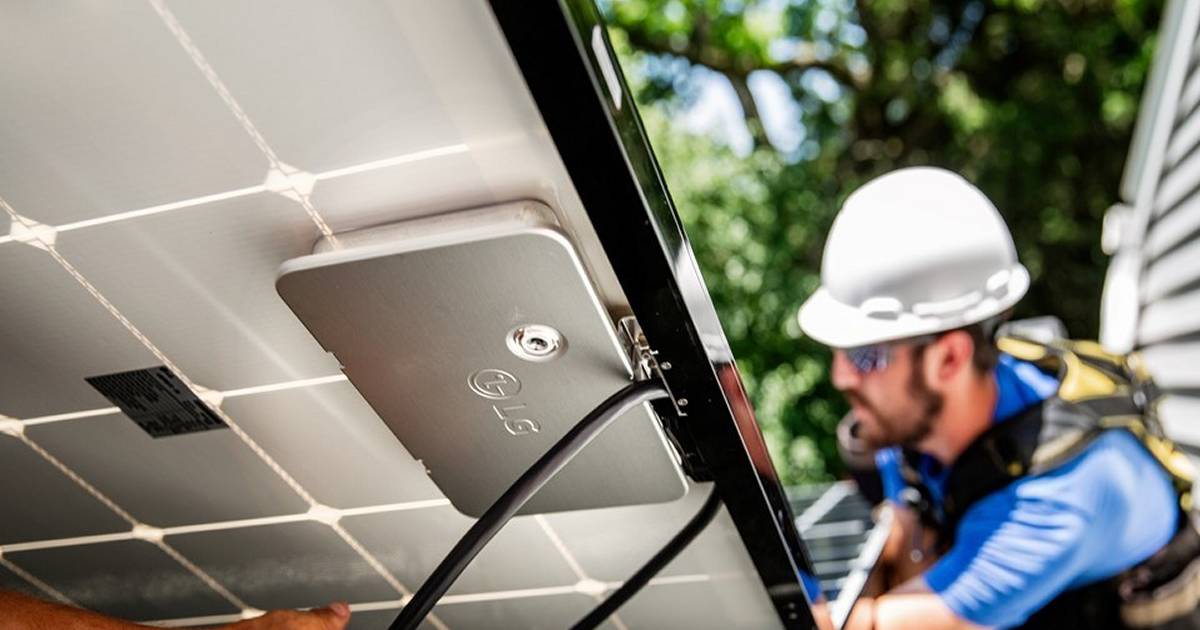 LG is showing off its latest AC solar panel – and this one doesn't have an Enphase microinverter on the back.
LG was already producing AC solar panels, the LG NeON 2 ACe, with the microinverters supplied by Enphase. Here's what the back of one of those looks like, which shows the integrated Enphase IQ 6+.
These panels aren't available in in Australia – but perhaps LG's new AC solar panel, the LG NeON R ACe, will be.
The LG NeON R ACe is based on the NeON R1 and has a different microinverter. LG hasn't said a lot about it, only that it was "designed by LG Electronics" – so it isn't necessarily produced by the company.
Some of the specs of the LG NeON R ACe:
Wattages: 370W | 375W | 380W
Cell type: Monocrystalline/N-type
Dimensions: 1,700 x 1,016 x 40 mm
Weight: 19kg
Temperature coefficient of Pmax2  -0.3%/°C
Module efficiency (DC): 21.4% (370W), 21.7% (375W) and 22.0% (380W).
CEC Weighted Efficiency (AC): 97.0% @240VAC, 96.5% @208VAC
"Multi-Hop Technology"
The NeON R ACe works with LG's app-based monitoring platform called EnerVu. LG says:
"By adopting advanced communication technology, the LG NeON R ACe is easy to commission and monitor compared to traditional micro-inverter and power optimizer solutions."
LG says the way the NeON R ACe system works with the EnerVu gateway box (which looks a little like a router) differs from other gateways in that each NeON R ACe solar panel can communicate with the one next to it. When data is passed to the gateway, it comes from one module – i.e. the gateway only needs to communicate with the closest solar panel. This provides flexibility in gateway positioning and means it can be placed inside the home.
LG says the system is  "future proof", enabling connection to various systems including smart appliances.
The NeON R ACe 25-year warranty for products, parts and performance3 applies to both the solar panel and the microinverter. The panels will be available to U.S. homeowners later this year – but no word yet as to when/if the NeON R ACe will be available in Australia, or indicative pricing.
Added note October 1, 2019: Apparently, there's an Australian standard indicating micro-inverters can't be used on solar panels with a capacity of more than 350 watts. We'll try to get more information on this.
You can learn more about the advantages and disadvantages of AC solar panels (and microinverters) here. and more general info on LG solar panels here.
Footnotes
SQ's Ronald reviewed the NeON R a couple of years ago ↩
"Temperature Coefficient of Pmax" indicates power loss for every °C that the panel (not ambient air temperature) is hotter than 25°C ↩
Guaranteed to produce at least 90.8% of nameplate power output at 25 years ↩