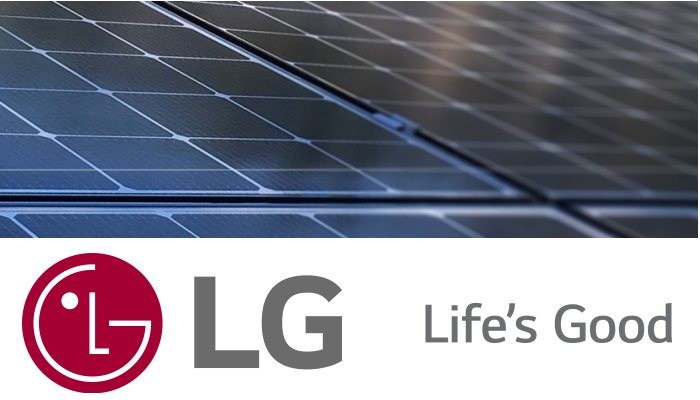 It's only two months now since I wrote an article telling everyone in the world the product warranty for LG Solar's NeON 2 panel was being extended from 12 years to 15.  But if you were looking forward to to getting some NeON 2 solar panels and enjoying that sweet 15 year warranty, I'm afraid you're out of luck because it's no longer available.  Instead you'll just have to enjoy a massive 25 year product warranty as it has been extended by another 10 years.
LG Solar Australia has informed us that every NeON 2 panel manufactured after the 1st of October 2017 is now covered by a 25 year product warranty.  This means if you had NeON 2 solar panels installed recently, they may be covered for 25 years instead of the 15 or possibly 12 years you thought.  It also means any you have installed from now on should have a full quarter of a century product warranty, as installers generally don't leave pallets of dusty panels lying around unused for months.
The 25 year product warranty doesn't apply to LG Mono X panels, but they are being phased out and are unlikely to still be available.  This means the two series of solar panels they do sell in Australia, the NeON 2 and the NeON R, will both have product and performance warranties of 25 years.  This makes their warranties a lot simpler to understand and removes the problem of manufacturers deciding they don't have to provide a refund or replacement if a solar panel stops working outside of its product warranty, but inside its performance warranty – a problem I've written about here.
Markus Lambert, the General Manager of LG Solar Australia, seems to share my concern about warranties, as he has said — or written — it's not clear which:
"For a period of time we have been concerned how the 25 year Output Warranty  has been misused by crap solar companies to mislead the customer in believing they have a proper, valuable 25 Product Warranty."
Well, now not only do all LG solar panels have a valuable 25 year product warranty, it's a full replacement warranty as well, which means if a solar panel fails LG will send someone around to replace completely free of charge.
Why The Change?
Why a big 10 year extension to the NeON 2 product warranty only 2 months after a 3 year extension?  Couldn't they have given a 13 year extension all at once or is the company triskaidekaphobic?
I don't know what actually happened, but I'm certain LG has been working hard for a long time to be able to extend their product warranty to 25 years.  While they may not have been certain when they would be ready, it not something that would have come out of the blue.  Maybe they were confident they could increase the product warranty to 15 years but needed a couple of months to improve their production processes so they could be certain they could increase it to 25.  Or they may have wanted to collect a little more data before they made the big jump.  And perhaps they just spaced it out because they honestly wanted to avoid the number 13.  Stranger things have happened.
Personally, my favorite theory is the CEO of LG just wanted me to write two articles about his solar panels instead of one.  However, I must admit I haven't been able to win anyone else over to this point of view.
An Exclusive Club
Of all the solar panel manufacturers in the world, there are only three I can think of that have product warranties of 25 years or more.  They are SunPower, Solarwatt, and now LG.  This makes them the big three, as in big product warranties.  Both LG and SunPower have 25 year product and performance warranties, while Solarwatt has 30 for both.
The Lowest Cost Solar Panel With A 25 Year Product Warranty
Of the two manufacturers that make panels with 25 year warranties, I don't know which one makes the best solar panel.  Even if I did have an opinion I might keep it to myself in case the other company decided to send ninja assassins after me.  Or even non-ninja assassins.  And I don't want to risk anyone sending non-ninja assassins after me as that just lacks class.
But I can say which of them produces the panel with the lowest cost per watt.  Or at least I could if there were some way of easily comparing solar panels and their prices.  Unfortunately, it's not as if someone has gone to the trouble of collecting information on every reliable panel sold in Australia, along with pricing information, and put it all together in one convenient table.
Oh, wait a minute… someone has done that.  We did it1.  SolarQuotes now has a Solar Panel Comparison Table that lists most panels we know about sold in Australia in reasonable quantity.  It looks like this:
It has all sorts of useful information, including different model numbers, solar panel efficiency, how well they handle heat, and so on.  It's also updated regularly, so it's not going to get all out of date like my music collection2.
Both LG and SunPower produce different models of solar panels so all I have to do to bring up information on them is click the arrow next to their names to make a drop down menu appear like this: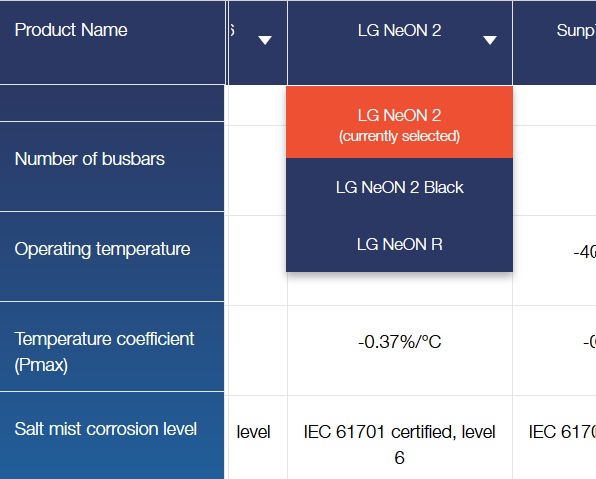 This lets me see the estimated retail price of the lowest cost SunPower panel, the P series, is $1.32 while the LG Solar NeON 2 is $1.23.  So, at the moment, LG Solar has the lowest cost solar panel with a 25 year product warranty.
Premium Panel Competition
Now that LG has catapulted their product warranties to the quarter century mark, there is serious competition in the premium solar panel end of the market as the two largest high end panel brands in Australia no longer differentiate on product warranty.  We may see competition on price, further changes in warranty periods, or maybe they will just sit where they are for now and share the high end market.  Whatever happens, the boost to LG's NeON 2 warranty is good news for consumers.