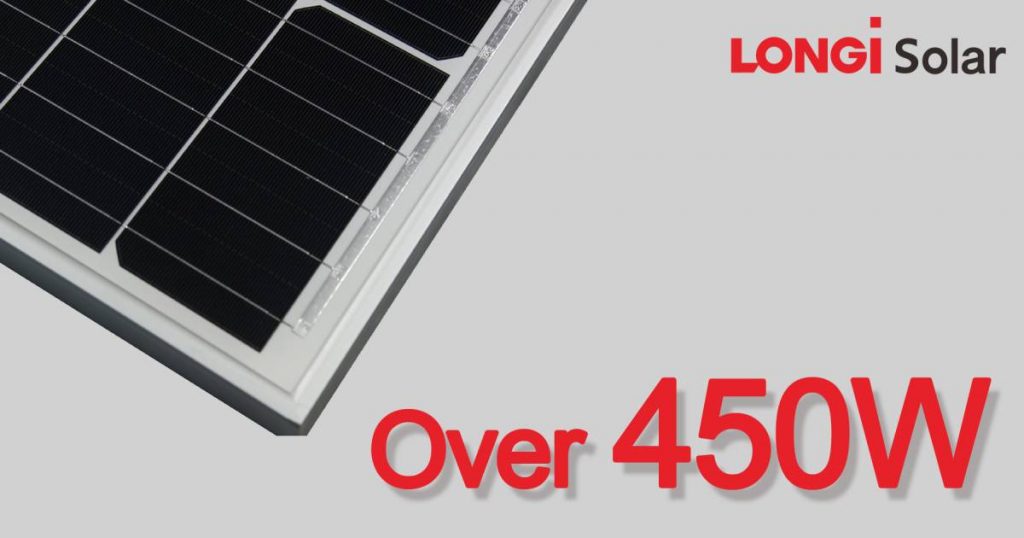 Chinese PV manufacturer Longi Solar has announced its 72-cell bifacial half-cut monocrystalline PERC module has exceeded 450W power output – just on the front side.
There's a bit of technobabble the above description of this module, so here's more information breaking the elements down:
.. and for some follow up reading on an issue with PERC technology, check out Ronald's article on Light and elevated Temperature Induced Degradation; or LeTID for short. On a related note, MC Electrical's Ben Neville is keeping tabs on Longi and other manufacturers with regard to LeTID issues.
Anyhow, Longi Solar is pretty proud of their latest achievement, which they say was tested and verified by certification agency TÜV-SÜD.
"LONGi monocrystalline half cell module combines monocrystalline PERC cell technology and bifacial half cell module construction to effectively reduce package loss and increase average output by 5-10W," said Vice President of LONGi Solar Dr. Lv Jun. "Half cell has obvious advantages in power generation under weak light and shadow conditions and excellent heat spot resistance."
The "package loss" was a new term for me and I thought something may have been lost in translation. It apparently refers to the light loss associated with the typical "package" structure of a solar panel, i.e. glass, cells, adhesive layers and backsheet. I'm not clear on the "increase average output by 5-10W" statement.
A Very Long-i Module
As well as being big on power, these Longi solar panels would be big on size. While the specifications of this particular module aren't on Longi's site, the company's 360-380 watt range of panels using the same technology have measurements of 2020 x 996 x 30mm and weigh in at a hefty 25.5kg. 60-cell panels commonly used for home solar installations are around 1650mm long/high and weigh around 19kg (but offer less power).
These may not be the type of solar panels you'd stick on your home's rooftop, but it's encouraging seeing the continuing progress of  PV technology. Ronald sees potential for bifacial solar panels in Australian solar farms installed vertically in a line, with one side facing east and the other west.
Longi Solar is a major player on the PV scene and has racked up quite a few records. While they haven't had a presence in Australia for long, reviews of Longi solar panels by Australians who have had them installed have been pretty positive and the company is included on the SQ trusted PV brands chart. You can also learn more about Longi here.