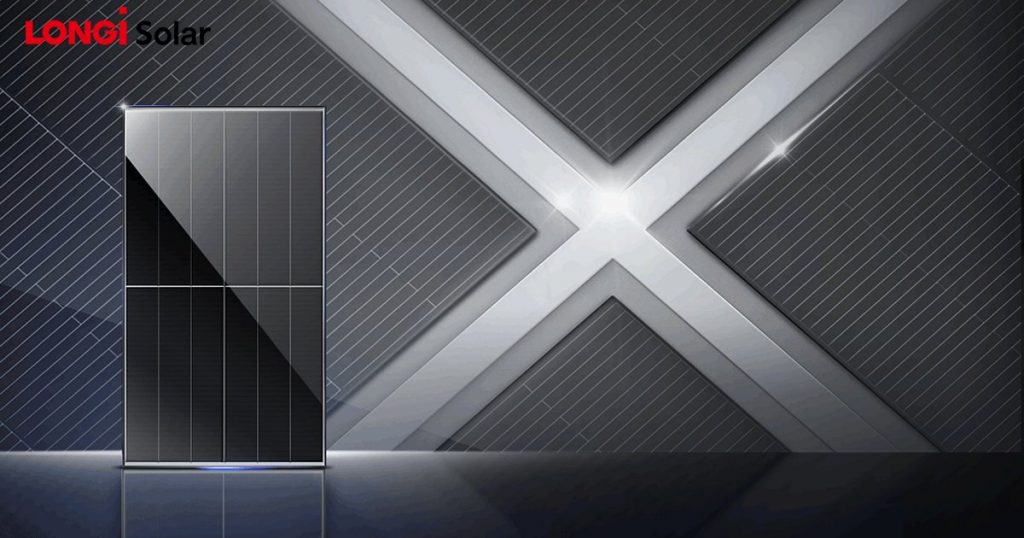 Solar panel manufacturing giant Longi launched its new Hi-MO X module at an event in Melbourne on Monday night.
The Longi Hi-MO X is a mono PERC solar panel featuring a shingled layout. "Shingle" solar panels are modules comprised of multiple thin overlapping solar cells.
"Hi-MO X is not only an exploration into the photovoltaic technology of the future, but also a breakthrough innovation of existing technology," says Longi. " The full square monocrystalline cells are shingled seamlessly, with clearly defined and smooth lines that give a sleek and elegant appearance."
Available in capacities up to 405W (72-cell) and 355W (60-cell), the Hi-MO X offers module efficiencies of between 19.3% and 20.3% for the 72-cell series and 19.1% – 20.3% for the 60-cell.
Both the 60- and 72-cell Hi-MO X have a temperature coefficient of Pmax of -0.37 %/°C. This refers to how much power a solar panel loses for every °C above 25°C (panel temperature, not ambient air temperature).
Longi says the panels are low-LID (Light Induced Degradation), but makes no mention of Light & elevated Temperature Induced Degradation (LeTID).
The 72-cell panel weighs in at 23kg and measures 2006 x 994 x 35mm. The 60-cell Hi-MO X weighs 19kg and has dimensions of 1762 x 9994 x 35mm. On a related note, if you're considering installing 72-cell panels on your home, check out this article from Ronald.
Longi Hi-MO X Datasheets:
Longi says the Hi-MO X has also pre-qualified for two new categories that will be added to the Clean Energy Council's approved PV modules list – JCU Cyclonic Testing and MAST Backsheet Durability. The Hi-MO X features DuPont's Tedlar backsheet material.
The Hi-MO X is immediately available in Australia from what I can gather, but I don't have pricing as yet.
We'll have the Hi-MO X listed on SolarQuotes' side-by-side solar panel comparison table soon. You can also check out reviews of Longi solar panels, submitted by Australian customers who have had Longi modules installed for at least a year.
In other recent news from Longi, we reported early this week the company had signed an agreement with Daqo New Energy Corp that will see Daqo supply 112,800 metric tonnes of ultra-high-purity polysilicon to Longi over a three year period. Longi is aiming for monosilicon ingot/wafer production capacity of 36GW by the end of this year, building up to 65GW by the end of 2021. The company also has big plans for boosting cell and solar panel production capacity.
Also last week, Longi said it had recorded its highest-ever bankability rating (91%) in the recently released Bloomberg New Energy Finance (BNEF) Solar Module & Inverter Bankability 2019 report. "Bankability" refers to how financially stable a solar panel manufacturer appears to be. The most bankable manufacturers are considered "Tier 1".