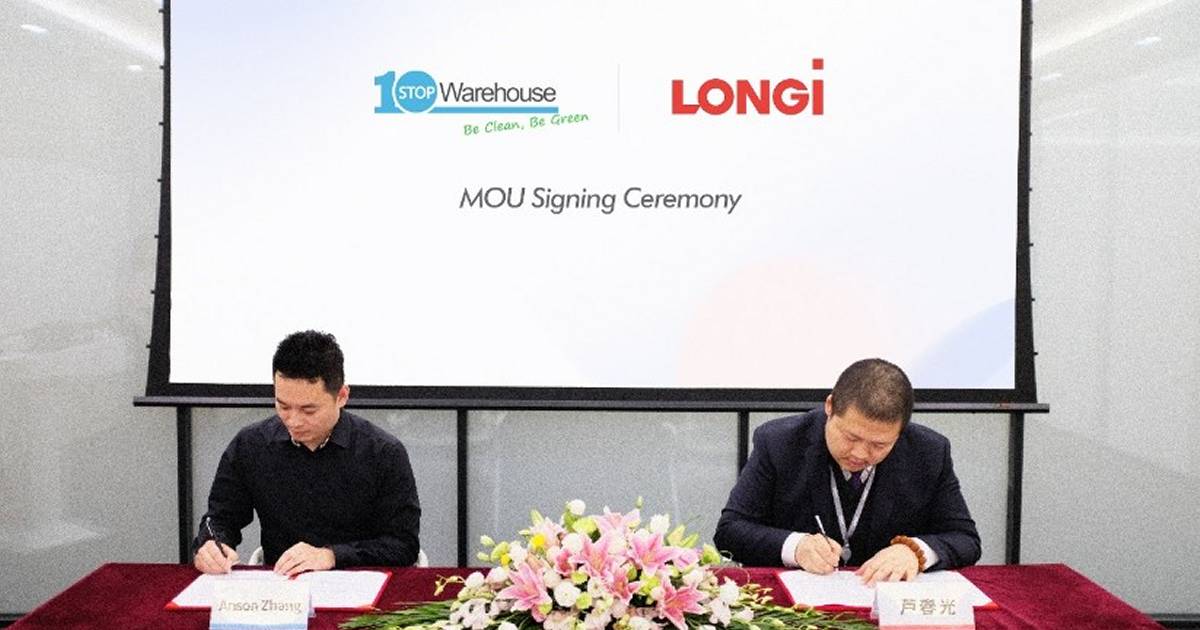 Solar panel supply agreements can be a bit ho-hum. But given issues in Australia at the moment, such deals are good news.
Challenges in China (and globally) have led to a solar panel supply crunch in Australia and elsewhere. Major manufacturers including Longi Solar had also been warning for some time that rising costs of materials and shipping were putting upward pressure on prices.
In terms of good quality solar panels, this isn't just affecting modules manufactured in China. More expensive non-Chinese brands are impacted too as installers grab whatever they can get to keep going. How long the situation will continue isn't clear, but there is some sunlight at the end of the tunnel.
One signal is China's Longi Solar announcing on Monday the signing of a 300MW solar panel supply agreement with local wholesaler One Stop Warehouse (OSW) for next year.
"It is not just a number, but a minimum target we are setting to both companies and to be accountable for, which will drive our efforts and encourage us to bring the best products and services to the Australian market", said Stephen Zhang, Managing Director of LONGi Solar Australia.
When those panels will start really flowing isn't clear – and  how far will 300MW of solar panels go towards satisfying demand?
Just to provide some idea and based on preliminary results for September when more than 141MW of solar power capacity was installed in Australia – a bit over 2 months. And that tally was just for systems under 100kW capacity. Of course, Longi solar panels and One Stop Warehouse aren't the only shows in town, and OSW has relationships with more than a dozen module manufacturers.
So, does it make sense to just wait for 2022, when the dust will (hopefully) settle before looking at going solar? Perhaps not – for reasons explained here, now is still a very good time to install panels even with higher system prices if you can get an installation before the end of the year. But research thoroughly before buying solar as it will still be a good investment in 2022.
Longi Celebrates Hi-MO 5 Success
In other recent news from Longi, the company recently celebrated achieving 10GW of Hi-MO 5 module shipments globally. It's pretty good going given the company only took its first order for the Hi-MO 5 in September last year.
This range consists of big panels in terms of capacity (up to 550Wp), size (up to 2256×1133×35mm) and weight (up to 30.6kg for the bifacial), and they are designed for use in for large-scale solar farms. In the Hi-MO family, Longi's Hi-MO 4 is geared towards the residential and C&I market. Some of these models are listed on SolarQuotes' solar panel comparison table.
Another recent development Longi hasn't been so keen to crow about on its press page is U.S. border agents have reportedly detained more than 40MW of modules the company exported to the US from October 28 to November 3.
According to Chinese media outlet GlobalTimes, Longi is rather "meh" about it all.
"LONGi's sales reach to the world and does not rely on the sole market of the US too much," the firm reportedly said.
But the Chinese Government is very cranky about the situation and other similar incidents affecting various manufacturers, and is urging the US Government to "correct its mistakes".