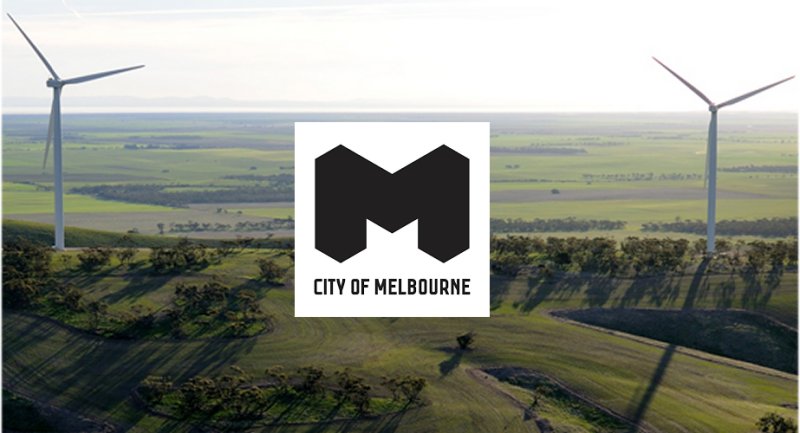 The City Of Melbourne says it is the first Australian capital city council powered by 100 per cent renewable electricity.
UPDATE: Just to clarify, and I should have done so when originally publishing – the 100% claim is in relation to electricity supply for council buildings and services. The council is purchasing renewable electricity equivalent to its annual consumption.
The City of Melbourne council area is comprised of the city centre and a number of inner-city suburbs, including Carlton, Flemington, Prahran, South Yarra and Southbank.
The shift to 100% renewables for electricity supply was made possible by a deal struck by Council and thirteen other organisations  that combined their purchasing power to support the construction of Pacific Hydro's 80 MW Crowlands Wind Farm, which is being built 25km north-east of Ararat in south-west Victoria – approximately 205km west of Melbourne.
The Melbourne Renewable Energy Project (MREP), as the collective is known, committed to purchase 88 GWh of electricity per year from the wind energy facility under a long-term power purchase agreement (PPA).
25 of the 39 Senvion MM92 2.05MW turbines at the facility are now up and running.
"Making the move to 100 per cent renewable energy is the ultimate New Year's resolution," said Deputy Lord Mayor  Arron Wood. "Every light on our streets, every treadmill in our gyms and every barbecue in our parks is now powered by renewable energy."
Crowlands is a project with a very long history – initial consultation with the local community began in 2004; well before Australia's renewable energy revolution started kicking into gear.
One of the sweeteners Pacific Hydro is providing as part of the project to the local Crowlands community is the installation of a rooftop solar power and battery storage system for the Crowlands town hall.
Solar Energy In Melbourne's CBD
While the topic of the solar energy, an analysis released last year by the Australian PV Institute (APVI)  indicated the CBD area of Melbourne could support 461MW of solar panels on the rooftops of its buildings. This capacity would generate an estimated 548 gigawatt-hours of electricity each year; enough to supply 11% of the entire CBD's annual electricity consumption.
The potential rooftop solar power capacity of other state capital city CBDs can be viewed here.
Trivia: In Melbourne CBD's postcode (3000), there are just 42 small scale (<100kW) solar power systems installed, with a collective capacity of 668kW. Elsewhere within the Council's borders where there is more stand-alone, semi-detached, townhouse and terrace housing, solar power has a greater presence. For example, in the suburbs of Flemington and Kensington (postcode 3031),  472 systems are installed.