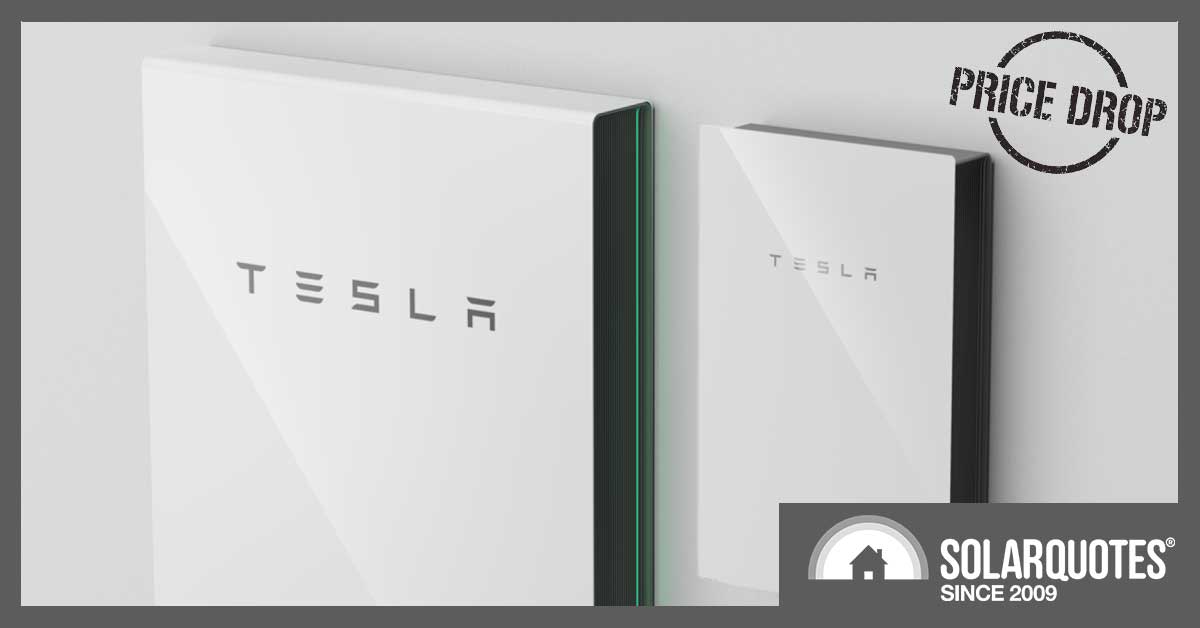 Update Sep 6 2023: My mistake – Tesla updated the price on the website a couple of months ago – not this week – to $12,100 and I missed it at the time. I've updated the post and the price guidance for installed systems to reflect this.
Powerwall Hardware Price
The hardware-only price for the Powerwall battery and Gateway is now shown as $12,100 on the Australian Tesla site.
If installed before 31 December 2023, you can also save another $750 as a rebate from Tesla.
Here's an updated history of the Powerwall + Gateway price in Australia (including $750 Tesla rebate):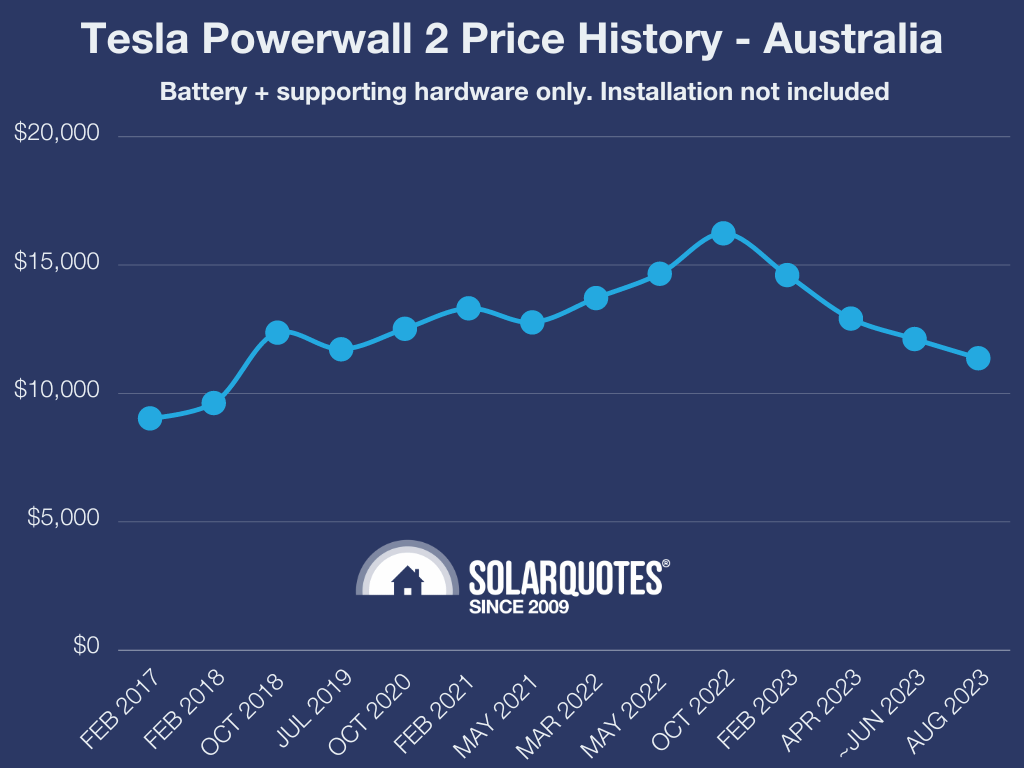 Feb 2017: $9,000
Feb 2018: $9,600
Oct 2018: $12,350
Jul 2019: $11,700
Oct 2020: $12,500
Feb 2021: $13,300
May 2021: $12,750
Mar 2022: $13,700
May 2022: $14,650
Oct 2022: $16,230
Feb 2023: $14,599
Apr 2023: $12,900
~June 2023: $12,100
Aug 2023: $11,350 (after Tesla rebate)
Approximate Installed Prices
If you are installing your first Powerwall and it's a straightforward installation (battery next to the switchboard, 2 circuits on backup, no switchboard upgrades, no bollards, single-phase), then you can expect a fully installed Powerwall to start at $15,500-$16,000 before the rebate.
If you are installing a second Powerwall and it can mount onto the existing one, expect a second battery to cost $12,500-$13,000 before the rebate.
My mate Sean recently installed his second Powerwall despite limited winter solar energy generation. This was so he could take advantage of SA's solar sponge super off-peak daytime tariff. He is stoked – despite getting it done just before the rebate was announced.
I have a 5 year old Powerwall, and would love to add a second. Unfortunately my Powerwall is within 600mm of my living room window, and since the initial installation, Australian Standard 5139 has been adopted that prohibits batteries within 600mm of windows of inhabited rooms1. So, no second Powerwall for me.
Tesla Nearly Kicked Me Off Their VPP
In other Tesla news, the company recently threatened to kick me off their SA Virtual Power Plant (VPP), because Tesla's automated system noticed I've recently added 14 kW of solar power capacity to my vintage 6kW system2.
The Tesla VPP rules mandate a maximum of 15 kW of solar for every Powerwall installed. I offered to export limit to 15 kW, because I like the bundled Tesla Energy Plan from Energy Locals and would like to stay on it. They came back to me and insisted on a 15 kW generation limit – which was interesting.