Tesla appears to be unsure about how much to charge Australians for the Powerwall 2.
Or maybe they are sure, but confused about how the Australian dollarydoo works.
Perhaps they've been confusing it with the New Zealand doubloon or the Fijian guilder?
I know I often do.
My opinion may not be worth much, but my two centaroos is they simply launched before they had all the details worked out.
Some people think the price of a product is an important detail that should be worked out in advance.  And they are correct – provided you want to do things the boring way.
There are two ways to run a company:
The boring way, where you waste time making sure people who work for you know important details in advance.
The exciting way, where you make announcements that catch people in your own company unaware and force them to scramble to catch up and try to fill in the details in a mad rush.
But whatever the reason, so far Tesla has given three different prices for the Powerwall 2 in Australia.  Or at least, three I know about.  There could have been a few I missed.  But the good news is the current one is cheaper than the last one.
Tesla now says the Powerwall 2 will cost $8,000 dollars including GST.  This is a 9.09% price drop1.
And "Installation and supporting hardware starts at $2,150".
So their estimate of the installed cost of a system starts at $10,150.  This is all shown in the screen capture I took today:
They say the price includes an estimate of $950 GST, but if its total cost is $10,150 then surely GST should come to $923?  Maybe we'll get a fourth price out of Tesla in the future fixing this discrepancy, or maybe they'll just go, "Meh, close enough."
The Evolution Of A Price
Anyone who's played Pokemon Go knows what evolution is.  And just as fluffy animals in apps must sometimes be tortured to grow stronger, sometimes prices and specs must be tortured for a company to grow in strength and customers to grow in confusion.
The First Price
On the very first day Tesla announced the existence of the Powerwall 2, the Australian Tesla website put up the following: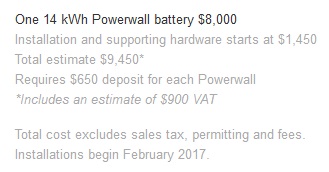 While I didn't understand why it needed one, I thought it was nice that it came with a $900 vat.  It would be especially useful in South Australia because we could use it for wine making.  But then it was explained to me that VAT was actually Value Added Tax, a double sized GST in the UK, a country formally known as EU.
It appears that Tesla couldn't tell the difference between Australia and the UK.  But that's understandable.  After all, if you add a few kangaroos to Britain and sprinkle a few spotted dicks around Australia the two places basically become indistinguishable.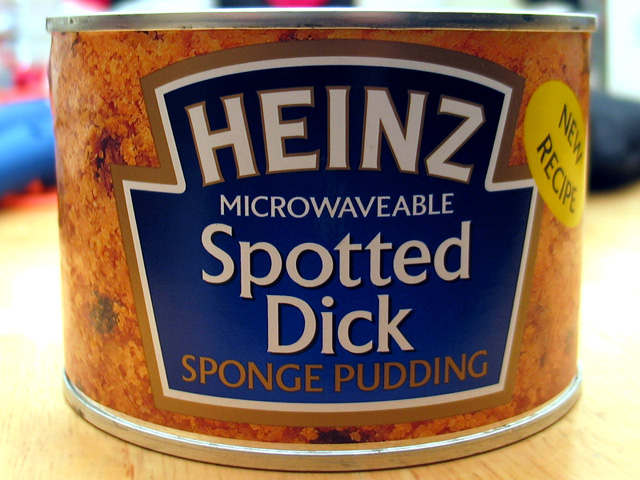 The Second Price
But regardless of what Tesla called the GST, their estimate of the total installed cost of $9,450 was impressive.  Unfortunately it didn't last.  It only took Tesla two days to contact us and say they had made a mistake and the $9,450 estimate actually didn't include GST or VAT.  This meant their estimated installed price was really $10,395.  While not as good as we were first told, this was still much better than the competition.
But I have to admit, I wasn't surprised the price got bumped up.  Not after what happened with the original Powerwall.  Tesla has never given me the impression they are a "set in stone" kind of a company.  They'd have to work at it for me to regard them as a "penciled in on a post-it note" company.
The Third Price
Tesla now has a third price up on their Australian site.  It's been the same for at least a couple of days now, so who knows?  It could even be their final price!  But I wouldn't bet on it.
The third price drops the cost of the Powerwall 2 by a big honking $800 from the previous one by including GST in its $8,000 price.
However, the starting price for "installation and supporting hardware" has increased by 23% from $1,755 to $2,150
Overall the total installed cost is 2.4% cheaper than it was.  While not a huge improvement, it's a change in a direction I like.
Australians Aren't Getting Screwed!
The third price means, at current exchange rates, we will be paying about the same for a Powerwall 2 as people in the United States.
Actually, at today's exchange rate2 we'd be paying 1% less.  It makes a pleasant change from companies that shaft us on price when they come to Australia.
Not only are we getting a 1% discount but we're also getting free shipping!
Of course, it's not possible to know what will happen to exchange rates between now and when the first Powerwall 2s get installed here.  Perhaps Elon Musk expects the demand for gold to build giant Presidential statues will push up the Australian dollar?
Arrival Date
At least Tesla are consistent about the release date. They are standing by their statement that they will start installing the Powerwall 2 in February. Personally, I've put down 20 cents on March as the month of the first installation in the local Powerwall 2 sweepstakes.  And that's only because I'm an optimist.  To me they seem a little too disorganized to be ready by February.  For example, just above the new price they describe the Powerwall 2 as a 14 kilowatt-hour battery, but in their technical specifications they state it can provide 13.5 kilowatt-hours with a 100% depth of discharge.  They can't both be right.
Cost Per Warranted Kilowatt-Hour
At $8,000 for an uninstalled Powerwall 2 its warranted cost per kilowatt-hour is only 21 cents, which is well ahead of anyone else.  The increase in the installation estimate means the installed warranted cost per kilowatt-hour doesn't improve by much, but it's still quite impressive at 27 cents.  Of course, just as with the original Powerwall, we'll have to wait until they actually start being installed to see how good they really are.