Note from Finn:
Since this post was published Tesla have canned the DC Powerwall 2 in Australia. We will now only be able to get an AC Powerwall 2. A regular AC coupled battery is no good for off grid because it can't talk to the solar inverter to balance energy demand and supply. So if you live in Australia and want to go off grid do not use a Powerwall 2.
---
A long time ago, back in the days before we knew how lame the original Powerwall was compared to its hype or how good the Powerwall 2's hype is compared to the original Powerwall, I wrote about whether or not my parents in sub-tropical Queensland could save money by going off-grid using lead-acid battery storage.
My conclusion was they could not save money even under almost ideal circumstances.  The benefit of staying on-grid and receiving even a low feed-in tariff for surplus solar electricity was too great to make saying sayonara to the grid connection wire worthwhile.
But now Tesla says the Powerwall 2 will will be available in February and they have given its technical specifications, warranty, and price. This has allowed us to determine its warranted cost per kilowatt-hour is 30% less than its nearest competitor and half the price per-kWh of the Powerwall 1.
The dramatic price cut means that, in some very specific situations, adding a Powerwall 2 to a grid connect solar system, may pay for itself. Just.
That got me thinking. Does the impending release of the Powerwall 2 make it finally possible for my parents to save money by going off-grid?
Well,  I've redone the calculations and my conclusion is – hell no.  Even if I fudge their details to make their circumstances almost ideal it costs a small fortune to go-off grid with a Powerwall 2.
If that's all you wanted to know, feel free to stop reading now.  But some people are faced with the decision between living off-grid or paying a small fortune to get grid electricity connected to their properties.  They may be interested in which small fortune is the smallest.  So if you want details then wrap your eyes around what I've written down under.
My Parents' Details
My parents live in an old Queenslander, which is appropriate on account of how that's what they are.  Their situation is already fairly ideal for going off-grid, but I putting my thumb on the scales and altering some details to favour the Powerwall 2 so we can see how well it does in a pretty much best case scenario.  So if my parents can't save money by going off-grid with a Powerwall 2 we can be pretty sure no one can.
Location
My parents live in sub-tropical rural Queensland in an area that, as far as I am aware, has the least difference between winter and summer solar output of any location in Australia, which is very handy for off-grid living and will help keep their need to use a generator during periods of bad weather to a minimum.
Electricity Consumption
In reality my parents don't use a lot of electricity.  But because I want to see how the Powerwall 2 fairs under the best possible circumstances, I am going to assume they have a couple of annoying relatives move in with them and increase their electricity consumption up to 18.4 kilowatt-hours a day which is the average for a 4 person household in their area.  This comes to 6,720 kilowatt-hours a year.  I will also assume that if off-grid they would use an average of 6 kilowatt-hours of battery storage a night.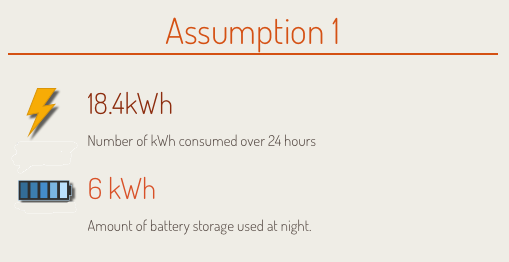 Rooftop Solar Size
My parents don't actually have a maxed out rooftop solar system because I was too cheap to buy them one.  But I'm going to pretend they have a 5 kilowatt inverter with 6.6 kilowatts of panels, which is just short of the largest system permitted in their area without an export limiting inverter or device.  Installations of around this size are now not uncommon in their area, so it is not unreasonable to assume they have one.
According to PVwatts it will produce over 10,900 kilowatt-hours when new.  As solar systems slowly decline in output over time I'll assume it will produce an average of 10,500 kilowatt-hours a year for the life of the Powerwall 2.  If it supplies 12 kilowatt-hours of my parents electricity consumption a day they will export 6,117 kilowatt-hours to the grid a year.  With the current feed-in tariff of 7.45 cents this will reduce their electricity bills by $456 a year.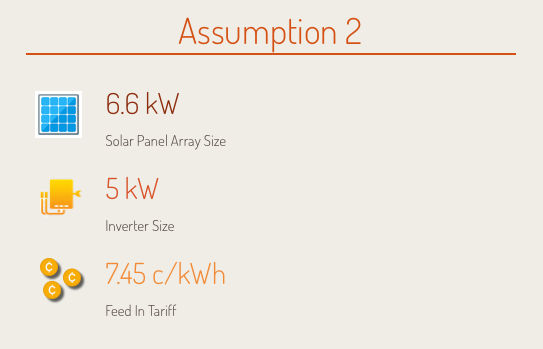 Marginal Cost Of Grid Electricity
My parents are on tariff 11 and currently pay 27.1 cents per kilowatt-hour.  This is less than the 27.9 cents they were paying 18 months ago.  I am going to assume the cost of electricity will remain constant in real terms and I am going to use constant dollars for all my calculations.  This simply means all dollar values will be given in today's money and not adjusted for inflation.  I am doing this partly because it makes the presentation of information clearer, but mostly because its easier.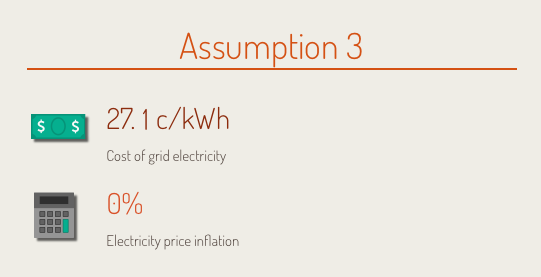 Daily Supply Charge
My parents are required to pay 98.5 cents a day for the privilege of being connected to the grid whether they use electricity or not.  This is up from the 91.8 cents they used to pay 18 months ago.  You might say, "Well that's not so bad!  That increase was only 3 times the rate of inflation!"  But actually, it's a lot more bad than that.  In addition to an increased daily supply charge, my parents now have to pay additional fees called, "meter services charges".

Meter Services Charges
I can only imagine that people were sitting around in the state owned electricity distributor in Queensland, playing cards, when one of them suddenly realized, "Oh my god!1  Electricity meters cost money!"  As a result, a huge new charge suddenly reared up before them out of nowhere and they had no choice other than to add it to people's electricity bills.
You might think that if the cost of supplying and reading electricity meters used to be part of the daily supply charge but then became its own separate charge then that would result in the daily supply charge dropping.  But apparently that's not the way things happen in Queensland.  The daily supply charge was increased and brand new meter services charges were added.  They come to 9.8 cents a day for a home without solar or 16.7 cents for those with rooftop solar.
It's almost as if they want people to go off-grid, isn't it?
With the daily supply charge and the new metering services charges my parents have to pay a minimum of $1.15 a day before they use any electricity.  That comes to $420 a year.

Yearly Electricity Bill
With a 6.6 kilowatt solar system my parents might only use around 6.4 kilowatt-hours of grid electricity a day making their year grid consumption about 2,340 kilowatt-hours.  This would make their annual electricity bill around $600 after the reduction from the feed-in tariff.  Over 15 years this would total $9,000.

Cost Of Capital
While my parents refuse to tell me details of their finances, apart from the fact they intend to leave nothing but bills when they die, I am going to assume they have money sitting in a term deposit in the bank.  Currently a term deposit will provide a real return after inflation of about 1.5% and I will use that as their cost of capital.

Generator Costs
With my parents' average consumption of 18.4 kilowatt-hours a day and a solar system that will only average around 22 kilowatt-hours output in winter, then with a single Powerwall 2's storage capacity even one day of overcast skies is likely to be enough to completely drain it and require the use of a generator.  This will push their generation costs through the roof.
However, because I want to look at a best case scenario, I am going to assume that a large portion of their electricity use is for air conditioning, which they will only use during the day when the sun is shining.  This means they will on average use more electricity on clear days when solar production will be high and less on cloudy ones.
In addition, I will assume my parents will take action to consume less electricity during periods of cloudy weather, further reducing the need to use a generator.  For example, playing cards when it is cloudy instead of fighting each other with high voltage cattle prods.
So with these assumptions, and because only a small generator will be required and because ones that aren't complete rubbish can be bought for a reasonably low price, I will allow for a very low figure of only $150 a year for generator costs, including fuel.

Cost Of Inconvenience
Living off-grid with a Powerwall 2 is not the same as living on-grid.  It will involve a significant amount of inconvenience. Care will have to be taken not to use too much power at once or drain the batteries.  Generators can be both noisy and smelly and are potentially dangerous when used incorrectly.  They can even be dangerous when used correctly.  Many insurance claims have resulted from generators turning on people.
But I am going to assume that overall my parents don't have a problem living off-grid.  They may even enjoy it.  But to be realistic, I guess I should assume that one of them loves it and the other hates it so they cancel each other out.  That's the way it usually seems to go with them.
Powerwall 2 Details
Tesla recently released the technical details and warranty of the Powerwall 2 and you can read all about them here.  Important points with regard to my parents going off-grid with one are as follows:
Powerwall 2 Lifespan
I am going to be optimistic and assume the Powerwall 2 will continue to operate for 5 years past its maximum warranty period and not fail until it is 15 years old.

Effective Battery Capacity
A new Powerwall 2 can supply 13.5 kilowatt-hours of stored DC electricity.  With an inverter that has an average efficiency of 96% that will come to 13 kilowatt-hours of AC power the home uses.  Tesla says their AC Powerwall 2 can provide 13.2 kilowatt-hours using its built in battery-inverter, but I think it is extremely likely the AC version won't be suitable for off-grid use and the DC version will have to be used instead.  This will require a compatible multimode inverter, also known as a hybrid inverter.  We have no information on which ones may be compatible yet, but expecting one to operate at around 96% efficiency is reasonable.

Battery Deterioration
Because my parents will cycle the Powerwall 2 considerably less than 0.78 times a day, the warranty will last for its maximum length of 10 years.  According to the warranty terms it will have at least 70% of its original capacity left by its end.
Because my parents may only draw an average of 6 kilowatt-hours of stored electricity overnight and so cycle it less than an average of 0.55 times a day, I am going to be optimistic and assume it will have 80% of its original capacity left after 15 years and will still be able to provide 10.4 kilowatt-hours of AC power when fully charged, after inverter losses are included.

Powerwall 2 Cost
According to Tesla, the cost of a Powerwall 2 plus installation will start from $10,150.  They've changed this figure twice so far, but I'll assume their latest figure is correct.
As you may recall, I mentioned my parents can only save $9,000 in electricity bills over 15 years by going off-grid so there is clearly no way they can save money by going off-grid with a Powerwall 2. But it gets even worse.
The $10,150 installation cost is a starting point.  While an on-grid AC Powerwall 2 may be installed for that much, I very strongly suspect that for off-grid use a DC Powerwall 2 and a compatible multimode inverter will be required.  A 5 kilowatt one could easily add $3,500 or more to the cost.  If it is an extra $3,500 this would bring the installed cost of an off-grid Powerwall 2 up to $13,650.
If there are any optimistic people out there who think a multimode inverter won't be required, or Tesla will provide one or free, or the heavens will open up and a chorus of angels will deposit one on the front lawn, that's fine with me.  But it still won't be enough to make going off-grid with a Powerwall 2 pay for itself.

Calculations
To cut a long calculation short, with my parents' cost of capital after inflation of 1.5%, an assumed Powerwall 2 lifespan of 15 years, an additional $3,500 for a multimode inverter, and $150 a year to run a generator, the total cost to them of going off-grid will come to around $18,500.
Because they would only save around $9,000 dollars in electricity bills over this period, going off-grid with a Powerwall 2 using the assumptions I have given would cause a total loss of around $9,500.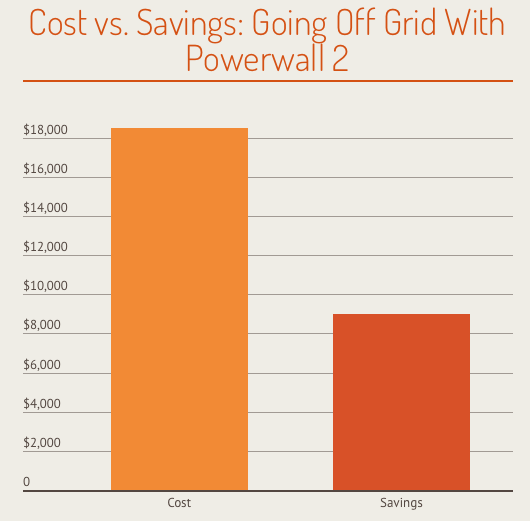 A Smaller Solar System Doesn't Help
Giving my parents a smaller solar system does not help.  If they had installed a smaller solar system they might have more money left over to invest in a Powerwall 2, but spending less on something that was saving them money so they'd have more money to spend on something that would lose them money is about as financially stupid as it is possible to get.
The assumptions I used can be altered, but they are already very optimistic and no realistic changes work to make going off-grid with a Powerwall 2 pay for itself.  For example, if you think the price of grid electricity is going to increase, then the time to go off-grid would be when the cost is high enough to make it pay for itself, not before.  Some locations can have even higher grid electricity prices or daily supply charges, but they generally also have lower and less constant levels of sunshine and that will increase generator costs.
It May Work For People Who Have To Pay For Grid Connection
In my example I assumed my parents were already on-grid.  But if they were building a new house and had to pay over $9,500 to be connected to grid electricity, then provided all the assumptions I used hold true, it would be worthwhile for them to go off-grid with a Powerwall 2.
But the assumptions I used were very optimistic, especially the cost of capital.  If instead of having money in the bank, they have a home loan to pay off at a real interest rate of 3.5% and I use that as their cost of capital, then choosing to go off-grid with a Powerwall 2 increase the total loss to around $14,100.
So while there is definitely a point where it will pay to go off-grid with either a Powerwall 2, many people, even those who would be quite comfortable living off-grid with a single Powerwall 2, may be better off paying $15,000 or more to be connected to the grid.
Going Off-Grid Is Not Good For The Environment
Going off-grid means that any surplus electricity generated by your rooftop solar system goes to waste and is not sent into the grid where it will reduce fossil fuel generation.  This makes going off-grid a bad choice from an environmental point of view and for many people this will be an important consideration.
It Doesn't Come Close To Paying For Itself
There is no way in hell going off-grid with a Powerwall 2 can pay for itself at the moment.  Its cost would have to fall by more than half for it to be worthwhile, even under very favorable circumstances.  Maybe the Powerwall 3 will be able to manage that, but even under very favorable circumstances the Powerwall 2 is more than two times too expensive.
Footnotes
In Queensland this would be Gilgamax the god of carbon. ↩