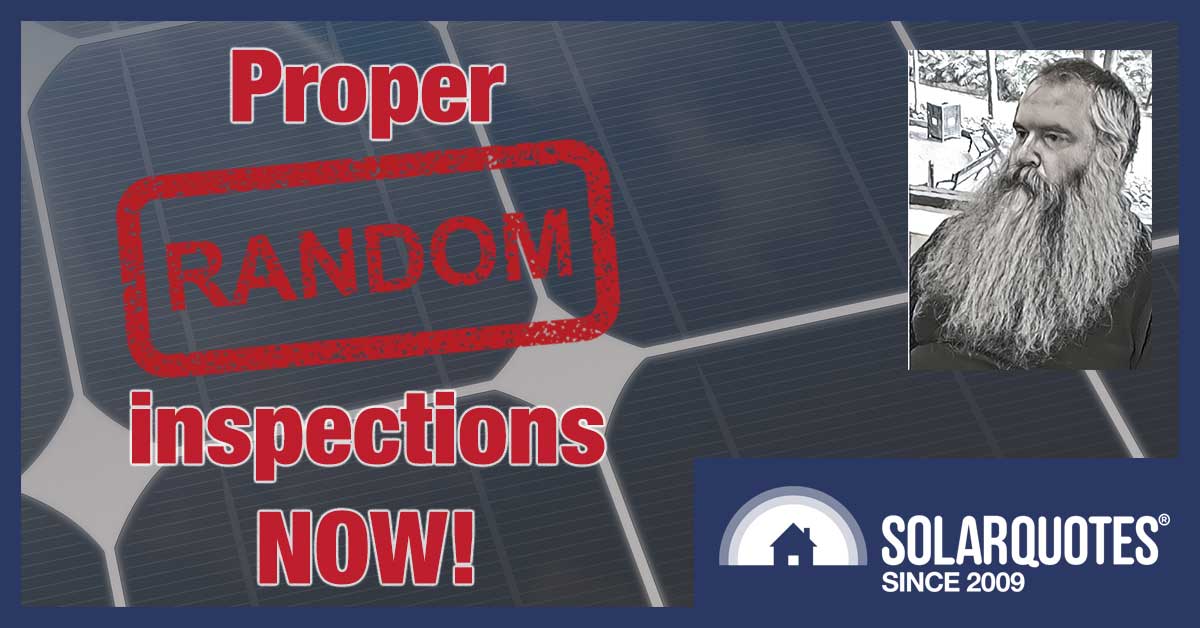 On Monday John Inglis from Positronic1 Solar had a guest post published on our blog where he called for 100% of new rooftop solar installations to be inspected by the state or territory's electrical regulator.  You can read it here.
I agree with John 100% on this.  We need consistent, reliable, and independent inspections of solar power systems combined with effective disincentives for shoddy and dangerous work.  The only thing I disagree on is the 100% part.2  Done right, random inspections will be almost indistinguishable in effectiveness at ridding the industry of shoddy installers compared to checking every system, while keeping the overall cost of solar inspections low.
A Trade Off:  Solar Inspection Frequency Vs. Cost
John touched on how often inspections should be carried out and wrote:
"Frequency is another consideration with some installers and regulators preferring 100% inspections until the particular installer proves to be quality and inspections reducing in frequency as a consequence."
I'm certain those who have shown they do quality work don't need every system inspected and it's not even necessary for new installers.  Determining the best trade-off between inspection frequency and cost is a complex task I'm not going to attempt.  I'd have to dust off some very old statistics books to do that.  What I will do is give some simple examples to show random inspections will be effective and save money.
While I don't believe it's necessary, I do think that — if done right — an independent inspection of every new solar system would be better than the current situation in most of Australia.  If it was the only alternative, I would support it.
Inspections Need Teeth
Australia already has a limited number of random inspections  of rooftop solar power systems by the Clean Energy Regulator.  I wrote about them here.  The drawbacks of these are:
They only inspect a few percent of systems (I've seen a figure of 3-5% reported).
Solar installers and not trained inspectors are used, so there is wide variation in how they assess systems.
Not enough action is taken against installers who do sub-standard or dangerous work.
The Clean Energy Regulator has the power to suspend installers but, as far as I am aware, the only action they have taken so far is to send some sternly worded letters.  The Clean Energy Council is the body that accredits solar installers and they have taken some action on the results of these inspections, and some installers have been suspended or unaccredited.  But the number of inspections has been too small and actions taken insufficient to rid the industry of shonks.
An independent solar inspection regime run by state and territory electricity regulators will need to be backed up with fines, suspensions, and — in serious cases where a shoddy solar installer has had a clear chance to improve but failed — outright bans from the industry.  Punishments need not be draconian unless safety is involved.  We want to give corner-cutting installers a chance to improve.  But punishments need to be consistently applied by an independent and corruption-resistant body.
Why Random Inspections Are Sufficient
The drawback of inspecting every new solar system is cost.  In his article John wrote it may add $250 to a new solar power system's price.  The advantage is it would eliminate substandard installations.  After all, who would do shoddy work if they knew there was a 100% chance they would be found out and fined, suspended, or possibly banned?  They would have to be nuttier than a lumpy chocolate bar to try it.
But if we only inspected 90% of new systems would there be anyone who would try to get away with shoddy work?  They'd still have to be nuts and if they did try these shonks would certainly soon be caught.  So we'd get basically the same benefit but the cost of inspections per new system installed would drop from $250 to $225.
Now let's say only 50% of new PV systems are inspected.  A solar installer could do a lousy job and hope it wouldn't be noticed but it's still even odds they would be caught.  It would be almost impossible to do more than a few bad jobs before getting nabbed and inspectors could always go back and check systems they'd skipped.  So a 50% inspection rate would provide almost the same level of protection as checking every system, but at half the cost.
If we inspected around half the work of new solar installers but only checked around 1 in 10 by companies with proven track records of high quality work, then the average number of inspections might be 1 in 5.  This would still be extremely effective at eliminating shonksters but lowers the cost down to $50 per new system.
If it's found that inspecting an average of just 1 in 10 is sufficient to eliminate shoddy installers, then the cost would only be $25.  That would be one hell of a bargain for homeowners.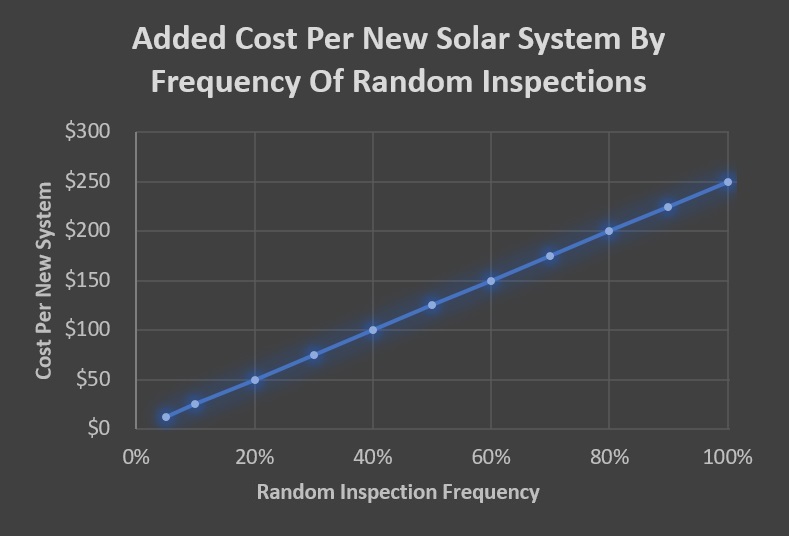 Reducing The Cost Of Solar Inspections
In addition to making inspections random, there are a number of other ways to reduce inspection costs.  These can range from requiring solar installers who have been dodgy in the past to submit photographs of their work, to using drones and selfie snakes.3  Suitable monitoring systems that can diagnose faults could reduce the need to inspect solar systems that have them.
Random Inspections — A Definite Win
I'm not going to try to guess what the best percentage of systems to inspect is but I will say that, when done right, the number of random solar inspections that need to be carried out to ensure compliance with standards is likely to be much lower than most people would expect.  If we can stop shoddy installations while keeping the costs low it will be a huge benefit to families buying solar.  It will result in more reliable and long lasting solar power systems being installed, which will benefit the world as a whole.
Footnotes
I'm guessing he's a fan of Isaac Asimov. ↩
If you are wondering how I can completely agree with John while disagreeing with him, it's my Dutch heritage rising unbidden to the surface.  This is only single Dutch.  If I ever go double Dutch, mourn me and then go on with your lives. ↩
A selfie snake is like a selfie stick except it is a camera on the end of a metal tentacle that allows what's on the roof to be inspected without anyone going up there.  I won't describe them in detail as it may disturb and/or excite some people. ↩