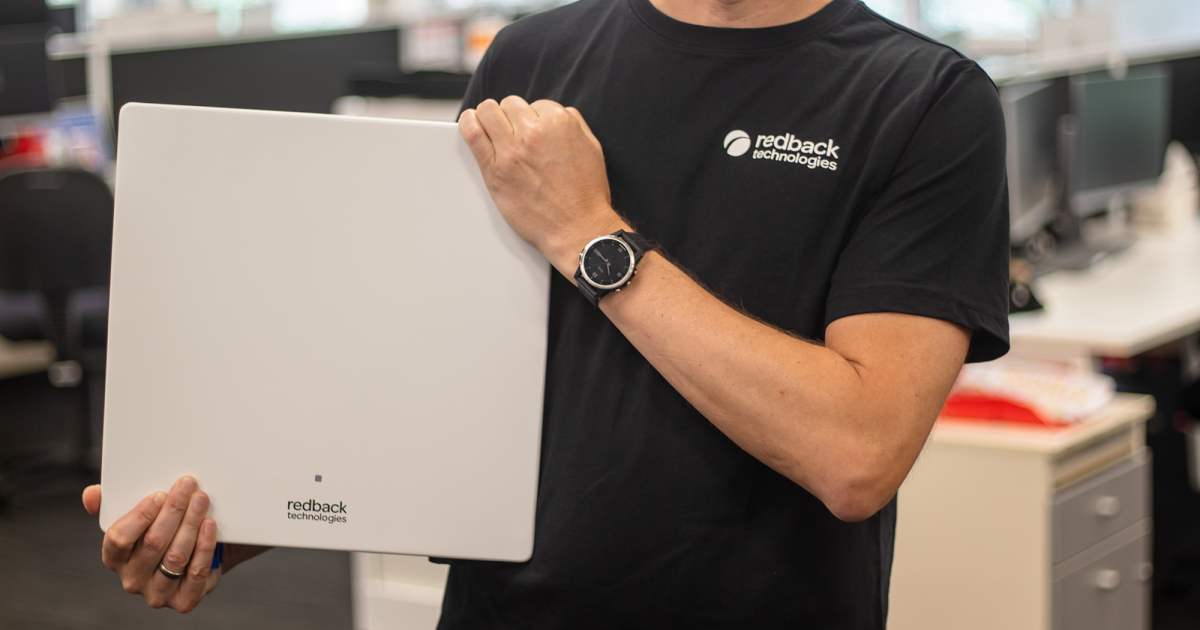 Queensland company Redback Technologies has a fresh new look, plus new inverter and battery products on the way designed for the Australian market.
Founded in 2015 in Brisbane, Redback Technologies' aim from the get-go was to design components and systems suited to Australian conditions.
If you visited Redback's web site early this morning, you would have been greeted with this: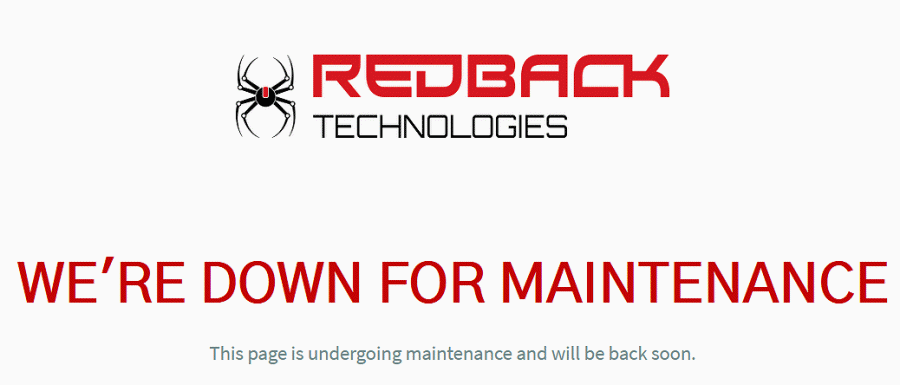 But as of a couple of hours ago, the wraps were taken off the new site as part of its brand relaunch. There's a spiffy new logo that looks nothing like a redback spider for starters. Personally, I thought the spider was pretty cool – but perhaps arachnophobes would beg to differ.
There's not just a new look.
New Solar Inverters
Previously Redback inverter offerings from the company were confined to hybrid inverters as part of their battery storage systems. This has been expanded with the introduction of Redback Smart Inverters – single phase solar inverters in 5, 6, 8 and 10kVA (kW) output, which come with a smart meter and wi-fi dongle as standard.
The Redback Smart Inverter datasheet can be downloaded here.
New Solar Batteries
Redback Technologies has also expanded on its Smart Battery range with the introduction of two new models. In addition to the existing SB7200, the new SB9600 has a nominal storage capacity of 9.6kWh, and the larger SB14200 offers 14.2kWh storage capacity. The Redback Smart Battery datasheet can be downloaded here.
I may have missed it, but while maximum storage capacities are noted on the datasheet, usable capacities aren't.
Both the  SB9600 and SB14200 have a 4.5kW active power output rating, while the SB7200 is 3.3kW. All three models can provide backup supply in a power outage, where a backup circuit is connected and battery energy is available.
As well as the new Smart Battery products, existing lines such as the Smart Hybrid and Smart Hybrid 3-Phase modular systems remain, which can provide up to 28.4kWh of storage capacity
Both the new inverters and battery systems will be available in Australia from late next month.
Big Warranty Boost
But that's not all – Redback Technologies has also beefed up its product warranty considerably – from 5 years to 10 years on all products. Warranty work is either carried out onsite by a Redback or otherwise suitably qualified technician; or offsite at an authorized repair facility.
While warranties are only good for the original location, they can be transferred to a new owner of a home.
Straya!
Mr. Matweew says the rebrand kicks off the next chapter in the Redback story.
"The whole Redback team is very proud to demonstrate that there is space and opportunity for a local, Australian start-up to get into the very competitive solar market and make a difference," he stated. "I think our very Australian approach, based on relationships, a focus on local support and community engagement is what makes us stand out – This is how we want to continue to make a positive difference in powering a cleaner tomorrow."
There are lots of mentions of Australia in Redback's announcement and on its web site, but it should be noted its gear is made in China (not that there's necessarily anything wrong with that).
If you own one of the company's products, you can leave a review of Redback inverters here and Redback solar batteries here.