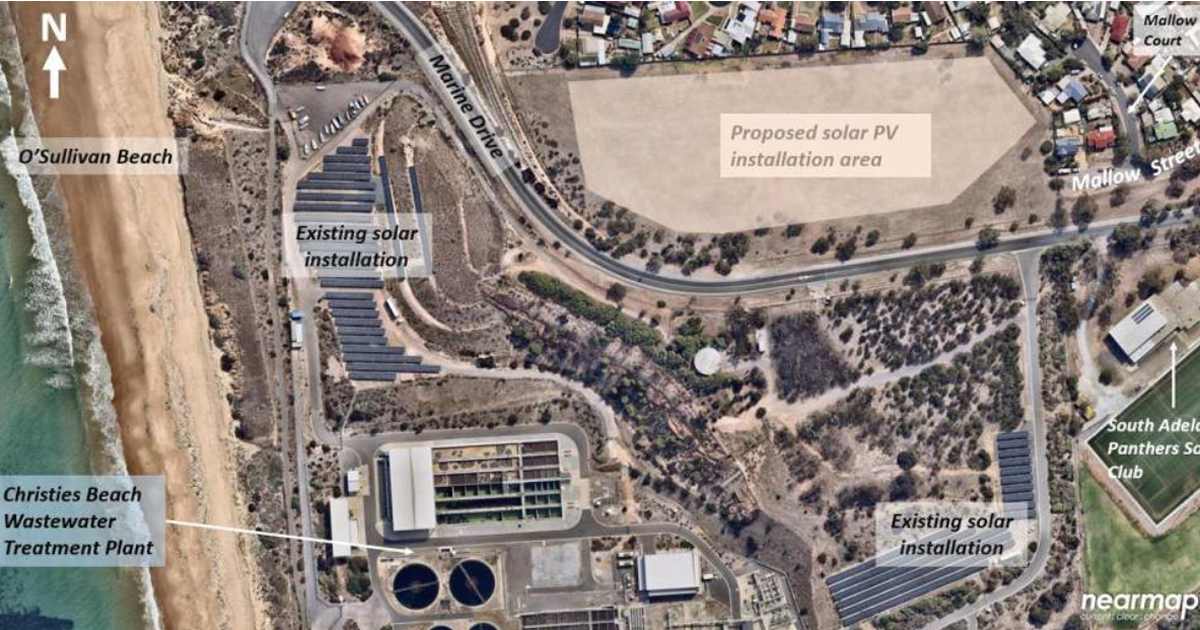 The development application for a solar farm with battery storage in Adelaide's southern suburbs is nearing the end of its public notification period.
SA Water wants to construct a solar farm at its Christies Beach Wastewater Treatment Plant. There are currently two separate solar power systems already installed at the facility, but this will be far larger. According to the development application, 9,240 380W JA solar panels will be installed for a total capacity of just over 3.5MW and the facility will cover just over 3 hectares. The project will also incorporate battery energy storage systems, but the application doesn't note capacity.
The site is located within a vacant allotment on the northern side of Marine Drive, O'Sullivan Beach owned by SA Water.
Part of the site backs on to a number of residences. After consultation with nearby residents, it has been proposed a low-profile mounting system (PEG) will be used, with panels to be installed at an 8° inclination resulting in a maximum above ground height of approximately 1 metre. This would mean the facility will be less visible, if at all, from nearby properties given existing fence lines according to the application.
Here's an idea of how it will look:
The application mentions construction of the PV aspect was hoped to occur between this month and February next year (which may be a little optimistic), with battery installation, connection and commissioning to occur June – July 2020.
Submissions concerning the project close tomorrow. Further details can be downloaded here.
A Zero Cost Energy Future For SA Water
Energy is one of SA Water's biggest costs, with the utility consuming more than 220 gigawatt hours of electricity in 2016-17.
The proposed Christies Beach WWTP solar power + storage facility is part of SA Water's Zero Cost Energy Future project. In December 2017, SA Water announced a goal of $0 net electricity costs from 2020-21, to be achieved with renewables-based electricity generation, energy storage, optimisation and efficiency initiatives.
Under the program, a total of 154 megawatts of solar capacity is to be rolled out along with approximately 17 megawatt-hours of energy storage (previously 34 megawatt-hours).
Distributed generation and storage capacity is being installed across more than 70 SA Water sites and some of the projects are significantly larger than that proposed for Christies Beach – for example, two projects in the Robertstown region will feature approximately 100,000 solar panels combined.
Suburban solar farm projects in the pipeline elsewhere in Australia include a 4.9MW facility for the Perth suburb of South Fremantle and a particularly controversial project in the Melbourne suburb of Springvale South.