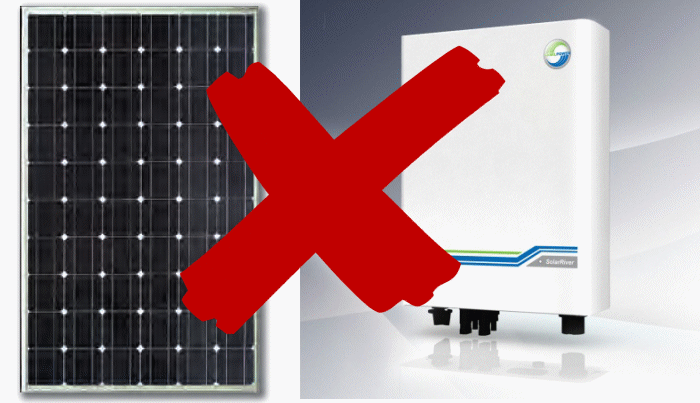 Australia's Clean Energy Council has announced the de-listing from its Approved Products List of Samil Power solar inverters and TN Solar panels.
The CEC maintains a database of approved modules and inverters that meet Australian Standards for use in the design and installation of solar power systems. Products may be removed for a variety of reasons; anything from violations of listing terms and conditions through to safety issues.
The latest de-listings announced by the Council:
Samil Power Solar Inverters
Samil Power Wuxi Co. Ltd solar inverters were removed from the CEC's approved inverter list on 18 May 2018. The CEC says the de-listing includes four models of SolarRiver-G3 series of inverters with various output ratings.
"The de-listing was required as the manufacturer has not responded to the CEC's request for information on sales and outstanding warranty claims. This is a breach of the Terms and Conditions for listing," stated the Council.
Samil Power inverters were once widely installed in Australia, but their popularity has waned in recent years. The CEC's action wouldn't be the first time Samil Power has been called out on warranty related issues.
  TN Solar Panels
Yesterday, the CEC announced TN Solar Co Ltd's solar panels will be removed from the Approved Product List from 5 June 2018.
"The de-listing was required due to major non-conformances found in the CEC testing program," says the CEC. " Specifically, the modules tested did not match the constructional data form, tested modules had misaligned cells with the incorrect cell spacing and no updated data sheet was supplied with the correct DC connector or was available on the TN Solar website."
The Council says a range of corrective actions will need to be undertaken by TN Solar Co Ltd before its modules can be re-listed.
TN Solar panels don't appear to be a popular choice in Australia these days, although it seems a major local solar company was including the modules in systems a couple of years ago.
The CEC has removed a huge number of components from its Approved Products Lists this year, some of which have been subsequently re-listed after the companies involved took corrective action.
When receiving solar quotes, it's a good idea for prospective purchasers to check the CEC's database to ensure the solar panels and inverters noted are listed, and to check again just prior to installation. In order to qualify for Australia's major solar subsidy (aka the "solar rebate"), panels and inverters must be listed on the date of installation.
Related: What Solar Panel And Inverter Brands Can You Trust?