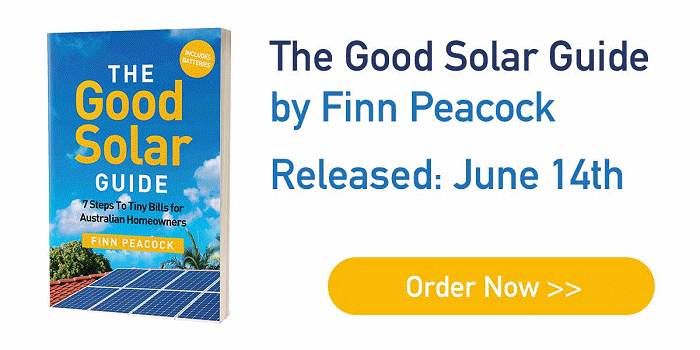 Almost 10 years ago, I sat down for 2 weeks in Brighton Public Library and put everything I knew about residential solar power systems into my battered old laptop. I used the free Wi-Fi to upload that information to a home-brewed website called SolarQuotes. The knowledge was picked up from working for the Energy Transformed Flagship at CSIRO combined with my broader background in electrical engineering.
Since then, millions of people have visited the site; which has been continuously improved over the years.
By answering tens of thousands of questions via email, blog comments, Facebook and even the good old telephone, I've learned what questions Australians have when buying solar and where they often slip up. I've also learned why some people choose not to get solar power – even after receiving 3 good quotes:
They are skeptical of the benefits. Is solar power really a good investment?
They are put off by spending thousands of dollars – and are unaware of low-cost finance options that often give positive cash flow.
They are wary about buying a lemon from an industry with hundreds of solar panel brands available.
They are worried they may choose a bad installer from the many installation companies vying for their business.
Although most of these questions and apprehensions are covered somewhere on the SolarQuotes website, I've increasingly sensed the need for a well structured, self-contained package of information that definitively lays out what Australians need to know to buy solar confidently and get their electricity bills down. Ideally in a format that you can curl up with on the couch (or throw at an unsolicited solar-selling doorknocker1).
But this time it didn't take me 2 weeks. It has taken me 2 years2 to sit down and download all the solar information swirling around my head and on my website into a real bookstore book.
It's been quite an experience, and certainly a lot more involved than banging up a blog post. I've learned about structural edits, copy edits, typesetting ISBNs and publishing. The enforced discipline of publishing a real book has forced me to think about everything the average person needs to know about solar power and lay it out in a coherent structure that can be easily read without staring at a screen.  I'm really happy with the resulting fifty-odd thousand words, 205 pages and 47 illustrations.
The Good Solar Guide was released on 14th June 2018 and you can order the book here. The book is a step-by-step, paint-by-numbers approach to understanding, specifying and buying a solar power system that will deliver the security of low electricity bills for decades.
The book is primarily for homeowners who haven't yet put solar panels on their roof, but I hope it will also be a valuable read for anyone who wants to understand solar better, whether they are policy wonks, new solar salespeople or simply those who find the transition to rooftop energy generation as fascinating as I do.
In this video I explain exactly what I filled those 205 pages with:
Here's that pre order link again, just in case you missed it 😉