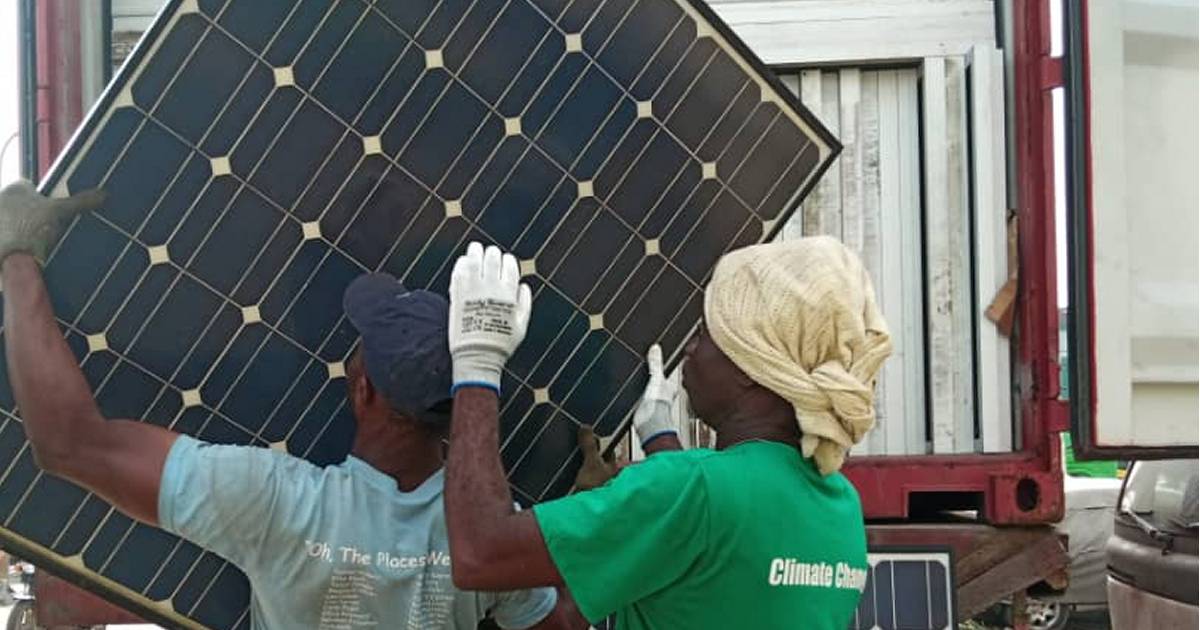 From rooftops in Queensland's Hervey Bay to communities in Nigeria – how unwanted solar panels from Australia are getting a second life overseas.
Good quality solar panels have a service life spanning decades. But as Australians upgrade their systems, some or all of the existing panels may not be used. The unwanted modules are usually either stockpiled awaiting recycling services being available/affordable, or head to landfill1.
But Queensland's Solahart Hervey Bay has made better use of these discarded panels by partnering with the Alight Project, a QLD non-profit helping to make solar energy accessible to African communities without access to reliable mains grid electricity, or no access whatsoever.
Tina Ali, founder of Alight Project, has family in Nigeria.
"I witnessed first-hand how unreliable the electricity in many of the villages was and solar power in Nigeria is far too expensive for most," said Ms. Ali. "I knew that here in Australia many of the solar panels that get replaced could still be used, so I reached out to my local Solahart dealer to see what we could do."
Solahart Hervey Bay's Darren Page says during panel replacements they find around 80% of the modules can be reused – and the company was eager to find a way to better utilise them.
Ms. Ali sells enough panels to wholesale retailers in Nigeria to cover the cost of shipping and the rest are donated to disadvantaged communities, where they are used to power basic lighting and for charging devices such as phones and tablets.
More than 1,000 panels have so far been redistributed under the scheme, which has seen other Solahart dealers get on board including the Bundaberg branch.
Solar Panel Waste In Australia
It has been previously predicted that by 2050, cumulative PV waste will reach around 1.5 million tonnes2 – just from residential installations. At this point in time there is no nationwide scheme dealing with the issue, although various services are operating such as ReclaimPV.
In June this year, Federal Minister for the Environment Sussan Ley said an industry-led nationwide recycling scheme design must be finalised by June next year. The announcement met with frustration from the Clean Energy Council, which stated it had been working on a comprehensive, nationwide plan for some time but the Federal Government walked away from the partnership.
Some councils are introducing special fees for handling PV waste. For example, solar panels left at the tip in Lithgow, New South Wales are now being diverted for recycling. The service is free to homeowners, but for commercial disposal a fee working out to around $2.60 per panel applies. Queensland's Bundaberg Regional Council has introduced a hefty charge on disposing of unwanted solar panels at its facilities – $30 per panel.
Among other initiatives, the NSW Government's $10 million Circular Solar grants program supports innovative projects reusing and managing solar panel and battery waste.
Footnotes
But not in Victoria – the Victorian Government banned all e-waste from entering landfill in 2019. It has since invested more than $16.5 million upgrading e-waste collection and storage facilities across the state and says it is actively pursuing ways to increase recovery and reprocessing of solar panels. ↩
SQ's Ronald has estimated that 2 million tonnes of solar panels stripped of their aluminium frames and copper cables on the junction boxes stacked one metre high would occupy an area of less than one square kilometre. ↩