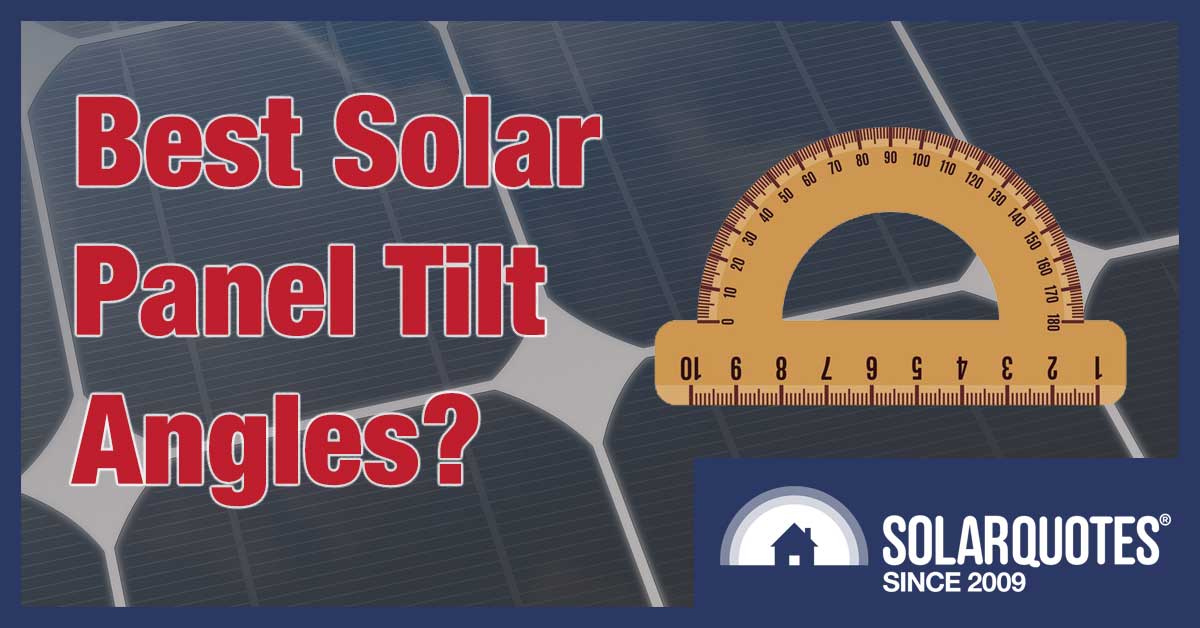 This article is about the best angle to tilt solar panels for the maximum possible energy yield over a year.  It's a common belief that panel tilt from horizontal should equal a location's latitude, but this is not quite correct. In 7 of Australia's 8 capitals the best angle is at least 3 degrees less than the latitude.
If you are looking to install a typical solar power system on a normal sloped roof this information may not be much use to you.  While tilt frames on a sloped roof can slightly improve output, they're normally not worth the extra expense.1  But if you are installing ground mounted solar or putting panels in tilt frames on a flat roof, the best tilt to maximise energy yield will be useful.
Best Tilt Angle Is Not Equal To Latitude
The further from the equator a place is, the higher its latitude.  Darwin is pretty close to the global waistline, so its latitude is only 12º while Hobart is almost halfway to the south pole and has a latitude of 43º.
Solar panels tilted at an angle equal to the latitude will face exactly midway between the sun's highest point in the sky in summer and its lowest point in winter.2  This seems like a reasonable way to maximise solar electricity output, but because days are longer in summer it usually helps to tilt them a few degrees lower to take advantage of this.  Seasonal differences in average cloud cover can also alter the optimal angle.
Optimal Solar Panel Tilts For Capitals
I have used the PVWatts site to determine the optimal tilt for north facing solar panels in each capital for maximum annual output.  While there is a small risk the PVWatts figures are off, I trust them to be accurate:
Adelaide — latitude 35º : Optimal tilt 29º
Brisbane — latitude 27º : Optimal tilt 24º
Canberra — latitude 35º : Optimal tilt 30º
Darwin — latitude 12º : Optimal tilt 18º
Hobart — latitude 43º : Optimal tilt 37º
Melbourne — latitude 38º : Optimal tilt 32º
Perth — latitude 32º : Optimal tilt 28º
Sydney — latitude 34º : Optimal tilt 31º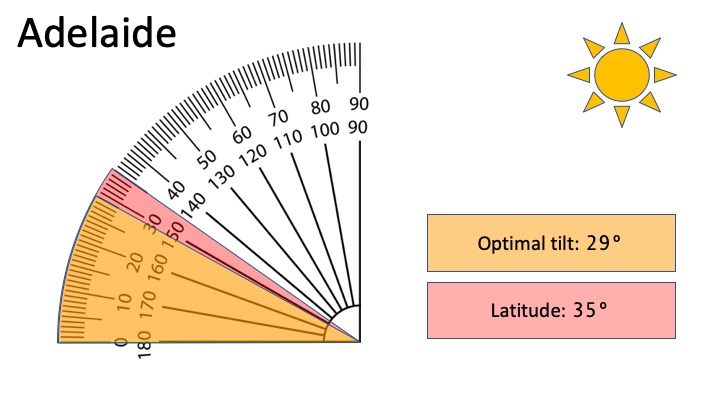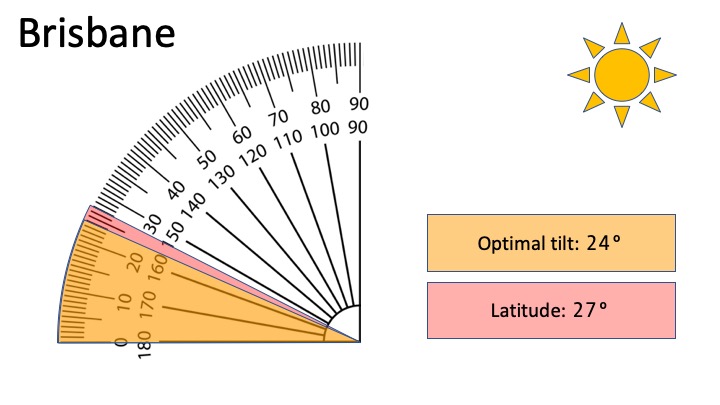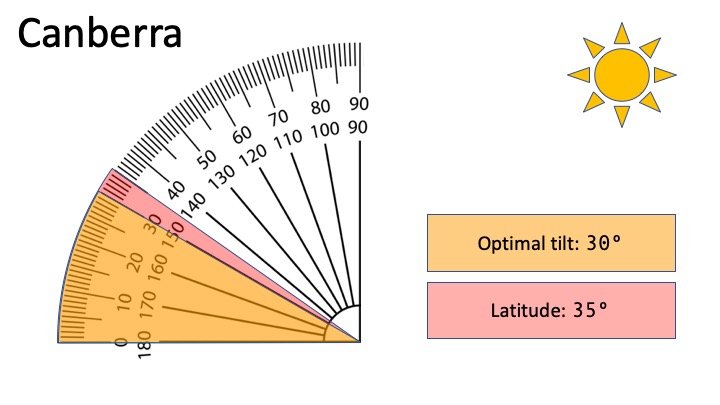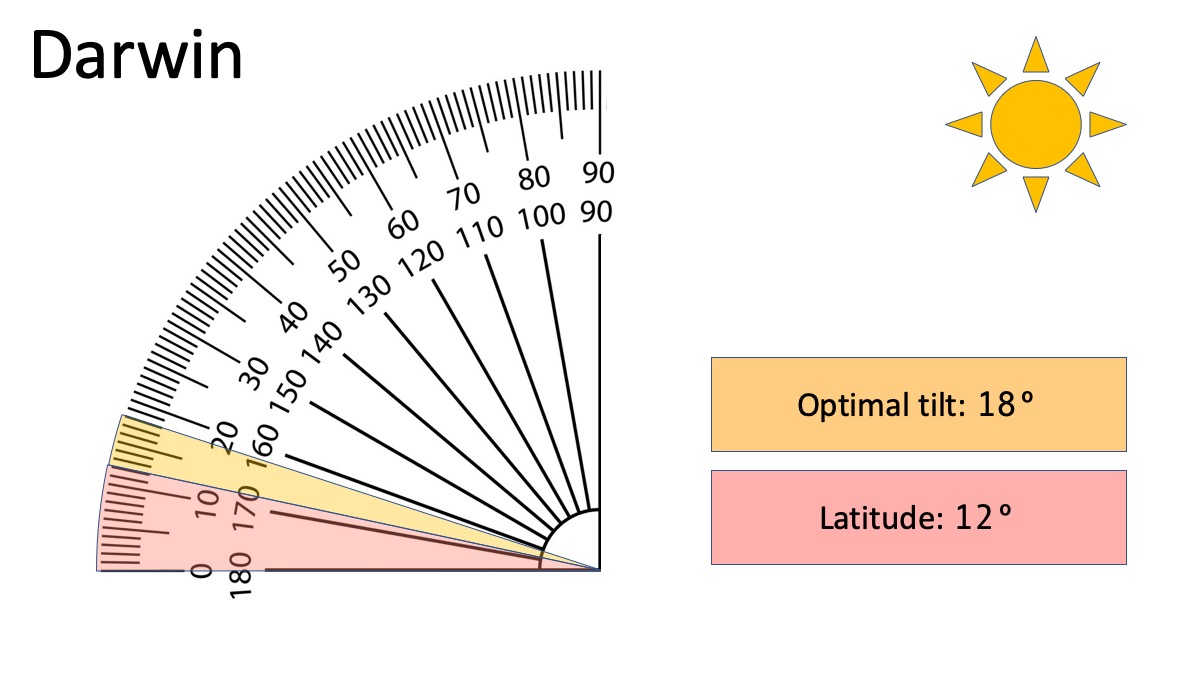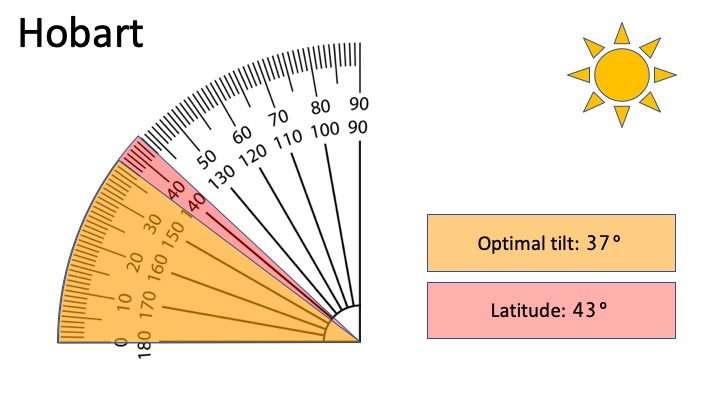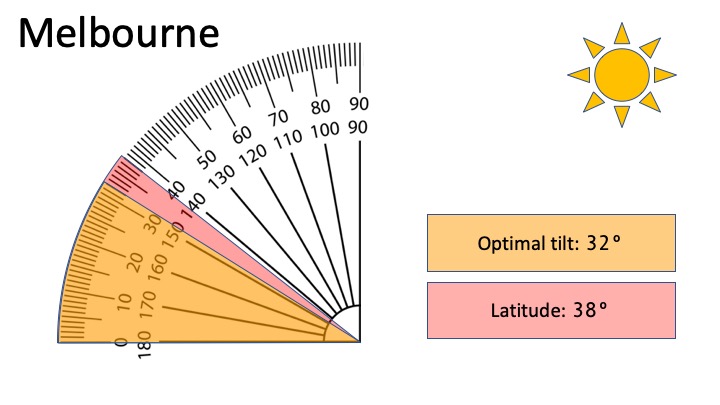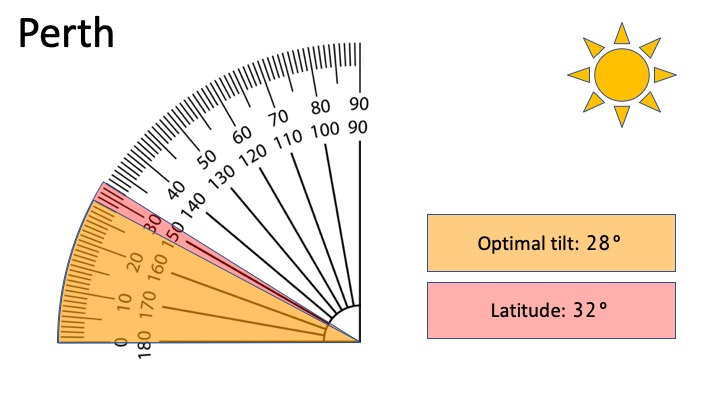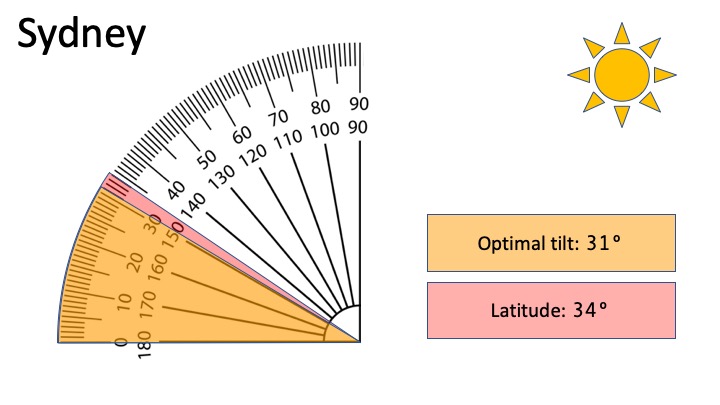 In every capital except Darwin output is maximized when the solar panel tilt is at least a few degrees less than the latitude.  Darwin is the odd one out because in the far north there is little difference in the length of days between summer and winter and, thanks to clouds during the summer wet season, winter months are considerably better for solar power.
Not Much Benefit
The advantage from using the optimal tilt compared to using the latitude isn't much.  It ranges from next to nothing in Brisbane to only half a percent more in Hobart:
Adelaide 0.37%
Brisbane 0.07%
Canberra 0.29%
Darwin 0.45%
Hobart 0.50%
Melbourne 0.44%
Perth 0.16%
Sydney 0.11%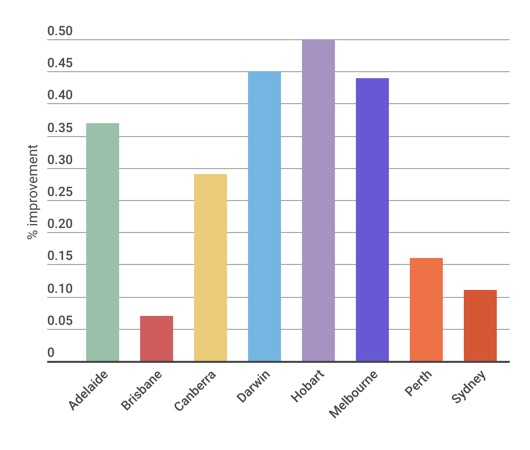 While there is an advantage to getting the tilt right, it's not large and if the frames you are using won't allow the exact angle you want there's no real need to be upset about it.
Optimal Orientation Plus Optimal Tilt
Two weeks ago I wrote an article about the best direction — or orientation — to face solar panels for maximum annual output in each Australian capital city.  Using these orientations has little or no effect on the optimal tilt.  It will increase it by 1 degree in Adelaide and Hobart and 2 degrees in Darwin, with no change in other capitals.  I've listed the optimal panel orientation (clockwise from north) and optimal tilt for each capital below:
Adelaide:  Orientation 6º, Tilt 30º
Brisbane:  Orientation 357º,  Tilt 24º
Canberra:  Orientation 356º,  Tilt 30º
Darwin:  Orientation 30º,  Tilt 20º
Hobart:  Orientation 20º,  Tilt 38º
Melbourne:  Orientation 8º,  Tilt 32º
Perth:  Orientation 20º,  Tilt 28º
Sydney:  Orientation 12º,  Tilt 31º
Bifacial Panels And Tilt Frames
While they can maximise the energy yield of solar panels, generally the extra expense of tilt frames — both the cost of the hardware and the extra labour required for installation — means they're usually not considered worthwhile for rooftop solar power.  But one advantage is they allow the use of bifacial solar panels.  These are double layers of glass that allow solar cells in the middle to use light from either direction, generating extra energy depending on how reflective the surface below them is, as this — hopefully accurate — image from LG Solar shows (the numbers show 'extra energy' compared to a non-bifacial panel):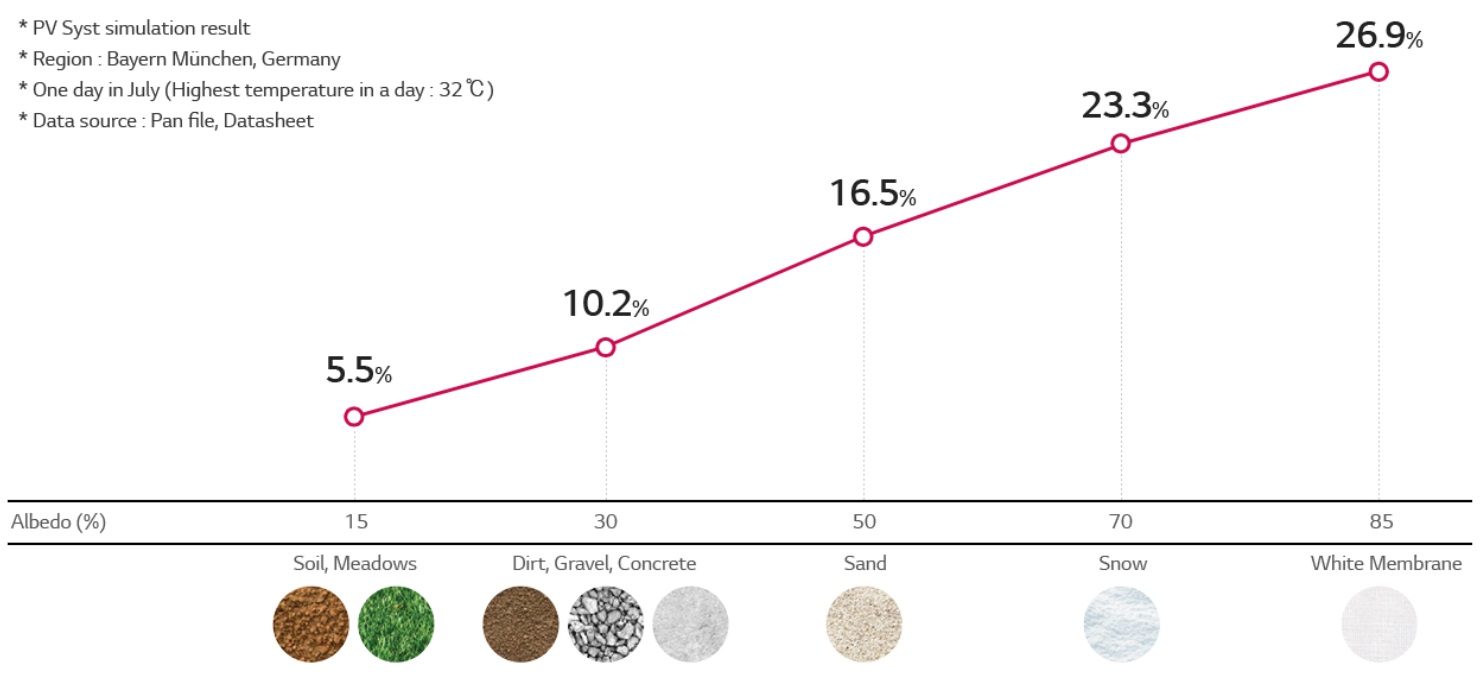 As bifacial panels are coming down in price we may see a small renaissance in tilt frames.  As batteries increase in popularity and homes and cars transition to become all-electric, people will want to generate more and more solar electricity locally. Bifacial solar panels on tilt frames will enable roof owners to maximise the energy they can generate from their precious and limited roof space.
Footnotes
Also, your local council may not allow them.  Your solar installer should know if they are permitted in your area. ↩
Some people think it's actually the earth doing the moving and not the sun, but Pope Urban the VIII thought that idea was revolutionary. ↩