It is generally accepted the best direction to face solar panels to get the maximum possible output is directly north.  While this is not a bad direction, it is often possible to get a very small boost by having them face slightly away from due north.  Usually facing them a little to the east will improve output, but in some locations a small nudge to the west is best.
While it doesn't make much difference, the misapprehension that due north is always best is very common and if you believed it yourself up until now, don't worry, it's not your fault.  It's the fault of the Germans.  Or at least that's who I'm blaming.  In every location in Germany I've looked at due south always seems best and when solar took off Down Under this may have led people to believe due north would always be best here.1
There are two reasons why a direction other than true north can be a little bit better:
Lower average temperature in the morning can cause solar panels to operate more efficiently than in the afternoon, giving those that face a little to the east a slight advantage.
Average cloud cover can be consistently greater during certain times of day.  This is often in the afternoon which gives a slight disadvantage to panels that face west, but in some places it can be the other way around.
There are definitely good reasons for not facing solar panels in the direction of maximum possible output.  A household can increase their self consumption of solar electricity by positioning panels so they'll produce less energy overall, but more during periods when electricity use is high.  Also, if feed-in tariffs based on either wholesale electricity prices or the time of day become popular — or compulsory — then maximizing the feed-in tariff received could make more economic sense for a household than maximizing total output.
But maximizing output is often the best choice at the moment.  This is especially true for larger systems where the extra feed-in tariff received from the extra output will often outweigh any benefit from increasing solar self-consumption.  It is also the best choice for the environment as the greater output will displace more fossil fuel generation.  For this reason, if you're not sure what's the best direction to face your panels, I say go for maximum output.
Of course, most people don't get to decide which direction they face their solar panels.  It's determined by the shape of their roof.  So to help people decide what is the best direction to face their panels, for all the Australian capitals I'll describe:
The direction in which panels will generate over 99.9% of maximum possible output.
The range over which they will generate at least 99% of maximum possible output.
The range over which they will generate at least 95%, 90%, and finally 85% of maximum possible output.
I will be using the PVWatts site to determine these values.  This means I run the risk of being incorrect if their Australian database is off or doesn't run its calculations correctly in.  But it is made by the United States' National Renewable Energy Laboratory, who are a pretty canny lot, and I feel confident their results will be at least close to correct.
A Matter Of Degrees
I will give you the results in degrees.  By this I don't mean I'll tell you the results slowly or gradually.  What I mean is I'll give you them in the form of a circle's 360 degrees where north is 0 degrees, east is 90 degrees, and west is 270 degrees.  The image below shows how degrees and compass directions work:
I will also meticulously prepare highly informative and easy to understand graphics for you.  Either that, or I'll just dump the raw information on Finn and convince him to do it.2  Actually, that seems easiest now I think about it.
The Optimal Direction For Maximum Output!
If I put all my results into a table I get this:

But it will probably be much easier to follow the wonderful graphic Finn has made for each capital: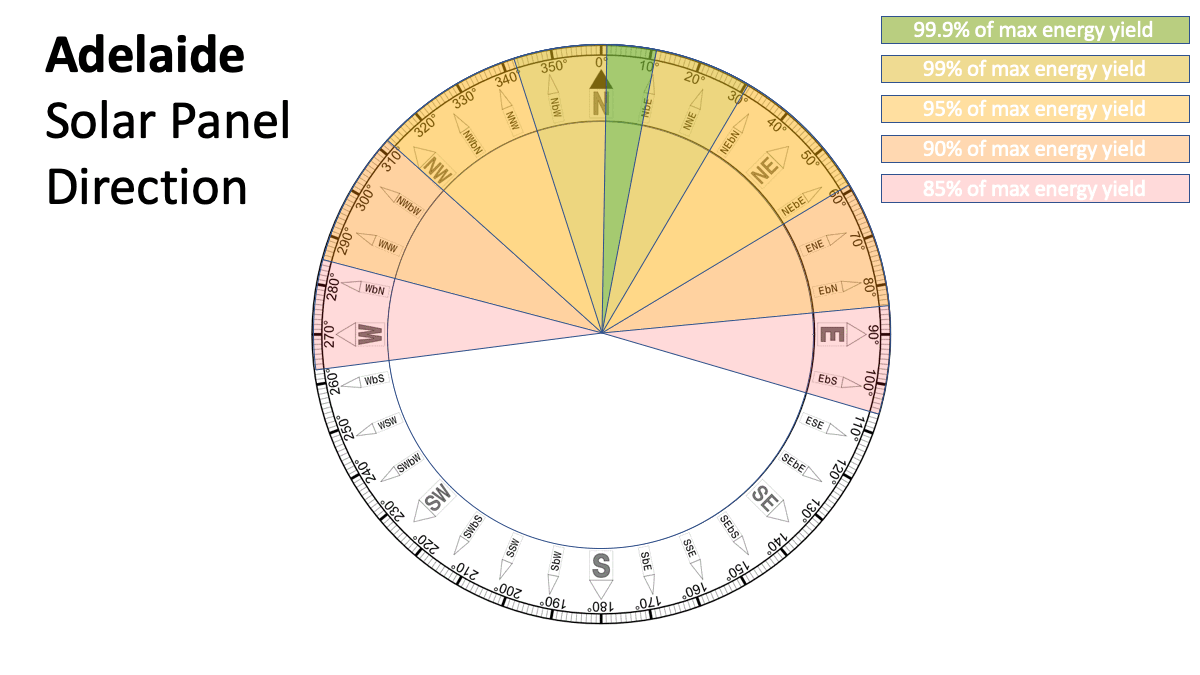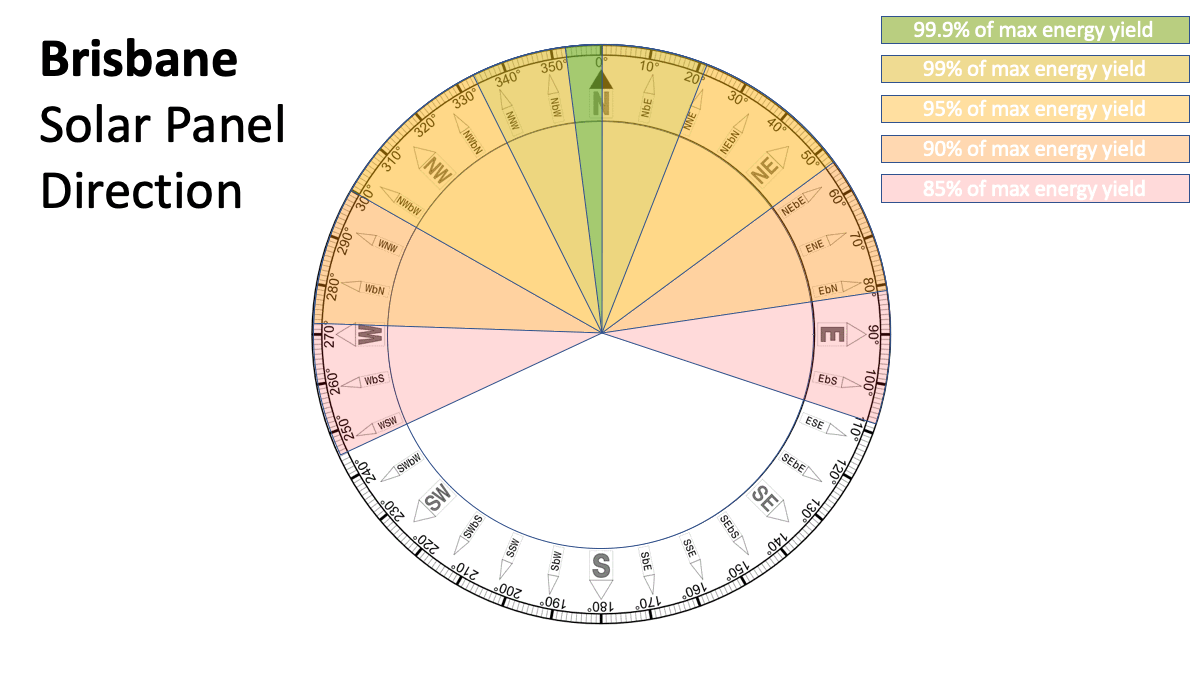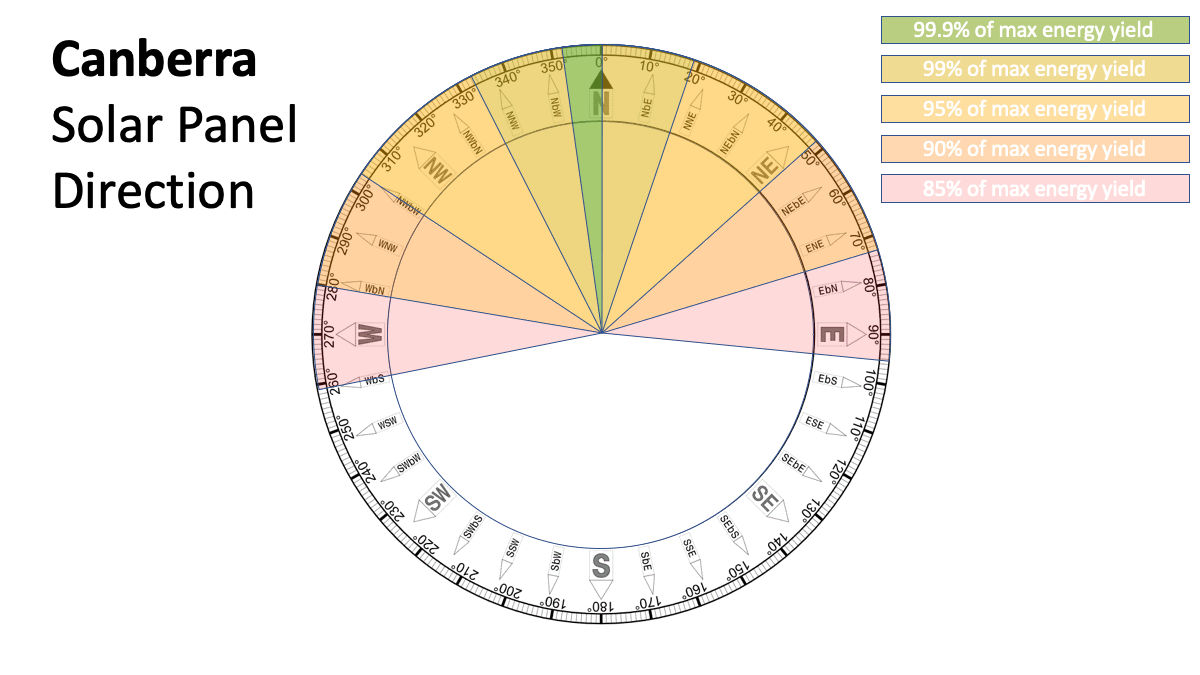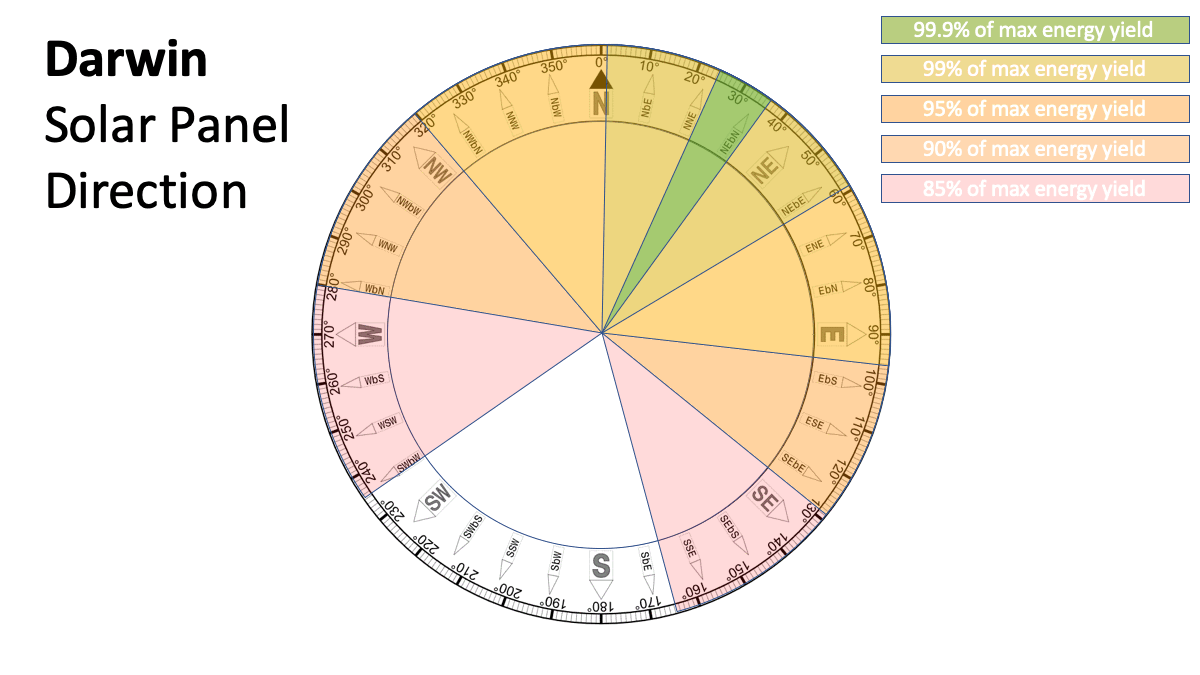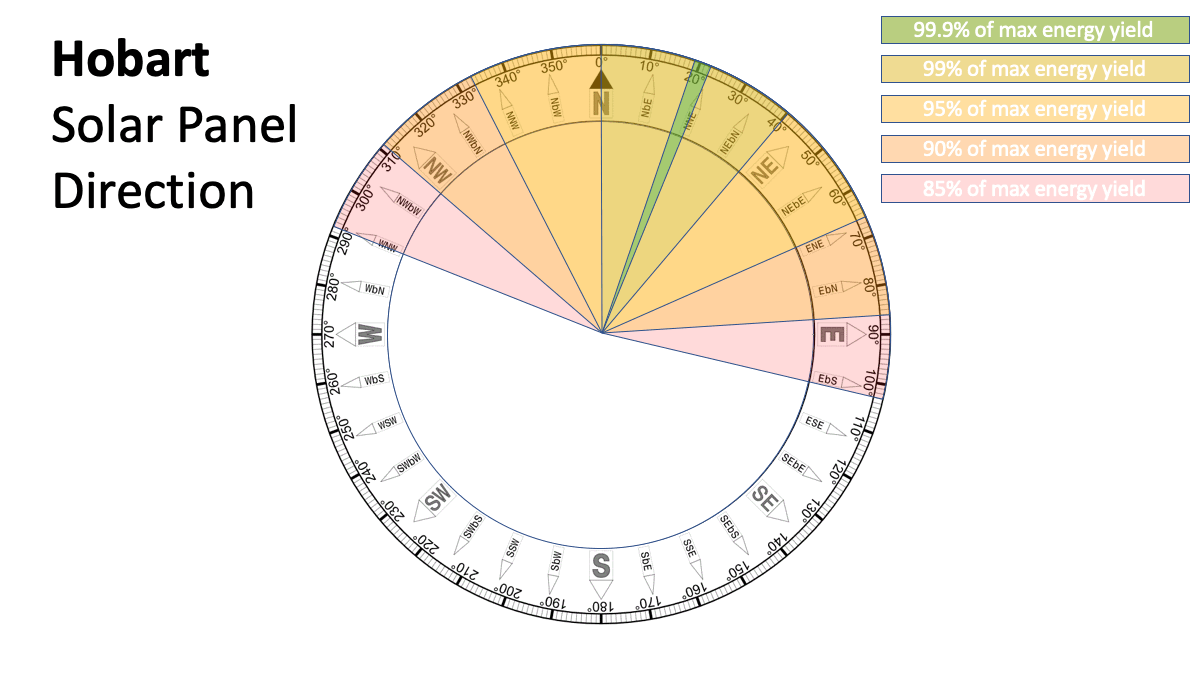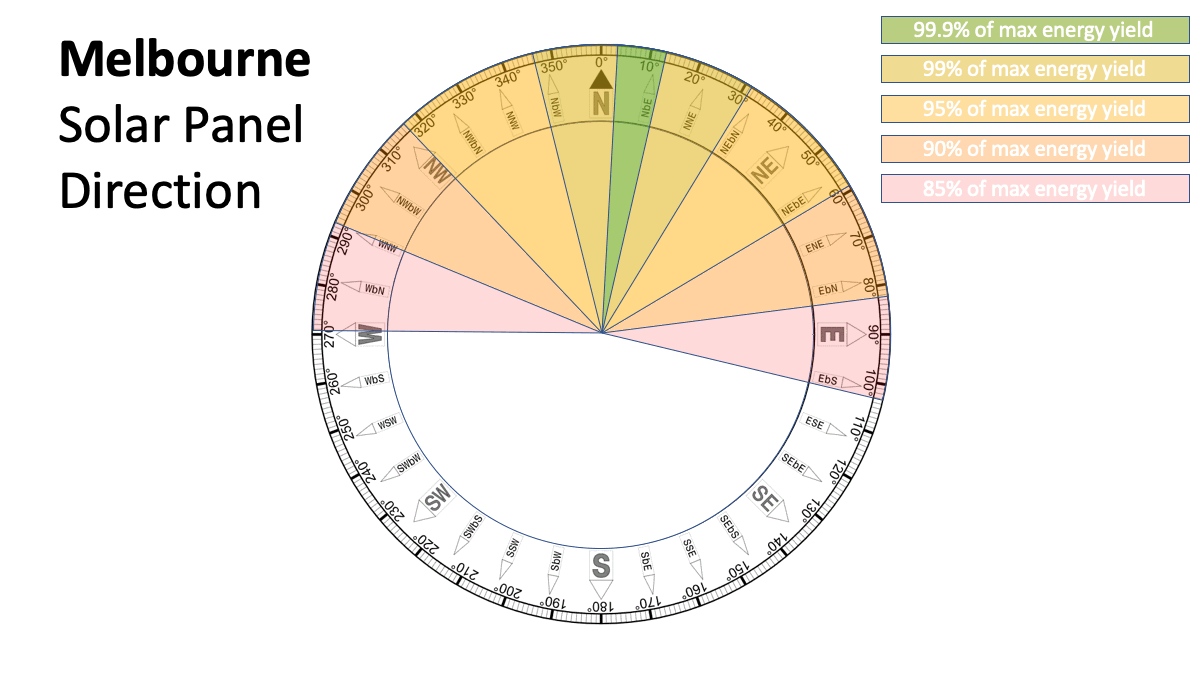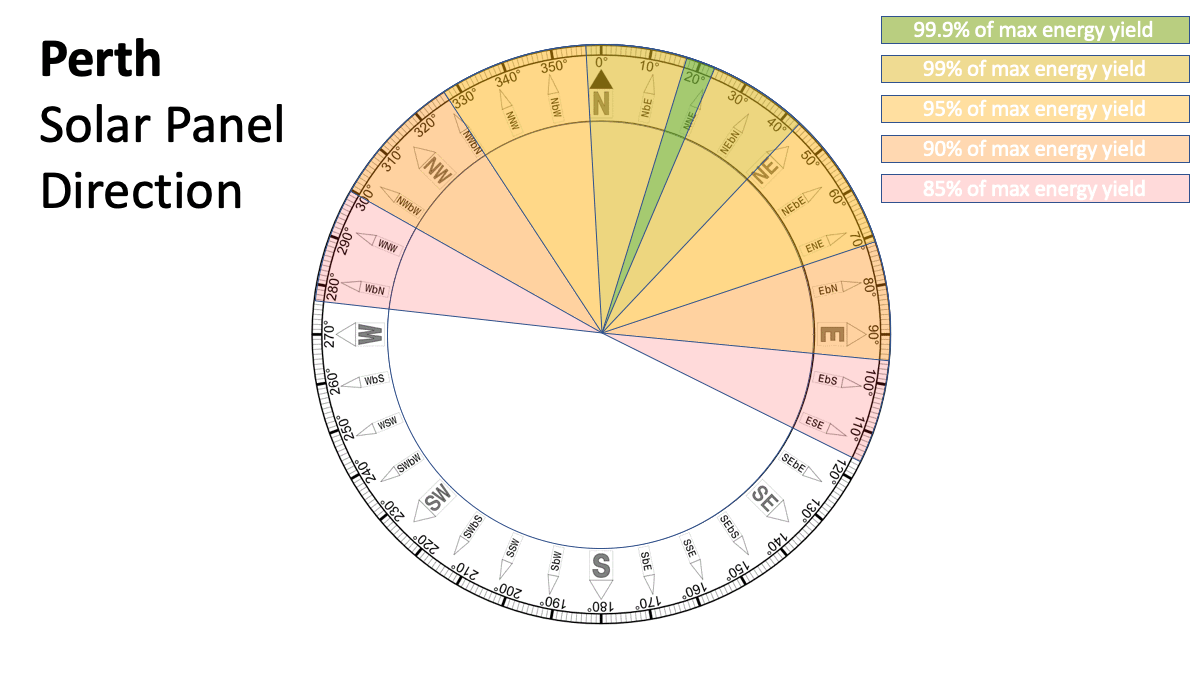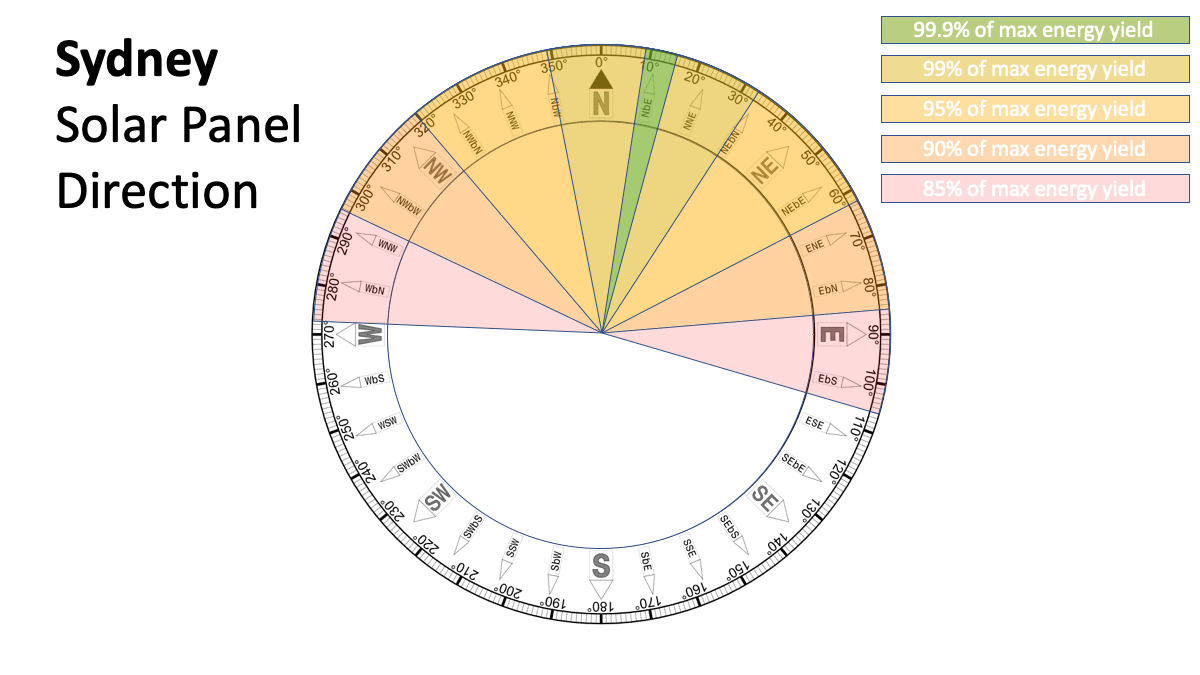 While due north isn't quite perfect, it turns out to be pretty close, as panels facing that way will produce at least 99% of their maximum possible output in every capital except Darwin, where it will be just below that amount.
Darwin in the far north, where the sun is always high in the sky, offers the greatest flexibility in positioning panels for high output.  Hobart in the far south is far worse, with output falling the fastest of all the capitals as panels are shifted away from their optimum position.
In four capitals — Adelaide, Brisbane, Canberra, and Darwin — solar panels will generate at least 85% of the maximum when facing directly east or directly west while Melbourne just barely fails to make it into this group.
The Worst Direction For Solar Panels
Now I've worked out the best direction, along with reasonable directions, I may as well work out the worst direction for each capital.
Below I've listed the worst direction solar panels can face for each capital — which is never very far from 180 degrees due south — and what percentage their annual output would be compared to facing the optimal direction.  Because the output varies according to the slope of the roof I have assumed it will be 20 degrees, which is a nice round figure between the most common slopes of 15 and 22.5 degrees.  The results for both of these roof slopes will be very close to the figures below:
Adelaide:  184 degrees   74%
Brisbane:  177 degrees   71%
Canberra:  178 degrees   72%
Darwin:  199 degrees   83%
Hobart:  193 degrees   66%
Melbourne:  186 degrees   71%
Perth:  194 degrees   73%
Sydney:  187 degrees   72%
In a typical capital you can expect solar panels facing the worst direction to produce around 28% less energy than those facing the best.  The standouts are Darwin with only a 17% reduction and Hobart where total output is reduced by 33%.
Given the very rapid payback of north facing solar power, which is even better than when I wrote this article on it, south facing solar can definitely can definitely pay for itself for many households.  So whether you have no choice because of the shape of your roof or because you want your roof to produce the most solar energy possible, south facing panels can be a viable option.
South Facing Solar Can Suck In Winter
One thing to note is south facing solar produces much more output in summer than winter.  In Sydney, typical south facing solar panels will produce over 5 times more energy in December than June, while in Hobart the difference between those months will be more than 10 to 1. This means a household's self consumption of solar energy from south facing panels is likely to be much less than from panels facing other directions, which is a consideration when deciding to install them.
Footnotes
I even consulted with Dr Inga Rachelle Ernst and she agreed with me.  Ernst is an actor turned film maker and environmental activist from Germany who has directed a number of environmental documentaries including Die Gutt Erde, Eine Unbequeme Wahrheit, and Extremer Naturalismus Siebenundzwanzig. ↩
Finn!  I'm too stupid to do vectors!  Will you make my gwaphics for me?  Pwease?  Pwetty pwease? ↩