Max from Sydney emailed this question to the support inbox last week:
"Hi, We have 3 large gums on a small property in Sydney. We are planning to build a 2nd floor and are hoping that gives us enough height to put solar on. Can you help us figure out if we can?"
Here are the drawings he sent through: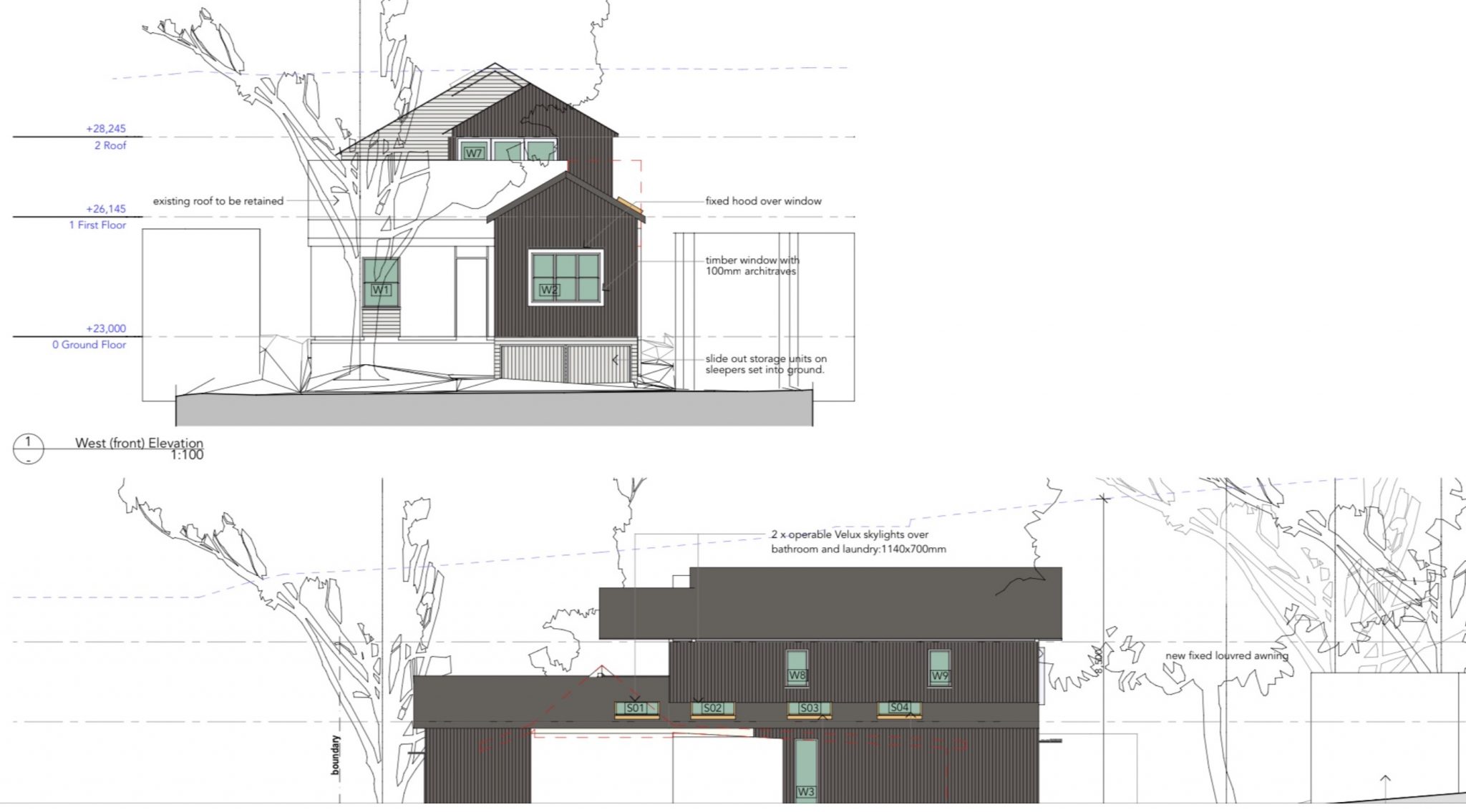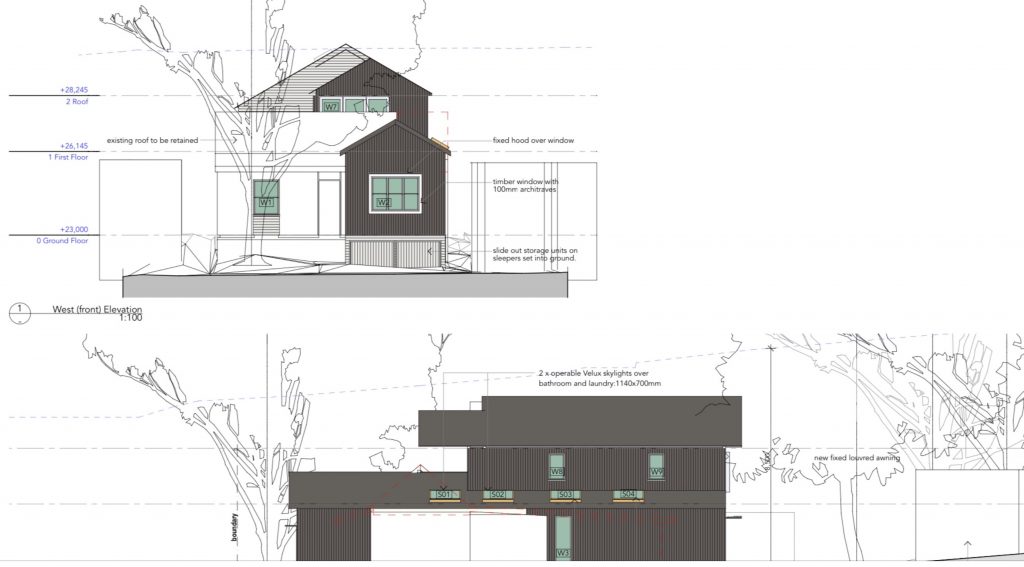 Max's architect has carefully designed a beautiful 2-storey extension, nestled between trees on the east and west ends of the house.
Now the design has been completed, Max is keen to know if it will be worthwhile to put solar panels on his new roof, or will it be too shaded by those three beautiful gum trees?
In my experience, if you ask a conscientious solar installer this question, many will err on the side of caution and advise against going solar. That might seem like an odd response, but it's all about reputational risk. The last thing they want is to install a system that doesn't perform to your expectations – or worse, appears as an opportunistically timed photo on the 'Crap Solar' Facebook page taken at just the right time of day to show those shiny solar panels in dense shade.
It's a shame when home owners decide against going solar on a partially shaded roof without quantifying the shade problem. But you can't blame them for not dropping thousands of dollars on solar power if no one will tell them how much energy they can expect to generate. Without good advice, they'll always fear the worst case: investing in panels and getting bugger all solar electricity.
The only way to quantify the shade from trees on a roof before the house is built is to build a 3D model of both the house and the trees. I know, I know, that sounds time-consuming and expensive. But it doesn't have to be.
Any architect or home builder worth their salt should have your house plans readily available as a digital 3D model. From the 2D pictures Max sent me I could see that a CAD model already existed, so I emailed him back:
"It looks like your architect already has a digital model of your house. Ask him/her if you can get a 'Sketchup compatible' model including those trees.

If you can send that through I can do the shade analysis very quickly."
Step #1 – Load The  Model Into SketchUp
Luckily Max had a great architect who was happy to oblige with the 3D model.  I promptly received an '.skd' file of the house and trees, which I loaded into SketchUp:
Once the model was in SketchUp I had to:
Ensure the model was oriented correctly (North in the correct direction).
Tell SketchUp where on the Earth's surface the model was located (the house's lat/long).
Delete 3 little skylights on the North facing roof, so they wouldn't interfere with my solar panel models. The solar installers would obviously have to work around these in reality. I would strongly advise holding off on their exact placement until an installer has worked out what panels he/she wants to use and their orientation. Moving a skylight a few centimetres could allow more panels to fit on the limited roof space.
Step #2 – Add Some Solar Panels
Once I'd tidied up the model, I fired up the Skelion Sketchup extension and quickly used it to automatically place some solar panels on the north-facing roof. I won't go through how to use this tool as I covered how to use Skelion in this post. Unfortunately, my trial period for Skelion had expired – so I had to shell out USD $200 for a licence. Ouch! But it will be worth it if it means one more house with solar panels on its roof.
Here's the roof with the solar panels on it. I haven't given any thought to the panel layout – just squeezed lots of 300W Jinko panels on there for the purpose of the shade analysis.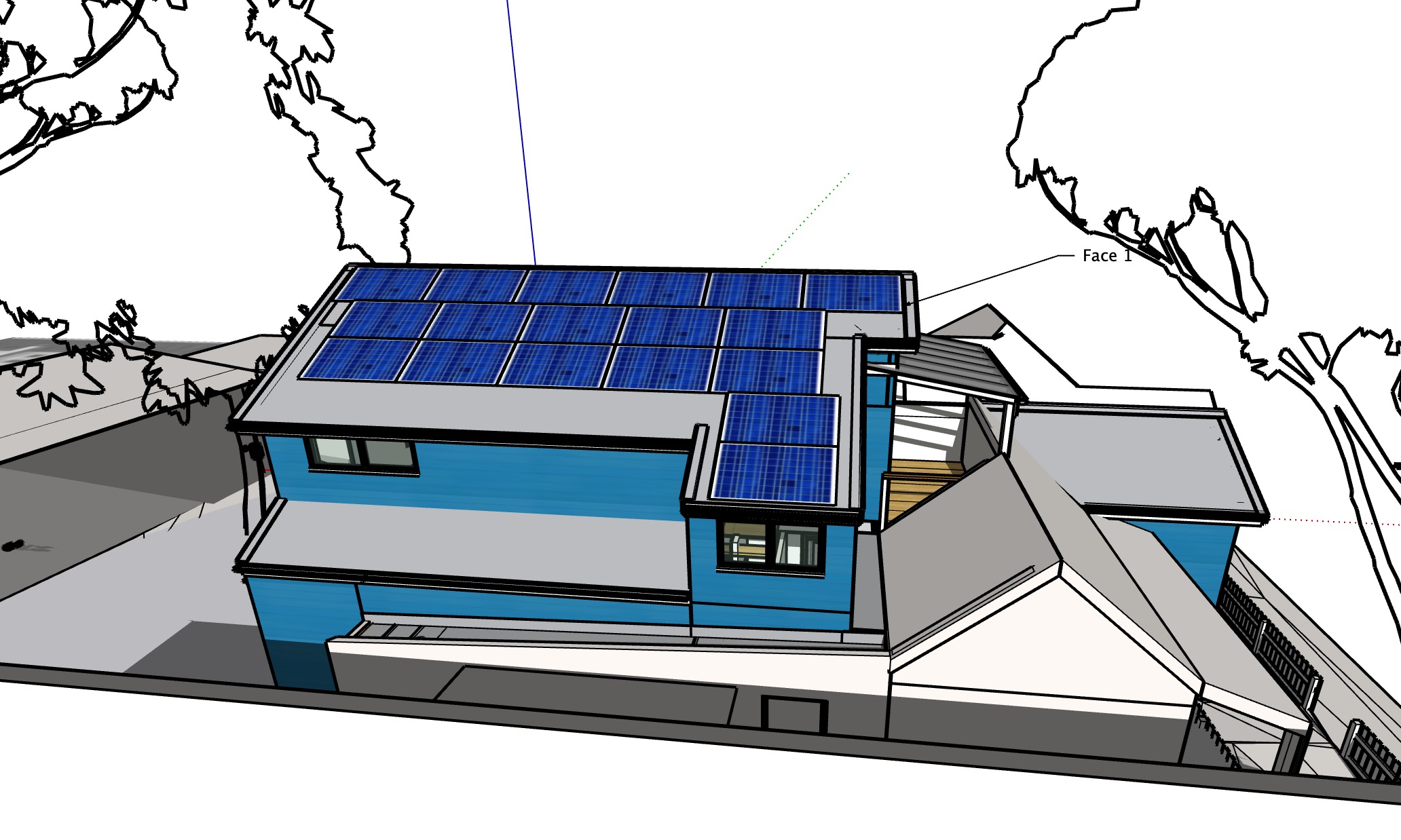 Step #3 – Upgrade The Trees
Unfortunately – the trees in the architect's model have been drawn in such a way that they do not cast a shadow. I fiddled around trying to 'fill them in' but being such a rank SketchUp amateur, I failed miserably.
So I headed over to SketchUp's 3D Warehouse where there are lots of free tree models to download: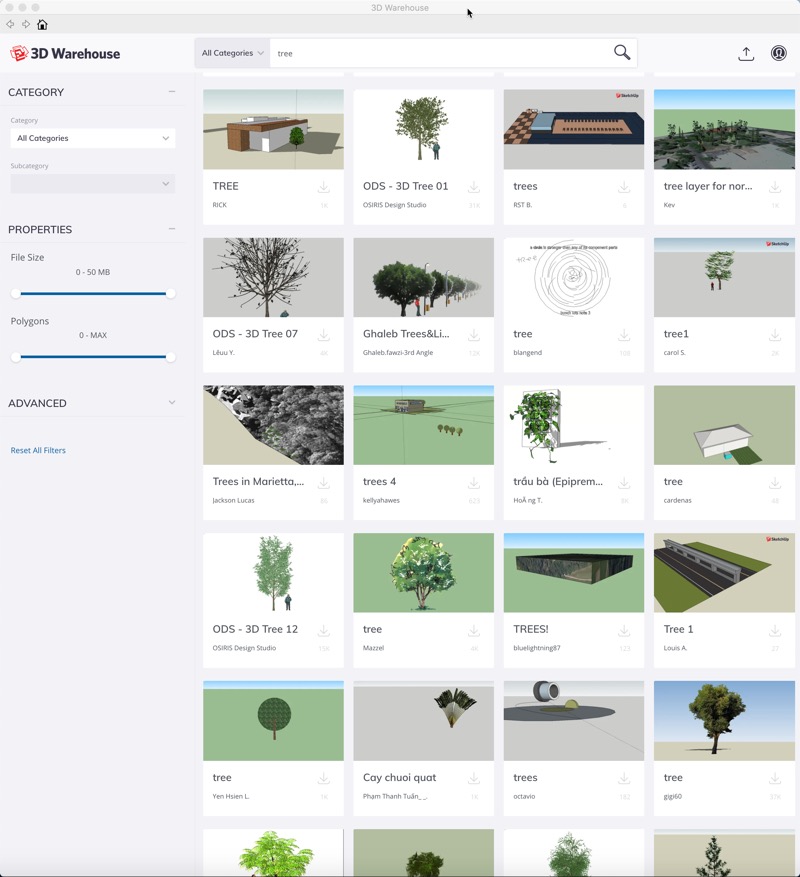 I chose a suitable looking tree and dropped it into the model three times, each time positioning and scaling the model to match the outline of the existing tree models approximately: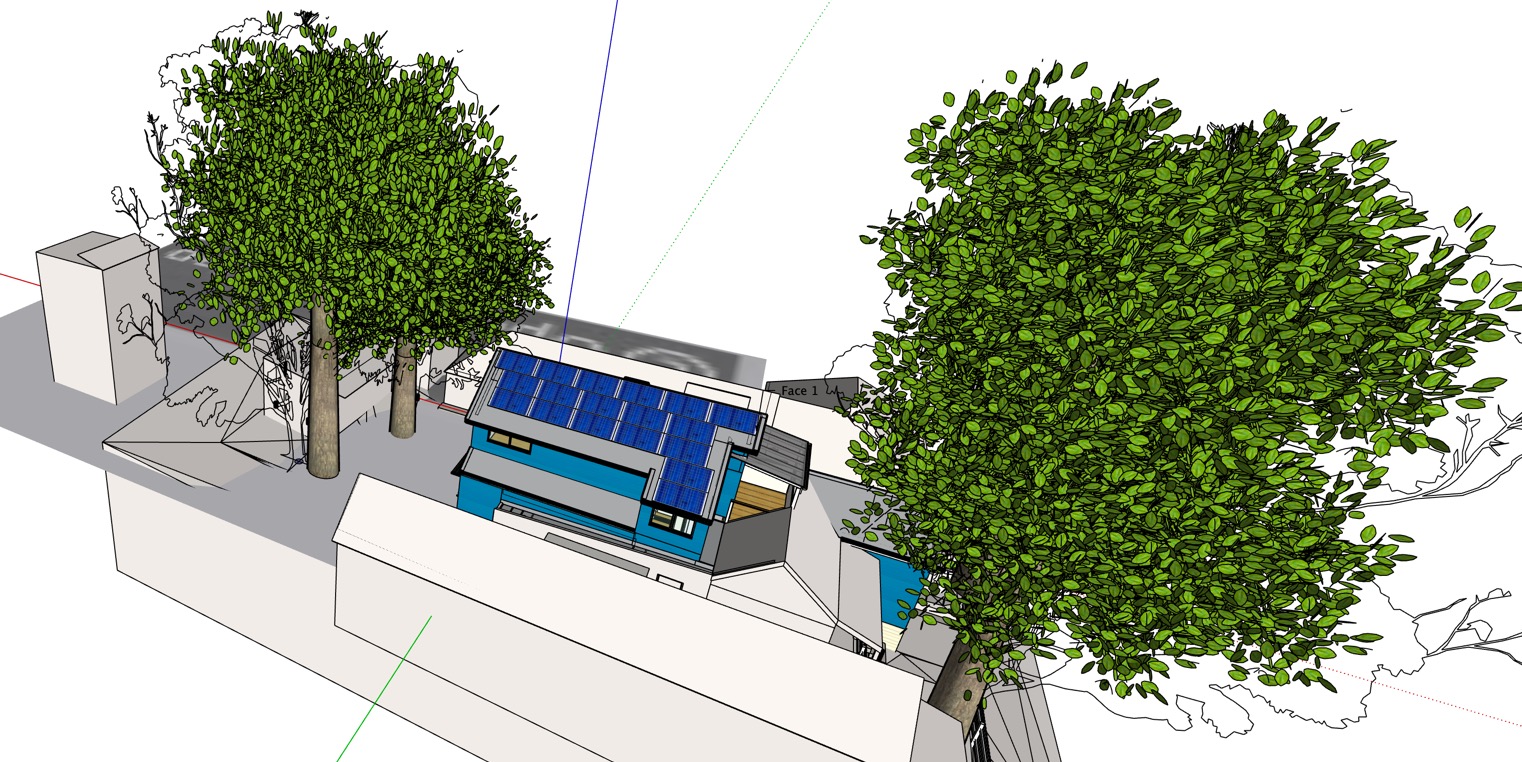 Now to state the bleeding obvious: the tree models will not be the same shape as the real trees in Max's garden. This is an approximate model and analysis. But it will be much better than a wild-assed-guess, and hopefully, give Max confidence to either proceed or give up on his solar energy dream.
Step #4 – Play With The Shadows
Now we have a geo-positioned model of Max's house and an approximation of his trees. We can use SketchUp's shadow rendering engine to see how shadows are cast at any time through the year. We can discover some interesting characteristics by playing with the date and time sliders.
For example, in January shadow starts encroaching from the east at about 11 am.
Then at 1:30 pm they start to appear from the west:
Step #5 – Run The Skelion Report
The Skelion report tells me how much shade will be cast on the panels over a full year. It also shows the shade effect month by month.
Here are the results: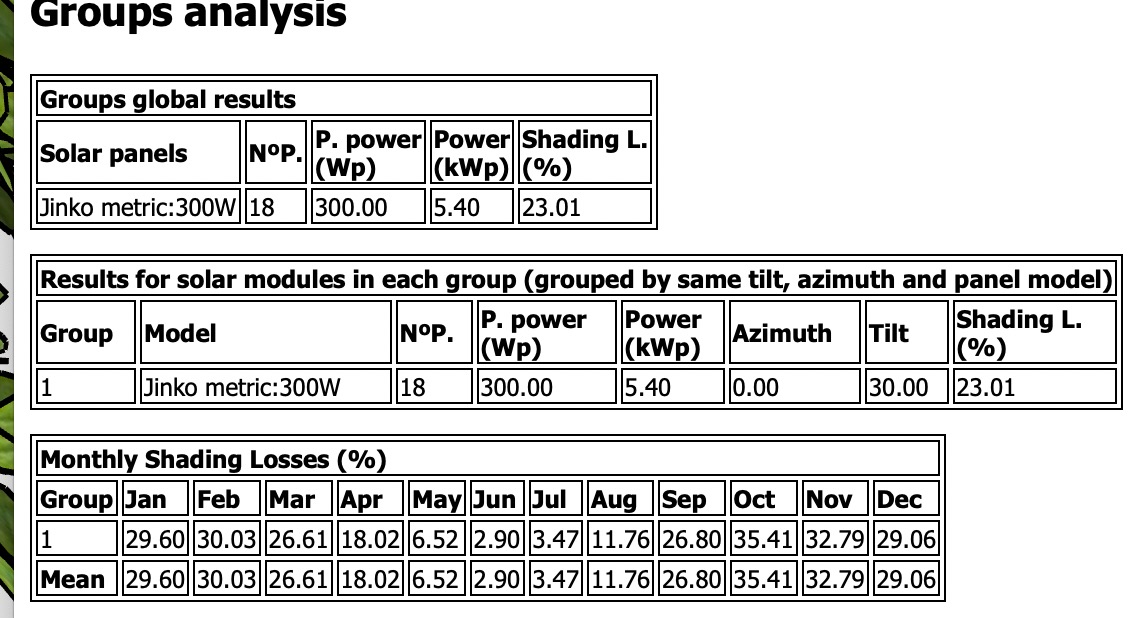 If my model is accurate, then Max will lose about 23% of his energy yield due to shading, more in summer than winter.
That seems a bit odd to me – as the winter sun casts longer shadows. To be safe,  I did the analysis again, replacing each tree with two solid rectangles: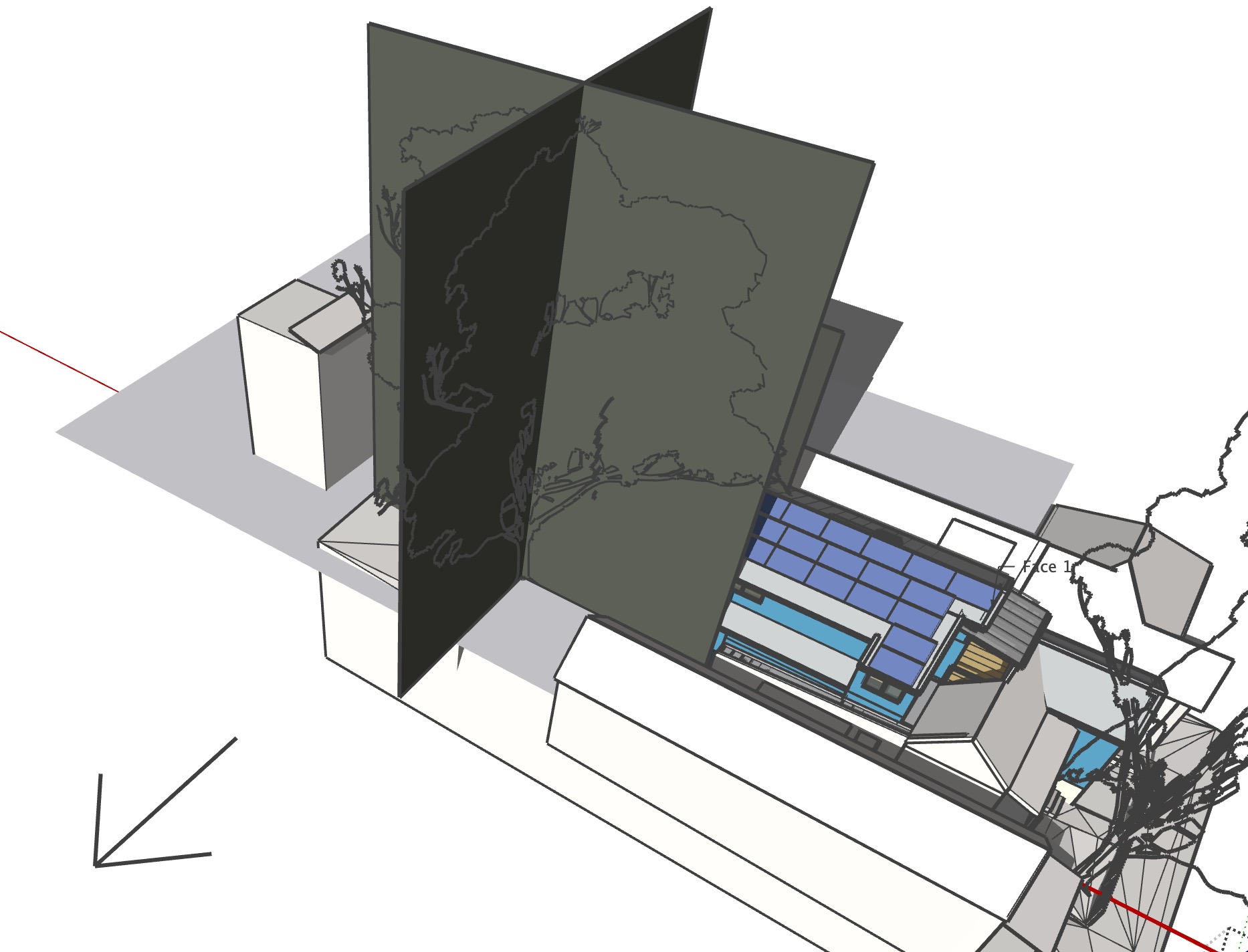 That 'worst case' tree modelling gave me this report: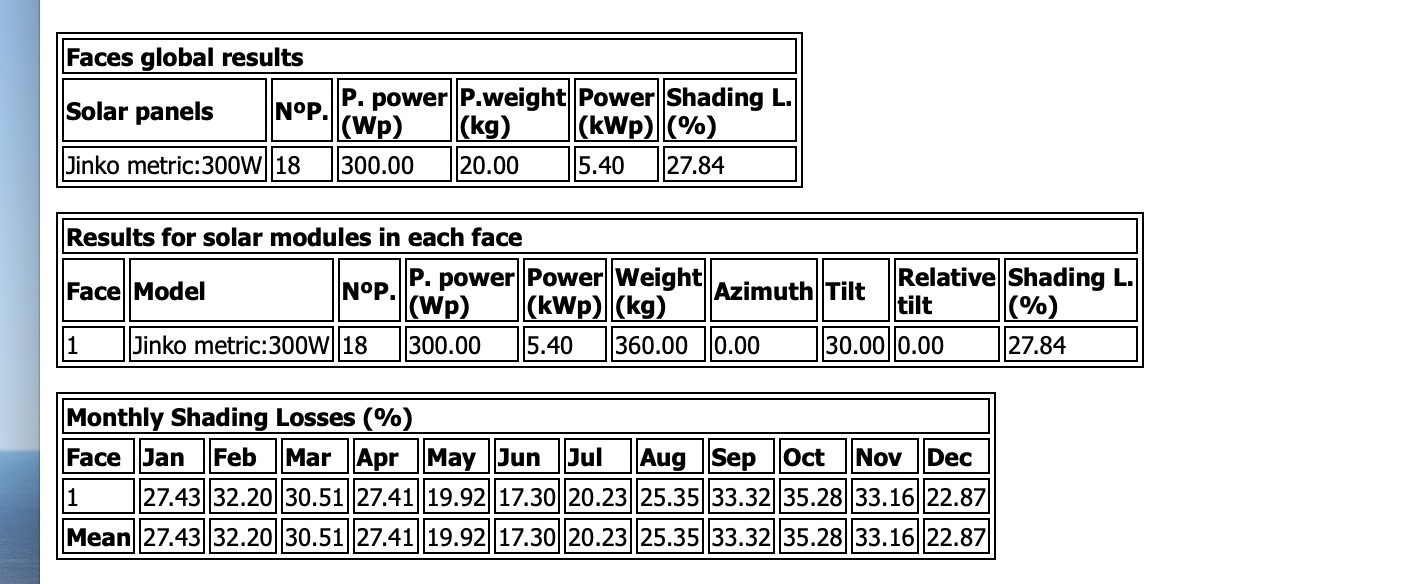 The winter shading has gone up substantially – but the annual shading is only up to 27.84%.
What About The South-Facing Roof?
I can only fit about 5kW of panels on the north-facing roof. If Max loses a quarter of his energy to shading – the 5kW array becomes the equivalent of a 3.75 kW array in full sun. That's a bit small for a modern home. So what about putting more solar panels on the south-facing roof?
Edit: As commenters have pointed out – Max should also use the most efficient panels he can afford as he has very limited roof space. He should be able to get up to 345W per panel with similar dimensions.
Using the roof direction vs. energy yield table on this page, I can see that an unshaded, south-facing 30º roof in Sydney will yield 63% of the energy of a north-facing roof: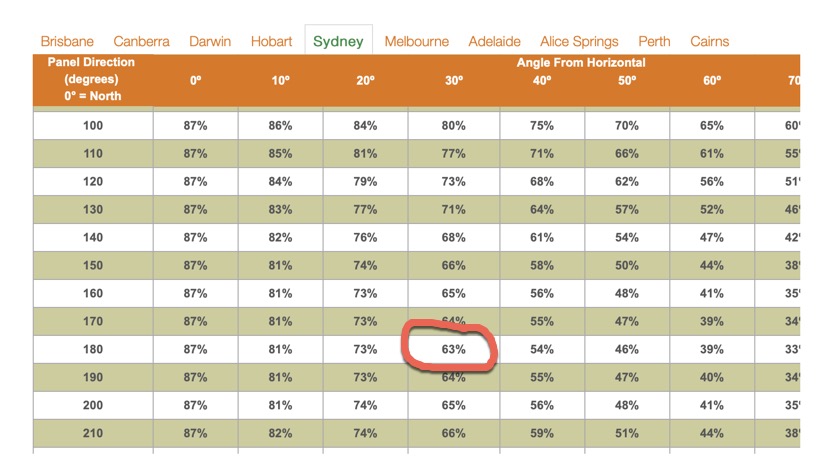 Combine that with the tree-shading, and those panels will probably lose about half their energy yield compared to unshaded, north-facing panels. Some people will be OK with that, for others, halving the energy yield will be too much to bear.
But I'd definitely consider putting some more panels on the little, second north-facing roof. He should be able to squeeze at least another kilowatt of panels on there.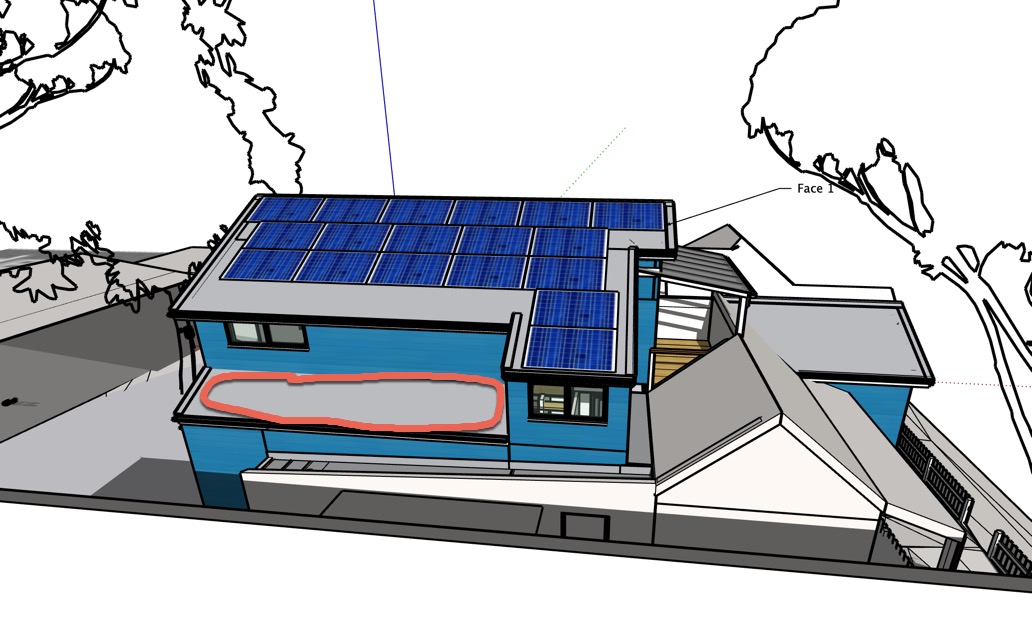 Is Solar Worth It With Those Trees?
Back to Max's original question. Should he get a solar power system?
With estimated losses of 20-30%, I think he should. But Max can decide for himself by using our solar calculator. He simply uses a system size (in kW) 30% smaller than will be installed, but keeps the dollar price of the installed system. For example, if he was quoted $7,000 for a 6kW installation, he should tell the calculator he has 4kW of panels that cost him $7,000. This will give him approximate returns from his shaded roof. (I will be adding a 'shading %' input to the calculator soon to make this process more intuitive).
I'd also get a Suneye analysis done once the house is built, but before he commits to buying solar to verify my quick & dirty analysis.
For a couple of hundred bucks, he can pay someone to get on his new roof and perform an accurate shade analysis with a dedicated instrument using a fisheye lens to trace the actual outline of the surrounding trees.
This will allow Max to accurately benchmark:
a) my competence
b) his solar power system's performance based on a very accurate shading-effect percentage. If he doesn't know for sure how much shade is on the roof, he'll never be sure if his solar system is working to the best of its abilities.
And above all, he will be able to decide with high confidence whether an investment in solar power will be worth it for him.
I'd also recommend an Enphase microinverter system for this job, as they are my favourite way to handle shaded arrays.