On the 16th of January 2020 Solar Victoria published what they called a "case study" under the Latest News section on their web site.  It's about a person who is happy with their new solar battery system.  On the face of it, that seems a lot better than someone who is unhappy with their battery system, but I suspect the person who bought it may have been misled and won't be so happy with their purchase after they learn the truth.
I put quotation marks around the words "case study" because:
It did not present information that would enable readers to either check the strongly implied conclusion, or draw their own conclusions, as I expect a case study to.
Rather than a case study, it appears to be an advertisement for household batteries paid for by the Victorian Government with public money.
What I find most troublesome about their "case study" is that it may break Australian Consumer Law1.  I believe Solar Victoria should investigate to determine if a breach of Consumer Law has occurred and, if so, consult with Victorian Consumer Affairs to help remedy the situation.  What they should not have done is turn it into an advertisement for an overseas battery manufacturer at the Victorian taxpayer's expense.
It's A Tesla Powerwall 2
The battery system is a Tesla Powerwall 2.  We can tell because it's in the photograph at the start of the ad.  Here's how the "case study" starts: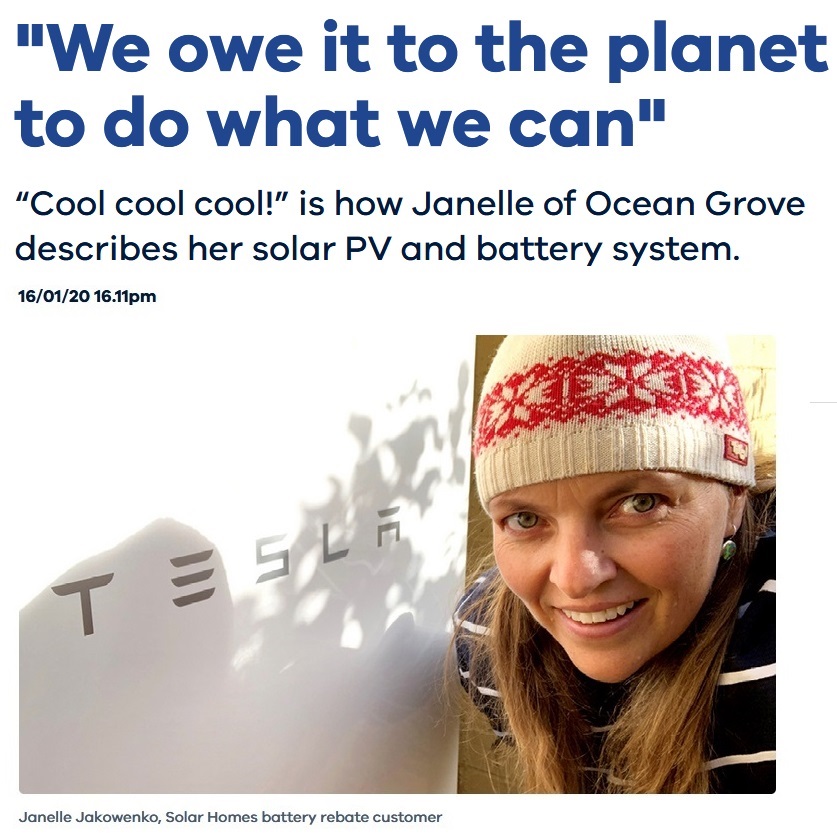 Yep, that's definitely a Tesla Powerwall 2 there.  I know because it says…
T followed by [Japanese symbol for the number 3] followed by S, followed by L, followed by [Symbol for either a table or the Qi Dynasty or possibly a table owned by the Qi Dynasty.]
…on the front and no one is installing counterfeit batteries in Victoria.  Especially not as part of Solar Victoria's battery rebate, which will knock up to $4,838 off a solar battery's price.  This is, if you get in before the 1,000 available rebates run out and live in the right area.  A list of the 40 eligible postcodes can be found here.
I want to be clear there is nothing in the ad that suggests there is anything wrong with the Tesla Powerwall 2 itself.  I expect it's working just fine.  But even if the battery is working perfectly it's not capable of doing what the ad suggests unless there are very special circumstances that are not explained.
The "Case Study"
I've put the body of the advertisement or case study or whatever it is below.  I have circled a few things I find troublesome according to the following colour code:
Green for environmental concerns,
Blue for a couple of things that don't seem to add up when considered together, and…
Red for a financial concern I consider to be circumstantial evidence Australian Consumer Law has been broken.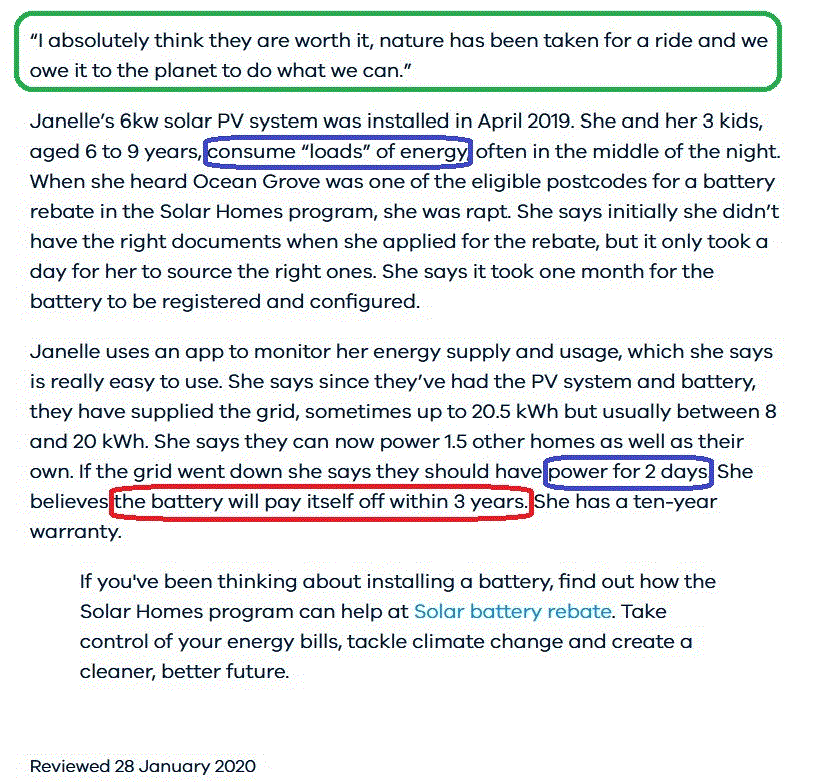 Green Concerns
Unfortunately, at this time, batteries don't reduce emissions.  They increase them.  This is because each time a battery is charged and discharged there are unavoidable losses.  A Powerwall 2 can only provide around 88% of the energy that is put into it.2  This means clean solar energy exported directly to the grid reduces fossil fuel generation by more than storing it in a battery for later use.
Because batteries very rarely store clean energy that would otherwise go to waste, at the moment they are a net environmental negative.3  I go into the details in this article if you're interested.  The main exception is if a home is export limited and produces solar energy that otherwise would go to waste if it wasn't stored in a battery.
Green Statements & Consumer Law
Australia's Consumer Guarantees state, among other things, that products must:
Be fit for the purpose the business told you it would be fit for and for any purpose that you made known to the business before purchasing.
So if the company that sold Janelle the solar battery told her it would benefit the environment then they may have broken Australian Consumer Law — unless they pointed out it would only help under specific conditions.  The same goes if Janelle told them she wanted a battery for environmental reasons and they didn't tell her it wasn't suitable for that purpose.
Fortunately, I generally don't see solar battery sellers making environmental claims about their products.  For example, I can't see any on the Tesla site about the Powerwall 2.  Because of this I'm hopeful no one was misled in this regard.
Blue Concerns — Average Energy Use
I circled a couple of phrases in blue because they make me concerned about the battery owner's household energy use:

If I was talking to a friend about their Powerwall 2 and they told me they use loads of energy — often in the middle of the night — I would assume this means they frequently use all the stored energy in their battery overnight.  This is a good thing from the point of view of getting the solar battery to pay for itself.
But if the next thing they told me was that in a major blackout they should have power for two days, I'd have to stop them and make sure they knew what they were talking about.  If they are often draining their battery overnight then they're not going to have power for two days.  They're only going to have it for one night.  And I'd make sure my friend understands they are often not going to have a full battery charge when a blackout strikes.  If they are using it to minimize their electricity bills as much as possible, when the grid goes down it may have less charge than a balloon that's been rubbed against a bald kitten.
It's possible my friend has this all figured out and has set their Powerwall 2 to always reserve some energy for emergencies and has a plan to ration it out over two days with the assumption skies will be overcast and rooftop solar output low.  (A reasonable precaution as blackouts are more likely to occur during stormy and wet weather.)  But they would have to explain that to me so I'd know they understand how their Powerwall 2 works.  Without an explanation I wouldn't know what they were thinking.
Solar Victoria's advertisement or "case study" or whatever it is, should make it clear exactly what the homeowner is thinking.  This is because at the moment it leaves me thinking she may have been misled about how her battery works.
Red Concerns — It Won't Pay For Itself In 3 Years
My most serious worry is where Solar Victoria quotes Janelle as saying:

I'm concerned because that's just not going to happen.  A fully installed Powerwall 2 is likely to cost at least $16,000.  The Solar Victoria rebate will only knock $4,838 off that, so she's likely to have paid over $11,000 for it.
Using our Electricity Retailer Comparison Tool, I see there are electricity plans available in Victoria that charge around 21.2 cents per kilowatt-hour and have a solar feed-in tariff of 12 cents.  This means the 13.5 kilowatt-hours of electricity a fully charged Powerwall 2 can supply will only reduce a home's electricity bill by $2.97.
But the savings won't be that much because, with an efficiency of 88%, to charge it with $2.97 worth of electricity will require 15.34 kilowatt-hours of solar electricity.  With a solar feed-in tariff of 12 cents this means the household will forgo $1.84 in feed-in tariff.  So instead of reducing the electricity bill by $2.97, the energy in a fully charged Powerwall 2 will only reduce it by $1.13.
If the Powerwall 2 is fully charged with solar electricity every day and fully discharged every night and doesn't suffer any capacity deterioration, then it will save $412 a year.  After 3 years it will have saved $1,236.  As $1,236 is less than the $11,000 or more that was paid for it, it definitely won't pay for itself in 3 years.
Even with the Victorian battery rebate and a low total cost of $11,000, it would take 26 years and 8 months for it to pay for itself.  That's nearly 9 times longer than 3 years the advertisement suggests and far longer than its maximum warranty of 10 years.
In reality, the Powerwall 2 will not be fully charged and discharged every day and its capacity will slowly deteriorate, so the actual savings will be less and the payback period longer.  Probably much longer.
Having a time-of-use tariff does not change things much.  Firstly, because the financial benefit is not large even if stored electricity is only used during peak periods, as they aren't available on weekends.  And secondly, if the only reason you are on a time-of-use tariff is because you have a solar battery, then the proper comparison to work out how much you are saving is the standard tariff you would be on if you didn't have a battery.
Maybe there are some special circumstances I am not aware of, such as membership in an amazing Virtual Power Plant I don't know about with high payments that makes batteries an awesome investment, but that is definitely something Solar Victoria should have mentioned.
Was Australian Consumer Law Broken?
I'm sitting here wondering, "Where did Janelle get the idea her Powerwall 2 would pay for itself within 3 years from?"  Maybe she made the estimate herself and made a mistake, since most people aren't familiar with calculating solar battery payback, or maybe she was misled.
Australian Consumer Guarantees state that products must:
Match descriptions made by the salesperson, on packaging and labels, and in promotions or advertising, and…
Meet any extra promises made about performance, condition and quality, such as lifetime guarantees and money back offers.
If she was told by salespeople the battery would pay for itself in three years then Australian consumer law has been breached, as that's not going to happen.  As a result, Janelle is entitled to a remedy, which in this case is likely to be a refund.
What Solar Victoria should have done when they became aware of this "case" is investigate whether or not Australian Consumer Law had been broken, not turned it into an advertisement for batteries.  Since they did turn it into an advertisement, they should now work to undo the potential harm they have caused to Victorians and others by making sure people understand that, unless there are very strange circumstances, a battery is not going to pay for itself within 3 years.
If they don't take action to correct the harm they have caused, to both the public and the solar battery industry, people may start to suspect they don't have the best interests of Victorians at heart.
We all know that batteries are going to play a large and important part in our clean energy future. But that doesn't make it OK to mislead the public about battery performance and payback in order to shift some slow-moving solar battery rebates.
Footnotes
Caveat: I'm not a lawyer – but this is my strong opinion! ↩
Tesla says the Powerwall 2's round trip efficiency is 88%.  Not all Powerwall 2s do this well, with the exact efficiency probably depending on where they're located and how they're used.  But looking online and from what people have told me, 88% doesn't appear uncommon, so I will use this figure. ↩
If you want to argue that by installing batteries you are creating a grid where more solar and wind capacity are likely to be built, you would be right.  But it is an expensive way to go about encouraging clean energy when the money could be instead be spent directly on rooftop solar or improved efficiency such as insulation or replacing an internal combustion engine car with a hybrid or EV. ↩