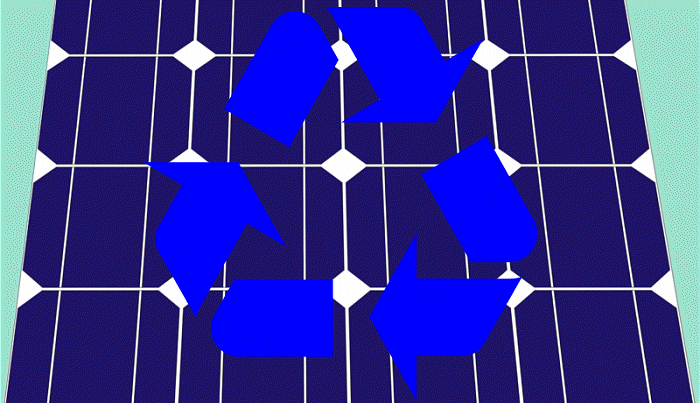 Sustainability Victoria is engaging in a new research project assessing end-of-life management approaches for solar power systems – and not just the panels.
Back in 2015, Sustainability Victoria looked at e-waste market flow and identified solar panels as the most rapidly growing e-waste stream.
Modules and other solar power system components simply being trashed when they reach the end of their service life is an undesirable outcome as aside from taking up space and being a waste of valuable resources, some of the materials within components can be hazardous.
"This is a key reason why we are exploring end-of-life management options available before PV system components enter Victoria's waste stream in significant volumes," said Sustainability Victoria CEO Stan Krpan. "With the much-needed influx of solar panel installations, we need to put a robust system in place for how we manage these products at the end of their life cycle and recirculate recovered resources so they can reach their fullest potential as part of the circular economy."
Sustainability Victoria's assessment will include solar panels and other PV system components such as inverters and battery systems used in residential, commercial and industrial applications.
Typically, decent solar inverters should have a lifespan ranging from 10 to 20 years and good quality solar panels more than 25 years.
The good news is that more than 95% of materials used to make a solar panel can be reclaimed, but facilities need to be in place to do this work along with the necessary processes to get them there. We recently reported on an industrial solar panel recycling plant in Germany that recovers a minimum yield of 95% of materials and in June this year, a plant was also opened in France – but not much appears to be happening in Australia.
How much of an inverter's various materials can be (economically) reclaimed isn't clear. There's also the issue of recycling solar battery systems, which will become increasingly common throughout the state.  Racking systems aren't such a headache as there's little to wear out and recycling isn't so problematic as they are primarily made from aluminium. Then there's the cabling and other bits 'n bobs.
1 Million Solar Power Systems
The need for an end-of-life management process for PV systems in Victoria became a little more pressing recently with the announcement of the Victorian Solar Homes rebate. The scheme aims to ultimately put solar panels on another 650,000 homes across the state, assuming Victorian Labor is returned to power. It will be quite some time before panels and inverters installed under the scheme will reach end-of-life in any great quantity, but it certainly won't hurt to be on the front foot.
There are more than 354,000 small scale solar power systems already installed throughout Victoria. By the end of 2010, when the home solar revolution really started kicking into gear, 35,000+ systems had been installed. While it's still some way off before the panels in those systems need replacing; some inverters will be showing their age over the next couple of years.
Of course, there's also the issue of early failures through the use of shoddy components and installation, or just plain bad luck.
Sustainability Victoria has appointed Equilibrium and Ernst & Young to support the detailed analysis, which should be completed by the end of this year.
A Global Challenge
Globally, solar panel waste is already cause for concern. An IRENA report from 2015 estimated at the end of 2016,  cumulative global PV waste streams were expected to have reached anywhere between 43,500-250,000 metric tonnes. In its "regular-loss" scenario, IRENA forecast PV panel waste increasing to 1.7 million tonnes globally in 2030 and approximately 60 million tonnes could be expected by 2050.
There is an upside – IRENA says reclaiming material could have a value of USD $15 billion by 2050 and could produce 2 billion new panels.
But that's just the panels.