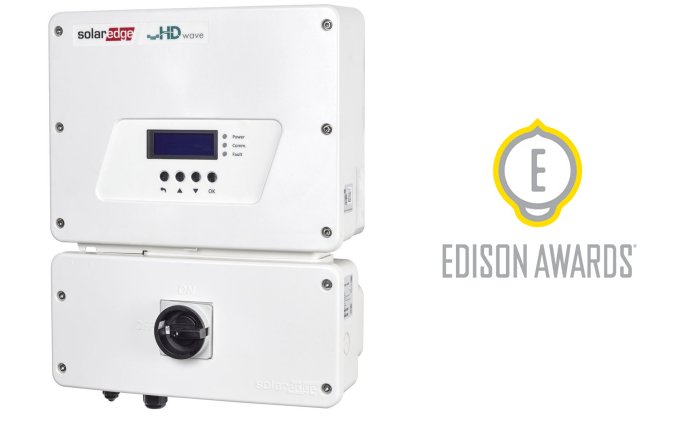 SolarEdge was named the gold winner in the renewable energy category of this year's Edison Awards for its HD-Wave inverter technology.
The Edison Awards have been run since 1987, recognizing (what it considers) the best in innovations and innovators.
SolarEdge said it was honored to have received the award.
"SolarEdge's inverter with HD-Wave technology has already been recognized by the PV industry with awards for its innovation and potential to accelerate the proliferation of solar energy," stated Guy Sella, CEO and Founder of SolarEdge.
The only other winner in the Edison Awards renewable energy category was Vestas for its V164 wind turbine, the world's most powerful serially produced turbine. The latest model boasts 9.5MW capacity.
SolarEdge's HD-Wave technology significantly reduces the size and weight of an inverter's magnetics through advanced digital processing. The company says this technology increases reliability and optimises the performance of solar power systems to reach an inverter efficiency of 99%.
HD-Wave has been available in Australia since around the middle of last year. Check out Ronald's review of SolarEdge HD-Wave technology.
HD-wave enabled inverters are designed for use with SolarEdge's Power Optimizer product.
Like a micro-inverter, a Power Optimizer is added or integrated on the back of a solar panel1. If integrated at the point of panel manufacture, it replaces the conventional solar junction box.

While the device doesn't convert DC to AC as in the case of a microinverter, it optimises energy output by continually tracking the maximum power point (MPPT) of each solar panel. The Power Optimizer also provides module-level monitoring and a safety feature whereby the panels' DC voltage is shut down in the situation of an inverter or grid power failing. Optimizers enable flexible installation design with multiple orientations, tilts and panel types within the same string.
While it's been relatively quiet with announcements, SolarEdge's business appears to be doing well. In February, it released its fourth quarter and full year 2017 financial results; reporting total revenues of USD $607.0 million – up 24% from the prior year.
"We ended the fourth quarter and full year of 2017 with record results in our key financial and operational metrics," said Mr. Sella.
Speaking of announcements or lack thereof, we haven't heard any more on SolarEdge's electric vehicle charger integrated inverter, which it showed off at Intersolar North America in July last year.
If you're interested in what Australians who are using the company's inverter products think of them, see our SolarEdge inverter reviews.
Footnotes
microinverters aren't always placed on the back of a panel, sometimes they are installed close to it ↩