Just the other day, Finn was having a whinge about sonnen batteries.  He mentioned a few problems the current sonnenBatterie Eco has:
You can't install it outside without a protective cabinet.
Its power output is low compared to similar-sized batteries.
Backup power is an expensive optional extra.
Even with the backup option, it can't charge from rooftop solar panels when the grid is down.
It's expensive.
But now, less than a week later, sonnen has launched their new battery — the sonnen Evo.  It mostly addresses these concerns — except for the last one.  Sonnen gave no pricing information at the launch.  But as Sonnen has always positioned itself as a premium brand, it's not likely to be cheap.  
Update December 7th 2021: Sonnen has told me they expect the sonnen Evo to cost around $14,000 including installation, which is a much better price than I expected.
The sonnen Evo has the following features:
10 kilowatt-hours of usable storage.
5 kilowatts continuous power. 
AC coupled — this lets it work with any solar power system or no solar system.
Built-in backup can provide 5 kilowatts of continuous power.
The battery can charge from solar in a blackout, but only if the solar power system is 6 kilowatts or less.
A warranty that will last any normal household a full 10 years, while retaining a minimum of 80% of original capacity.  This is much better than most lithium solar battery warranties.
Update December 7th 2021: Sonnen has told me the sonnen Evo can be used with Virtual Power Plants (VPPs) other than those offered by sonnen and not just their own, as I originally had written.
Sonnen says the Evo battery should be available in early 2022. 
What Is sonnen?
Sonnen is a German company founded in 2010 that's been making home battery systems for over 11 years.  They supplied the first modern home battery systems for on-grid use rather than off-grid.  They were originally called sonnenBatterie but shortened it to sonnen, so they don't have to pay as much when sending a telegram.  Their name doesn't start with a capital letter. That's because, before 1990, Germany had two capitals and reduced the number of capitals in the German language to compensate.  
The sonnen Evo also has a longer name, the sonnenBatterie Evo, but try not to use that when sending a telegram.
Imported From Germany
The sonnen Evo is imported from Germany.  Sonnen won't assemble it in Adelaide despite all the support they received from the South Australian government to set up a factory here.  At the battery launch, sonnen said they would keep that capacity for "future use".
I could have told the South Australian Government not to spend valuable resources attempting to set up battery manufacturing in South Australia.  (In fact, I think I did.)  While they should welcome any solar battery manufacturer who wants to set up shop here in SA, they should treat them the same as any other business.  This is because we live in a world of limited resources, and it's not possible to give more resources to one business without reducing the resources available for everyone else. 
Governments should stick to what they are good at which is punishing bad things, not promoting good things.  This is why the police are in charge of catching bank robbers, and families are in charge of Christmas presents. 
Components Made All Over
At the launch, they didn't say where the sonnenBatterie Evo's battery modules are manufactured.  But unless they've changed their ways, sonnen will source them from two high-quality battery manufacturers in China1.  The battery inverter probably also isn't made in Germany, but elsewhere in Europe.  Other components could come from all over the place.
This is not a problem.  These days a successful international company can successfully source high-quality components from around the world.  Companies that pull it off should be boasting about it, not hiding the fact.
sonnenBatterie Evo Tech Specs
Currently, there's no datasheet available for the sonnen Evo. 
Update December 7th 2021: The datasheet is available here.
But sonnen presented slides with technical information at the online launch, and I've scattered them through this article.  Here's one giving an overview: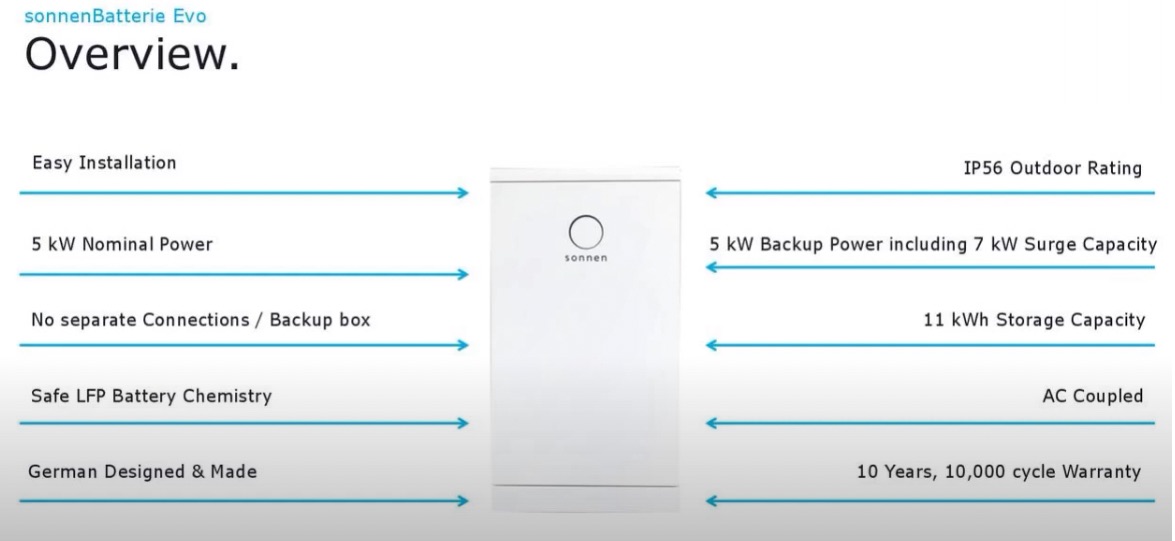 Battery Capacity
The battery has a total (or nominal) capacity of 11 kilowatt-hours.  But to protect it from capacity loss, its maximum depth-of-discharge is around 91%.  This makes its usable storage capacity 10 kilowatt-hours.  It should stay reasonably close to that amount within its warranty period, as sonnen promises it will maintain at least 80% of its original capacity. 
If more storage is desired, up to three sonnen Evos can be used for a total of 30 kilowatt-hours of usable storage when new.  It's possible to add even more if a device from SwitchDin or another manufacturer is used to manage them. 
Update December 7th 2021: Sonnen says it's not necessary to use SwitchDin to go over 30 kilowatt-hours of storage, but it can provide benefits.
Evo Battery Modules & Chemistry
The sonnenBatterie Evo has two 5.5 kilowatt-hour modules.  Here's the information sonnen presented: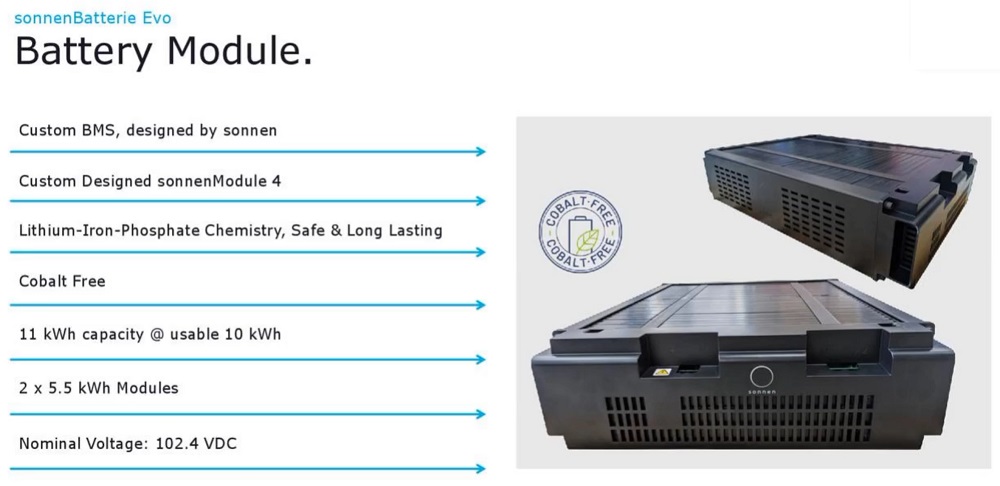 Lithium Iron Battery Chemistry
The battery chemistry is lithium iron phosphate (LiFePO), or just lithium iron for short.  This is the safest lithium battery chemistry.  This doesn't mean batteries using this chemistry are safe; it just means it is easier to make lithium iron batteries meeting a high standard of safety than other types.  If a battery module manufacturer and/or battery system producer don't ensure they are safe, they won't be.  But I definitely expect sonnen batteries to be low risk.  They have a good track record of not burning down homes in Germany. 
Lithium iron batteries don't use cobalt.

At the launch, they made it sound like they were doing us some big favour by not including cobalt because:
It's toxic.
It may not be mined ethically.
But using iron instead of cobalt for stationary storage is both cheaper and better.  While cobalt2 can allow batteries to be more compact, sonnen would have to be drongos to use cobalt in a battery made to be installed outside. 
sonnenBatterie Evo Power
The sonnen Evo can supply 5 kilowatts of continuous power.  Like pretty much all lithium batteries, it can also – briefly – supply more.  Its 5 second surge capacity is 7.2 kilowatts, and it can supply 8.6 kilowatts for one-tenth of a second. 
If the battery is new with 10 kilowatt-hours of usable energy storage, it will provide 5 kilowatts of power for up to 2 hours. 
AC Coupled
The sonnenBatterie Evo is AC coupled.  This means it operates independently from the solar system, so it doesn't matter what type of inverter your solar power system has.  It can also be installed in homes without rooftop solar panels.   
Sonnen Evo Efficiency
At the launch, we were told the sonnen Evo's inverter efficiency is 94.4%. But this is not the same as the battery system's round trip efficiency, as it only represents energy going one way.  If we assume the efficiency is the same when the battery is charged and discharged, the inverter's round trip efficiency would be 89.1%.  But there are also energy losses from the batteries, electronics, and cooling fans.  This means the total round trip efficiency of the sonnenBatterie Evo will be significantly less.  Possibly much less.
I asked what the round trip efficiency was…

But sonnen didn't answer the question. 
In the latest report from the Canberra Battery Test Centre, the sonnen Eco was found to have a round trip efficiency of about 80%.  The sonnen Evo may do better than this but, unless I hear otherwise from Sonnen, I would not expect it to be above 85%.
Operating Temperature
The sonnen Evo's operating temperature was given as -10ºC to 50ºC.  This is a good range for Australia.  Some batteries conk out at 45ºC, which is a problem because severe heatwaves are when power is needed most.  So far, no Australian capital has ever hit 50 degrees, but it may only be a few years before this changes.
Noise
Sonnen gave no information on noise output.  The sonnen Evo has cooling fans, so I don't expect it to be completely silent when they're operating.  But I do expect it to be fairly quiet.  After all, there are a lot of sonnenBatteries inside homes.   
The cooling fans are claimed to last 60,000 hours.  As they may only be used a few hours a day, if that's true, they should have no problem reaching the end of their warranty. 
Outdoors Installation
The system's Ingress Protection rating is IP56 which makes it suitable for outdoors installation.  This rating means it's able to resist strong jets of water.  I definitely don't recommend hosing it down, but if someone did do that, both the hoser and the hosee should be fine. 
This IP rating is a big improvement on sonnen's previous batteries, which had to be installed indoors or in a separate expensive, industrial, steel cabinet.
EVO Battery Dimensions And Weight
The image below gives the sonnenBatterie Evo's dimensions and weight: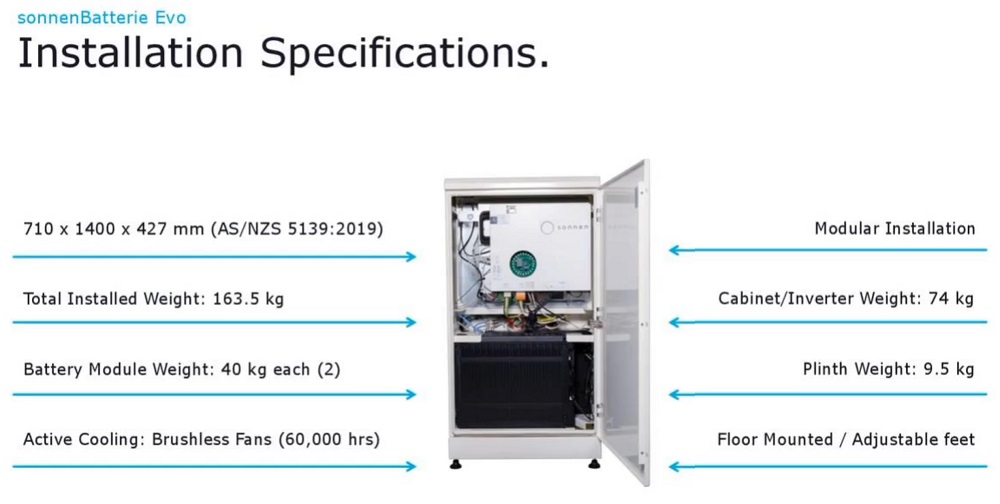 The system is made to sit on the ground and can't be wall-mounted.  We weren't told what kind of clearances around the unit may be required.
Sonnen EVO Backup
Unlike their previous home batteries, where backup capability was an expensive additional extra, every sonnen Evo has backup built-in.  It can supply 5 kilowatts of continuous power during a blackout, the same as in normal use. 
But it will only be able to charge the battery in a blackout using solar power if the solar inverter is 6 kilowatts or less on the same phase as the sonnen Evo.  
The battery has a black start capability that you can use during a blackout (if you have 6 kilowatts or less of solar inverter capacity on the backup phase).  If the battery is flat, and the panels are producing enough power, a button on the unit can be pressed that will cause the battery to start charging.
When a blackout occurs, the change over to battery backup won't be instantaneous.  Sonnen said the delay should be under a second.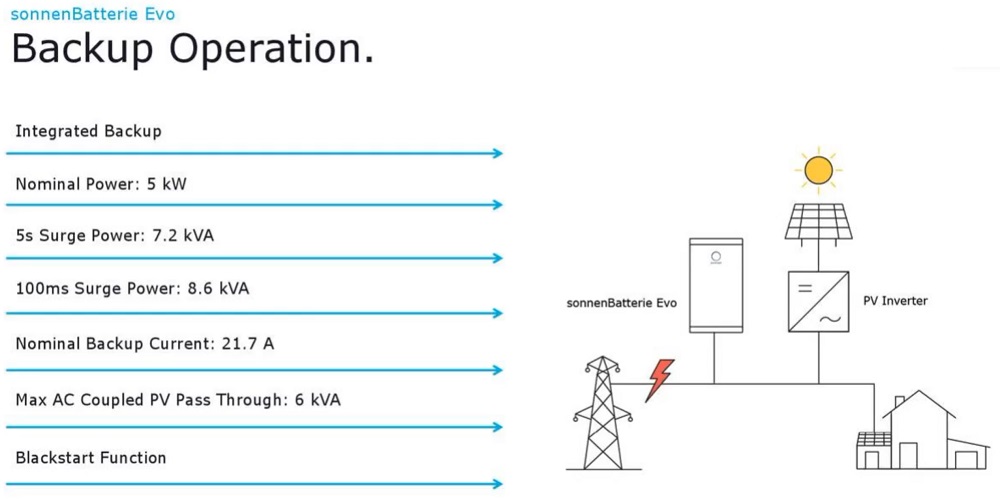 Backup Power To 1 Phase Only
The sonnen Evo is a single-phase battery. Most homes only have single-phase power, so this is not a problem for them.  For homes with three-phase power, it's also not a problem in normal use. 
As far as your electricity bills are concerned, it will operate the same as if your home was single-phase.  But during a blackout, the sonnenBatterie Evo will only supply power to the phase it's connected to.  This means all your essential loads will need to be on that phase.  It also won't be possible to run three-phase devices, such as many large air conditioners or three-phase solar inverters from backup power.
If a property has three-phase power, it is possible to put a sonnen Evo on each phase, but obviously, this won't be cheap. 
Excellent Warranty
The warranty document isn't available yet, but sonnen said the warranty is 10 years or 10,000 cycles — whichever occurs first.  As no normal household will ever come close to cycling the battery over 1,000 times a year, the warranty should last the full 10 years.  It also promises the battery will retain at least 80% of its original capacity.  This is excellent. 
Some battery warranties won't last a household a full 10 years if they cycle it an average of one per day, and most lithium battery warranties only promise they'll retain 70% or 60% of their original capacity. 
Virtual Power Plants (VPPs) allowed
Update December 7th 2021: Sonnen has told me the sonnen Evo can be used with any VPP and not just with sonnen's VPPs as I had originally written.
sonnenBatterie Evo Price
At the battery launch, sonnen gave no prices, but this One Step Off The Grid article suggests a sonnenBatterie Evo will cost around $14,000 before installation.  While sonnen says the installation will be easy, it can still easily add a couple of thousand dollars to the cost of a battery.  This is because it has to cover not just the cost of installing it but also after-sales service.
Update December 7th 2021: I've been told by sonnen they expect the installed cost of the sonnenBatterie Evo will be around $14,000.  This can depend on the property's characteristics.  This is a much better price than I expected.  
Evo A Big Improvement
The sonnen Evo is clearly a large improvement over the company's earlier offerings thanks to:
Ability to be installed outdoors.
An increase in continuous power output to 5 kilowatts.
Built-in backup.
So if you have 6 kilowatts or less of solar inverter capacity or less on the phase you want backed up3 then the sonnenBatterie Evo may be a good choice for those who don't mind paying a premium for a well-built battery system with a good warranty from a company with the longest track record.
Footnotes
It's common practice for companies to have more than one supplier for vital components. Otherwise, one factory fire or bribery scandal (in some countries, officials are scandalized if they don't receive bribes) can wreck your business. ↩
Cobalt is German for goblin.  This is because, a long time ago, German miners used to blame cobalt contaminated silver on goblins.  But they haven't done this for weeks now. ↩
Or don't mind if the battery can't charge from solar when the grid is down. ↩