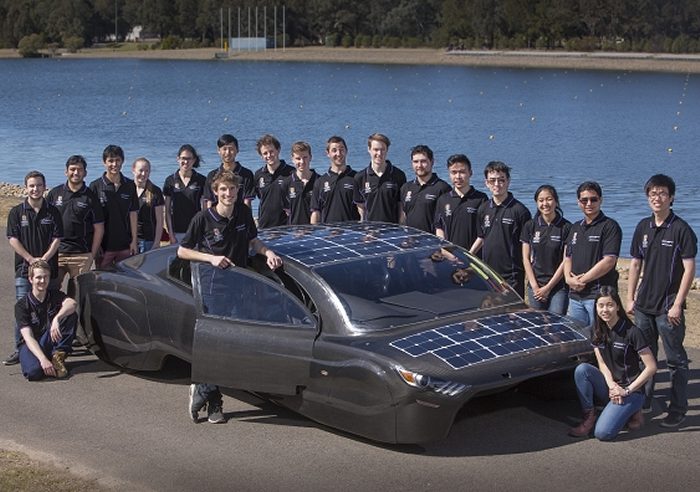 Engineering students at the University of New South Wales (UNSW) have developed another solar powered sedan, which will be competing in this year's World Solar Challenge.
The UNSW Solar Racing Team (Sunswift) recently unveiled Violet, its sixth-generation solar car.
The four-seater has a top speed of 130 km/h and a range of 800 kilometres with solar, or 400 kilometres on battery only. The team says at speeds of under 60 km/h, Violet can operate solely on electricity generated by its solar cells (assuming sufficient sunlight of course).
Violet's solar array consists of 284 SunPower monocrystalline cells, providing a peak power output of 1.1kW. The modular battery system is comprised of 40-80kg of Panasonic NCR18650 cells, which look like this: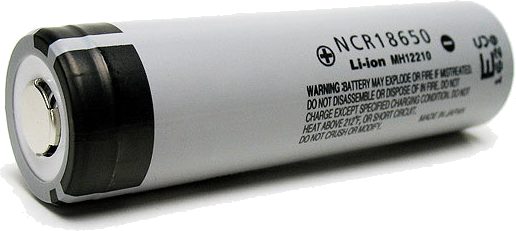 18650 refers to the approximate physical size (18mm x 650mm) of the cell. It's the same form factor as previously used in Tesla's electric vehicles. Based on each cell weighing around 46.5 grams, Violet's battery bank could accommodate up to around 1,700.
Violet has 2 x 1.5kW AC induction motors boasting 98% efficiency.  The vehicle weighs less than 400kg, thanks in part to its twill carbon-fibre monocoque chassis.
Solar cars have generally been built for performance rather than practical use, but races such as the World Solar Challenge have helped promote advances towards street-legal family vehicles.
"Violet looks like a family sedan, but uses as much power as a four-slice toaster," said Sunswift team leader Simba Kuestler. "She's got entertainment and air-conditioning systems, including navigation, reverse camera parking sensors, and there's even wi-fi aboard. And she's got plenty of front and rear boot space."
There's certainly a lot invested in the vehicle – both in time and money ($480,000).
Violet is the successor to eVe; another very sleek yet practical vehicle built by UNSW Solar Racing Team that competed in previous races. eVe holds the world land-speed record for an electric vehicle over a 500km distance, travelling at an average 100 km/h.
Violet and the Sunswift team will be duking it out with other Australian entries this year, including Flinders University's first solar car entry in the Bridgestone World Solar Challenge, Investigator III.
The 2017 World Solar Challenge will officially start in Darwin on this Sunday, October 8, and finish on 15 October 2017 in Adelaide, with vehicles covering a distance of just over 3,000 kilometres.