Update August 25th 2021:  Sun Tenants is no longer in operation.
Almost one-third of Australians live in rental properties.  This is a problem because tenants don't like paying their own money to put solar panels on their landlord's roof and few landlords see solar power as a good investment.  Because of this, lots of the population are missing out on the savings solar slathers all over electricity bills.  It also prevents the world benefiting from the extra clean energy that would be generated.
SunTenants is a company working to resolve this problem and get more solar panels on rental roofs.  They do this by solving the coordination problem between renters and landlords1.  SunTenants can fix this problem — for a price.  But if the alternative is no solar gets installed then I think it is a price worth paying.
If you decide you want to use SunTenants' services and you're a landlord simply get in touch with them.  If you are a tenant then you have to convince your landlord to get in touch with them.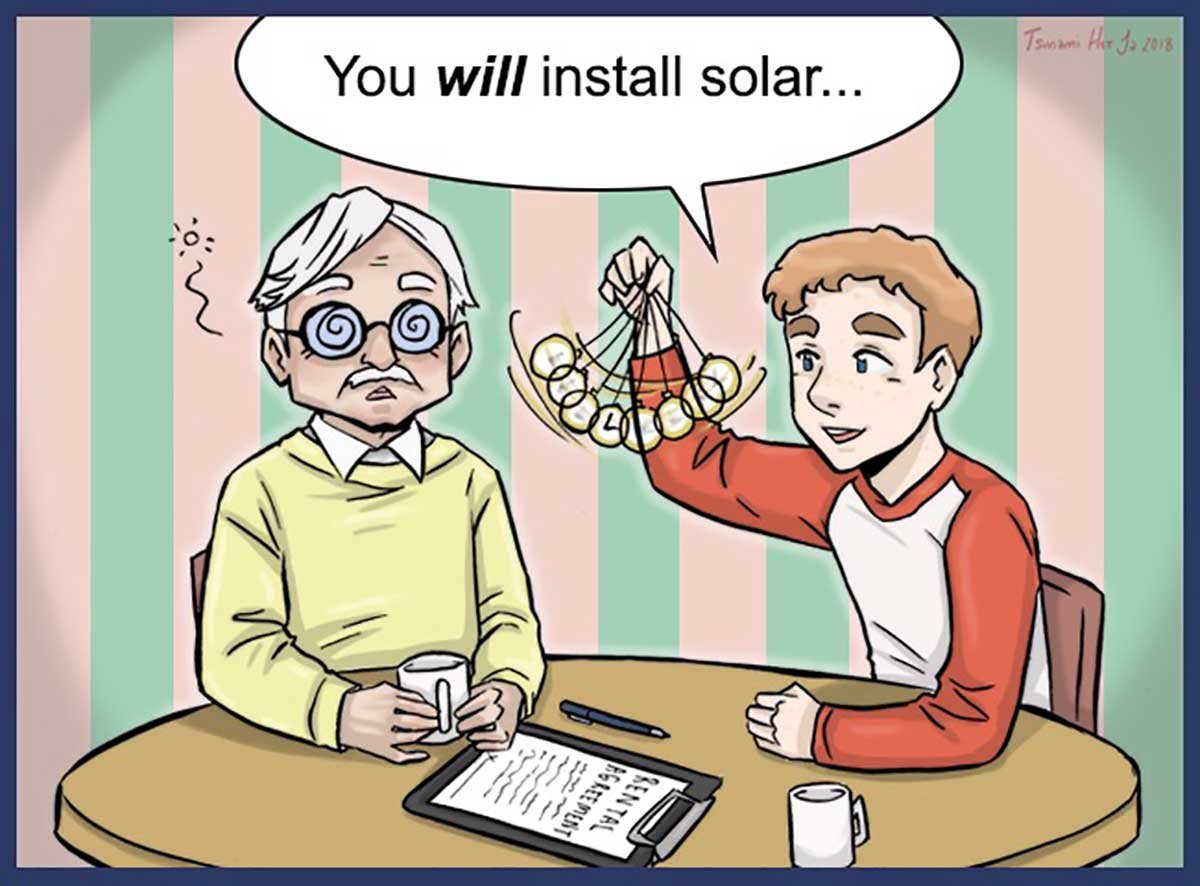 After that:
SunTenants will work with the landlord to determine the size and type of solar power system to be installed.
They will determine a fair increase in rent based on its expected output.
The landlord then arranges installation or has SunTenants arrange it.
The landlord pays for the solar power system and pays SunTenants $540-$640 to have a WattWatcher energy monitor installed.  The landlord also pays an annual fee of $104.50.
SunTenants monitors the system and ensures both parties continue to benefit.
Tenants who are at home during the day will save more on their electricity bills as they will use more solar electricity, but the rent increase is kept at a level so renters should never be worse off even if they use no solar electricity at all.
Dr Bjorn Sturmberg — Founder Of SunTenants
SunTenants was founded by Dr Bjorn Sturmberg.  If I remember how to speak Foreign correctly that directly translates into Dr Bear Storm Mountain.  Clearly with a name like that his options in life were limited to either becoming a superhero or super-villain.  Fortunately for us, he chose virtue over villainy and rather than attend Evil Medical School for six years, he obtained his doctorate from the University of Sydney with the thesis The optical physics of dielectric nanostructures: enabling improved photovoltaic designs.
With his advanced knowledge of nanotechnology it probably would have been very easy for him to build some sort of super suit and fly around in metal tights punching people.  Instead he set out to increase the amount of clean renewable energy produced by getting more solar panels on the roofs of rental properties.  It's a good thing too because a few days ago it reached 32 degrees at the Arctic Circle in Norway.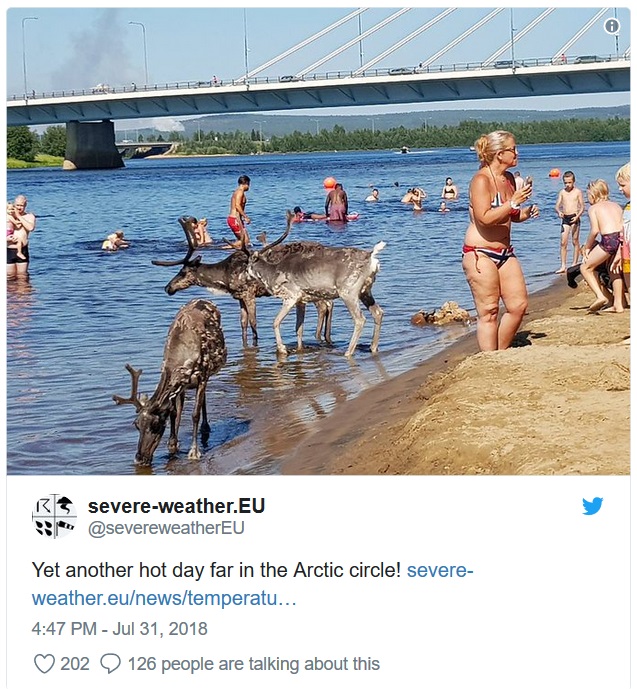 Australians are a bit broken when it comes to hot weather these days.  We read that it was 32 degrees in summer over there and think, "So it was a bit chilly then?"  This is because our 40+ degree summer heatwaves have fried our brains.  But trust me, it shouldn't be that hot in the Arctic.  I feel really bad for the Norwegians.  So bad I promise I'll never make fun of Norway again until I feel like it.  It would be nice if these temperatures were caused by some super-villain with a heat ray.  Then we could just punch him and go home.  Unfortunately, they're due to our dumping too much CO2 into the atmosphere.  A molecule that is highly resistant to punching2.
The Coordination Problem
SunTenants provide a way to share the benefits of rooftop solar so both tenants, landlords and the climate are better off.  Some tenants and landlords don't require any middleman or intermediate woman to help them come to a mutually satisfactory agreement and so don't need SunTenants' services.  And I think that's wonderful.  But some people appear to think that just because services like SunTenants aren't always needed no one should ever need to use them.
All I can say is these people must be much more charismatic and better at persuading people than I am if they have never needed a third party to help them come to an agreement.  It's an unfortunately fact that a renter may simply be unable to convince their landlord solar is a worthwhile investment without SunTenants' help.  Conversely, a landlord who wants to invest in solar power may decide using SunTenants is worth it in order to convince a tenant that putting up their rent in order to pay for it is fair.  I'm not saying you should use services like Suntenants' if you don't need it.  Because that would be dumb.  But the middle men and women of the world can and do provide useful services.
How SunTenants Works
On the SunTenants' site it says:
"We make solar work for rentals.  Fair and simple"
I certainly hope that's true.  Otherwise I'm going to feel bloody stupid about writing this article.  The site goes on to say how the SunTenants system works in four steps:

SunTenants' Solar Benefits Calculator
SunTenants does the first step — calculating what a fair rent increase for a solar power system is — with their Solar Benefits Calculator.  I entered an Adelaide address into it and it gave me this information: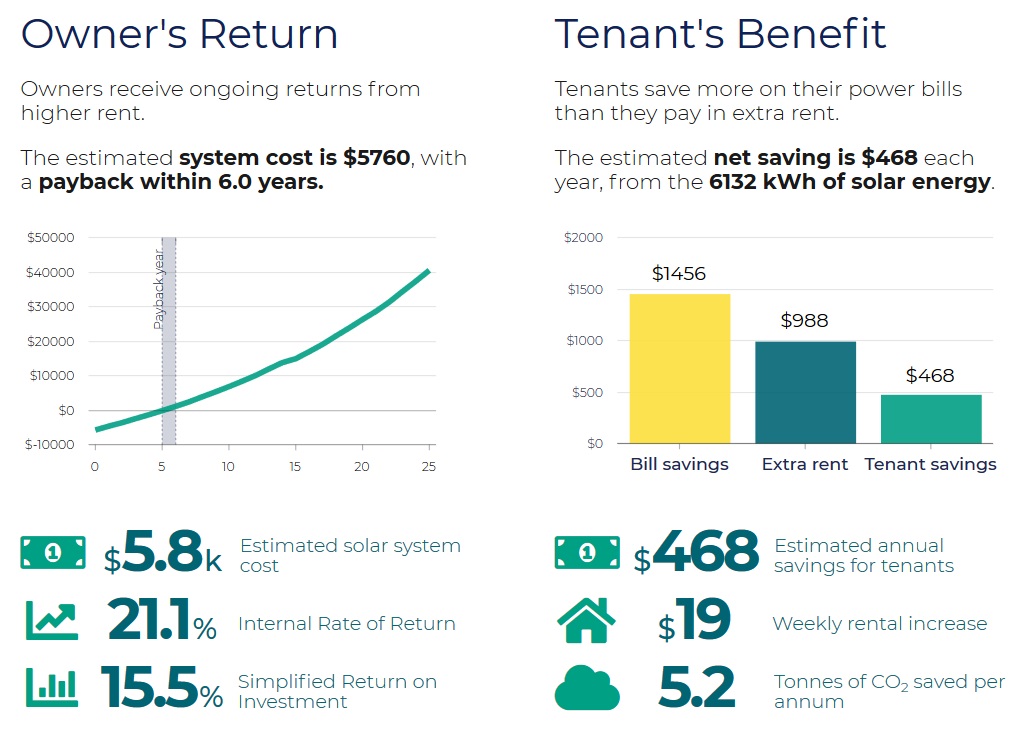 That's a pretty impressive result:
The simple payback time is within 6 years.  If the landlord already has solar on their own roof then the only investment I can think of that might provide a better return is a ski mask and gun.
While the tenant has to pay an extra $19 a week in rent they'll save an estimated $28 a week on their electricity bills leaving them $9 better off.
South Australia is the state with the best return on solar power but it still makes sense for most homes in Australia without shaded roofs.  If you want an idea of typical payback times for non-rental solar systems you can check out the graph near the end of this article.
The Solar Benefit Calculator Assumes Panels Face Directly North
The solar benefits calculator gives results for annual solar electricity production that I would describe as optimistic, but are definitely possible with a new, decent quality, solar power system.  But only if the panels are facing directly north.  If it's not possible to place solar panels in that direction, which is often the case, then the output will be less.  If the panels face north-east or north-west they will produce around 5% less than the figure SunTenants gives and if they face west or east they will produce around 15% less.  But these are just rules of thumb.  If you want a more accurate figure you can use the PVWatts site for an estimate.
Solar Self Consumption Is 30% For A 4 Kilowatt System
By looking at the figures SunTenants uses for retail electricity prices and feed-in tariffs, I worked out they have assumed a household will self consume 30% of the solar electricity generated by a 4 kilowatt system.  The actual percentage will vary depending on if people are home during the day and how much electricity they use, but 30% is a reasonable figure and fairly typical for that size system.
The Solar Benefit Calculator Can Be Over Optimistic
The calculator assumes electricity prices and feed-in tariffs are as follows:

Feed-in tariffs are trending downwards.  As a result, some of the figures SunTenants uses may need to be updated, but they are not unreasonable.  Except for rounding up Western Australia's to 7.2 cents when it has been 7.135 cents for years.  That's just weird.  Also, I'm pretty sure that ANU in the feed-in tariff column is meant to be ACT3.
The figures SunTenants uses for retail electricity prices are mostly too high.  Only a small part of this is because they are from last financial year and haven't been adjusted yet for the slight decline in electricity prices most Australians received recently.  Using the SolarQuotes Electricity Retailer Comparison Tool for regions with electricity retailers, I looked up electricity plans4 for Australian capitals and chose the cheapest one with the same feed-in tariff SunTenants uses.  After adjusting for discounts I put the price in cents per kilowatt-hour, including GST, in the graph below in blue along with the figures SunTenants uses: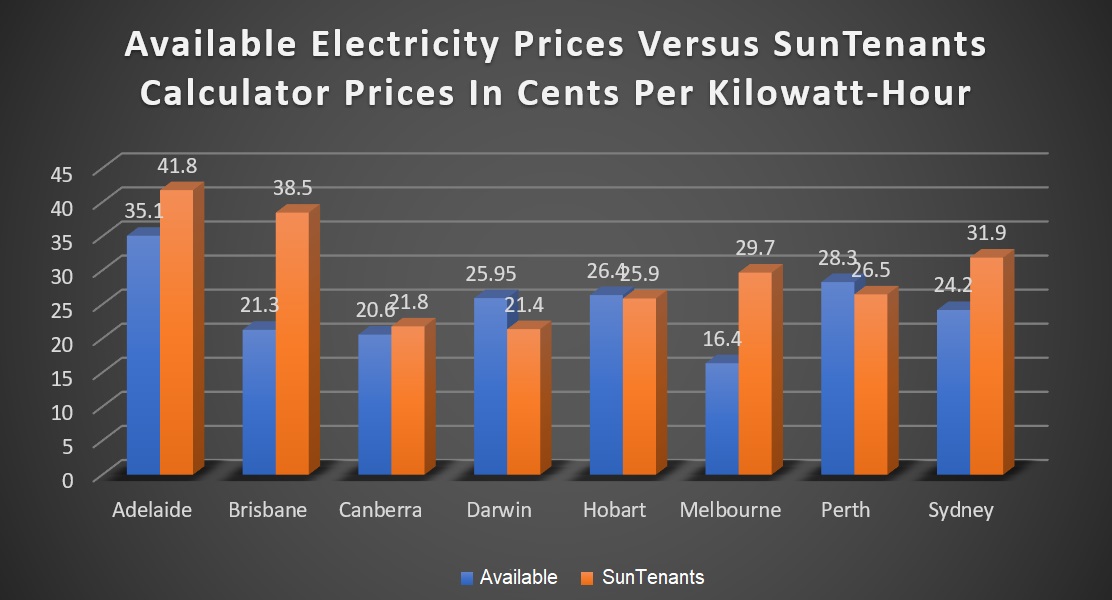 While currently available prices in Canberra, Hobart, and Perth are close to SunTenants figures, in the other 4 state capitals the available prices are much lower:
Adelaide 16% lower.
Brisbane 45% lower.
Melbourne 45% lower.
Sydney 24% lower.
Darwin stands out as the only capital where the available price is significantly higher than SunTenants' figure.  I suspect this is some kind of typo.
Dr Bear Storm Mountain Responds
I emailed Dr Bjorn Sturmberg about the difference in prices and he replied:
"As you're aware pricing is a total mess (purposefully designed to dis-empower consumers). We don't want to get drawn into this frequently changing mess so decided to stick with standing rate prices, without discounts and without fixed terms (as a renter I'm uncomfortable entering into a fixed term contract as I'm not confident I'll have my lease renewed)."
Not allowing their calculation to be based on the electricity price people pay in reality is a pity as the renters' promised electricity bill savings may be exaggerated.  Landlords will be unaffected, except for potentially having a tenant who is unhappy about how little their electricity bills have been reduced.  But Dr Sturmberg did say Suntenants' figures would be updated to account for recent falls in grid electricity prices.
Lower Actual Electricity Prices Mean Less Return For Renters
For the Adelaide example I mentioned earlier, using the currently available electricity price rather than SunTenants' figure while keeping all else equal results in the following:
Total annual electricity bill savings fall 8% from $1,456 to $1332.
The tenant's savings on electricity bills falls by almost one quarter from $9 a week to $6.60.
The landlord is unaffected and the simple payback period remains the same at about 5.8 years.
As you can see this makes a considerable difference to the savings received by the tenant.  In Brisbane, Melbourne, and Sydney the effects of using realistic electricity prices are far worse:
In Brisbane tenants go from saving $7.90 a week to only saving $3.60.
In Melbourne tenants go from saving $6 a week to only saving $2 a week
In Sydney tenants go from saving $6.10 a week to only saving $3.50 a week.
Paying an available lower electricity rate makes a big difference in savings for tenants with a two-thirds reduction in Melbourne5.  Because of the way payments are calculated it is only the tenant who saves less and the deal remains the same for the landlord.
Have Calculations Done With The Electricity Price You'll Be Paying
If you are a tenant I suggest researching electricity plans and deciding which one you are likely to use if solar panels are installed.  Then look up the electricity prices Suntenants uses in their calculations at the bottom of this page.  If what you are likely to be paying is significantly different I suggest you ask SunTenants to make their calculations using the price you will actually be paying.  This way you will have a much more accurate indication of how much you are likely to save.
Or you can work out how much you are likely to save on electricity bills yourself and let your landlord know you are not likely to save as much as SunTenants says.
Tenants Should Never Be Worse Off With SunTenants
The amount of extra rent paid to the landlord is based upon the expected total output of the solar power system multiplied by SunTenants' feed-in tariff figure.  This means tenants normally should never be worse off with SunTenants even if they use no solar electricity.  It also means that households where there are people at home during the day using electricity will save more than those where people are usually out of the house when the sun is shining.  This gives tenants an incentive to shift electricity consumption to the middle of the day.
Changing To A Higher Feed-In Tariff May Help
In areas with retailer choice, tenants are free to choose whichever retailer plan they like.  SunTenants has no influence on this but you'll want a plan with a feed-in tariff that is at least equal to the rate SunTenants assumes.  Selecting a plan with an even higher feed-in tariff may save money on electricity bills by increasing the payment received for surplus solar electricity sent into the grid.  But because plans with above average feed-in tariffs often charge more for grid electricity and can also have higher supply charges, tenants will have to take care to make sure they will actually be better off.
Rent Assistance Can Improve Tenant Savings
If some of the increase in rent that SunTenants recommends is paid for by someone else through government rent assistance or possibly an employer or grandmother, then this will effectively increase the amount of savings a tenant receives.  However, the number of people this will help is small and those footing some of the bill may not be happy about it.
SunTenants Installs A WattWatcher Energy Monitor
SunTenants will arrange to have a WattWacher energy monitoring system installed at the same time as the solar power system.  They use this to keep track of the system's output and use the information it gathers to display the tenant's and landlord's savings in real time.  The monitor and its installation will cost the landlord $540-$640.
If the energy monitor indicates there is a problem with the system then SunTenants will notify the landlord.  If the system performs below SunTenants' predictons for an extended period of time and is not faulty, SunTenants will reevaluate the amount of rent increase the tenant should pay.
Landlord's Annual Fee
SunTenants charges the landlord an annual fee of $104.50.  This includes the cost of operating the WattWatchers energy monitor.
SunTenants Is Useful In The Right Situations
If you are a renter and your electricity consumption is anything close to normal then you will not be worse off if your landlord uses SunTenants and installs solar panels.  So if you can't come to an agreement without the involvement of a third party you won't lose out by suggesting they use SunTenants.  But if you pay less for electricity than the amount SunTenants uses in their calculations your savings can be much less than what they estimate.  In this case I recommend explaining to your landlord how your savings are likely to be less because if some landlords think you are saving a significant amount of money on your electricity bills they will use this as an excuse to increase your rent.
If you are a landlord thinking of installing solar panels on the roof of a property you can use SunTenants' services.  Or you could just put it on the roof without them.  It's up to you.  If you are going to install a WattWatcher or other energy monitoring system anyway you may find it more worthwhile.
Not everyone wanting to put solar panels on a rental roof will want or need SunTenants but they are available for people who will find their services useful and they will get solar power systems on some roofs that otherwise wouldn't have any.  This is something I approve of because, as anyone who has ever met me personally can attest to, I am already dangerously hot and I'm not sure the world can handle it if I happen to get any hotter.