The mainstream media has been full of news about energy storage over the last few months.
It started in July, with South Australia's State Premier Jay Weatherill announcing Tesla would build the world's largest lithium ion battery system.
Over in Canberra, the Coalition ridiculed the energy storage project. The federal Treasurer, Scott Morrison, likened it to,
and said,
"It is so at the margin it barely is worthy of a mention."
Its construction is well underway now, but at $640 per kilowatt it isn't cheap.
But then the federal government decided energy storage was a good idea after all with Malcolm Turnbull announcing a pumped storage sequel to the Snowy Mountains Hydroelectric Scheme titled — Snowy 2: Dam Harder.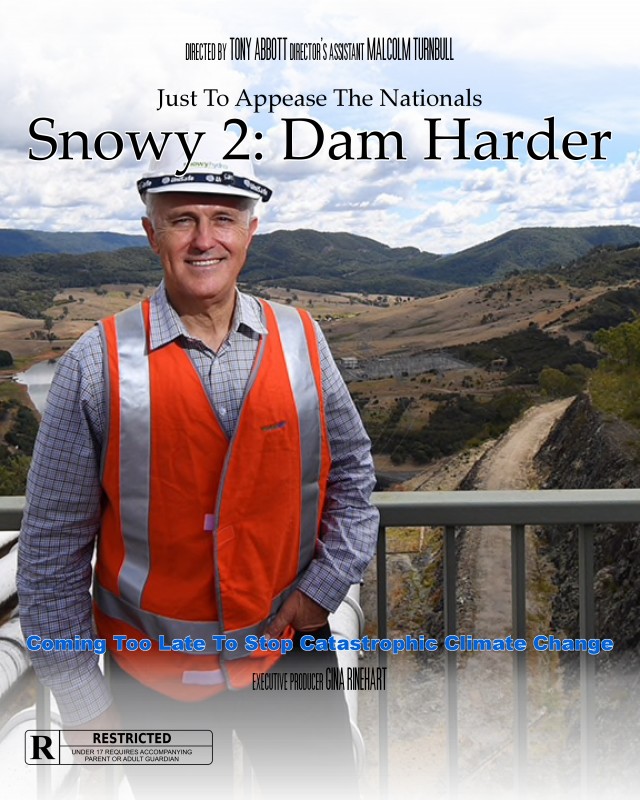 Turnbull said,
"What we are not doing is buying a battery at huge expense."
And that's certainly true.
What they are doing is buying pumped hydro at a huger expense. A $1,000 per kilowatt expense.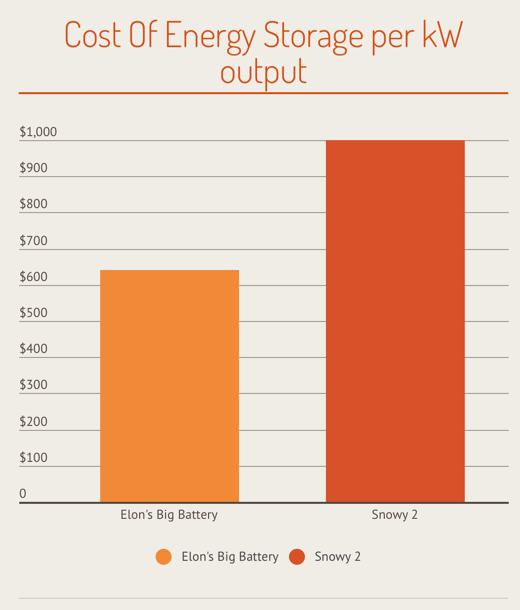 Batteries and pumped storage are very different things and not directly comparable. But it's not a good sign that battery power is cheaper per-kilowatt years before any power will be wrung out of Snowy 2, assuming it goes ahead.
Then, three weeks ago, the Greens announced they want to hit a 20 gigawatt energy storage target by 2030.  To reach that target they will need to build storage capacity with the power output of Snowy 2 every year for over a decade1.
And finally, the SA Liberals announced that if elected they will introduce a $100 million subsidy for home batteries.
With the Greens, SA Labor, SA Liberals, and the Federal government itself going all in for energy storage, you might be forgiven for thinking it must have a hefty environmental benefit.  Well, I'll forgive you if you think that. If you do, you're wrong.
Energy storage built now won't decrease greenhouse gas emissions, it will increase them.  Subsidies for storage are a waste of money that could instead be used to build renewable generating capacity that does decrease emissions.  Storage will also help coal power stations to stay profitable for longer.  After all, you don't seriously think the Coalition intends to pump Snowy 2 full of water using refreshing breezes and sunbeams, do you?
Australia's Problem Is Coal — Not A Lack Of Energy Storage
Australia's electricity sector doesn't have an energy storage problem.  What it has is a coal problem.  Chunks of flammable fossilized forest supplied 74%2 of electricity use in the 2016/17 financial year and is the clear winner in the Grim Reaper deathcathalon, taking the gold in the most greenhouse gases and most toxins emitted per kilowatt-hour.  All else equal, eliminating coal would reduce greenhouse gas emissions from electricity generation by around 94%.
Clearly anyone in their right mind, or left mind in the case of the Greens, would regard reducing coal use as the most important thing we can do to limit the harm caused by climatic destabilization.  (How did all you Irish folks out there enjoy the hurricane?)
So it makes no environmental sense for governments to invest in energy storage now, as it will raise emissions rather than cut them.  I've written why, unless you are export limited, this is the case for residential batteries, and the same also applies for other types of energy storage.  Energy storage increases emissions partly because some result from its construction, but mainly because no energy storage is 100% efficient and so there are always losses charging and discharging.  This means storage will result in increased emissions until we reach a point where we are generating so much clean renewable electricity that it is being wasted without energy storage.  Unfortunately, we are not at that point yet3.
With some effort we could very quickly get to the point where we are producing enough surplus, clean, renewable electricity that energy storage is needed to reduce emissions.  But I doubt that effort will come any time soon, because I really can't see the Coalition suddenly saying, "Oh my god!  Tony Abbott was actually wrong about something!  Coal smoke doesn't cure cancer, it causes it!  Let's shut down coal power as quickly as we can!"
We Should Subsidise Renewable Energy — Not Energy Storage
Energy storage won't reduce emissions right now, but renewable energy will.  Because we live in a world of scarcity, it would be foolish to spend money subsidising energy storage instead of renewables.  While we could subsidise both, that would be stupid, because we would do more good if we spent all the money on building more renewable capacity.
If we reach a point where clean renewable energy is regularly going to waste and it is clear that subsidizing energy storage would reduce emissions by more than subsidizing renewables, then we can subsidise energy storage.
It's not as if we need a lot of lead up time.  After all, it only takes 100 days to build the world's largest battery4.
Energy Storage Without Subsidy Is No Problem
Just to be clear, I'm not saying that no energy storage will be built or that we should stop people from building or installing it.  If someone decides they can make money by building storage and trading electricity it would be foolish to try to stop them. If a business decides that building renewables plus storage is cheaper than the grid, then they should go for it.  I'm just saying it makes no sense to subsidise it right now.
Energy Storage Will Be Built Anyway
I am confident we will end up with lots of of energy storage without subsidy.  Once solar batteries fall enough in price many more homes are likely to install them.  Electric cars have large batteries that can slurp up surplus renewable energy.  A thermal solar power plant with molten salt storage will be completed in South Australia in 2020 and may be the first of many.  And utility scale energy storage on the grid can have many benefits in addition to electricity arbitrage5.  These include providing ancillary services that help stabilize the grid and avoiding the need for new transmission lines.
By the time energy storage can provide an environmental benefit we may already have enough to provide that benefit.
Snowy 2 Is A Lifeline For Coal Power
Because the weather has yet to be privatized, wind and sunshine are free.  This means once solar panels are installed on a roof or a wind turbine is erected, it costs nothing, or almost nothing, for them to supply electricity.  So when their output is high and demand is low they can drive wholesale electricity prices down to zero6.  This effect tends to drive coal power stations out of the market as they are generally too inflexible to shut down during periods of low prices and so are forced to operate at a loss.
But because large-scale energy storage will slurp up power when prices are low, it will raise the minimum wholesale price for grid electricity and so reduce, or possibly eliminate, the periods of time that coal is forced to operate at a loss. This may increase coal plants' profitability and the length of time they continue to operate.
When stored energy is sold it will cut the average maximum wholesale price of electricity, which will reduce the profitability of coal. But a lower average maximum price will decrease gas generation and at the moment this lost generation would be replaced with more coal power.  Finally, until we greatly increase our renewable generating capacity, the losses that result form using storage will be made up by the next cheapest source of electricity, which is coal.
This Country Deserves To Be Run By Smarter Idiots
Australia now has strong support across the political spectrum for subsidising energy storage.  The Coalition and their pals in the Murdoch press have successfully spread the lie that we've hit some kind of threshold, and building more renewables will destroy grid reliability.  So it makes good politics to propose subsidising storage instead of renewable generation, conveniently forgetting that storage consumes energy instead of generating it.
Unfortunately diverting subsidies from renewables to energy storage will harm the environment consuming money that could have been spent protecting it.
It seems as if no one bothered to check first to see if their plan would work in reality.  That is pretty bloody slack, even if you give the Coalition a free pass by assuming they never had any intention of protecting the environment in the first place.
There is a lot of hype out there about energy storage and subsidising storage certainly seems to be a vote-winner.  But if you're a politician, before you go around promising to spend one hundred million to billions of dollars on energy storage, it's really important to check that the hype you've bought into is correct and your plan will do what it's meant to and not the opposite.
I don't actually know if there is an objective reality out there.  All I know is my life is a lot easier if I pretend there is one.  And I think our lives and the health of our planet would be better if our leaders checked their plans against reality every now and then.