One of the most common sources of confusion I encounter when talking to non-electrical people about solar power is related to the terms kW and kWh. What do they stand for? What do they mean? And what's the difference between the two? Watch the video, or read below to find out…
Folks who are really confused also throw the term "kilowatt/hour" into the mix. I'll deal with that doozy in this footnote1.
Starting with the absolute basics
Please excuse this post if you think I am explaining the bleeding obvious! But I think it is vital to write a post that describes these key units of electricity in a way that requires zero prior knowledge of anything electricity-related.
So here is my humble attempt to answer the question:
What is the difference between a kW and kWh?
Let's start with what each letter stands for.
k stands for kilo. Which means "one thousand".
W stands for Watt, which is a measure of power.
h stands for hour, which is obviously a measure of time.
kilowatts: kW
So kW means kilowatt, which is 1000 Watts. It is a measure of power. Notice that, if you like to keep anal electrical engineers like me happy, the correct way to write it is always with a small k and a capital W. Peak power defines a solar system's size. e.g. a 3 kW system can produce 3 kW of power at solar noon (when the sun is at its strongest) on a perfect solar day:
kilowatt-hour: kWh
kWh stands for kilowatt-hour. A kWh is a measure of energy (not power). If your solar panels (for example) continuously output 1 kW of power for a whole 60 minutes, you will have produced 1 kWh of energy.  The amount of electricity you use (or generate) is defined in kWhs. e.g. "My solar system produced 4 kWh of electricity today!"
So at the highest level: kW measures power, and kWh measures energy.
Why is the difference between Energy and Power important?
It is very common for people to mistakenly interchange the terms energy and power as if there is no difference. Most people do it all the time without noticing. It drives electrical geeks like me up the wall, especially when I read it in national newspapers and books!
For example: If someone is talking about their electricity usage and says:
"I used 8 kW yesterday"
They probably really mean that they used 8 units of electrical energy yesterday, In which case they should have said
"I used 8 kWh yesterday"
Yeah, yeah I know what you are thinking: Who cares?
Well, it is actually quite important if you are buying a solar system.
If a buyer has studied their energy consumption and carelessly says they need a solar power system to produce 12 kW, they might end up being quoted a 12 kW solar power system, which will cost about $10,000 at today's prices and produce about 48 kWh per day.
If what they actually meant was that they need one to cover an energy usage of 12 kWh per day, they really need a 3 kW solar system that costs about $3,500 at the time of writing!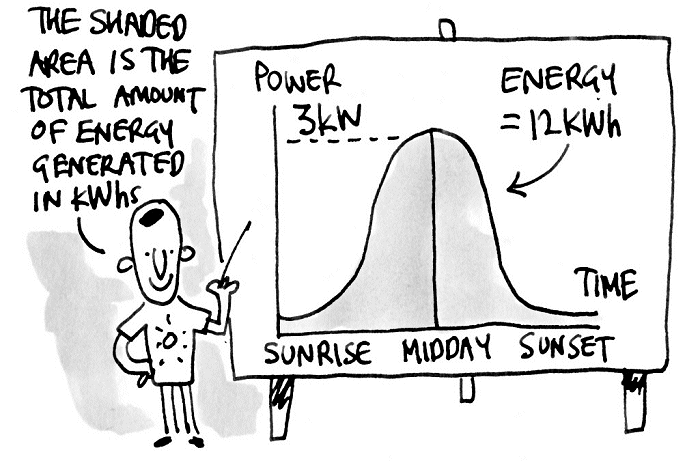 So please don't confuse kW and kWh. If you do, you may end up with a solar system that is completely the wrong size!
How do kW and kWh relate to batteries?
When buying batteries, you need to think about both the power of the battery and the energy storage capacity of the battery you are looking at.
The battery's energy storage capacity is measured in kWh—for example, the 'Powerwall 2' stores 13.5 kWh of energy.
Its power is 5 kW, so it can charge or discharge at that rate. At full power, then, it can fully discharge in under 3 hours.
The more energy (kWh) a battery has, the more you can store and the longer it will last, the more power it has the faster you can get that energy in or out of the battery,
In other words, the more power it has, the more appliances you can power with it and the more energy it has, the longer you can power those appliances.
For normal household use, you want enough energy to get you through the night and at least 5 kW of power for speedy charging.
---
Top tip for filtering out the worst solar and battery salesmen: Ask them to explain the difference between a kW and kWh. If they get this wrong how on earth are they gonna understand your requirements? A lot of cold calling door knockers will fail this test in my experience.
 The technical bit for those that are interested:

Energy: Energy is measured in Joules. Energy is the capacity of something to do work.

Power: Power is the rate at which energy is used. Power is measured in Watts.

1 Watt is a rate of energy usage of 1 Joule every second, or 1 Joule per second (J/s).
Footnotes
A kilowatt/hour is a nonsensical unit in most contexts. If you find yourself using this unit, double-check what you really mean, which is probably kilowatt-hour. Kilowatt/hour means kilowatts per hour. Kilowatt is a measure of power (units: Joules per second ), so you are really saying joules per second per second, or joules per second squared. Which would be a measure of how quickly power is increasing. An acceleration of power if you like. There are very few circumstances where that is a relevant measure. Especially when talking about solar or batteries. Lots of people get kilowatts/hour confused with kWh. Please don't let it be you. 99% of the time, you'll mean kWh. ↩